Believe it or not, stretch selvedge is a thing. I took a trip to New York's denim mecca Blue in Green to see what kind of unusual offerings they had this season, and I was treated to this unique, almost sea green colored denim from the secretive Japanese brand Oni.
Meaning "demon" or "ogre," Oni is a small outfit based in Okayama. Legend has it that the founder Masao Oishi was the son of the man who imported the denim that made the very first pair of Japanese jeans in the 1960s.
They focus heavily on fabrics and they're well known for slubby, ultra low tension weaves. Let's take a look at their 20oz Shin Secret denim — their 122ZRS Relaxed Tapered jeans to be precise — which achieves the rare feat of combining a 20oz weight with the stretchiness of sweatpants.
[Make an account and get 10% off these jeans with the code STRIDEWISE at Denimio!]
Oni Shin Secret Denim
Denim is greencast to produce sea green-like color
Beige weft
Hairy, slubby, knotty denim
Woven with 2% elastane for stretch
There is so much to talk about with this denim.
Llet's start with the color this is a really vibrant blue that is almost a bit like teal or sea green. That is because the denim is greencast, meaning it's dyed with green sulfur and then indigo to produce this bluish green color that reportedly becomes more green as it ages. (This denim has a reputation for fading relatively fast as well.)
That's the warp, anyway. The weft is beige (technically "ecru" is the color) so the color will also get a bit more dusty colored as it ages. Not everyone likes this greenishness, but I think it's subtle enough that makes for a really cool pair of jeans — they pop, but they're far from ostentatious.
Now, it's pretty hairy, nappy, slubby kind of denim. It's not as easy to see the twill as it is in something like Naked and Famous, and Oni is known for this: low tension, fuzzy, knotty denim that has such a loose weave that the stitching sometimes disappears into it. You can see examples of this around the pockets.
If you can believe it, this is 20-ounce denim. For reference, the average Levis are between 10 and 13 ounces and thus far, my heaviest jeans are my Studio d'Artisan D-003 Jeans at 15 ounces. But it doesn't feel heavy at all. In fact, it feels buttery soft and — this is the kicker — stretchy, because it has 2 percent elastane.
That means that it drapes better than most thick denim but also it's so stretchy that it legit feels like I'm wearing sweatpants, or at least they feel more like sweatpants than jeans, which is amazing.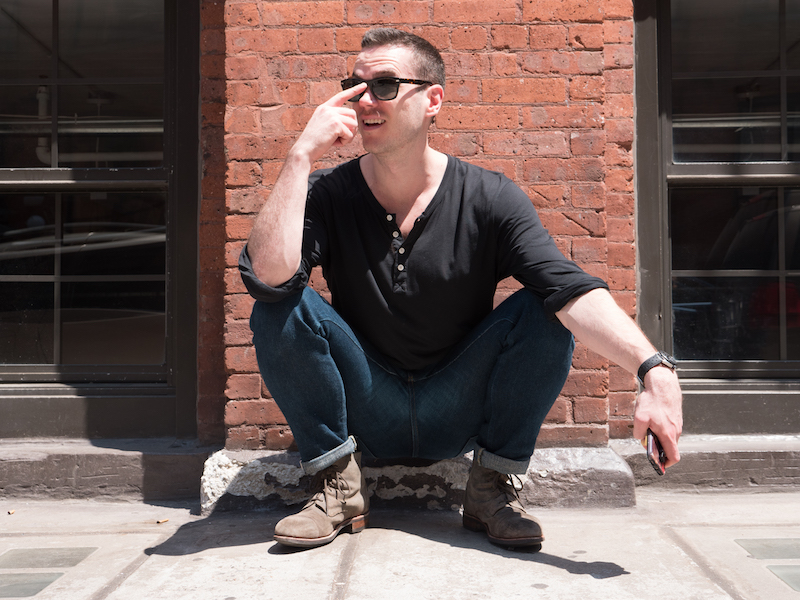 That said, it does have some potential downsides. Some fear that the elastane will give out and lose its shape. A published in Fibres and Textiles in Eastern Europe also found that as the elastane increased the tensile strength decreased: going from 0.5 to 1.5 percent elastane made the tensile strength decrease by about 17 percent.
That said, Oni claims that the way they put elastane in the denim increases the durability. In any case I'm not about to try and tear these jeans apart, so I suppose you have to take a risk on the elastane.
[Not a fan of raw denim? Here are the best selvedge jeans that aren't raw!]
Oni Shin Secret Denim Details
Deerskin waistpatch
Pink selvedge ID
Dual tone stitching
This waistpatch is made of deerskin, which looks like it got a little toasty when it was washed. These jeans get industrial washed once before you get them and then they're shade dried — some say that means it's not raw, some say it is, some say that means it's unsanforized, some say it doesn't. I don't have much interest in taking sides in these debates.
Something I really liked about these jeans is that the selvedge ID is pink, which adds a nice splash of color.
Otherwise there are the Oni branded buttons, medium weight twill pocket bags, and there's some dual tone stitching in some places as well. If you take a look at the back pockets, for instance, there are two slightly different tones of yellow in the stitching which I've seen someone call a "lemon tea" combo.
Speaking of the pockets, for many people the signature of Oni is this sort of angular swoosh that normally adorns them. My jeans didn't have the swoosh because they're a special collaboration with Blue in Green.
Oni Shin Secret Denim Care
Soak and hang dry
Or use a regular washing machine
Wash every ~30 wears
For this, I just spoke to the guys at Blue in Green and here's what they said:
You may soak and hang dry though I personally machine wash my jeans. You can choose how you want to wear and wash, but we recommend soaking or washing once a month if you wear jeans every day. I normally use regular detergent but some Japanese denim brands like Momotaro, Samurai jeans make soap for denim.
Oni Shin Secret Denim Fit & Sizing
122ZRS is "Relaxed Taper Fit"
Roomy in thigh, strong taper
Medium rise
I found these run true to size, or true enough. Most of my pants are a 32-inch waist and these are a 32 as well. I should note that most companies use vanity sizing so these Oni pants are probably closer to a 33-inch waist — what I'm trying to say is that you should be able to order your regular pant size.
I can't grow my arms for the life of me but I grow muscle very easily on my butt and thighs, so I need a good amount of room down there. There's a strong taper from the knees downward, making for a modern, slim-looking fit even on guys with thicker thighs.
It was nice to find this fit because Oni used to pretty much only sell stovepipe or wide, and while I do prefer high rises (I've got a really tall butt crack) the medium rise on Oni worked well enough.
Oni Shin Secret Denim Price
Not super cheap, but a pretty reasonably price for Japanese denim, which usually runs over $300. These were $250 in store at Blue in Green, but you can get a pair of these bad boys for $213 online at Denimio right here:
[Make an account and get 10% off these jeans with the code STRIDEWISE at Denimio!]
Oni Shin Secret Denim Pros & Cons
 Pros
Color is gorgeous
Stretchy
Fast break in
As comfy as sweatpants
Cheap
Cons
Color is pretty 'loud' to some people and it gets greener over time
Elastane doesn't breathe as well
20oz denim is a bit thick for hot weather
Elastane might affect durability
I wear these jeans a lot. They're super soft, they're stretchy, they had no break in time, and the ever so slightly unusual color makes for a great way to switch up my outfits. They're thick, too, so they served me well in the New York winter this year.
They're not fantastic for hot weather and I can see why some people wouldn't want to take the risk on the elastane, but the comfort combined with the price makes me very happy with the purchase.
The following two tabs change content below.
Nick English
By day: Manhattan-based journalist with reporting experience on four continents, published in Vice, Men's Health, Popular Science, and a bunch of other places.By night: ravenous consumer of anything and everything related to high end men's boots.Stridewise is where I nurture a maniacal obsession with footwear and share my findings. Say hey:
[email protected]
.
Latest posts by Nick English (see all)