Founded in 1997 by Toru Nogami, Samurai Jeans was launched a fair amount of time after the Japanese denim scene kind of debuted in the 1970s, but while that's when it started it really exploded in the 90s. That's when Nogami-san starting out making cuts inspired by vintage Levi's jeans, and they expanded into a very well-known brand in the space.
Unlike many denim brands that are based in Okayama, this brand is based in Osaka — just a 3-hour drive away, so not actually that big a difference — but Osaka is home to a group of older, ultra influential brands that some denim heads call the Osaka 5: Fullcount, Denime, Studio D'artisan, Evisu, and Warehouse & Co. Of those, I've only tried Studio D'Artisan, but I'm wearing in Fullcount as we speak. We'll get there, everybody!
When Samurai first started, productions were very low, usually 100 to 200 jeans in a run. To this day, such small runs are still quite common (they're constantly doing special limited editions), which makes reviewing a pair of them quite difficult because they just don't stay on the market that long.
Nonetheless, I've picked up the S211XX-US relaxed tapered jeans, which I've worn about fifty times. This model here is a special export model not available in Japan, the only place you can find to buy it online is at Blue in Green, which is where I picked these up here in New York. Let's take a closer look.
[Shop these jeans only at Blue in Green here!]
Samurai Jeans Denim
16oz denim made in Okayama
6 indigo warp threads to 5 ecru weft yarns
Fades relatively fast, more vintage look
Quite stiff
A very interesting product another thing I wanted to mention about this company is that to my knowledge, they are the only company that make jeans with Japanese cotton; they once grew their own cotton because they decided they wanted 100% made in Japan jeans. Now, I do not own those jeans because because they cost thousands of dollars, but it's another thing that differentiates them from the crowd of Japanese denim makers. Another is that Nogami claims he's the first guy to have made jeans heavier than Levi's:
you have to understand that at that time even the threads needed to make this kind of denim didn't exist
That's another thing that originally set him apart. This information, by the way, comes via Japanalogue, a terrific website for denimheads run by my buddy Dave Stewart, who lives in Japan, speaks the language, and spends a lot of time running around interviewing founders of companies like Samurai.
But back to these jeans. They're 16 ounces, which most would consider midweight denim (most Levi's are between 10 and 13 ounces) and while the jeans are made in Osaka, the denim is made in Okayama.
All I could get on the cotton is that it's made from "a mix of cotton," and that's after chasing up multiple folks who work at Samurai. The ambiguity here is in part because the cotton industry in Japan is sometimes separate from the denim makers, who sometimes just ask the cotton makers for a certain kind of denim — rough, neppy, and so on. The jeans have a nice, everyone-pleasing fabric that's rougher than Iron Heart smooth, but doesn't approach the extreme slubbiness of Pure Blue Japan. It's different enough to know you're not just wearing some Levi's, but not so off-the-wall neppy that it'll stand out to the average person.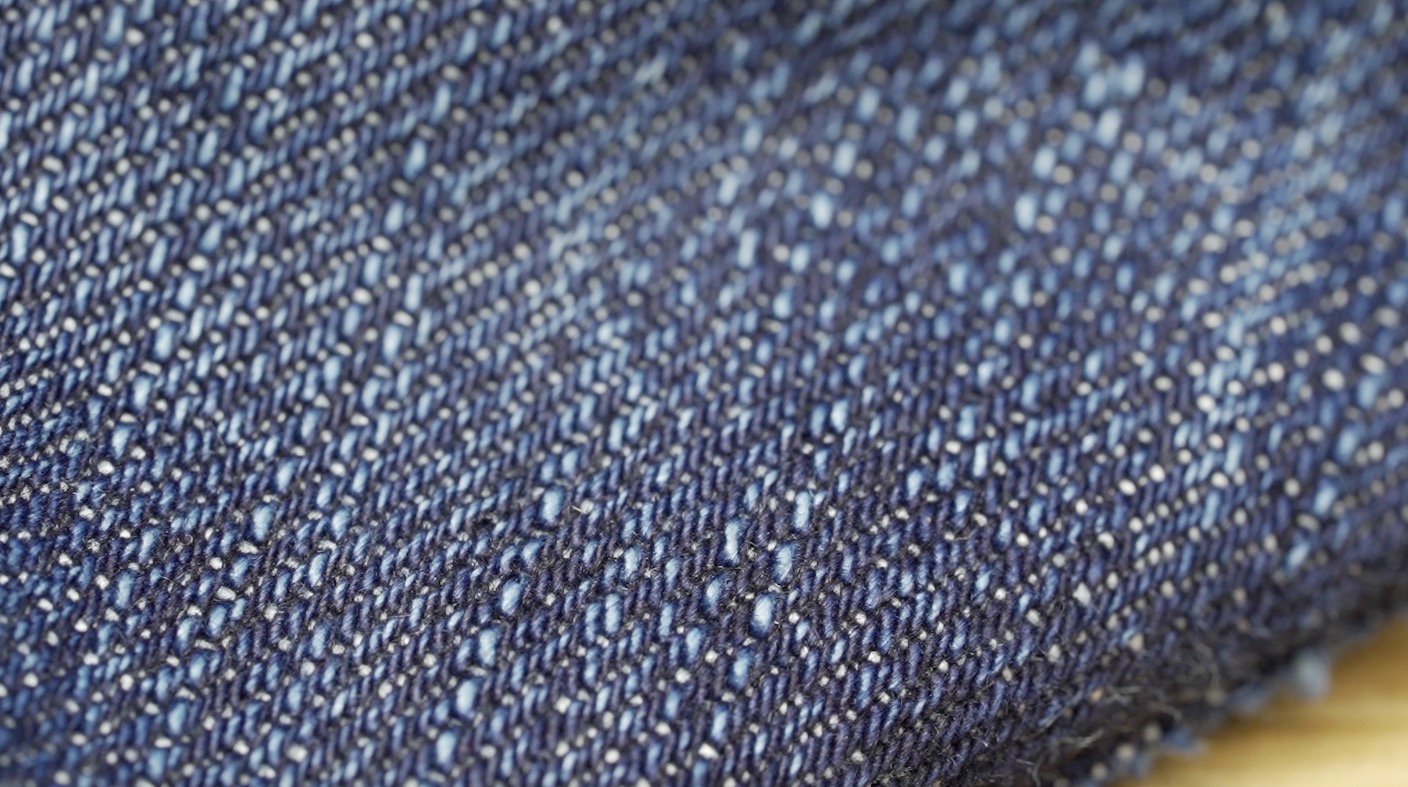 These jeans in particular is they use a special weave of 6 indigo warp threads and 5 ecru weft yarns. "Ecru" is a beige type color that will come through as the warp threads fade over time, and you can see the dusty color coming through a little in some of these closer shots of the denim.
This 6×5 pattern create more uneven fabrics, which helps them fade a little faster, and it's made with what they call high twisted yarn. That's a more stiff fabric, and stiffer fabric gets more contrast fading so that, combined with the beige weft and the 6×5 approach, gives you what the company calls a more vintage look when fading. The fades are also pretty vertical, as you can see in these streaks of electric blue.
Again, I've only had these jeans for fifty wears, but they are fading relatively quickly. For some shots of two-year-old jeans from Samurai, check out this post on Heddels. It's not precisely the same denim, but it's 16 ounces from Samurai, so it might give you a taste of what you could potentially expect.
[Related: The 4 Biggest Misconceptions About Raw Denim]
Samurai Denim Care
Not natural indigo
Turn inside out when washing
Don't mix with any other clothes
Line dry instead of tumble drying
Samurai makes their own detergent
The fades at that Heddels link above were from a guy who washed his jeans twice in two years, which might give you a hint as to how a lot of people care for these jeans.
Personally, these jeans personally I'll give them a wash when they start to smell. (Call me crazy.) These aren't made with natural indigo, so they aren't quite as good at repelling bacteria as the natural stuff. It is thick, yes, but nonetheless if you sweat in them a ton and they smell like feet, don't feel bad about washing them.
But when you do wash them:
washing machines are fine
turn them inside out
don't wash them with any other items of clothing unless you want them to turn blue
line dry them instead of putting them in a tumble dryer
It's worth nothing that Samurai makes their own natural, soy-based washing powder for their denim.
[If you prefer stretchier denim, take a look at my Oni's Shin Secret review]
Samurai Denim Features
Pink/silver lamé selvedge ID
"Samurai" and "Samurai jeans" on rivets and jacquard stitching
Rivets on butt indicate Buddhist notion of impermanence
Leather waistpatch (usually) features famous samurai battle
What I actually love about these jeans like what makes them really memorable, in my opinion, is the myriad subtle details in the construction.
We'll start with the selvedge ID: it's a sparkly pink, which I love. It's not like Momotaro jeans that often have bright pink stitching running up the inside of the leg, the pink is just confined to the selvedge ID and a little bit around the coin pocket, but I think it's really cool. The glitteriness, technically called silver lamé, is meant to be evocative of a shiny samurai sword.
Furthermore, these jeans have more Japanese characters on them than any other jeans I own, which meant I had a hell of a time talking to Samurai Jeans HQ and my mate at Japanalogue trying to figure out what they mean. The boring answer is that almost all the letters on the jeans mean either 'samurai' or 'samurai jeans,' but in three different alphabets.
On each of the fly buttons (ABOVE), you've got just one character flanked by a couple of Japanese pine trees, called matsu trees. This character, which means 'samurai,' is a Chinese character. It's in the Japanese language, but in a different alphabet than the other letters on the jeans. (There are some characters the two languages share; All Japanese 'kanji' characters were originally from China, though many have been changed and simplified, but that's another story.)
Then you've got the very sturdy brass rivets on the front of the jeans. Get in real close and on the front, you'll see eight characters that mean "Samurai Jeans" in Japanese, check out the back of the rivets and you've got four characters which just mean samurai.
While we're on the inside of the pockets, take a look at this writing all over the pockets. This is stitched in with what's called jacquard stitching and while it's hard to read and these characters look more complex to me than the ones on the rivets, Samurai they told me that these letters also mean 'Samurai Jeans.'
One place the characters do not mean samurai or samurai jeans is on the inside of the rivets on the back pockets, resting on your butt cheeks. Here you find the words shogyu mujo, a Japanese term alluding the Buddhist notion of impermanence, the transitive nature of all things. Literally, it says something like 'all material things must pass away', which I just adore.
The last thing I want to mention is the leather waistpatch. The main character here is that same one on the button fly that means 'samurai,' if you look closely you can see behind the character there's a swordsman ready to chop you in half, and down on the right side the characters mean 'for foreign country use,' as in these jeans are a special export model not available in Japan.
Keen fans of the samurai brand will feel sorry for me because these jeans do not have the standard, kind of classic waistpatch the company uses, which depicts a famous sword battle between samurai warriors Sasaki Jojiro and Miyamoto Musashi that took place in 1619.
View this post on Instagram
After reading about it I think Musashi cheated, everyone who says otherwise is wrong.
Interestingly enough, the original real life samurai used to have indigo dyed cloth under their armor because natural indigo is antibacterial, so it might help if they've got wounds or want to avoid infection. But again, like most jeans, these ones are made with synthetic indigo.
[Related: 7 Reasons Japanese Denim Is So Expensive — and Worth Every Penny]
Samurai Jeans Price
$305 from Blue in Green, and they can't really be bought from anywhere else.
Selvedge jeans are a bit like boots when it comes to pricing: $300 to $350 is middle of the line, and anything pricier had better be something special. I think these jeans are worth the cost: they're well made, they irregular but not too irregular, and I adore all the details mentioned above that elevate this above a regular pair of pants.
[Shop these jeans only at Blue in Green here!]
Samurai Jeans Pros & Cons
Pros
The denim is a good balance of smooth and slubby
A lot of fascinating symbolism in the features, from Buddhist philosophy to a sword-like selvedge ID
They fade relatively quickly and make pretty nice high contrast fades
Cons
Not crazy slubby; they may not reach the threshold of weird that some prefer from Japanese denim
Some find the glittery selvedge ID to be gaudy
It's made with 100% cotton stitching, which some find less durable than polyester threads
It's true that the cotton stitching has produced some loose threads around the belt loops and the cuff, but that's about the biggest gripe I have with these jeans. The denim is weird-but-not-outlandishly-so, they have a variety of fits for every body type (it's hard for me to find relaxed tapered jeans), and above all I'm absolutely in love with all the details. The sparkly sword selvedge, the Japanese characters, the fact that I have Buddhist philosophy pressing into my butt every time I sit down, these details elevate these to one of my favorite pairs of pants. They're so Japanese; these jeans are swimming in symbolism and that's what makes them more than a pair of jeans.
The following two tabs change content below.
Nick English
By day: Manhattan-based journalist with reporting experience on four continents, published in Vice, Men's Health, Popular Science, and a bunch of other places.By night: ravenous consumer of anything and everything related to high end men's boots.Stridewise is where I nurture a maniacal obsession with footwear and share my findings. Say hey:
[email protected]
.
Latest posts by Nick English (see all)