It's no secret that Japanese denim can be pricey, often over $300 a pair, but what makes this so? Before we can determine if these jeans are 'worth it' (a wildly relative concept), we first have to understand what Japanese denim is, and what sets it apart from the ubiquitous cheaper options, which may at first glance appear to be very similar. I live in Osaka and have been spending time talking with these Japanese denim manufacturers and brand owners, and there is indeed a world of difference.
The Weaving
Japanese denim is woven on antique looms which are slow, rare, take great skill to maintain and repair, and produce unique and interesting fabric.
Technically, the term Japanese denim refers to — you guessed it — denim produced in Japan.
As the term is now generally used however, it means denim woven in Japan on vintage shuttle looms, as opposed to much faster and more modern projectile looms which now produce the bulk of the world's denim. These vintage looms are much slower, and produce rolls of denim only half the width of those produced by modern weaving machines, which greatly adds to the time required to make a pair of Japanese jeans. These looms are also sixty, seventy, eighty years old, and require a very skilled craftsman to operate and repair them.
Weaving denim in this way produces what is called selvedge denim, which means that the edges of the denim are not left frayed and unfinished as in modern production, but are wrapped securely with a colored thread, often red. (You can see that in these Iron Heart jeans.) It is this "selvedge line" that is seen when you roll up your cuffs on your jeans, reminiscent of the era before modern high-production looms took over the industry. Look to Marlon Brando's The Wild One for an old school selvedge-fest.
Pre-projectile loom badasses.
These old looms can also be tuned so that they run roughly, or "chatter", and while very hard on the machine itself, this produces beautiful, irregular textures in the denim (called slub), with each brand having its own unique feel. This is one of the things that fans of Japanese denim find so appealing; there is almost no end to the different weaves and textures available.
So this is the first thing that sets Japanese selvedge denim apart from its modern counterparts: it is woven on antique looms which are slow, relatively rare, and take great skill to maintain and repair, yet produce very unique and interesting fabric.
One example of a slubby, irregular weave in Studio D'Artisan jeans
The Dyeing
Unlike Levi's, Japanese denim usually uses proprietary, old fashioned, natural dyeing techniques that create rich fades and electric blues over time.
Before denim can be woven however, the threads must first be dyed, and this brings us to our next point of difference.
Many Japanese denim houses have developed their own proprietary dyeing techniques that have been perfected over generations, some even doing so completely by hand, a very time-consuming and labour-intensive process.
Then there are the dyes themselves. Most modern denim manufacturing will use color-fast chemical sulphur dyes, while in Japan many manufacturers will opt for natural indigo dyes, a natural process, the results of which can be very hard to control but, when done right, can produce denim which fades in glorious electric blue hues. Indigo-dyed jeans can appear almost black at first, the turquoise colors only revealing themselves in time.
View this post on Instagram
The Heavy Weight
Japanese denim is usually thicker denim that's both tougher and produces richer fades.
Japanese denim also tends to differ from denim produced elsewhere in terms of weight.
Japan produces some very heavy denim, with several brands topping out at 25 ounces per yard and Naked & Famous even managing to make 40-ounce denim. Consider that your average pair of Levis is coming in somewhere between 11 and 14 ounces and you're talking some seriously heavy material. Though notoriously hard on the old looms and difficult to sew, heavy denim offers the wearer not only added longevity, but also incredible fade potential as the creases tend to become more pronounced in the thicker, stiffer fabric. It takes a lot more raw material to produce a pair of jeans at this weight as well, and this adds to the cost of production.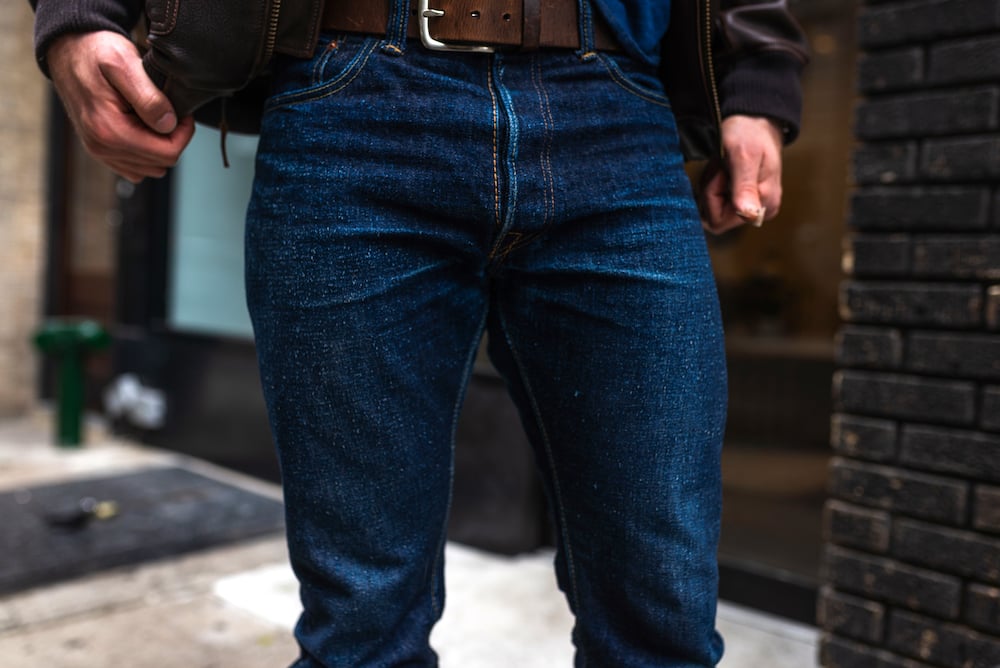 The Raw
Many Japanese brands sell jeans that shrink to fit, the way jeans were made a hundred years ago.
The vast majority of jeans in your local shop have gone through processes to make them soft and wearable right off the shelf, and also to ensure they do not shrink after washing.
One such process is called sanforization, which came into use in the 1930s and took the guesswork out of properly sizing your jeans. Up until that point, all denim was unsanforized (also referred to as raw or loomstate denim) and would shrink markedly after washing, making buying proper sized jeans a bit tricky. Levi's famous mantra "Shrink To Fit" came from these early days of using raw denim.
Though some Japanese denim is indeed sanforized, a lot of it is sold raw. While this means it can be cardboard stiff at first, most denim enthusiasts love the raw feel of unsanforized denim and see the shrinkage as part of the journey the jeans must go through to eventually crease, bend, and mold perfectly to your body.
[Related: The 4 Biggest Misconceptions About Raw Denim]
Bombproof custom buttons, selvedge button fly, and heavy chain stitching.
The Hardware and Details
Japanese denim companies often use rare materials, such as heavy threads, specialized rivets, and custom pocket designs, adding to the product's cachet.
Jeans are not constructed from denim alone.
Take a look at the rivets and buttons on a good pair of Japanese jeans and you will again see that they tend to be a cut above those produced elsewhere. Most Japanese brands will have buttons and rivets specially made, bearing the company name, logo, or other special design. Some brands even have different hardware for each model they produce (see, for example, Samurai's dizzying array of rivets and buttons on offer) and the same can be said for the material used for the pockets.
Other details can include using the selvedge edge for the coin pocket (often called the "5th pocket) and the inside of the button fly, extra heavy gauges of thread, using several colors of stitching on different parts of the jean, custom made leather back patches, and fabric lined back pockets. Most Japanese denim houses also use antique sewing machines, such as the venerable Union Special, and will use vintage sewing techniques such as chain stitching on the inside waistband and cuffs. All these touches take skill, time, and money to do correctly, adding to the cost of the final product.
The Vintage Styles
Many Japanese jeans are period-perfect replicas of the jeans worn in the early twentieth century.
At the beginning of Japan's denim boom in the 1980s and 90s, most manufacturers were focusing only on producing period-perfect replicas of vintage American work and cowboy wear. While most denim houses have now generally moved away from these reproductions, several still specialize in it. Want a pair of 1890 overalls made just like the originals? A perfectly-made pair of 1944 501s? Not a problem. Some Japanese jeans makers will accurately reproduce the cuts, denim, threads, and vintage hardwear that made these classic models 'classic'. For some nostalgic denim fans, just being able to purchase exact reproductions of their favorite styles from yesteryear more than justifies the price tag.
View this post on Instagram
Stevenson Overall Co. are known for their authentic vintage reproductions.
The Exclusivity
Sometimes we just want something that nobody else around us has.
Comparatively speaking, most Japanese denim companies produce very small numbers of jeans. Some companies are literally family affairs, some relying on a single loom for all their denim. If you're lucky enough to visit Japan you can literally walk into some of these shops and talk to the person who created the company and who also created your jeans. Aside from being pretty darn cool, this would be very unlikely with the huge conglomerates pumping out thousands of cookie-cutter -same jeans a day in huge automated offshore factories.
View this post on Instagram
Japanese Denim: The Pros and Cons
Pros
Large selection of denim weights, textures, and colors.
Heavier fabrics and threads mean increased longevity.
Nothing else fades quite like raw Japanese denim.
Quality of hardware and finishing details unmatched elsewhere.
Low production numbers means you'll be wearing something unique.
Satisfaction of knowing your jeans were made the old-fashioned way, from start to finish.
Cons
They aren't cheap.
Raw denim can be uncomfortable at first.
Patience and infrequent washing is required to get those high-contrast fades.
Heavy denim can be hot in some climates.
Sizing can be tricky if you're ordering online, especially for unsanforized jeans.
So… Is Japanese Denim Worth It Or Not?
The question was somewhat rhetorical when posed, and can really only be answered by each person for themselves.
For somebody just wanting something cheap and simple to work in, or something that is going to be super-soft and comfortable from the first wear, Japanese denim is probably not going to be worth the price. If however you want something of very high quality made in limited numbers, and don't mind waiting a bit for them to break in and become comfortable, jeans from Japan are worth a look.
As with most things however, there does come a point of diminishing returns. Would I buy a pair of Momotaro's completely hand-loomed jeans which come in at about $1900? Not a chance. (Though I fully admire and appreciate the weeks of work that go into making a single pair.)
But for the $250 – $400 pairs you can find on the shelves in the States, when you consider the amount of time, care, and detailed work that goes into making a pair of these jeans, the price tag now doesn't seem quite so outrageous.
Couple this with their relatively low level of production and the fact that you'll have a pair of jeans that will give you many years of enjoyment (and those electric blue, high contrast fades), and it can actually be seen as very good value.
And finally, for those who would like to try Japanese denim but prefer to buy products made in their home country, all is not lost. The past ten years has seen many new denim brands spring up in the US, Canada, Europe and elsewhere that exclusively use Japanese denim in their productions, first sourcing it from the few remaining shuttle loom mills in Okayama prefecture and then making it their own, performing all the cutting, sewing, and finishing in their own shops. (Naked & Famous is a popular example.)
So either way, if you're into denim, and assuming you've got the funds available, there's no excuse not to get out there and try on a pair of Japanese selvedge jeans.
This is a guest post from Dave Stewart, who runs his own blog on everything to do with Japanese craftsmanship at Japanalogue. You can also follow him on Instagram.
Featured image via @brandedbyu on Instagram.
The following two tabs change content below.
On a slow quest through Japan seeking out items of quality, the artisans who make them, and giving their stories an English life. Raised in the wilds of British Columbia and now based in Osaka, he is currently sinking fast and deep into the indigo waters of Japanese denim. Check him out before he goes under at his site,
Japanalogue.
Latest posts by Dave Stewart (see all)