Like all Brunt Boots the Perkins is named after one of the friends of Brunt's CEO and founder Eric Girouard. Eric's friend Jeremy Perkins was a coast guard veteran and diesel mechanic with a problem to solve: he wanted both comfort and strength from his work boots. He worked with Eric to build a boot that could deliver that.
Maybe you've looked around Brunt's website or noticed the Perkins boot in a Google search and thought it looked like a heavy duty work boot that can handle the toughest jobs. No matter how you ended up here, I've got you covered! This isn't going to be some one paragraph review where I just copy and paste some specs about the boots. I literally worked in a sheet welding factory in these boots and we are going to take a deep dive and answer some of the questions you may have such as: Are the Brunt Perkins good? Are they durable? Are they comfortable? And many more!
Brunt Perkins Features & Specs
For those of you in a hurry or little time on your hands. I've gone ahead and put together a list you can quickly check out that lists the features and specs for the Perkins.
| | |
| --- | --- |
| Leather | Yes, 2mm Full Grain Oil Tanned |
| Safety Toe | Yes, Nano Composite |
| Electrical Hazard | Yes, Meets ASTM Standards |
| Oil & Slip Resistant | Yes |
| Waterproof | Yes |
| Outsole | Rubber, 1" Heel |
| Construction | Glued/Cemented |
| Rubber Toe Guard | Yes |
| Shank | Yes, Composite |
| Height | 6 Inches |
| Country Of Origin | Made In China |
Pros
Surprisingly high quality leather
Excellent insoles, thick and comfortable
Solid arch support
No break in period
Comp toe helps reduce weight
ASTM compliant toecap, electric shock resistance, oil and slip resistance
Cons
Narrow on toes; if you're any wider than a D with socks on, they're probably not for you
Leather stitched over the toe guard instead of under it, which is vulnerable to catching
Rubber toe guard is quite high, you'll need to be mindful if you're using ladders a lot
My Work Environment
I know there are plenty of bad work boot reviews out there from people who haven't actually worked in the work boots they review, but here at Stridewise you won't have that problem. By day I work in a sheet metal fabrication and welding shop. So every workboot I review, I wear to work every day and I'm in them 10-12 hours a day. These boots have been worked in!
Where Are Brunt Boots Made?
I'll answer this one first because it's one of the first questions many ask these days. Despite being an American owned company, the boots are made in China.
That doesn't necessarily mean they are low quality boots and I wouldn't let that keep you from buying them or giving them a chance. But I also get it if you prefer to keep your money stateside and support local US businesses.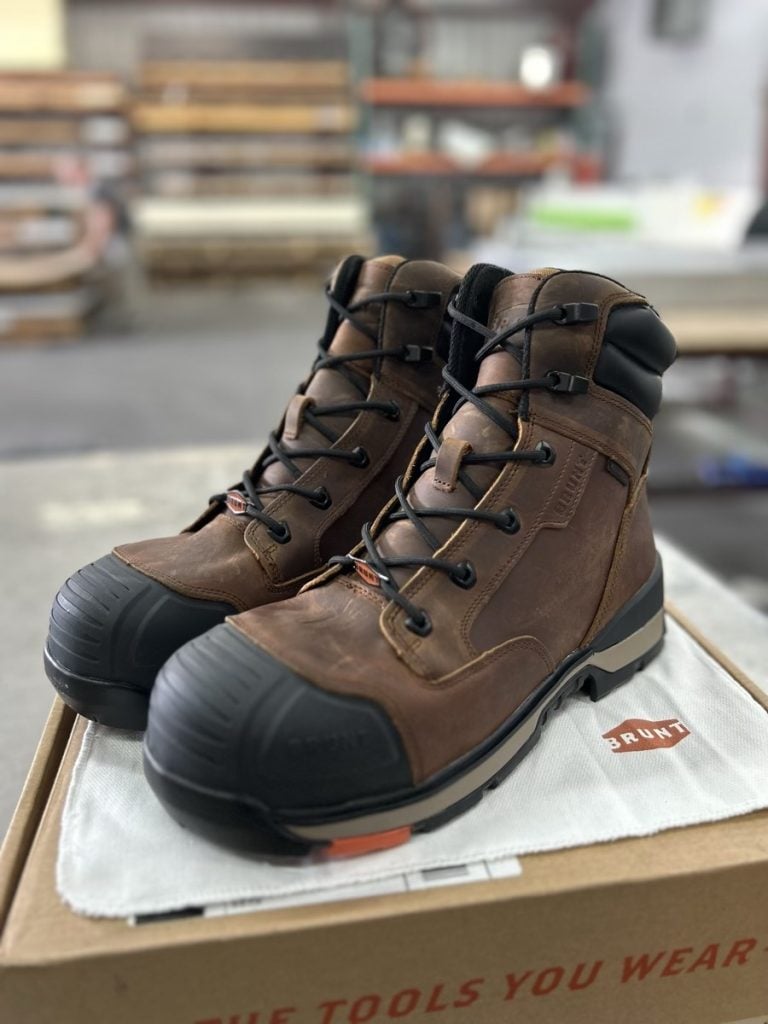 Is the Brunt Perkins Built To Last?
Whether or not the Brunt Perkins is built to last is exactly what we are going to look at in this part of the review. We'll look at the leather quality, construction type, outsole and a few other things to see how the Perkins is built. If it's not built, well, the rest of the review doesn't really matter.
Brunt Perkins Leather
Surprisingly high quality leather
Like the previous Brunt boot I reviewed, the Brunt Marin, the Perkins also has very good leather for its price point. In fact, the leather is one of the best features on both of these boots.
Coming in at 2mm thick, the semi distressed looking brown oil tanned leather is very nice looking for a work boot. It even has a bit of pull up to it. They definitely didn't skimp on the leather.
Brunt Perkins Construction
The Brunt Perkins is glued/cemented construction rather than Goodyear welted like many of the more expensive work boots out there. While a glued construction boot is less durable than a welted boot, it does offer more flexibility than a boot with a Goodyear welt.
The glued construction also means you can't resole this boot, but I don't think that's a negative given the low price point of $160. A resole will cost you more than half the cost of a new pair of boots, so you probably wouldn't bother.
Brunt Perkins Outsole
The outsole consists of a rubber foam midsole layer and a rubber outsole. The outsole also has a 1-inch defined heel, which some jobs/employers require, and a composite shank to help provide arch support and relieve the stress on your feet if you are standing on ladder rungs all day.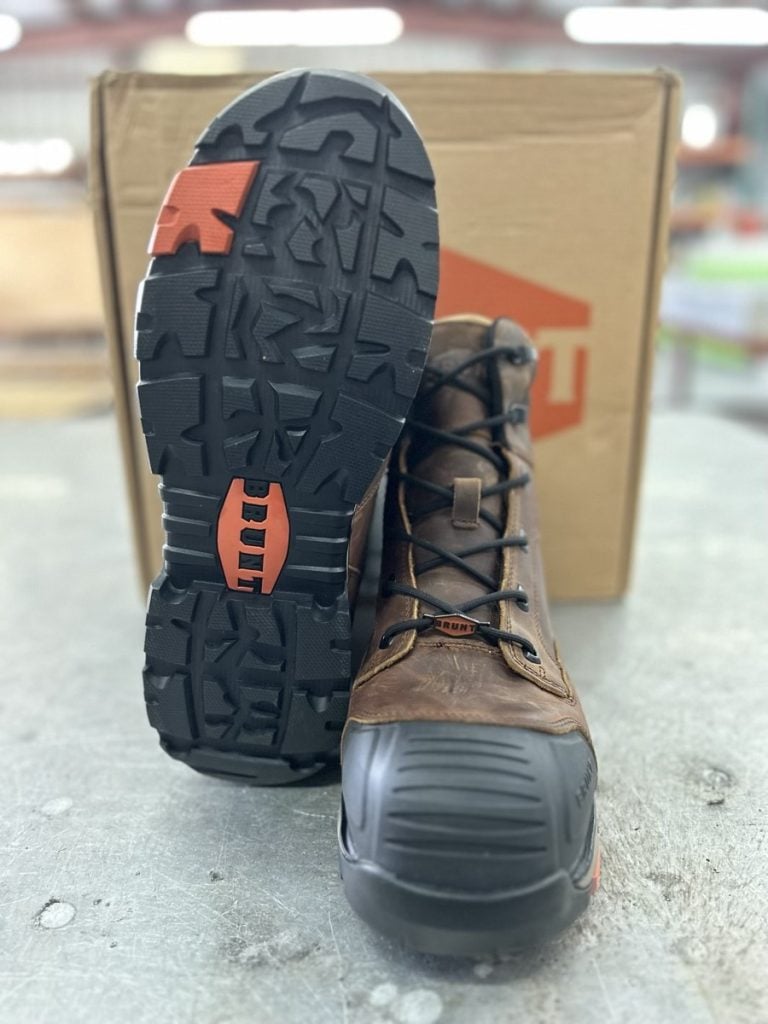 Brunt Perkins Rubber Toe Guard / Heel Guard
I'm sure you've seen a pair of work boots where leather has worn all the way through to the safety toe. You won't have that problem with the Brunt Perkins!
The toe area of the Perkins is made from a layer of rubber which helps them last longer in work environments where you frequently drag your toes around on the ground. They also have a rubber heel guard on the back for added durability.
[Further reading: Compare with our review of the Brunt Marin!]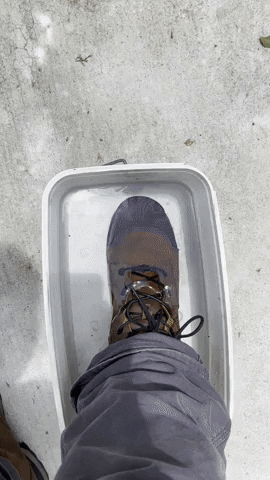 Waterproof Liner
Triple layer waterproofing is very effective
The Brunt Perkins is waterproof. Brunt achieves the waterproofing by infusing a waterproofing solution into the leather during the tanning process. Secondly, every seam is coated with a waterproof coating and then finally, a breathable waterproof membrane is embedded into the boot. Brunt refers to this as "Triple Layer Waterproofing".
I decided to put the waterproofing to the test. Obviously I'm not exposed to a whole lot of water in a shop environment, so I grabbed a bucket and filled it with water to test the boots. The result of my little experiment? My feet stayed dry!
Are the Brunt Perkins Comfortable?
Now that we've established how the boot is made, let's see what it offers in terms of comfort. Ain't nobody got time to be wearing uncomfortable boots 12 hours a day!
Brunt Perkins Toe Box Width
4.3-inch wide toebox
Toes feel cramped
The toe box width is a little deceptive. On the outside they measure in at 4.3 inches but on the inside they definitely don't feel like a boot that has a toe box that measures that wide. My toes definitely feel cramped and I'm barely an E width in my thickest boot socks.
To be clear: I'm just about always a D width, though with boot socks on I'm an E. I wear a D width in most safety toe works boots except for Thorogood boots, who are known to run narrow.
The site says these come in EE width, but they don't — they just tell you to remove the insole and it'll give you more room. In practice, this doesn't work. These boots aren't for you if you're wide footed.
Removable Insole
The removable insole that Brunt ships with their boots is probably the second best thing about Brunt Boots after the leather quality. The insoles are very thick and comfortable and you'd be hard pressed to find one as good as Brunt's in other work boots in the Perkins price range.
Brunt Perkins Arch Support
Unlike the Brunt Marin that had very little arch support, the Perkins actually has enough arch support for my moderately high arches. Obviously everyone is different but I think the Perkins offers enough for those that like some arch support while not having so much that they become uncomfortable for people with flat feet.
Brunt Perkins Weight
Coming in at 2lbs 3.6oz the Perkins isn't the heaviest boot I've worn but it's also not the lightest. It's not quite as heavy as the Hawx Legion boots I reviewed recently, but it's still heavy enough to notice the weight.
Brunt Perkins Break In Period
There is absolutely zero break in period for the Perkins. The leather is soft and supple and as I mentioned earlier, the cement construction of the boot makes it flexible. Not to mention the top of the boots, around the ankles, has a thick layer of padding making the boots super comfortable. Brunt definitely designed these boots to go straight to work as soon as they come out of the box.
Brunt Perkins Safety Features
This is the last thing most of us think about but many of us need to know what safety features work boots have due to employer work boot policies.
Composite Toe
The Perkins comes with a nano composite safety toe that is ASTM compliant for compression and impact resistance. The boot is built like a tank so it is nice to have a composite safety toe to help reduce the weight of the boots.
Brunt also touts their nano composite toe as being more protective than a steel toe.
Electrical Hazard Rating
The boots are compliant for ASTM standards for electrical hazard resistance as most boots are. This one is pretty standard on pretty much every work boot.
Slip Resistance
The Brunt Perkins is oil and slip resistant due to the rubber outsole. Brunt describes it as a "Industry-leading rubber sole with heavy-duty traction tread for oil and slip resistance"
Brunt Perkins Sizing and Fit
Order true to size
Narrow toe box; these aren't for you if you're wider than a D with boot socks.
In terms of fit and sizing length wise, I would say the Perkins is very true to size. I'm an 11.5 on a Brannock and the 11.5 Perkins fit me perfectly in length. Typically, your Brannock will be a half size down from your sneaker/athletic shoe size but I definitely suggest having your feet measured if you don't know your Brannock.
As far as width goes, that's a different story. I'm sure you have seen Brunt advertising their boots as being "Adjustable Width" by removing or inserting a removable insert that will make the boot go from normal to wide width. Well… it's a gimmick. The boots already run a little wide and the insert just serves to reduce overall volume in the boot for people with narrower feet.
Remember earlier when I mentioned my feet were cramped in the toe box? Removing the insert didn't actually help anything. Sure it gave me a little bit of vertical space but width wise my toes were cramped and the safety toe painfully dug into the sides of both of my big toes to the point that I would switch boots before the day was over.
Just to reiterate, I can wear a D width in most safety toe work boots with a narrower toe box measurement, like my WingShooter ST boots, without issue. When measuring my foot, it winds up an E width with boot socks on. If you're the same, these boots aren't for you. The "increase the width by removing the insole" trick doesn't work, meaning there are no wider widths you can purchase.
[Further reading: Compare with the Irish Setter Wingshooter ST boot review]
How Much Do Brunt Perkins Cost?
The Brunt Perkins costs a very affordable $159.99. Which is a little cheaper than some of its competitors like the Hawx Legion boots I recently reviewed or boots like the Timberland Pro Boondocks.
Concerns
Every time I review a boot I try to identify some areas that could affect longevity or be a pain in the butt down the road. I've identified two things:
My first concern is how the leather is attached to the rubber toe guard at the front of the boot. The leather is stitched over the toe guard rather than being tucked under and stitched. The problem I see is the leather seam catching on something and busting the stitching apart.
The second concern is the overall height of the rubber toe guard. I can definitely see catching on ladder rungs if you go up and down ladders frequently.
Final Thoughts
All in all I would say the Brunt Perkins is a solid boot at its price point. The Perkins' main competition are boots like the Timberland Pro Boondocks and the Hawx Legion boots. I can't speak to the Timberlands but I would definitely recommend the Perkins over the more expensive Hawx boots to someone with normal width feet.
Personally they aren't for me because of the toe space, but it's like that sometimes with boots. I'm definitely sad about it because I really wanted to love these boots from the moment I opened the box. However, the if you have normal width feet I would strongly encourage you to give them a try. With free exchanges and returns, it's not a big gamble to try them out.