This post may contain
affiliate links
that at no additional cost to you, I may earn a small commission from.
At over 125 years old, Thorogood is one of the oldest shoe companies in the United States and they're one of the few that are employee-owned, two facts that give them a lot of appeal among folks who prefer American-made.
What often gets left off of that is the fact that 35 percent of their boots are made overseas but still, the majority of their offerings come from one of their two union factories in Merrill, Wisconsin.
I've tried out their Dodgeville boots before, which seemed to be trying for a "cheaper Iron Rangers" vibe, but it's fair to say the brand is best known for their heritage moc toe boot. So what makes it so special?
[Love these boots? Get the lowest price on Amazon here.]
Thorogood Moc Toe First Glance
Moc toe style
Oil tanned leather
Lightweight
Polyurethane sole
Actual workboots
Also available with an 8-inch shaft, the classic Thorogood moc toe comes with a 6-inch shaft, a chunky white sole, and a "moccasin" toe that's meant to be reminiscent of shoes worn by early Native Americans.
I'll be honest here, a lot of the shoes I've reviewed claim to be work boots but wouldn't really be used in a warehouse, but Thorogood is different. When I was in college, I spent a lot of time working in warehouses and dodging forklifts and it wasn't unusual to see a boot like the Thorogood moc toe on the floor.
In this regard, they're versatile. It's hard to argue that any moc toe style boot can be dressed up, but this is a boot that can be worn in casual situations and in blue collar work situations. In fact, the sole is very resistant to electrical charges, although there's no steel toe so it may not meet the requirements of certain work environments.
I'm not crazy about the excessive stitching along the side of the boot or the flag attached to the vamp, but given these shoes are proudly made in the United States I think it's something I can forgive.
[Read More: The 7 Best Moc Toe Boots On The Market 2022 | Best Value, Toughest, Best for Work, and More]
Thorogood Moc Toe Leather
Oil tanned leather
Doesn't require much care
Pretty water resistant
Some loose grain
These shoes are available in black and in Crazy Horse — check out my Chippewa Service Boot review for more info on that one — but the most popular color is definitely Tobacco.
This is an oil tanned leather. When it comes to leather there are a lot of ways to tan it, usually you'll hear about vegetable tanning or chrome tanning, or maybe combination tanning which is what the famous Chromexcel leather is.
[Read more: Is Chrome Tanned or Vegetable Tanned Leather Best for Your Boots?]
Probably one of the most famous oil tanned leathers is the one used by Red Wing on their Iron Rangers. Typically, this kind of leather is vegetable tanned and then oil tanned, and the type of oil varies a lot. Some use castor oil, some use pine oil, some even use fish oil.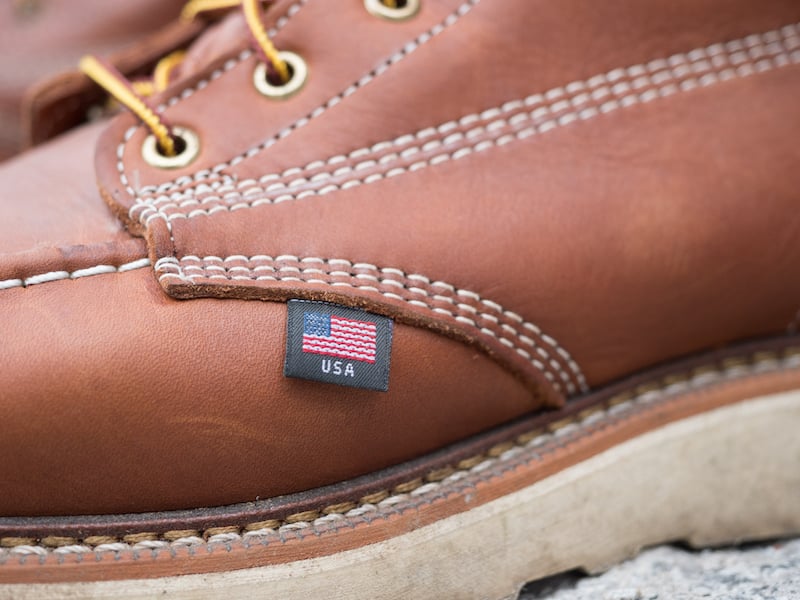 An upside with oil tanned leather is that it's a bit more water resistant than just regular veg tanned leather and it doesn't scratch as easily as other leathers (particularly Chromexcel). On the other hand, oil tanned leather doesn't have quite as much color depth as chrome tanned, so it depends on what you like.
Thorogood's leather isn't super thick and it's not crazy high quality. As you can see in these pictures, the leather has wrinkled somewhat and loose grain has be come a little more pronounced as they've aged. If it's important to you, it is worth pointing out that it aged relatively quickly. (But hey, the price is right.)
Finally, oil tanned leather doesn't need quite as much conditioning as a lot of other leathers because it's got a lot of oil in it already, but there are some things to keep in mind with leather care.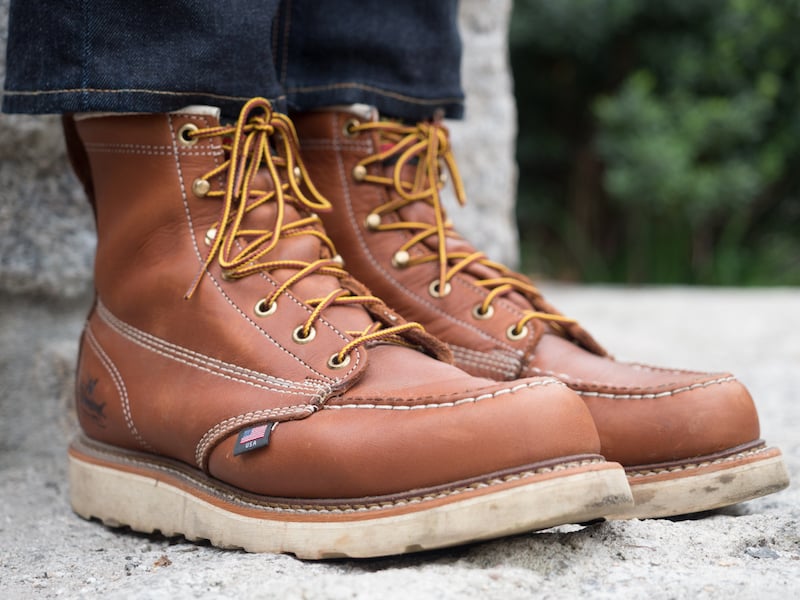 Thorogood Leather Care
KG's Boot Guard for the toe
KG's Xtreme All Purpose Leather Guard for conditioning
Mr Clean Magic Erasers for the sole
Thorogood recommends two products for this boot, both of which reflect the fact that they expect you to kick these around a lot.
The first is KG's Boot Guard, a blend of polyurethane and xylene that's specifically meant for putting a nice tough layer on the toe of the boots. This is especially useful for the version of this boot that doesn't have a steel toe.
Some folks also like to put Boot Guard on the seams to help with water resistance, but if that's your concern you might want to also consider KG's Xtreme All Purpose Leather Guard, which is made of natural oils suspended in beeswax and propolis, Despite the dramatic name, this product is primarily meant to soften and condition the leather. A lot of reviews say it'll make the boot functionally waterproof but to me the biggest benefit is that it seems to protect the boot against salt, petroleum, and harmful chemicals as well.
If you're more interested in having super supple leather than in piling on layers to protect from the elements, you might want to try some Venetian Shoe Cream, although I am aware that putting fancy boot cream on work boots is a bit unusual.
Finally if you want to keep the sole as clean as possible, Mr. Clean's Magic Erasers will do the job.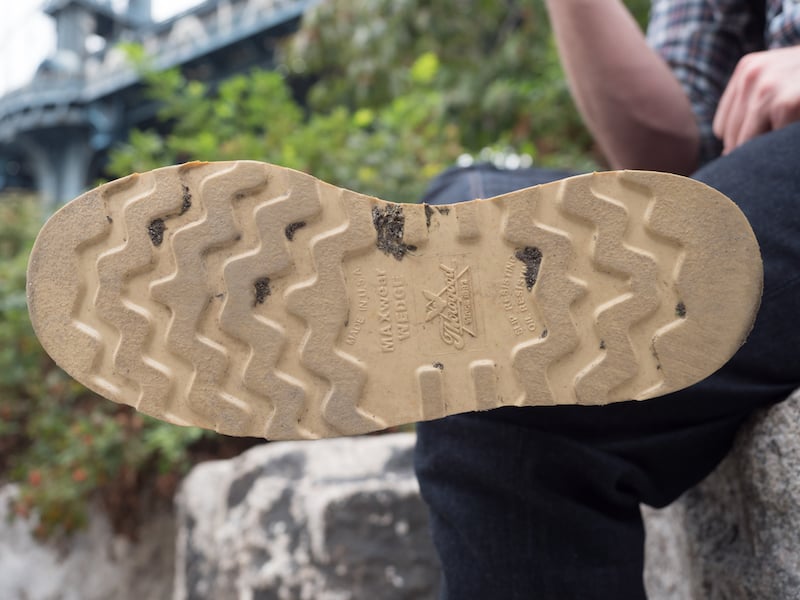 Thorogood Moc Toe Sole
Polyurethane outsole
"25% more durable than Vibram"
Rubber and cork midsoles
Poron 4000 Comfort Cushion
Dual Density Ultimate Shock Absorption™ Insert
This is their Exclusive Oil and Slip Resistant Polyurethane MAXwear Wedge Outsole.
Traditionally they used a Christy Vibram sole that was made of blown rubber, which Thorogood introduced to their shoe line in 1964. However, they decided to design their own sole because they didn't like the fact that for most people who used them as daily workboots, the Vibram sole wore down in less than a year. So the sole that's on the boot now is a kind of polyurethane that lasts about 25 percent longer than Vibram, according to their estimates.
There are some reports that this tougher sole is a little harder on the knees among older folks who need to work in them all day. This is pretty subjective and obviously depends on the joint health of the individual, but it's worth pointing out.
The sole is indeed very lightweight, partly because of this polyurethane sole, partly because it has a shank made of fiberglass, but also because it has a rubber midsole and the insole is Poron. Technically it's a Poron 4000 comfort cushion, a material that's used in a bunch of sneaker brands like Adidas and Nike, plus Thursday Boot Company has Poron some of their models as well. The idea with Poron is that it provides cushioning with air permeable open cells that resist moisture and help with shock absorption.
Added to that shock absorption is an this insert that Thorogood calls their Dual Density Ultimate Shock Absorption™ Insert, a removable insole.
The boot also has a Goodyear welt, which means that there's a layer between the upper and the sole that the stitching runs through. That means it's a lot easier to resole than cemented soles or Blake stitches, and it helps with water resistance as well.
[Learn more about the differences between Goodyear welts, Blake stitches, and cemented soles here.]
Keeping true to its work boot roots I wanted to point out that these soles are capable of quote, "withstanding an application of 18,000 volts at 60 Hz for 1 minute with no current flow or leakage current in excess of 1.0 milliamperes under dry conditions."
That's obviously meant to target people who work closely with electricity and I can't pretend to know exactly what that means, but hey, maybe that'll make you feel a tiny bit more secure wearing these in a thunderstorm.
Thorogood Fit & Sizing
Available in B, D, and EE
No break in
May run a little narrow
Great shock absorption
Very lightweight
At the moment these run from sizes 5 to 15, most of which you can get in B, D, or EE widths. They run large: I'm between 11.5 and 12 on a Brannock device but I grabbed size 11D which fit great. I should note that some folks feel they run a little narrow; I had no issues but if you're closer to an E than a D, you may be better off getting a EE width.
Thorogood Moc Toe Price
The cost for these is $214 a pair. They're generally the same price on Thorogood's website and on Amazon but you're more likely to run cheaper on Amazon — check them out at this link here.
215 bucks is cheap. That's a cheap boot. There's no leather midsole or insole, sure, but this is still a boot that has a shank, has a Goodyear welt, has great traction and is lined with cotton. I was pretty darn impressed with the price here.
[Related: The Best Boots for Under $300]
The Verdict
Here are the pros and cons you should know about.
Thorogood Moc Toe Pros
Inexpensive
Lightweight
Low maintenance leather
Durable, grippy sole
An actual workboot that can be worn to a bar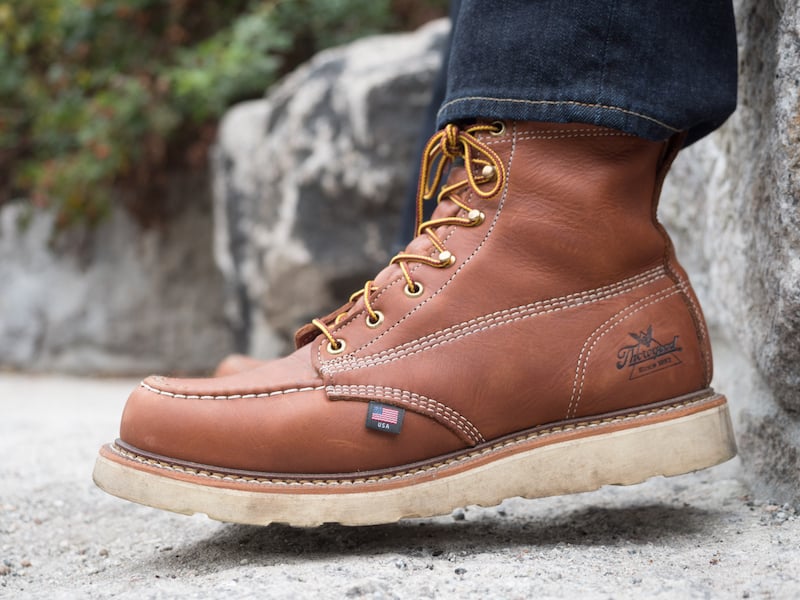 Thorogood Moc Toe Cons
Laces come loose easily if not double knotted
Leather aged quickly, but it's fine for the price
No steel toe, toe can get damaged easily if not using Boot Guard
Kind of gaudy branding
Not that formal
Sole may be a bit hard for certain consumers
I quite like these boots. No, you can't really dress them up and some might find them too lightweight and sneaker-y for boots, but they're lightweight, comfortable, have great shock absorption and arch support, and they can actually work as work boots. Combine all that with the fact that they cost under $200 and you've got a pretty solid offering from Thorogood.