In this review we're going to talk about Irish Setter work boots, specifically the Wingshooter ST, one of the brand's most popular work models.
Perhaps you've seen them online while searching for work boots or you saw them in the previous Red Wing vs Irish Setter article. However you saw or heard about them, I'm here to give you the facts about them and tell you if the WingShooter ST is a good work boot or not.
Irish Setter Wingshooter ST Pros and Cons
Here's what you need to know if you gotta make the decision to buy these or not quickly.
Pros
Great value
Lightweight for a work boot
ASTM compliant safety toe, slip resistance, and electrical shock resistance
Totally waterproof
No break in period
Good shock absorption and comfort
Able to be resoled
Available in wide widths
Cons
Not great arch support
Lots of stitching on toe make for vulnerabilities; consider adding a Tuff Toe
Wedge sole not ideal for logging
Work Environment
Before we get into the review, I just wanted to say that the boots are being worn in a real world work environment for this review. By day I work in a sheet metal fabrication and welding shop, so I'm pretty good about judging whether or not a boot will have what it takes to be a good work boot.
Who is Irish Setter?
For those of you who don't know, Irish Setter is owned by Red Wing Shoe Company. In fact, the current flagship and world famous 877 heritage boots were once Irish Setters.
In 1950, Red Wing introduced a 9-inch lace up sportsman boot for hunters, style 854, in the Oro-Russet color which is similar to today's Oro-Legacy. That Oro-Russet color was the inspiration behind the name Irish Setter because, well, it looks like the color of the fur on an Irish Setter dog.
(If you would like to take a deep dive into the history of Red Wing leathers, Stitchdown has an excellent in depth article you can nerd out on.)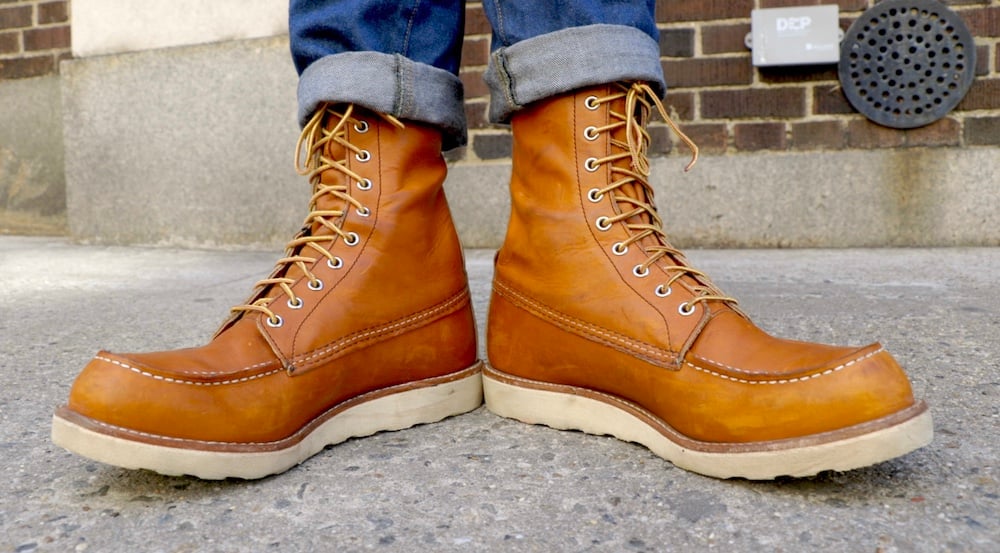 As you may have guessed it, that 9-in 854 style boot was essentially today's 877 with a heel. The flat-soled 877 was born in 1952 and replaced the 854 as the company's most popular boot.
As time went on, the Irish Setter boots developed into their own brand and became a world famous hunting boot brand.
In 2003, Irish Setter introduced the WingShooter, a hunting boot, and found it became popular at job sites across the country. So in 2017 they decided to make a version of that boot that could truly meet the safety needs of tradesmen across the country.
That's the boot is what we are reviewing today: The WingShooter ST. (ST stands for Safety Toe.)
[Further reading: Red Wing vs Irish Setter Boots]
Irish Setter Wingshooter ST: The Specs
| | |
| --- | --- |
| Safety Toe | Yes: Non-metallic, plastic/composite toe cap. |
| Slip Resistant | Yes |
| Electric Hazard Rated | Yes |
| Waterproof | Yes |
| Construction | Leather Goodyear Welt |
| Outsole | Dual Layer EVA and Rubber Traction Tread |
| Leather | Full Grain |
| Height | 6in. (8in option also available) |
| Country of Origin | Made in Vietnam |
How are Irish Setter boots made?
How a boot is made and what materials it uses is critical to its longevity as a work boot and that's what we are going to discuss in this section of the review. Let's start with the leather.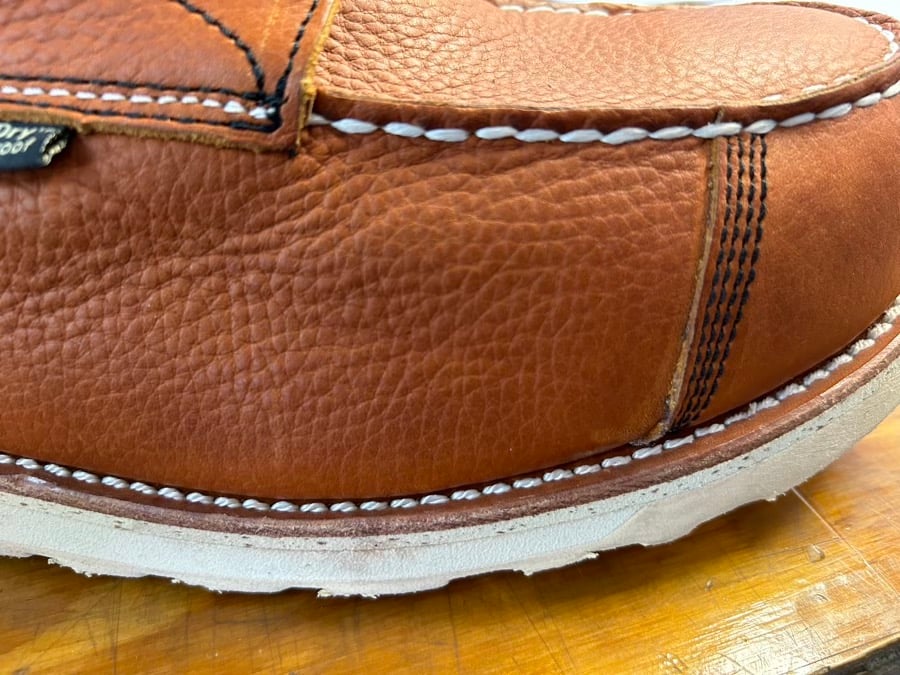 Wingshooter ST's Leather Quality
The leather on WingShooter ST isn't as nice as the leather on Red Wing Heritage boots or even the Irish Setter Ashby, but it's good enough. It's full grain and tumbled for texture and for ease of breaking the boots in, but it has an embossed surface: that "grain" pattern has been stamped onto it. Still, they're quite scratch resistant compared to some of my other boots with much nicer leather.
Leather Goodyear Welt
You'll be happy to know that the Wingshooter ST has a leather Goodyear welt. What is a welt and why should you be happy it's leather?
A welted construction boot means that a strip of PVC, synthetic material, or leather (as is the case here) is sewn around the perimeter of the boot's upper. Then a midsole is sewn to the welt and the outsole is glued (and sometimes stitched) to the midsole. You can see below that this particular boot is partially stitched around the toe area.
A leather welt is important because it's more durable than synthetic welts, so you can actually resole your boot. Synthetic welts might be able to be resoled once, but you shouldn't bet on it. Oftentimes, synthetic welts will crack, which means a more costly resole because the cobbler will have to rewelt the boot.
Leather welts mean easier and cheaper resoles, and more of them.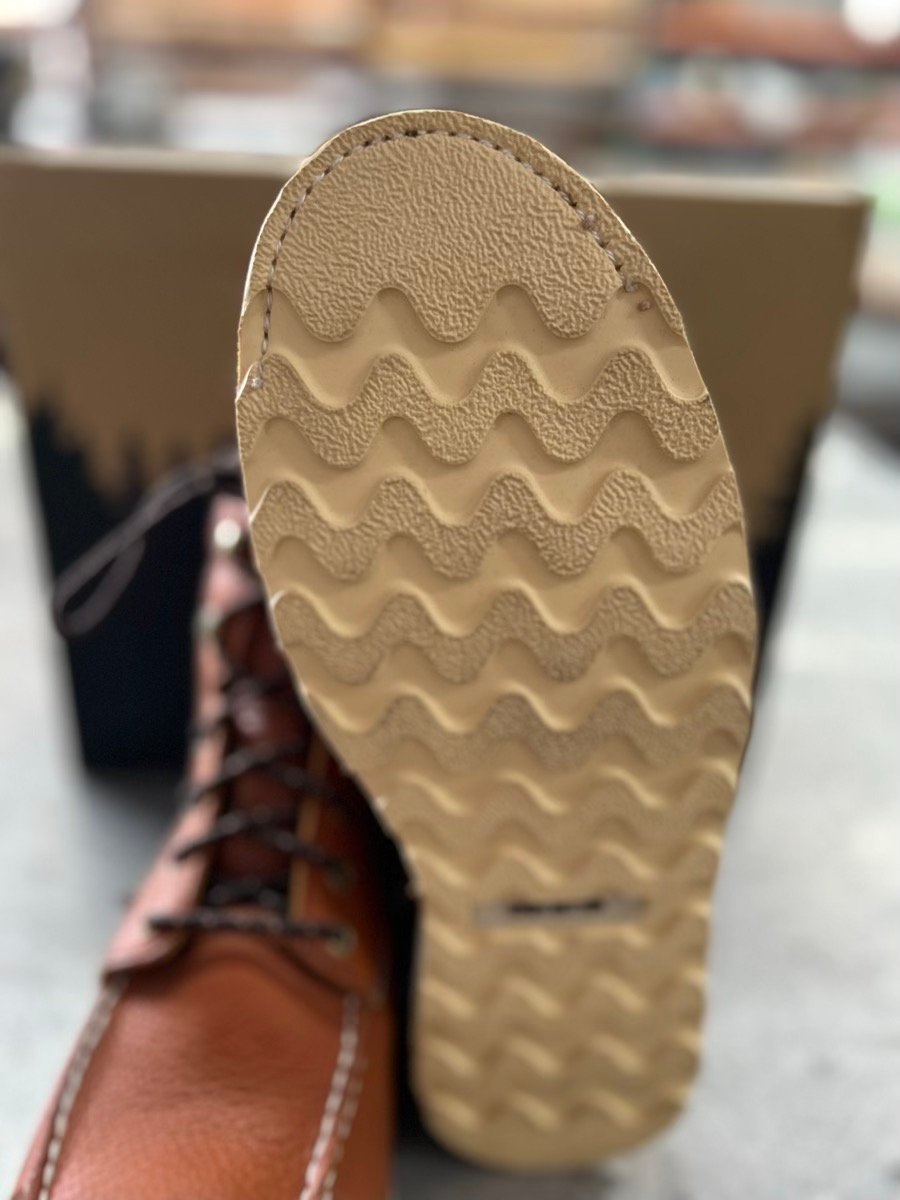 Irish Setter's Wingshooter ST Sole
Combination rubber outsole and EVA foam
Can resist 475° Fahrenheit
The outsole is a dual layer EVA "Traction Tred" outsole. This means that the outsole is comprised of two layers: a thick layer of EVA foam and a thin rubber Traction Tread outsole. This combo gives you the durability of a rubber sole with the cushion of EVA.
On top of all that, the outsole has Irish Setter's HRO designation (Heat Resistant Outsole) meaning it can resist temperatures up to 475° Fahrenheit before melting.
Wingshooter ST's Waterproof Liner & Gusseted Tongue
The WingShooter ST is waterproof and features Irish Setter's Ultra Dry Waterproofing System. To quote Irish Setter on the waterproofing system,
Our UltraDry™ construction combines a moisture management lining with waterproof components for dry, long-lasting comfort and performance.
I can honestly say that my feet don't sweat too bad in these — rare for a waterproof boot that's designed to stop moisture from permeating — and the boots are always dry inside by the next morning. The liner is definitely good at keeping water out of the boots and wicking sweat away from your feet.
The tongue is gusseted and is part of the waterproof liner. Please note that the gusset ends at the bottom of the first speed hook so if you step in water deeper than that you'll probably get a wet foot.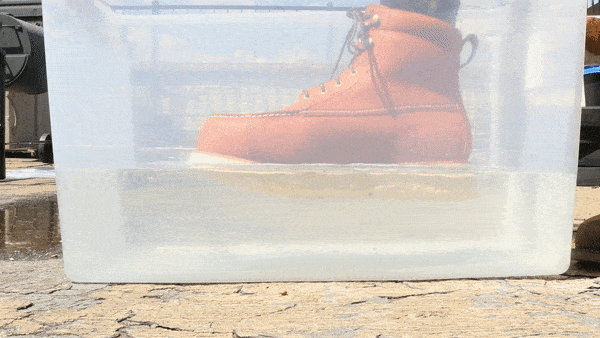 The Shank
This particular style of the WingShooter St, the wedge sole, does not have a shank. Quite frankly, a shank isn't really needed on a wedge sole boot, as the sole is extremely thick and provides continuous support across the whole length of your foot.
I would like to note that the WingShooter ST does come in a heeled style that does have a shank.
Is The WingShooter ST Comfortable?
The WingShooter ST is very comfortable and I can confidently say that they have that all day comfort most people are looking for in a work boot. In this next section of the review, we'll look at some of the things that make them so comfortable.
Removable Insole
The Wingshooter ST has a removable polyurethane insole that is very soft and squishy. It's seriously comfortable and great for being on your feet all day.
[Further reading: The 12 Best Insoles for Work Boots]
Ankle padding
At the top of the boots there is a generous amount of padding between the leather and the waterproof liner. This is something that really adds to its out of the box comfort: no stiff leather sloughing off your ankle skin.
Toe Box Space
Coming in at 4 inches wide, the toe box is very spacious for a moc toe, especially one with a safety toe cap in it! It leaves plenty of wiggle room for your toes. It also comes in an EE width, making that already spacious toe box even wider for those of you with wide feet.
Arch Support
Arch support is a weak spot for the WingShooter ST. With a heel drop of only ½ inch, you're not getting a whole lot of arch support. So if you have high arches, you may need to consider a different insole.
Break in period
The WingShooter ST literally has no break in period. They are comfortable right out of the box and ready for work on day one. I will say that they did get more comfortable after the first few days of wearing them, but like I said, they were comfortable straight out of the box.
Irish Setter Wingshooter ST Sizing and Fit
The Wingshooter ST fits true to size. You're not going to need to size down a half size like some of the other moc toe boots on the market.
Overall, the fit is pretty good. They are wide but not too wide and snug but not too snug. On top of that the waterproof liner gives them a bit of a sneaker like feel and adds another layer of padding between your big toe and the safety toe.
How Much Do Wingshooter ST Boots Weigh?
Coming in at 2lbs 1.3 oz the WingShooter is definitely lightweight for a waterproof safety toe boot. You definitely won't have to worry about the weight of the boots tiring your legs out by the end of the day.
Wingshooter ST Safety Features
Now that we know how they are built and if they are comfortable. Let's talk about its safety features and whether or not they meet ASTM safety standards.
Safety Toe
The WingShooter ST has a non metallic composite/plastic safety toe cap that meets ASTM standards for impact and compression resistance. The nice thing about the Wingshooters having a plastic/composite safety toe is that it allows them to stay lightweight.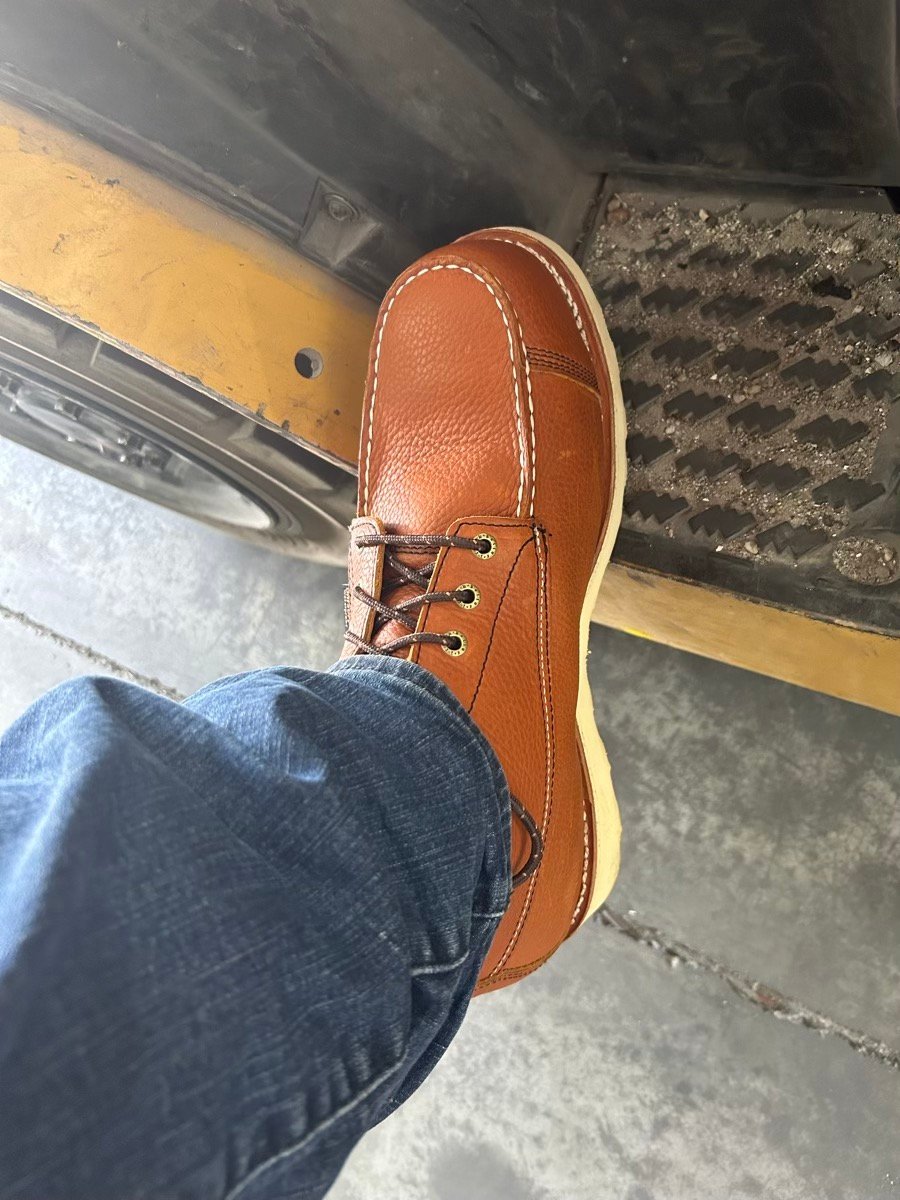 Shock Resistance
They also meet the ASTM requirements for shock resistance, meaning, they can withstand 18,000 volts at 60hz for 1 minute without any current overflow or leakage in excess of 1 milliampere.
Slip Resistance
The WingShooter ST also has a slip resistant outsole that meets ASTM F3445-21,SR standards for slip resistance. This is especially helpful if you work in wet environments or environments where your boots are exposed to oil and grease frequently
How Much Does the WingShooter ST Cost?
Coming in at just under $200, the WingShooter ST can be found on Amazon for $199.99. In all honesty. I think that price is a steal considering all the bad boots on the market in that $200 price range
Irish Setter's Wingshooter ST: The Downsides
As always I try to identify weak points in the boots I review that may affect longevity, I've found one.
The moc toe stitching on either side of the toe box. There is a lot of stitching going on there, and if it gets damaged there is the potential the whole toe box will fall apart. I've looked around online and that area seems to be a place many people have said fails first for them. I strongly suggest getting a Tuff Toe on them if you are rough on the toes of your boots.
Who Should Buy the WingShooter ST?
Everyone, and I say that seriously! These boots are extremely versatile and will be a good choice for most. The only people I wouldn't recommend them to are people doing logging work or similar. I say that because the wedge sole isn't suited well for that kind of work but hey there is the version with the heel that may perform better in that kind of environment.
Final Thoughts
In closing, I would like to say I am very impressed by the WingShooter ST and I can definitely see why it's one of Irish Setter's most popular work boots. I think they are a great value for the price and they offer a lot for $199.99.
Just keep in mind that you may need a different insole if you have high arches, but other than that, I honestly believe they will serve most people very well, especially with the ease of resoling them due to their leather Goodyear welt construction.
Frequently Asked Questions
Is the WingShooter ST Waterproof?
Yes! The WingShooter ST is fully waterproof thanks to a waterproof membrane called UltraDry™.
Can you resole the WingShooter ST boot?
Yes! The boots are Goodyear welted, which means a cobbler can easily resole them.
Where is Irish Setter's WingShooter ST made?
The boots are made in Vietnam.