What exactly is a boot shank? Simply put, the shank is a load-bearing piece of steel (or another hard, inflexible material) that is sandwiched between the insole and the outsole of your shoe. It usually sits between the ball and heel of your foot, under the arch.
You can't see it, but it's there to support you: shanks relieve tension by diminishing the load on your arches, calves, and knees — something that gets more meaningful as you get older — and help you keep your balance on uneven terrain. They also maintain the shape of the boot over time and keep the leather from sagging in the gap between the heel and the forefoot.
This means that you'll get the most out of your investment.
The biggest benefit of a shank is stability, which is why they're often left out of boots with the flat rubber soles called wedge soles. Since they don't have heels, they don't need the extra balance and stability of a shank. Still, some folks claim they still feel a difference with a shank on wedge soled boots, so you'll occasionally find them in models like the Grant Stone Brass Boot.
What Is a Boot Shank?
Improves balance and stability
Reduces foot/joint pain
Helps boot keep its shape over time
Shanks are a pretty common boot component and you'll find them in all kinds of styles from mountaineering, to heavy work boots, to a streamlined dress boot. The shank itself is a narrow, rectangular piece of metal about twice the size of a stick of chewing gum. Shanks come in half, ¾, and full lengths, though outside of heavy workwear a half shank is the standard. After the upper and insole are constructed, the shank is cemented and/or laced to the insole or midsole, then covered by the outsole.
[Related: The 10 Best Dress Boots]
A steel shank is entirely different than a steel toe, though both protect your feet in hazardous conditions and help to maintain the shape of the boot. Shanks also offer a slight degree of protection to the foot from puncture wounds, though only in that small area.
This video starts at the point where we replace the leather shank, which wasn't properly secured and was causing a "squeaking" problem for the customer.
Different Materials for Boot Shanks
These days, not all shanks are made of steel.
Fiberglass, leather, nylon, wood, plastic, carbon fiber and even kevlar are commonly used. The R.M. Williams Comfort Craftsman, for example, uses an "airport-friendly" fiberglass shank to try and reduce the weight . Tricker's, in keeping with their English country theme, uses wooden shanks in all their boots. Solovair does too, but I accidentally broke mine when testing how flexible the rubber sole was.
Pacific Northwest icons White's and Nick's opt for stiff, vegetable tanned leather shanks (the kind of leather you'd use for an outsole, not an upper), which you can see me handling in the video above.
Steel shanks are the norm and very unlikely to warp over time.
Basically, it's up to the manufacturer: do they prioritize weight? Flexibility? Durability? Each material has its pros and cons, but to be frank, the average person won't notice the differences. If you fly a lot and you don't want to take your boots off every time you go through TSA PreCheck, though, you'll want a pair without the metal detector-unfriendly steel shank.
But Does Every Boot Need a Shank?
It depends who you ask.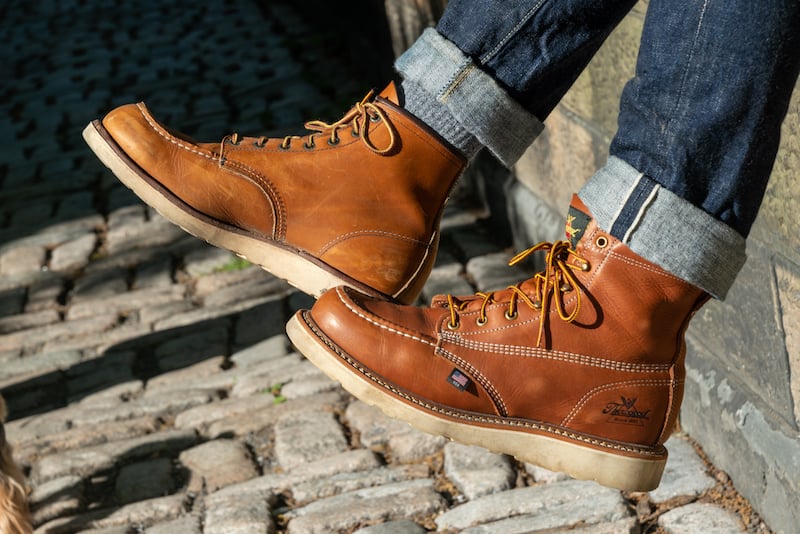 Wedge Soles
Flat soles like the ones in the picture above are called wedge soles, sometimes Cristy soles. Because they don't have a heel, the stability-conferring benefits of a shank are less important. Red Wing's moc toe on the left doesn't have one, the Thorogood on the right does. Some guys say they still feel a difference between a wedge soled boot with and without a shank, particularly as the heel wears down, so there are reasons to go with a shank but most people don't think they're that important, here.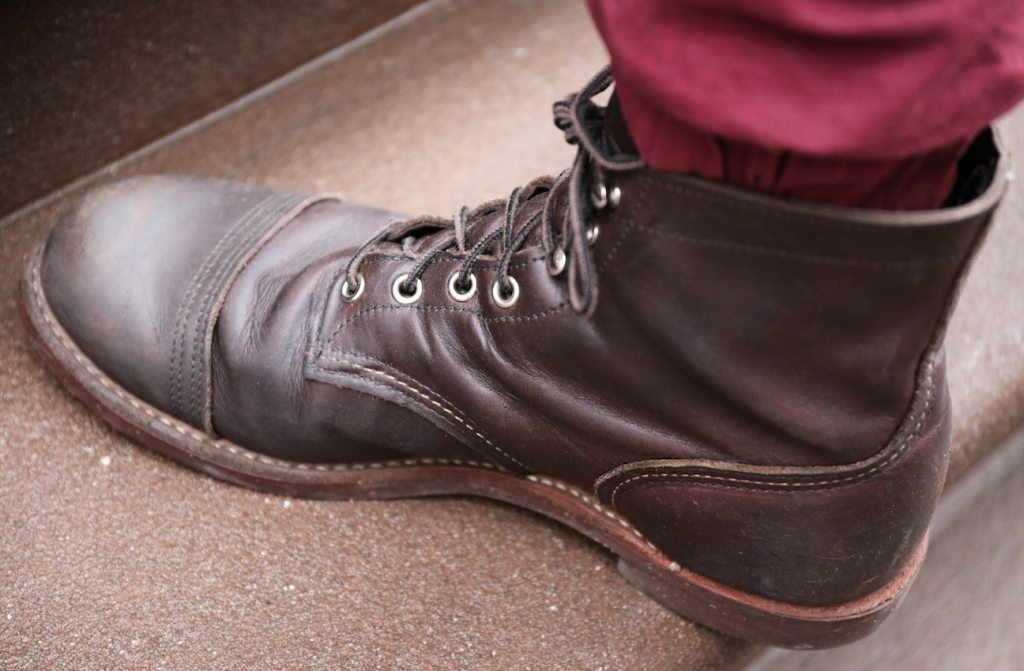 360-Degree Goodyear Welts
On a recent trip to Allen Edmonds in New York, they told us they don't put shanks in their dress shoes that have full, 360-degree Goodyear welts, because they feel that firm perimeter offers enough stability.
Many boots and shoes, like Red Wing's Iron Ranger above, end the welt at the heel, making for a 270-degree Goodyear welt that some prefer for aesthetic reasons. You're unlikely to find a 360-degree boot with a heel and without a shank but for lighter wear and lighter shoes, stability is a bit easier to maintain.
The Takeaway
Shanks are something that's easy to take for granted because they're so buried in the construction. But, for me, they're an indispensable part of the boot — all of my favorite boots feature a shank. The stability they offer is meaningful for reducing the odds of knee or hip pain on more battle-worn boot wearers, and the structure they give the boot keeps it from sagging in the middle and means they'll keep their shape longer, lasting well into the future.
Featured image via @ostmoboots on Instagram.
The following two tabs change content below.
Mel Compo
Mel Compo is a writer, editor, and general word-geek from Brooklyn, New York. When they're not writing about the finer side of men's footwear they can be found lurking around the streets, trains, and museums of NYC, ostensibly doing something urgent but actually just looking around for menswear style inspiration.
Latest posts by Mel Compo (see all)