If you've ever spent time on social media looking at boots, you have no doubt been inundated with ads for Brunt Workwear. (Kudos to Brunt's marketing team.)
Now if you found yourself asking questions such as: Are Brunt Boots good for actual work? Are they durable? Is the adjustable width insole a gimmick? Then this review is for you!
Today we are going to look at The Marin, Brunt's bestseller, and see how it stacks up as a work boot, what its safety features are, and how comfortable it is.
The environment they are being worn in is a sheet metal fabrication and welding shop. Yep, you read that right! I'm wearing these work boots for work. Some of the things they'll be exposed to inclue: sparks and splatter from cutting, welding, and grinding, along with lots of sharp and abrasive objects all over the shop.
Are Brunt Boots Worth It?
Got somewhere to be? Here are the pros and cons of Brunt Workwear's Marin Boot so you know what to expect.
Pros
Affordable price
Leather color looks good
Multiple toe options available
Insole is very soft
No break in
Fully waterproof
ASTM F2892-18-compliant sole
Cons
Lack of arch support.
8″ version isn't at a good price point
Adjustable width insole doesn't actually make the boot wider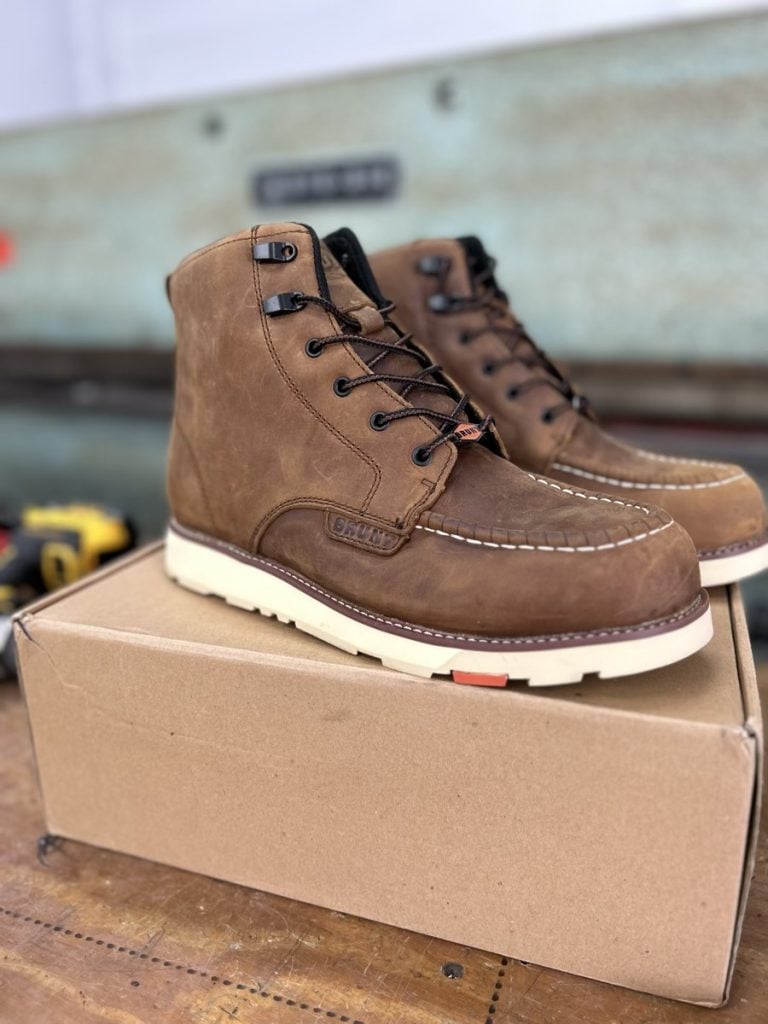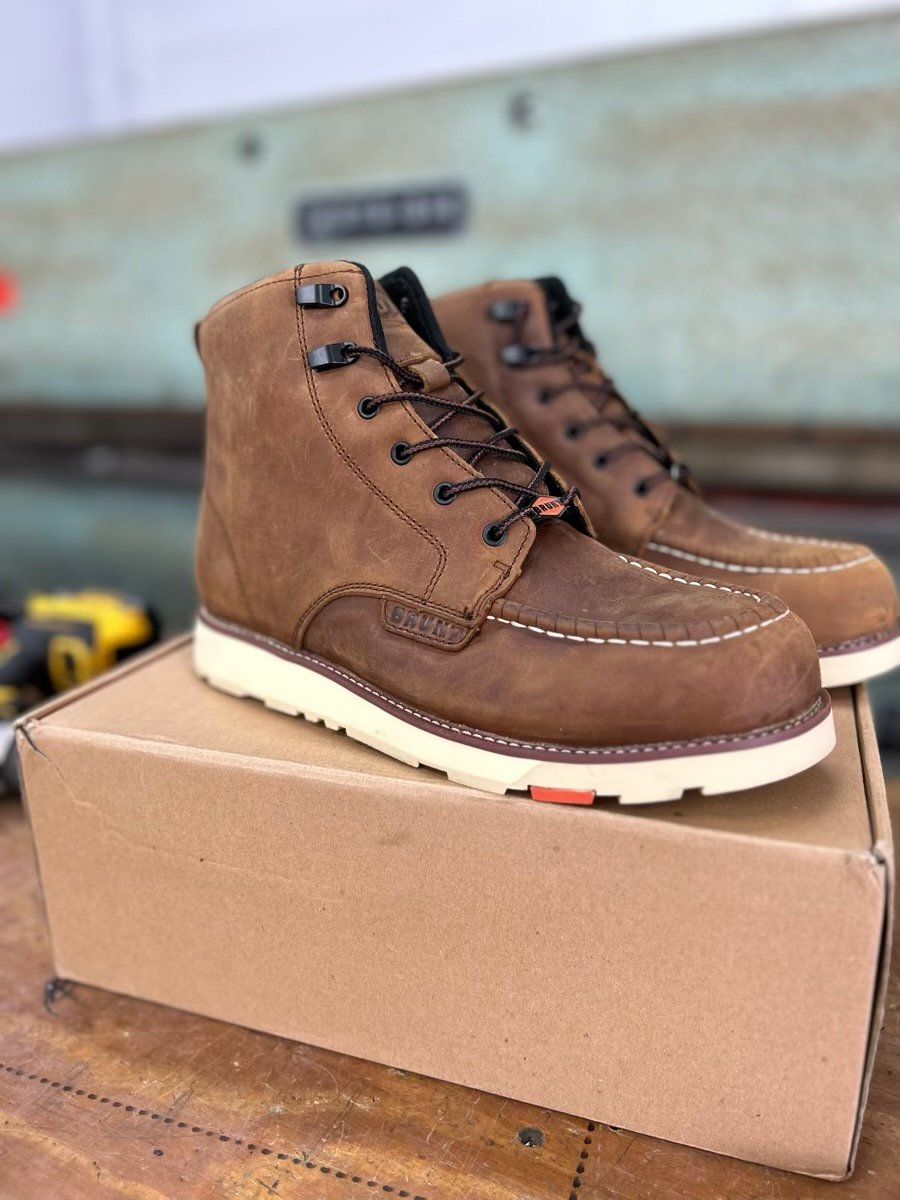 Brunt Marin Boot Specs
| | |
| --- | --- |
| Safety Toe | Yes. Composite and Brunt Toe Composite |
| Soft Toe Option | Yes |
| Slip Resistant | Yes |
| Electrical Hazard Rated | Yes |
| Construction | Cemented Construction |
| Waterproof | Yes |
| Unlined Option | Yes |
| Outsole | Dual Layer Rubber Outsole |
| Country Of Origin | China. |
| Boot Height | 6 inch, 8inch |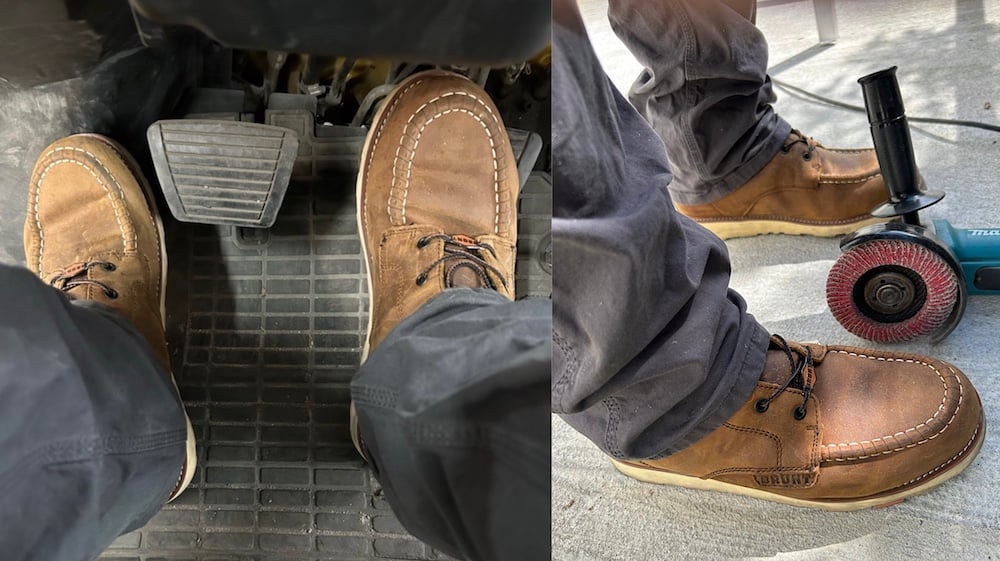 What Is Brunt Workwear?
First let's talk about who Brunt is.
Brunt Workwear was founded by Eric Girouard a few years back with the mission of making high quality, comfortable work boots and clothes at an affordable price. His plan for this: cut out the retail middleman and sell direct to consumers.
Eric spent a lot of time working side by side with his friends in trade work to develop boots to meet their needs and the needs of those like them.
Each boot has a unique name and story, with the Marins named after Eric's friend Matt Marin. Matt was tired of spending a lot of money every time he needed a new set of moc toes for work, on top of needing to break them in each time. Eric worked with Matt to design the Marin and pack it full of modern features for out of the box comfort at an affordable price.
What Safety Features Does the Marin Have?
The first thing we'll cover are the safety features. The Marin comes with a lot them, depending on the model (there are two: with and without a safety toe), and this boot will satisfy the dreaded "Safety Guy" if he comes around poking toes and checking labels.
The Marin comes in three options, a soft toe, a composite safety toe and the Brunt Toe. Both the Brunt toe and the composite safety toe model meet ASTM F2892-18 standards for impact resistance.
All the Marin models feature an electrical hazard rated outsole that complies with ASTM F2892-18 standards. This means that the boot must be capable of withstanding the application of 18,000 volts at 60hz for 1 minute without any current overflow or leakage in excess of 1milliampere.
All Marin models feature a slip resistant outsole that complies with ASTM F2892-18 standards for slip resistance. Personally I haven't had any issues so far with the boot feeling slick or slipping, which I know is a concern for some when it comes to wedge soles.
The Upper
In this section we'll cover the upper/top half of the boot and talk about the leather, stitching and features you'll find.
The Leather
The leather on the Marin is actually pretty nice for a boot in this price range. It's a full grain leather that measures between 1.8 and 2mm thick. So the leather is a little thinner than higher end boots like Thorogood, and while I can't find an official color for the Marin, the leather color looks very close to my Thorogood Wellington boots in "Crazy Horse" leather. This is a popular kind of very oily leather that's extra resistant to water and scratches. It's nice stuff.
The Moc Toe Stitch
The Marin has a one-piece style moc toe stitch, compared to the more traditional style two-piece stitch. Personally, I think the one-piece stitch method is superior when it comes to work boots. If you blow out the stitching on a one-piece moc toe, it won't affect your ability to keep working. If the stitching fails on a two piece stitch, your toes might catch a breeze or worse, the safety toe might start to work its way out.
The Brunt toe is Brunt's own in house version of Tuff Toe. Like Tuff Toe and other after market toe caps the Brunt toe, which is made of 100% TPU, acts as a protective barrier between the leather on the toes of your boot and hard surfaces. Brunt also added a small strip of it to the heel area on the Brunt Toe model of the Marin.
The Speed Hooks
I really like what they did with the speed hooks. "Ugh, why is he talking about speed hooks?" you may be saying. "I hate them!" Well, let me finish. The speed hooks are pass through speed hooks which means they have eyelets built in to them. This gives you the option to lace up without the speed hooks or to use them. It's a really neat, surprisingly rare feature.
Brunt Marin Boot's Construction
Cemented construction
Triple layer waterproofing
You may have noticed the stitching around the outsole and wondered if or assumed the Marin is Goodyear welted. Well…. It's not. The stitching around the boot's perimeter that suggests a Goodyear welt? It's fake.
So how is the Marin built? The Marin is a cemented/glued construction, meaning the outsole is directly attached to the leather with an adhesive.
But don't let the cemented construction and lack of welt deter you. There are plenty of cemented construction boots in this price point.
Now, I'm about to commit some boot blasphemy here and might catch some hate. But I think, given the price point of under $150, a Goodyear welt isn't that important. I'm seeing prices for resoles getting into the low $100s. I don't think it makes sense to put a new sole on old leather when you can buy the boot new for $20 to $30 more. Just my take.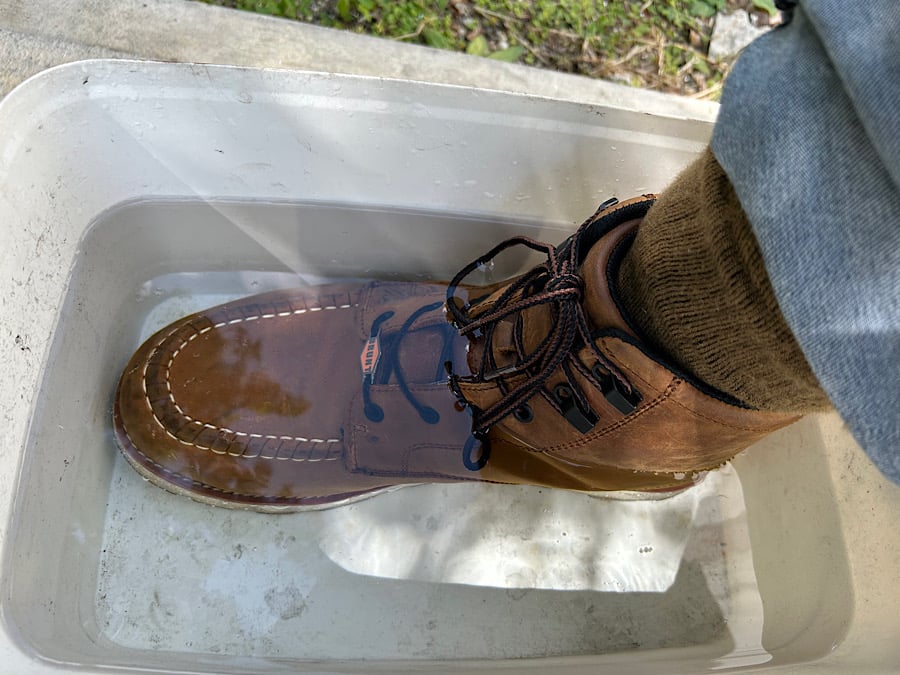 The Waterproof Brunt Boot
Inside the Marin is what Brunt calls a "Triple Layer" waterproofing system. They achieve this by putting a waterproofing solution into the leather during the tanning process, followed by a waterproof sealant on all the seams in the boot.
Secondly, the boot has a waterproof, gusseted tongue which seals off the top of the boot.
Thirdly, they embedded a breathable mesh liner into the boot which keeps water out while wicking moisture away from your foot.
I put the waterproofing to the test by putting the boots on and standing in a bucket of water for a few minutes. The result: Dry socks!
I would also like to note that the top of the gusset on the tongue ends at the bottom of the top eyelet. So if you step in a puddle deeper than that, your socks may get wet.
Brunt Marin Boot's Sole
The outsole Brunt went with is similar to the "Traction Tred" outsole Red Wing and Irish Setter use on their wedge sole work boots. It's a rubber foam midsole with a thin rubber outsole glued to it. This kind of outsole gives you the best of both worlds: the cushion and comfort of a softer rubber foam midsole and the resilience of the harder rubber outsole. I see a lot of wedge sole work boots with this kind of outsole these days.
Are Brunt Boots Comfortable?
I'm sure this is the part you've been waiting for the most.
If you're like me, you are in your work boots at least 10 to 12 hours a day and let's be honest: at the end of the day, comfort is king. Do the Brunts have that all day comfort we all want? Let's find out.
The Triple Layer Comfort Adjustable Width Insole: Is It Just A Gimmick?
Inside the boots you'll find Brunt's Triple Layer Comfort insoles.
The insole itself is really nice and high quality for a boot in this price range. Brunt describes the insole as a nonstick top layer, a memory foam middle layer, and a cushy bottom layer. I felt they were a bit stiff when I first put the boot on, but after a few hours they softened up and I can honestly say this is one the more comfortable insoles I've used.
Now we'll talk about the adjustable width aspect of the insole. Here's how it's described on Brunt's site:
We take the guesswork out of finding boots that are the right width. Below the insole, we've added a removable gray insert that can take your boot from a regular fit (D) to relaxed fit (EE). So, if you have a wider foot, or just prefer more room, we've got you covered.
As opposed to other brands that offer separate boots for different widths which can make trying them on complicated, this system simplifies that process. If you're unsure of your correct fit, there's no need to order or try on a bunch of different pairs, simply use our adjustable insole system to get the best fit for you!
If you're like me, you are probably wondering if this is just a gimmick and well…. it kind of is. I'll explain.
When comparing the removable insole to insoles in other boots I have, I noticed that the insole in the Marin is a little wider than the others. However, when I compared it to the insole in my Emperor Toe boots, which Thorogood touts as having an extra wide toe box, I noticed it was the same width.
To me it seems that the insole is already closer to an EE width and the removable insert serves to reduce the overall volume in the boot so that it fits people with normal width feet. Removing the insert doesn't actually make the boot wider, it just increases the amount of overall space inside the boot.
If your foot is too wide for the insole and your pinky toes are hanging off, removing the insert isn't going to help you because you aren't gaining any extra surface area for your foot to make contact inside the boot.
Brunt Boots' Ankle and Arch Support
The Marin has very good ankle support. Between the waterproof liner and the stitching around the top of the boot, it creates a comfortable yet rigid sleeve around your ankle. I'd imagine it even better on the 8″ version.
The arch support isn't the greatest though; the boots do not have a lot of arch support built in. That's fine for a lot of people, but for people like me with higher arches… You may find yourself spending more money on expensive orthotic insoles.
For me personally, if I continue to wear them I'll probably end up switching the insole out for one of my other insoles that have more arch support .
[Further Reading: The Best Insoles for Work Boots]
Toe Box Space
The toe box space on the Marin is quite roomy, coming in at 4 inches wide. It's definitely one of the wider toe box moc toe boots I've worn. My toes wiggle around freely and there should be plenty of space for most people's toes.
How Much Do Brunt Boots Weigh?
Each boot weighs in at 1lbs 14.8oz. They are definitely on the lighter side when it comes to work boots I've worn. Keep in mind that the boots I'm wearing are size 11.5 so it may go down in weight if you have a smaller foot or it may increase just tad if you get the composite toe version.
Brunt Marin Boots' Break In
There really isn't much of a break in period, at least for me anyway. The only thing that was uncomfortable is how stiff the top of the boot is due to the stitching at the top. But after a few hours of work they loosened up.
How Long Will Brunt Boots Last?
That's a tough one, and highly dependent on how you are using them and what you are using them for. I don't like making generalized statements about boots like that because what will last one person two years may only last someone else eight months.
So if I had to take a guess, based on my personal experience in trade work, I would say they will probably make it one year with an average amount of use. Now if you're someone that destroys boots in under a year, I would recommend the Brunt Toe model.
Brunt Boot Sizing
Personally, I've found the Marin to be true to size. I'm 11.5 Brannock and the 11.5 Marin fits me perfectly.
What's a Brannock size? That's the device you use at a shoe store to measure your feet's "true size." It's a good idea to know your Brannock size, because if you're used to ordering sneakers, they're probably a half size larger than your "true size".
Brunt Marin Boot Price
Soft Toe: $139.99
Composite Toe 149.99
8in Composite Toe $179.99
Brunt Toe $169.99.
Conclusion
Looking past all the social media hype and the gimmicky adjustable width insole, I think it's a decent enough boot for the price range. Would I tell someone they made a mistake buying the Marin? Nope! I think it's a solid competitor in its price range with the exception of the 8″ version. At that $179.99 price you could find a better safety toe, waterproof boot for $15 to $20 more. But for a standard 6″ boot, the value is very high.
I hope this has helped you in your search for your next work boot.
Frequently Asked Questions
Can Brunt boots be resoled?
No, mostly likely not. Technically, it is possible to resole a cement construction boot like this, but not every cobbler can do it or has the equipment necessary to do it correctly.
Where are Brunt boots made?
Brunt boots are made in China.
Where can I buy Brunt work boots?
Online! Bruntworkwear.com is the only place selling them right now; they're not even on Amazon.
Are Brunt boots waterproof?
Yes, with triple layer of waterproofing, the boots can be submerged for as long as you like.
Do Brunt boots run big?
No, they're true to size. While many boot brands tell you to size down, you can order your true size with Brunt — just get measured on a Brannock device to make you know what that is.