If you've searched around online for work boots or stopped by your local Boot Barn, you've no doubt seen Hawx boots. In this review we'll answer some of the most common questions you may have about one of their most popular boots, the Hawx Legion, and see what Hawx Boots have to offer as a work boot.
If you've ever thought to yourself: Are Hawx Boots good? Who makes Hawx Boots? Are Hawx Boots comfortable? I highly suggest you stick around.
But first, a little about the work environment these boots are being reviewed in.
Work Environment
By day I'm a sheet metal fabricator and welder, I work mostly in the shop. But I also have a passion for boots and making sure people find the best work boots their money can buy. So to ensure my reviews are accurate, I wear every work boot I review to work. Nothing worse than a work boot review when the boot was never worked in. You won't have that problem here!
Hawx Men's Legion Work Boot
Very roomy and resistant to punctures and shock resistance, the Legion is Hawx's flagship, do-anything work boot.
Check Best Price
We earn a commission if you make a purchase, at no additional cost to you.
06/04/2023 10:14 pm GMT
Who Is Hawx?
Hawx is an in-house clothing and footwear brand belonging to Boot Barn. To quote them,
Hawx was created to provide badass people work gear that truly fits their individual needs.
Hawx is the result of countless hours spent in the field at job sites talking to workers and tradesmen about what they need in their boots and clothing and what matters to them the most.
Hawx Legion Quick Specs
| | |
| --- | --- |
| Steel Toe | No – it's a Composite Toe |
| Puncture Resistant | Yes |
| Electric Hazard rated | Yes |
| Waterproof | No |
| Construction | Leather Wheeled Welt, Glued. |
| Outsole | Dual Layer Compression Molded EVA Midsole And Solid Rubber Outsole. |
| Leather | Full Grain |
| Height | 8in |
| Other Options | Soft Toe, Composite Toe. |
Hawx Legion Construction
If we're going to review a work boot we might as well start with how it's put together, what materials it's made from and what you need to know about them.
Leather Upper
The upper, the leather portion of the boot, is made with a full grain leather. The color on Boot Barn's website is listed as brown and to me, it looks very similar to the leather color of the Brunt Marin I recently reviewed. It's pretty soft and supple, and feels around the 1.8-2mm range based on how it feels and the fact the boots had zero break in time.
Rubber Toe Cap
At the toe of the boot there is a massive, thick rubber toe guard sewn to the leather upper. This is really nice and helpful if you're like me and like to kick things into place with your boots. It's also beneficial if you spend a lot of time on your knees scraping the toes of your boots around at work.
Welted or Glued?
Boot Barn has it listed as an "leather wheeled welt". I inquired with Boot Barn about the welt because I wanted to know for sure if the welt was real, however I haven't received any info from them at the time of writing this review.
I talked to my go-to cobbler for boot questions and upon further inspection, it looks like the welt is stitched to the upper but it isn't a 360° welt because of glued portions of the outsole in the arch area. The outsole is solid rubber in the arch area and glued directly to the leather upper. This was done to create rigidity in the boot while standing on ladder rungs, but it makes resoling it an iffy prospect.
Outsole construction
The outsole on the Hawx Legion is a combo between a thick compression molded midsole and a thinner solid rubber outsole. It's kinda similar to the Brunt Marin outsole, except the Hawx Legion midsole is much squishier and has more give, making it pretty comfortable under foot while walking.
Gusseted Tongue
The tongue is made out of suede and is gusseted high enough up you won't have to worry about anything getting in the boots, and it should provide some protection if you step in a deep puddle. Note that the boot is accurately marketed as fully waterproof.
Hawx Legion Safety Features
Now that we know how the boot is built. Let's look at what they offer to appease the safety man's checklist or your employer's insurance policy. Besides, it's important to know if a pair of boots will keep your feet safe.
Safety Toe
The Hawx Legion has a "Nano Composite Safety Toe" that meets ASTM requirements for impact and compression resistance. It's ASTM F2413, which covers the minimum design, performance, testing, labeling, and classification requirements for footwear designed to protect against a variety of workplace hazards.
Electric shock Resistance
They also meet the ASTM requirements for shock resistance, meaning, they can withstand 18,000 volts at 60hz for 1 minute without any current overflow or leakage in excess of 1milliampere.
Puncture Resistance
They also meet ASTM standards for puncture resistance. This means they have a puncture resistant plate somewhere between the insole and outsole. Keep in my mind: puncture resistant doesn't mean puncture proof. It's still possible for a nail to make through the boot and into your foot.
Reflective Webbing
On the back side of the boot is a strip of reflective webbing. In all honesty this is just a marketing gimmick more than anything else. Most guy's pants will cover it and if you are required to have reflective workwear, you'll more than likely have pants with reflective stripes around the bottoms of the legs. It's kind of a pointless feature, in my opinion.
Hawx Legion Comfort
Now to the most important part of the review for most of us. Nothing worse than being on your feet for 10-12 hours a day in uncomfortable boots.
Hawx Ground Support insole.
This is one area that impressed me the least. Well, it didn't impress me at all.
The insoles have something called air induction and expulsion technology. This means that there is an air pocket in the heel of the insole and vent holes on the ball of the foot.
The idea is that as you walk, your heel depresses the air pocket, sending a blast of air out at the ball of the foot. As you pick your foot up for the next step, pressure is released from the air pocket and it fills back up with air. As I'm sure you've guessed, the purpose of this is to keep your feet cool.
In reality, what really happens is the air pocket does nothing because it's always too compressed to fill with air. On top of that, the air pocket in the heel creates a weird surface for you heel to be on. It took a little bit of getting used to.
Ankle Padding
On the back side of the shaft is a very large piece of padding. In fact almost half the shaft is made out of the padding. This makes the boots super comfortable on your calves and ankles right out of the box. The downside is that because of the padding there is no loop on the back of the boots to help you pull them on. I never realized how much I used it until I didn't have it.
Padded liner
Inside the boot is a bright orange padded liner and padding on the backside of the tongue. This allows you to laces the boots up tight without them causing you any pain across the top of your foot, like you can get from lacing up a pair of unlined boots tightly.
Hawx Men's Legion Work Boot
Very roomy and resistant to punctures and shock resistance, the Legion is Hawx's flagship, do-anything work boot.
Check Best Price
We earn a commission if you make a purchase, at no additional cost to you.
06/04/2023 10:14 pm GMT
Arch Support
The height at the heel is 1 ⅝ thick and the height at the ball of the foot is 1in. This creates a heel drop of ⅝ of an inch. While not spectacular for a heeled boot, it should provide enough support for most.
My arches are somewhat high and I haven't had any issues with these boots yet.
Hawx Legion Boot Sizing and Fit
Order a half size down from your true size
Big, wide and chunky is the best way to describe these boots. I typically wear an 11.5 size boot and was a little worried I would have to return the 11s that arrived at my door, but after trying them on, I was able to wear them just fine.
With a toe box that measures in at 4 ¼ inches wide, these boots have plenty of toe space on them.
My recommendation is go true to size if you like a looser fit or plan to wear thick wool socks with your boots. If you prefer a snug fit lengthwise or wear thin socks, you probably want to go a half size down.
Like I said, I was able to wear a half size down without issue. I just had to ditch the Darn Tough steely socks and wear something thinner.
Break in period
As I previously mentioned, leather is pretty soft, and coupled with the padding on the back of the shaft, there was absolutely no break in time. They are made to go to work straight out of the box.
Hawx Boots Weight
The Hawx Legion boots are definitely heavy. They weighed in at 2lbs 4.9oz. That's about 1lb more than many of the boots I've reviewed recently and I definitely noticed the added weight the first few days I wore them.
Hawx Legion Work Boot Price
Coming in at $204.99, the Hawx Legion price point is on par with other boots in its category (safety toe, rubber toe guard, heavy duty, etc.) It's comparable to the Irish Setter Kasota, Thorogood Infinity FD boots, and Ariat Stump Jumper.
However, I'm not convinced Hawx Boots are worth that price point. Please read my final thoughts below.
Who Should Buy Hawx Boots?
Who should buy the Hawx Legion? Anyone that has a wide foot and needs lots of toe space behind the safety toe. That 4 ¼ toe box measurement was on D width boots. I can only imagine how much wider the EE width is. They are also well suited for jobs that are rough on the toes of boots. It's going to take a lot to wear through that rubber toe cap.
The Problems With Hawx Legion
Part of the review process for me is paying attention to the boots looking for any potential shortcomings that may affect the longevity of the boots. I identified two.
Where The Outsole Is Glued To The Upper
I noticed that it seems like some of the glue has worn off around the piece of the rubber outsole that is glued to the upper in the arch area. I think if the outsole delaminates, it'll occur there first.
Split In The Leather
I also noticed on the outside of the left boot, in the arch area, where the welt ends, a split in the leather has developed. I'm not sure if the split is caused by the fact that the welt stops short of the glued area and it has created a stress point, or if it's always been there and I just never noticed.
The concern is if that split in the leather grows it will decrease the life of the boot.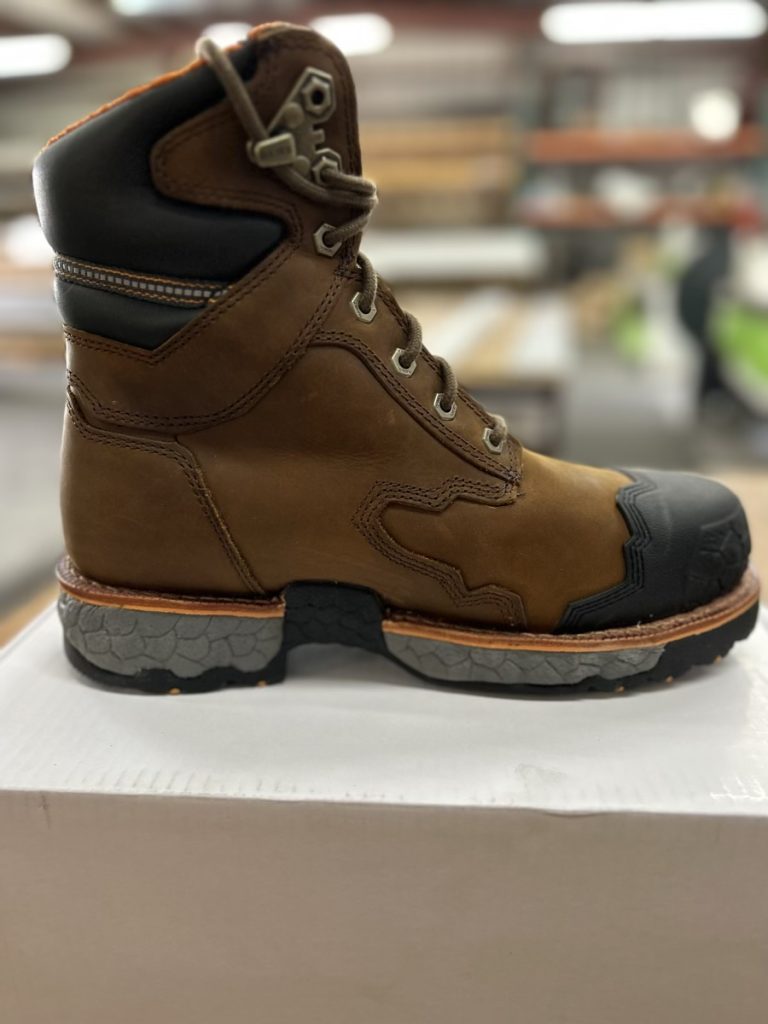 Final Thoughts
Personally, I feel like the Hawx Legion leaves a little to be desired. I would prefer a full 360° welt with a steel shank as opposed to the partial welt with the thick rubber section of the outsole glued in the center of the boot.
The insole is also something I would personally like to see changed. The air expulsion thing is gimmicky and I'd rather see a quality and comfortable insole like the insole in the Brunt boots I recently reviewed.
I'm not sold on Hawx Boots just yet. I'll need to try more of their products before I can determine their quality as a brand. In the case of the Legion, I'm not positive I could recommend it in good conscience to anyone at its current price point of $204.99, but ultimately whether or not you think it will work for your job is up to you.
At least now you can make a decision with solid facts, acquired from real work conditions, about the boots.
Where are Hawx boots made?
Hawx boots are made in China.
Are Hawx boots waterproof?
This particular pair, the Legion, is sold as a waterproof boot, and the gusseted tongue will do a good job of protecting the interior from extra water.
Can you resole Hawx boots?
You can, but it's probably not worth it considering the welt isn't a 360° welt. It'll probably need to be rewelted, and I've seen the costs of a resole that includes a rewelt as high as $160.
The following two tabs change content below.
Adam is a sheet metal fabricator and welder who also moonlights as a boot reviewer. After years of wearing cheap boots and shoes that killed his feet, Adam decided he wanted the best work boot he could find. This led him to scouring the internet but little did he know, his deep dive into the world of boots would ignite a passion for writing about and reviewing boots.
Latest posts by Adam Rich (see all)