Formerly called Oppermann, Carl Friedrik was founded in 2012 and aims to disrupt the industry of luxury men's bags by going direct to consumer: no middlemen, no stores, no retail space, just quality goods sold right on the internet.
At first glance, the brand's emphasis on saving money with a DTC business model had me thinking it was the briefcase version of Thursday Boot Company or Beckett Simonon: a high quality product at a surprisingly low cost. But the Palissy briefcase I'm reviewing here is not a low price bag, it's $660 (And the price can increase to $770 if you want a luggage strap and a monogram.)
So, this isn't trying to be an inexpensive version of something like Frank Clegg's $1,450 briefcases, it's trying to be more like an inexpensive version of a briefcase from Prada, Louis Vuitton, or Coach — bags that are over $1000 and often over $4000.
Carl Friedrik doesn't have that same name recognition, but let's look at the materials and see if the product could hold up.
Carl Friedrik Palissy Briefcase Design
I saw a review of this bag that called it,
a very focused bag with a suave businessman in mind.
It's a very professional, elegant, modern bag. Carl Friedrik is based in London but it draws a lot from Swedish minimalism — the founders have German and Swedish ancestry, which is reflected in the company's name.
The Palissy is all about simplicity. Single panels of ultra soft leather, one zippered compartment, a small pocket to fit a smartphone or passport at the front, and the interior boasts a laptop sleeve, three wallet-sized sleeves, and a zippered pocket. The front pocket, some complain, is so flat and unobtrusive that it's quite hard to pull out items, but it certainly looks handsome and contributes to the minimalist look. The bag even stands up on its own, an issue that bothers many guys who want to easily access their briefcase when it's sitting by their feet.
Carl Friedrik Leather
Vachetta leather
Vegetable tanned
Produced in Tuscany, Italy
~2.2mm thick
The leather is called vachetta, and it's a big deal even for vegetable tanned leather.
For starters, you can learn all about the differences between vegetable tanned and chrome tanned leather here, but in short: vegetable tanning takes longer, requires a skilled craftsman, produces hardier leather, and is more expensive to produce. For all these reasons, plus the fact that chrome tanned boots are softer and easier to break in, chrome tanning is vastly more popular — at least 90% of all leather is chrome tanned.
But many purists prefer the more old fashioned, vegetable tanned stuff.
Then there's vachetta. If you know a thing or two about nice briefcases, once you heard the word 'vachetta,' you probably said to yourself, 'So that's why this is considered an inexpensive bag.' Produced with unsalted European hides in Tuscany, the unofficial world headquarters of veg tan leather, vachetta is what's used by luxury brands like Louis Vuitton and Coach and it's seldom seen on bags for under $1000.
Vachetta is distinguished from other veg tanned leather by its high fat content (which gives it a buttery soft feeling), it's usually made from calfskin, and it's typically unfinished, with the surface of the hide exposed.
Vachetta is distinguished from other veg tanned leather by its high fat content, it's usually made from calfskin, and it's typically unfinished, with the surface of the hide exposed.
As smooth as Carl Friedrik's leather appears, if you look closely, you can indeed see the pores of the leather, particularly where the leather bends at the handles. You don't see any pores on heavily finished leather, like the kind you'll find on Dr. Martens.
There's some pigment here; there's a pretty solid coat of finish on top, but it's not so finished that it's clogged the pores. The phrasing used by Carl Friedrik is that,
"a slight surface finish is applied, in a similar vein to what Louis Vuitton also do. The leather is then dyed to a desired effect."
The bag is mostly two large pieces of leather, and it's remarkable how flawless it is. A lot of companies would instead stitch together smaller pieces of leather instead, as it's not only cheaper to do so but it also makes it easier to find flawless leather when you don't need big, contiguous pieces. But the Palissy's panels are both large and flawless. It's a very impressive feat.
[Want for a more rugged look? Check out the veg tan Cravar bag]
Carl Friedrik Briefcase Lining
The lining is made from 220gsm (7.7oz) technical nylon canvas. It's true that this might be a potential downside for some consumers, who only expect lining made from leather or at least canvas. Nylon is synthetic, sure, but it's as water resistant as canvas and it's easier to clean. It's up to you as to whether or not that's a dealbreaker.
Carl Friedrik Briefcase Hardware
The hardware is all silver nickel-finished from Foshan, China, except for the zippers, which deserve emphasis. They're also silver nickel-finished, but they're from Bergamo, Italy, and every tooth in the zip has been individually brushed and polished.
This is important, because a common complaint with zippered briefcases — particularly with the monstrous zips you'll find on Filson bags — is that they can scratch up laptop covers, documents, and skin. The zips on Carl Friedrik are impressively soft, eliminating this pain point.
Carl Friedrik Palissy Pros & Cons
Here's the summary:
Pros
Ultra high quality leather
Sharp lines, ultra minimalistic
Great value
Smooth zippers
Rigid structure, stands upright
Clean, even stitching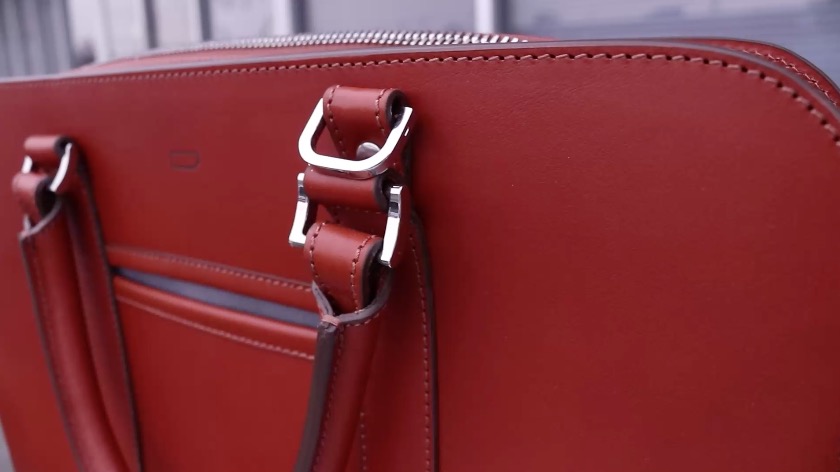 Cons
Not very roomy, it's hard to bring a lunch with you
Front pocket is extraordinarily slim
Not everyone loves nylon for lining
Monogramming is optional, but only available on strap, zipper, or inside — not on the bag itself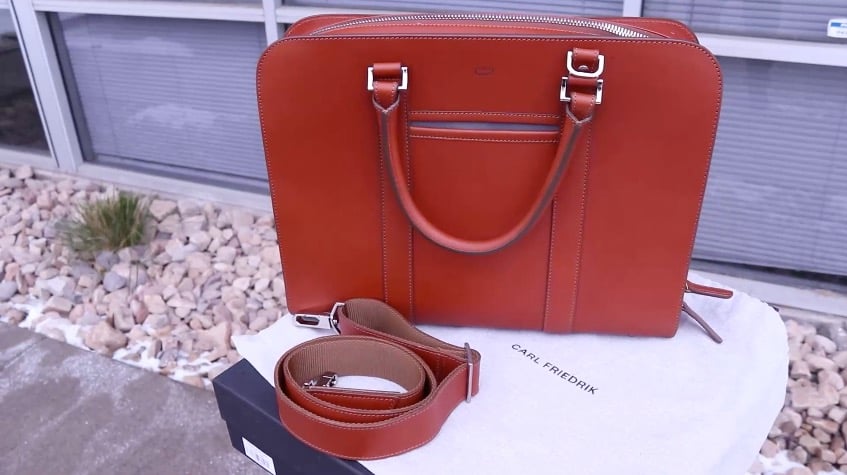 There are some potential design flaws, depending on who you ask: not everyone likes nylon, some find the pocket too slim, you can't monogram the front of the bag. and when the bag was cut open you could see that plastic was inserted to give it a stable bottom and firmer handles.
Weston, my co-reviewer, noted that he probably would have used stiff, veg tanned leather instead, while conceding that it probably wouldn't have been as effective as the materials used — so while there's some plastic here, it's probably because it's the best material to produce the desired result.
All that aside, you're not buying a nice briefcase because it has three pockets for pens versus two. You're buying it for the leather quality, and this leather is just as good as the stuff used by brands that cost several times as much as Carl Friedrik! If you're looking for a high quality briefcase that can stand toe-to-toe with Coach without costing you an arm and a leg, you've found it.