This post may contain
affiliate links
that at no additional cost to you, I may earn a small commission from.
If you've watched any of my videos, then you already know that I am a very basic white dude. As such, I watched the Amazon Prime series Jack Ryan and pretty quickly, right in the first few minutes of the first episode, I was wondering who made that very nice, casual-but-CIA-office-friendly backpack he was wearing.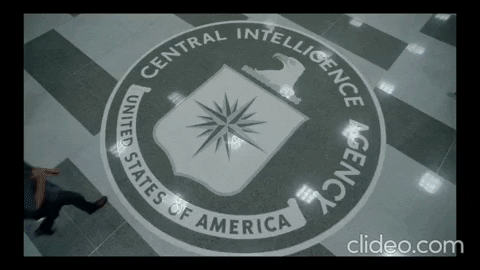 Not a cool way to start a review, I know, but the answer is Filson, a 125-year-old company originally known by the very 19th-century name C.C. Filson's Pioneer Alaska Clothing and Blanket Manufacturers, which was first formed to outfit prospectors heading to the Klondike Gold Rush.
Today, Filson makes astonishingly high-quality heritage outdoor gear in Seattle that will. Never. Fail you. Or if it does, they'll fix it and send it right back to you, because their products have a fantastic lifetime warranty.
I've been using my Filson Journeyman backpack for two years now, and I thought I'd write up a review of this amazing bag that, while I know it's a cliché to say, beautifully blends form and function.
So, let me wax on all about its materials, features, the price, and the pros and cons of this deceivingly simple backpack. Here's my video review:
[SHOP THE FILSON JOURNEYMAN BACKPACK HERE]
Materials
14oz waxed canvas
Water and tear resistant
Unwaxed twill on back and sides
Moleskin lined straps
Bridle leather accents
Tough zippers
Canvas and Twill
What really makes this bag shine is the thick, 14oz waxed canvas, which Filson also calls "tin cloth," because it's so darn tough it's like wearing a bag made of metal. (Or a jacket, or pants — they have a bunch of products in this material.)
There's also 14oz twill on the back and sides which is a similar material, just woven differently, and the twill isn't waxed because those are the areas most likely to come into contact with your clothes.
Both of these materials are basically very densely woven cotton. That's good. Density equals durability, but, I'm going to focus on the waxed canvas, because that's what the bag is mostly made from, known for, and makes it look great as it ages.
[Learn more in our guide to canvas vs twill]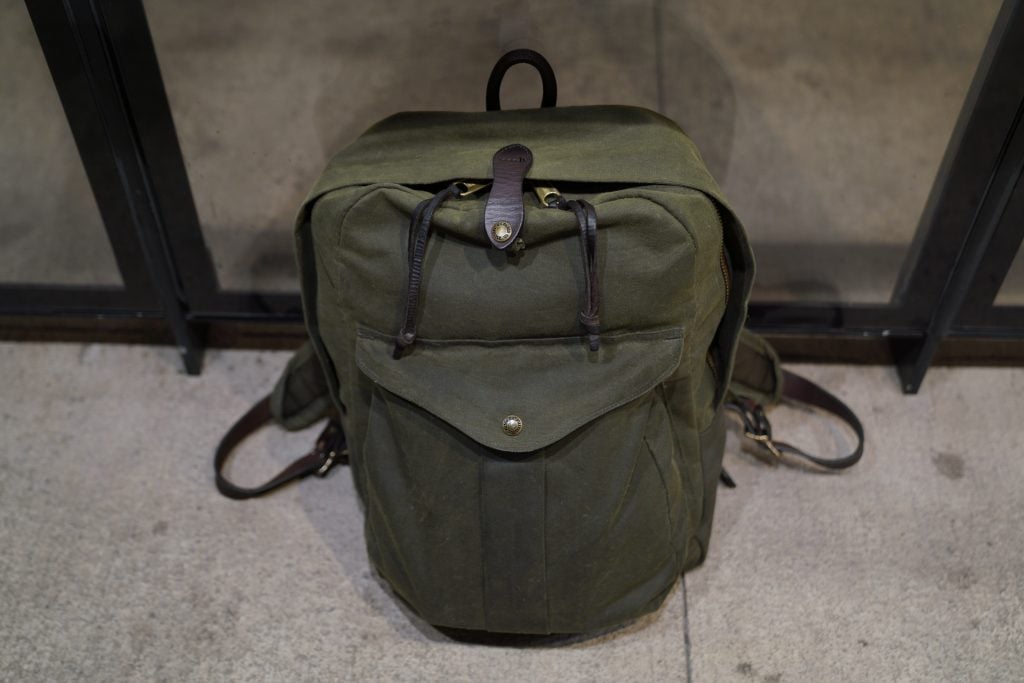 Heritage Water Resistant Canvas
This canvas is so dense that on its own it's quite water-resistant, but it's waxed with a paraffin-based wax, which gives it an extra layer against the elements. Wax makes sure that the water just beads off and it really adds to the bag's patina as it ages. Yes, canvas can patina! Note that you are meant to reapply wax every year or two. (My bag is so old that it needs another layer.)
For centuries, waxed canvas was used for bags and jackets that were being used by outdoorsmen. Today, it's a favorite of guys who like bags that look great, age well, are water resistant, are tough as nails, and pay homage to the country's historical roots. Waxed canvas bags are as beloved as leather jackets, raw denim, and Goodyear welted boots, and all four go together perfectly for masculine, ready-for-anything outfits.
This what you might call 'heritage' apparel, and it's what Filson specializes in — it's the complete opposite of fast fashion.
[Want to wax your canvas? Our favorite product is Tom Beckbe's Reproofing Tin]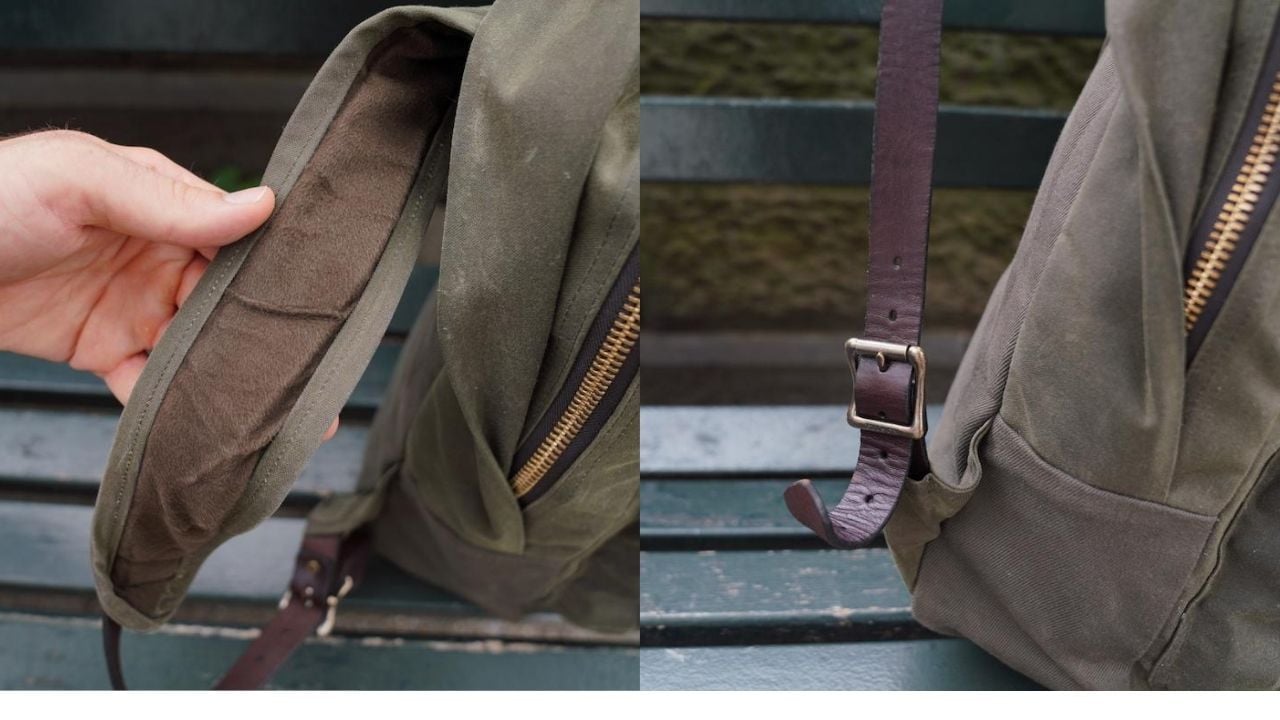 Padding, Straps, Snaps, and Hardware
The back of the bag is reinforced with cotton-webbed padding for comfort so that when you're carrying it sits right flush against your back.
Some heritage style backpacks try to be so vintage they use leather straps that cut into your shoulders, but the Journeyman is lined with tear-resistant, sueded moleskin. (That's not actually skin from moles, it's just the name of a heavy cotton fabric that's sheared to produce a short soft pile on one side.)
The carry handle, pull tabs, and adjustable straps are all bridle leather, so named because it's meant to be strong and flexible enough that you can use it on a horse's bridle. The downsides with these straps are that they take ages to adjust on the go, and it's an imprecise process — you can only adjust it at the seven loops — and it's tough to get right for super short or super tall people. but once I found my fit it was perfect.
Leather is also used for the great snap closure up top, which is really handy for those occasions when it's hard to zip closed (like when I've got a couple of pairs of boots in here).
There's also a snap closure over the front pocket and the zippers here are really heavy-duty: they never jam and they'll last forever. You can hide them under the storm flap for extra water resistance, and their only potential downside is they're so chunky that some people complain about them scratching their laptop when they're not careful pulling it out of the inner sleeve.
[Related: The 7 Best Waxed Canvas Jackets for Men]
Hey, speaking of the features…
Features/Sizing
17.5″ x 12.5″ x 5″ (18L)
Laptop sleeve fits 16″ device
Interior zipped pocket
Two water bottle holders
Front pocket with clasp closure
Interior pockets for wallet/phone, pens
It measures 17.5 inches high, 12.5 inches wide, and 5 inches deep, resulting in an 18-liter capacity that puts it firmly in everyday carry territory. That's right in everyday carry territory. It's not big enough to take on treks, but I can fit my 16-inch laptop, jeans, a shirt, workout gear and shoes, a book, wallet, keys, phone, two water bottles, a microphone, and a bunch of other things into it on a regular day.
Big Laptop Sleeve
On the inside, there's a nice laptop sleeve. It doesn't zip closed or anything, but it does the job. It's padded on the back and the front, so your computer doesn't knock against whatever else you're carrying. It fits my 16-inch laptop, which I've found most heritage backpacks don't do.
There's an extra compartment where you can stuff some sweaty gym clothes, or you can jam them into the zipper pocket, which is where I keep my keys and stuff. It's easy to stash your wallet and phone here when your bag goes through TSA as well.
Practical Pockets
Funnily enough, the thing that got me to buy this backpack was actually the two water bottle holders on the insides, because I can fit my glasses and my sunglasses in them and I always want those to be easy to find.
So you've got the inner pockets for water bottles and a laptop sleeve (neither of which zip or buckle close, if that matters) and lastly, there's the large front pocket which has a clasp closure that fits the book you're reading really easily, even when it's a big one — I was carrying the 936-page Shantaram around in here for a good few months this year — and on the inside, you've got two pockets for pens, and a larger one that neatly fits your phone or wallet.
The front pocket holds more than you might think: it's expandable.If there's not much in there and you want a slimmer aesthetic, you can use the snap buttons on either side to reel it in and reduce bulk. Got a book the size of a Bible, plus a t-shirt or two to boot?Unclasp them to increase stowage capacity.
Price
So, I love this backpack. It's tough as nails. It has the perfect balance of rugged outdoorsiness that also works seamlessly with modern outfits and settings. But the price of $395 is a bit tough to swallow for a lot of people.
The thing is, I spent a lot of time looking for alternatives, and just could not find any that ticked this many boxes:
the ability to hold my 16″ laptop
the waxed canvas that will age super well
the number of pockets without being overdesigned
no ostentatious branding/patches
easy to open and close on the go (read: Not a roll top)
comes in green
has a lifetime warranty
Confession time: the leather carry strap did snap after like 6 months of use, which I'll admit is not good, but when I took it to the store there were no hassles, and they sent it back to me a couple of weeks later good as new. (They even left the chapstick I forgot in the front pocket's pen holder.)
I just couldn't find anything that wowed me like the Filson Journeyman.
[SHOP THE FILSON JOURNEYMAN HERE]
But if that price is impossible for you, I went ahead and made a list of 13 possible alternatives to the Journeyman backpack. None of them are as perfect, but you might find something you like.I could go on and on and on. I have a whole spreadsheet I made trying to find a backpack that suited my needs — fits 16″ laptop, stylish yet heritage, waxed canvas, green, easy to open and close on the go — but I didn't find anything that suited me as well as the Filson Journeyman. (Plus, Jack Ryan didn't use any of those.)
Filson Journeyman Pros & Cons
Pros
Lifetime warranty
Built like a tank
Tear/water resistant
Functional and beautiful
Versatile aesthetic
To summarize, there's a lot I love about this bag, and here's a quick list of pros.
Lifetime Warranty; Ages Well
Man, it's such a tough bag, and it'll only look better as it ages. I toss it around, stuff it in tight places, throw on the floor, and It's not even thinking about wearing out.
Durability
The canvas and twill are thick and will not tear. It's built like a tank, the leather is exceptional quality, and the zipper can handle whatever you throw at it. The bulletproof tin cloth is indestructible and keeps your stuff dry in the pouring rain.
Functional and Beautiful
It's got just enough pockets to be useful without being annoying. You can close the button clasps with one hand. The strap lining is a nice touch to add comfort and reduce slippage, and back padding is helpful. Just enough pockets and pouches to be handy, but not so many they get annoying.
Versatile Aesthetic
It can reasonably be taken to business settings. I love the color too, I think green is the best color for bags bc it goes with any color jacket. Except for green, I guess.
Also, it comes in a nice big drawstring bag to store the bag in, not that this bag needs any babying.
Cons
No keyholder
No belt/sternum strap
Water bottle holder is close to laptop holder
Straps are hard to adjust
Leather carry handle not comfy
No longer made in America
Trades Features for Simplicity
There's no keyholder, the zipper pocket is fine for that, but still, if that bugs you, I've seen some people slip a small carabiner through the hole in the inside pocket zipper pull for a nice keyholder.
More for Everyday Carry Than Hardcore Trekking
If you're an outdoorsman, this is a bit too small for anything other than short hikes, particularly as there's no belt to it or sternum strap to really help you carry heavy stuff for long distances. Though for this size, I've never felt a need for one. It naturally weighs heavily against my back, even without anything in it.
It is low tech in that regard, but heritage materials have to be heavy to be durable — it definitely weighs more than any modern nylon.
Fit
The straps might not be long enough if you're wearing a really big coat. If you're a very small person, you may max out the straps. Some say the bag can't get tight enough (I saw a 5'3" woman complaining about that on their site) plus it's quite hard to speedily adjust their length on the go.
Water Bottle Holder is Close to Laptop Holder/ No External Water Bottle holders
Nothing for a water bottle on the outside if you're stressed about having a laptop and a water bottle so close together.
Maintenance
Water-resistance will be not quite as good after a year or two as the wax wears away. You're meant to reapply the wax, though the canvas and twill are very thick and relatively water-resistant on its own.
Drop Resistance
No padding underneath the laptop sleeve, so it isn't super drop-resistant. You do have to put your bag down gingerly if there's anything fragile in there.
Uncomfortable Carry Handle
Truthfully, the only thing that really bothers me with this pack is the leather carry handle isn't comfy against the fingers if the bag is heavy. It's really the only thing I'd change about the bag.
I think I'm pretty impartial, but if you'll allow me to not be impartial, nothing out there has wowed me like the Journeyman backpack. There isn't anything really close. You feel the quality of a Filson in your hands, and you can tell it's there to last. I'm going to have it for decades, and I couldn't be happier with it for everyday carry.
Featured image via Amazon Studios/Paramount Pictures