This post may contain
affiliate links
that at no additional cost to you, I may earn a small commission from.
The Filson Journeyman is still my favorite everyday carry backpack.
As a guy who will casually write 2,000 words about a pair of jeans, I didn't make this conclusion lightly. While researching exactly which bag to buy and how to justify spending (spoiler) $395 on a backpack, I happened to make a ludicrous spreadsheet of alternatives. You know, as you do. For fun. In your free time. Right?
I find heritage outdoor wear fascinating, and if you're reading an article as specific as "Filson Journeyman Alternatives," there's a good chance you do as well. It's the polar opposite of the modern high-tech, petroleum-laden gear that's dominated the market in the 21st century.
These kinds of bags are less flashy and more traditional. Instead of waterproof coated nylon, adventurers in the past utilized thick canvas coated in wax, hardy metals, and tough leathers. Today, waxed canvas is a favorite of guys who not only want bags that look great but are tear-resistant, water-resistant, and built to last.
A heritage waxed canvas bag is one of my precious personal items: they look better as they age and honor their historical roots. See also Goodyear welted boots, raw denim, and leather jackets — all four make for timeless, masculine outfits ready for anything.
Anyway, here's my totally-not-overkill list of heritage backpacks.
Further Reading
A Quick Word On the Filson Journeyman
I'm not going to do an in-depth section on my Journeyman; I have a long review here, but I will let you know why I love this darn backpack so very very much .
Here's the criteria that I landed on for my needs:
Waxed canvas
Available in green (I consider it the best color for a buy-it-for-life backpack, as it goes with both black and earthy colors)
Comfortable straps and contact points.
Has a sleeve that fits my 16″ laptop (Which you'll find isn't the easiest thing to do!)
Easy to open and close on the go (Read: Not a roll top)
No ostentatious branding
The Journeyman, holding 18 liters, meets all of these criteria and comes with a fantastic lifetime warranty. The downsides:
Cons
Straps are hard to adjust on the go
Very expensive ($395)
No exterior water bottle pockets
Leather carry handle isn't easy on the fingers
Not made in the USA (anymore)
American Classic
Filson Journeyman Alternatives: $300-$400
Here are some upper tier options that made it to my spreadsheet.
1. Tom Beckbe's Rucksack ($349)
Tom Beckbe is named after the Tombigbee River in Alabama and much like said river, these guys drip with southern charm. Their products are made for hunters, so their bags need to hold up to the elements.
Enter the Tom Beckbe Rucksack. It's made from "weatherproof" waxed cotton and nylon canvas and it comes with a waterproof liner. (Nylon's a petroleum byproduct, so the fact that it's not 100% canvas may mean you don't consider it truly "heritage" or "authentic.")
If a product is labeled anything but waterproof, it usually means that with enough PSI, water will get into the bag (like through the seams, zippers, or even the fabric). A waterproof backpack can be submerged in water and the contents will stay dry. If you're going on a long canoe trip or living out of a pack for a few nights, you'll care about these differences.This rucksack comes with a waterproof lining, which is an important feature and rare for bags with this kind of aesthetic.
This bag will get you through almost any weather you'll encounter and it looks pretty good on a city commute, though I'd like the closure straps to be shorter.
Pros
Waterproof liner
Holds 16″ laptop
Easily adjustable straps
Compresses and extends quite easily
External side pockets
Snap closure pockets on the front and sides
Cons
Only holds 16 liters
Not made in USA
Canvas is 60% nylon, 40% cotton
Not green (it's actually grey)
Not the most versatile aesthetic
Logo stitched to the front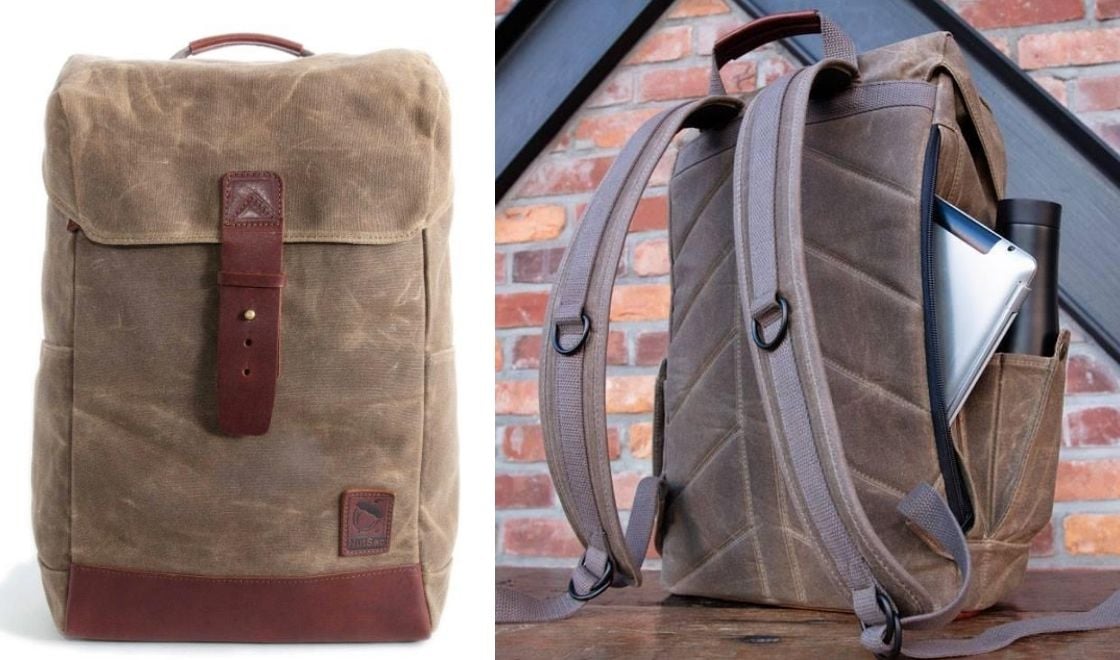 2. NutSac's RuckSack ($365)
Haha, NutSac, get it. It's tough, hard like a nut's shell, and holds important things. Just like testicles. I guess?
Dopey name, but these guys have been around since 2015, and this pack is super simple when compared to the decked-out Tom Beckbe: it has an unusually clean aesthetic, it's got snap closure side pockets, the fabric is 100% waxed canvas (no info on how heavy it is), it's made in the USA, and it uses high-quality leather tanned right here in the States.
Pros
Simple design
100% waxed canvas
Made in USA
Quality New England leather
Snap closure side pockets
Holds 20 liters
Cons
Only fits 15″ laptops
No green color available
Logo stitched to front
Unusual aesthetic — feels like the iPod of heritage backpacks
[SHOP THE NUTSAC RUCKSACK IN 3 COLORS HERE]
3. Waterfield's Bolt Backpack ($329)
Waterfield's 17-liter Bolt Backpack is designed for your hip San Fran tech-bro crowd. It's even got a "front zippered pocket with rain-guard flap for stashing sensitive documents." I don't really carry many sensitive documents, just lots of boots and books and sweaty gym gear. But if you do need an NDA signed just to have a casual chat at a bar, this is the backpack for you.
It comes in either a 1050 Denier "Ballistic nylon" or brown waxed canvas — the color you see above is the only one you can get in canvas.
It's a cool bag, but it just seems a little too wide and squat for my tastes.
Pros
Waterproof laptop/tablet zipper
Airport-friendly (easy access to electronics)
Two exterior side pockets for water bottle/quick access items
Two zipper openings for easy laptop access
Cons
Has a (subjectively) unattractive, squat appearance
This is the only color available in waxed canvas — no green, blue, brown
Logo stitched to front
[SHOP THE WATERFIELD BOLT BACKPACK HERE]
4. Peg & Awl's Rogue Backpack ($342)
Peg & Awl is a very cute brand, and I mean that in the nicest possible way. They are a small, crafty company founded by a husband and wife team in Pennsylvania. They upcycle most of their materials, meaning your backpack could be made from an old baseball glove or WWII era gun slings.
Their Rogue backpack was one of the better alternatives I could find to the Filson Journeyman. It's $50 cheaper, has a lovely aesthetic, fits my laptop, comes in green ("Moss"), but it is missing padding on the shoulder straps and the buckle closure makes it a little hard to open and close in a hurry.
Still, this is a lovely backpack and makes for a great conversation piece to boot!
Pros
Fits 17'' laptop
Snap closure water bottle pockets
Custom monogramming!
Leather is all vegetable tanned
Cons
Hard to open on the go
No padding on shoulder straps
Only fits 13 liters
[SHOP THE PEG & AWL ROGUE BACKPACK IN 8 COLORS HERE]

Best Waxed Canvas Roll Tops
I have a love-hate relationship with roll tops. The point of them is that you can roll down and compress the top to make the bag smaller if they have less gear in them, plus they're better at keeping out water than a zippered bag.
They have a cool heritage look, and in theory, it should last longer than a zipped bag given it has one less failure point. Less is more right?
Eh, or maybe less is just less. The problem with roll tops in the modern world is that they're harder to open on the go (so they're not always ideal for commuting) and they wind up looking pretty ourdoorsy (it's harder to walk into your office with a roll top rucksack than a regular zippered backpack).
Nonetheless, if you're on the fence about roll tops, these ones might change your mind.
[Related: The 7 Best Waxed Jackets for Men]
5. The Best: LM Leather Goods' Keystone Rucksack ($315)
ILM Leather Goods' Keystone Rucksack maybe the coolest bag I've seen. I just love it.
LM is a third-generation, family-run leather company and they make a lot of cool products that I didn't know I needed like leather coasters or leather mason jar cup sleeves. I don't even own mason jar cups.
So, they designed this classic, as in truly timeless rucksack. If you were to drop 100 years into the future, people would be like, "That's a cool backpack! Hold my hoverboard while I check it out." It's super symmetrical, it feels sturdy, it looks sturdy, it is sturdy. The attention to detail is fantastic, with an impeccable fit and finish, plus the buckle has a quick release design that makes it easier to open than you might think.
So why aren't I comparing every other backpack on this list, including the Filson, to the Keystone Rucksack? My laptop won't fit, 16 liters is a hair small, the two-tone color messes with the simplicity a little, and it's a little too rustic to take to the office. Sometimes you have to die on a hill, and the ability to carry a 16'' laptop without fumbling with buckles is the hill I'm picking. But if I had another $300 to drop on a backpack after the Journeyman?
Pros
Cool as hell
Thick 18oz canvas
Made in USA
Quick release buckle closure
Open front pocket for quick access
Cons
Not very office-friendly
Fits 15″ laptops
Multicolor aesthetic
No side pockets
[SHOP THE LM LEATHER GOODS KEYSTONE RUCKSACK IN 4 COLORS]
6. Pack Animal's Rally Pack ($269)
Ah! This is a cool backpack. I really like it. It's a great example of merging the best of heritage material with modern materials and design. Pack Animal focuses on making luggage for motorcyclists, so they put a lot of effort into making things bomber.
You can see the quality in this bag the minute you set eyes on it. It's built tough using an 18oz waxed twill. (Twill is virtually the same as canvas, just woven a little differently.) They use more expensive vegetable-tanned leather, and it's fully lined with a weather-resistant ripstop poly liner.
The only downsides are that it's a bit too rugged and casual for some offices, it's pretty large for every day carry (it has a 25-liter capacity) and it's got a branded patch on the front, which I feel detracts (further) from the heritage aspect. It's a roll top, so it's harder to get in and out of when you're on the go, but there's a big side zipper that allows for quick access to the bottom of the bag. It's so close to being perfect.
Pros
Rugged aesthetic
Very thick, 18oz canvas
Fits 16'' laptop
External side pockets for water bottle
Easy-to-adjust straps
Side zipper
Can be mounted on a motorcycle
Cons
Very casual (hard to bring into office)
Quite large (25L capacity)
Branding on front
[SHOP THE PACK ANIMAL RALLY PACK IN 3 COLORS]
7. Bradley Mountain's Biographer ($325)
Take six craftsmen, put them in a room, let them make the products they want, and you get the Bradley Mountain Biographer. They make a variety of pretty damn cool packs that , while being really outdoorsy, still (I think) can be taken to the office.
It's 100% handmade in San Diego, has lovely hardware, and the straps are padded with wool and leather. It's available in this nice, rustic green (which they call "Field Tan" for some reason) and in an even more old timey "Bush Brown" color.
Pros
Durable, 18 oz waxed duck canvas
100% handmade
Made in the USA
Brass hardware
15-20 liter volume
Cons
Fits 13″ laptop
Quite outdoorsy aesthetic
No external side pockets
Big "Bradley Mountain" patch sewn to the front
[SHOP THE BRADLEY MOUNTAIN BIOGRAPHER HERE]

Best Filson Journeyman Alternative for Under $300
9. Billykirk's No. 297 Standard Issue Backpack ($350)
Billykirk gets the heritage crowd. Their motto is "the proof is in the patina", and they take care to make high-quality goods in New Jersey.
Their aptly named Standard Issue Backpack might look a little too "just walked out of homeroom" for certain tastes. But it ticks a lot of boxes with its interior organizational pockets, deep green color (and four others), American craftmanship, simplicity, and roomy 20-liter capacity.
Pros
Made in the USA
Comes in green and four other colors
Lightweight
Two interior organizational pockets
Cons
Fits 15″ laptop
Branding stitched to front
Described as, and looks like, a "school-style bookbag"
Canvas is a little light at 10 oz
[SHOP BILLYKIRK'S NO.297 STANDARD ISSUE BACKPACK IN 5+ COLORS]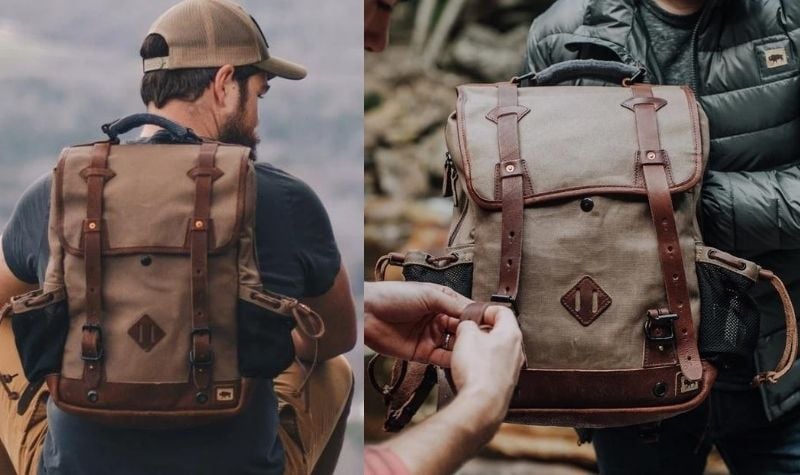 10. Buffalo Jackson's Waxed Canvas Commuter Backpack ($250)
I'll be honest, the first thing I thought when I saw this bag was the mesh water bottle holders. I'm now fixated on them, and can't get past how going-camping they look. Nothing wrong with that, but doesn't look quite right in the city.
Besides the water bottle holders — which have nice leather pull tabs to tighten — there are a lot of great things about this 15-liter bag. Namely, the distressed veg-tanned leather, 15-ounce wax coated canvas, and very cool vintage backpack carry straps, and the exterior quick access opening (so you don't have to fumble with the buckles).
If I were taking time off to be a digital nomad or whatever, then this might be the bag for me. Except not, because it only fits 15'' laptop.
Pros
Vegetable tanned leather
Tough nylon stitching
Quick access opening
Cons
Made in Mexico
I don't love the water bottle pockets
Only comes in tan and navy
Buckle closure
Only fits 15″ laptops
[SHOP THE BUFFALO JACKSON WAXED CANVAS COMMUTER BACKPACK]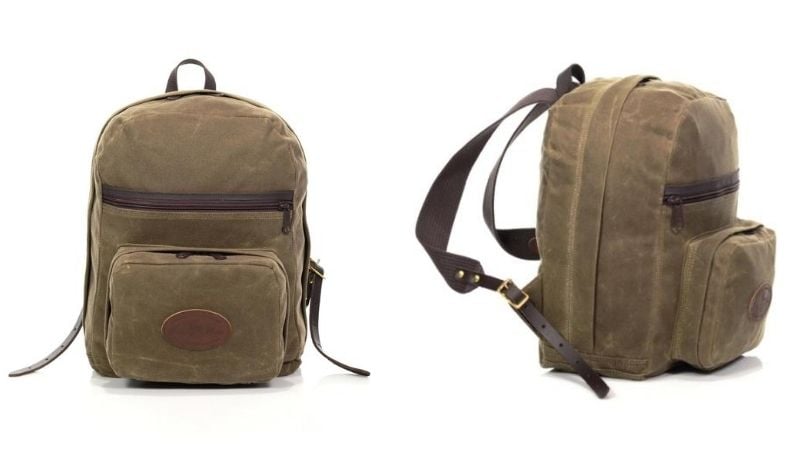 11. Most Heritage: Frost River's North Bay Daypack ($150)
Of all the heritage-y backpack companies, Frost River might nail it the best. Their leather comes from Red Wing's SB Foot Tannery, it's waxed with American made Martexin wax (founded in 1838) and they sell dozens of tough-as-nails packs for any outdoor need, from canoeing to trekking.
That strength can also be a weakness: the bags are so heritage and old fashioned that they could be found in a museum. They don't offer any other colors than "old sack" and the design of the 17.5-liter North Bay Daypack, the closest thing they've got to a commute-ready EDC, is pretty squat and unsophisticated.
I hold that Filson makes the best combination of heritage and modern, with Frost River falling a little too far in the "heritage" camp, but hey, that's just me! You might love it, particularly since you can customize the patch to display your state of choosing.
Pros
Made in USA
Durable 18oz waxed canvas
You can customize the state on the patch
About as heritage as it gets
Includes laptop sleeve
Really inexpensive
Cons
Looks like it's from a museum; design is so-so
No other colors
[SHOP THE FROST RIVER NORTH BAY DAYPACK HERE]
12. Winter Session's Waxed Canvas Backpack ($289)
Winter Session is another company founded by a husband and wife team. They have a self-described utilitarian aesthetic, and it shows. In stark contrast to Frost River, this is a bag that takes old timey waxed canvas and forges it into this ultra streamlined, simple-yet-modern design.
This 18-ish-liter backpack uses unusually thick 20oz waxed canvas, the heaviest on this list. The leather is vegetable tanned leather and very cleanly designed, albeit so clean there's no padding on the straps.
Pros
Extremely thick 20oz waxed canvas
Made in the USA
Streamlined, modern design
Side pockets for small items
Cons
Design is more modern than vintage
No green (right now)
Fits 15″ laptops
Side pockets too small for large water bottles
No padding on straps
[SHOP WINTER SESSION'S WAXED CANVAS BACKPACK IN 5 COLORS]
Wrapping Up
You actually made it to the end! Congratulations, I hope it was worth the effort. As you can see, I've been neck deep in backpack shopping to find something that suits my admittedly very picky requirements. There's a 99% chance you don't share all the criteria I do for a good waxed canvas backpack and that you found something on this list that you love even more than the Journeyman. I hope that's the case! Let me know which one of these you'd prefer and why, or if you think there are any glaring omissions, here. In my opinion, these are the coolest backpacks in existence.