Filson's Rugged Twill briefcase is maybe the most iconic cotton briefcase there is, named by The New York Times as the "best tough briefcase" and called "ubiquitous" by The Wall Street Journal.1 2 My current mission is to find the best leather bag for men, so it was only a matter of time before I inspected the offerings from heritage powerhouse and tastemaker of all-that-is-rugged-and-polished, Filson. Their sole leather shoulder bag is the leather version of that ubiquitous rugged twill briefcase.
Simply named their "Weatherproof Leather Original Briefcase," it would be a disservice to just call it "like the twill briefcase, but leather." It's a thoughtfully, painstakingly made bag that immediately screams quality and craftsmanship, but dude. A thousand bucks? Nearly seven hundred more than the twill one? Is it worth it?
As luck would have it, I bought it from their store in New York's East Village. It wasn't gifted to me, this isn't a "review product" — believe me, I would have loved to not pay full price for this, but Filson does not care for reviewers. I've been using it around New York City for several months, and I've got the best content you'll ever find on this bag.
Here are the sections we'll go through so you work out if it's worth a buy:
[SHOP THE FILSON LEATHER BRIEFCASE HERE]
Filson's Briefcase Leather
Vegetable tanned in PA
Exclusive to Filson
Waterproof coating
Fairly thin (under 2mm)
This leather comes from the beloved 150-year-old Pennsylvania tannery Wickett and Craig, one of the few remaining American tanneries that focuses exclusively on vegetable tanned leather.
The Tanning
Using vegetable tanned leather is very consistent with Filson's old fashioned, ultra durable brand image.
"Veg tanning" is the way we've made leather for thousands of years, and it's often contrasted with chrome tanning, which was invented in the mid 19th century. Chrome tanning has plenty of upsides besides the fact that it's much cheaper and faster to make: it holds color well and it tends to be softer, more flexible, and have an easier break in. But those are really only advantages for leather that you wear; when it comes to bags, guys tend to want vegetable tanned leather. Veg tanning is less harsh on the hide's fibers and it makes for seriously tough, longlasting material.
Filson says this bag is made with a proprietary leather they devised with Wickett and Craig, saying on their site,
We worked with our longtime partner to develop this special boot-grade leather that is weather- and salt water-resistant, solid brass hardware and a wool felt-lined shoulder strap-pad for comfortable carry.
There's a misconception that this whole bag is made from bridle leather, which is tanned to be strong and flexible enough for use in bridles, but it's actually just the accents — the handle, the trim on the zippers, the pull tabs — that are bridle. Thee rest of it is what they call 3.5 ounce waterproof, vegetable-tanned leather.
[Related: The 5 Best Leather Backpacks | Casual, Work, Best Value, Luxury, and More]
The Weatherproof-ness
Now, that weatherproof-ness might be the best or worst thing about the bag, depending on where you stand.
The main potential downside is that the leather gets its weatherproof-ness from that coating that's applied to the leather. Putting aside the fact that one review on Filson's site complained that the treatment rubbed off on his trousers, some feel that the coating diminishes the bag's aesthetic qualities.
Case in point: I showed this bag to a friend who makes veg tan leather bags for a living, and he actually mistook it for chrome tanned leather because it didn't have the kind of color depth or handfeel that he had come to expect from veg tan. He was tripped up by the coating, which gives it a slightly more plasticky appearance.
[To get a better idea of the color and weight of really good veg tan leather without a coating, check out Satchel & Page's Mailbag]
But this is indeed veg tanned leather and it's made in the United States, and rest assured, the bag will last the rest of your life. Filson has a lifetime warranty so if anything breaks, they'll fix it for free. (I know this from experience; the handle on my Filson backpack once broke off.)
The Thickness
The last thing I'll say about the leather is that it's actually quite thin. It's 3.5 ounces; the average robust leather bag is at least 5 ounces, or 2 millimeters thick.
Now, there are upsides to thinner leather: one could argue that it makes it more suitable for formal situations but more importantly it saves weight, keeping the bag light. Plenty of leather shoulder bags are heavy and unwieldy, like my 7-pound Saddleback with 6-millimeter thick leather. Filson's bag is smaller, lighter, and easier to carry around. Just note that it's just not the most substantial leather on Earth.
Filson Leather Briefcase Construction
15 ¾"L x 3 ½"W x 12″H
Contains 11 liters
Briefcase, not a satchel
Internal stitching
Rolled edges
So what has Filson done with this leather? They've… made an all leather version of their twill briefcase. It measures 15 ¾ inches long, 3.5 inches wide, and 12 inches high, carrying about 11 liters. That's not a giant amount of space, but this is a briefcase, not a mailbag or duffle.
But this bag isn't all business. It's a hugely popular model because it does a great job of straddling the line between rough and functional and, on the other side, streamlined and dressy. You'd have no issue seeing somebody using this bag with a suit or with jeans and a henley. Baggy pants and a t-shirt wouldn't work with this bag, but it's still remarkably versatile.
It's a hugely popular model because it does a great job of straddling the line between rough and functional and, on the other side, streamlined and dressy.
There's not a lot to talk about with regard to the interior. It's lined with canvas and the only real features are two full length laptop or folder pockets, which have a series of smaller internal pockets attached to them for miscellanea, like pens and cards.
The Rolled Edges
Compartment wise, you've got nice clean document pockets that function as laptop sleeves on both sides of the bag, and you might have noticed that all of the edges are rolled. This means a strip of leather is stitched over the edge of the leather pieces:
Rolled edges are a nice touch; they look cleaner than "raw" edges and they help to keep the leather from fraying. It also takes a lot more labor than leaving the edges raw, and if a briefcase costs a thousand bucks like this one, pretty much every guy will assume the edges will at least be rolled. Fortunately, they'd be right.
The Handles
It's worth noting that the handles dangle down a little awkwardly when you're using the shoulder strap. The handles can't be buttoned together like they can with my Filson duffle. (Yes, I own a lot of Filson bags.)
That keeps the handles looking less bulky and perhaps a little more professional, but some guys don't like the way the handles look adrift, like an afterthought, when the strap is in use. (One friend even called the handles "feminine," though I don't think we need to go that far.)
The Strap
The strap is adjusted with a belt buckle and comes with a shoulder strap that's lined with felt wool, For the first few weeks of use, the wool will slip off your shoulders now and then as it molds to the shape of your body. Another nice feature with the strap is that the the trigger clasp that attaches to the bad itself (via a D-ring) swivels a full 360 degrees. This is rare, and it means the strap can't tangle.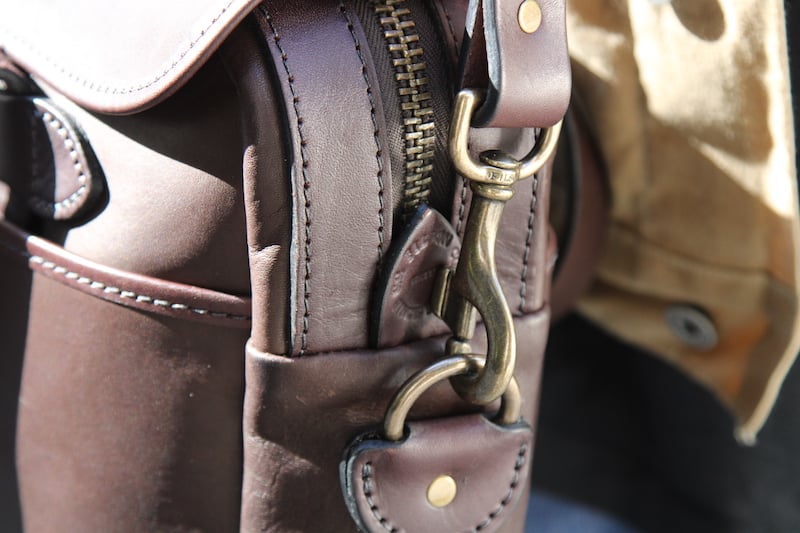 The Internal Stitching
The last thing to note with the exterior is that you can't actually see much of the stitching — it's all done internally. They machine stitch the bag, turn it over, and pull it inside out so that the stitching is hidden. That makes for a really clean look and, like rolling the edges, it involves more labor.
So although the leather's on the thin side, you can still tell that this is a premium bag and that a lot of work has gone into it. Rolled edges, rivets at the stress points, single pieces of leather wherever possible, internal stitching, all of this is indicative of a good quality bag.
[Related: 13 Alternatives to Filson's Backpack]
Filson Leather Briefcase Price

The bag costs $995.
Yes, Filson is known for being expensive, but there's a difference between 'expensive' and 'overpriced.' At $400, their Journeyman backpack is overpriced. But the similarly priced Mackinaw wool jacket is, I believe, good value for what you're getting. And the Weatherproof Leather Original Briefcase?
It's overpriced.
Now, Filson has a lot going for it: it's made in America, has a lifetime warranty, high quality leather, laborious construction methods. That's fine, but the bag should really be at least $200 cheaper.
[SHOP THE FILSON LEATHER BRIEFCASE HERE]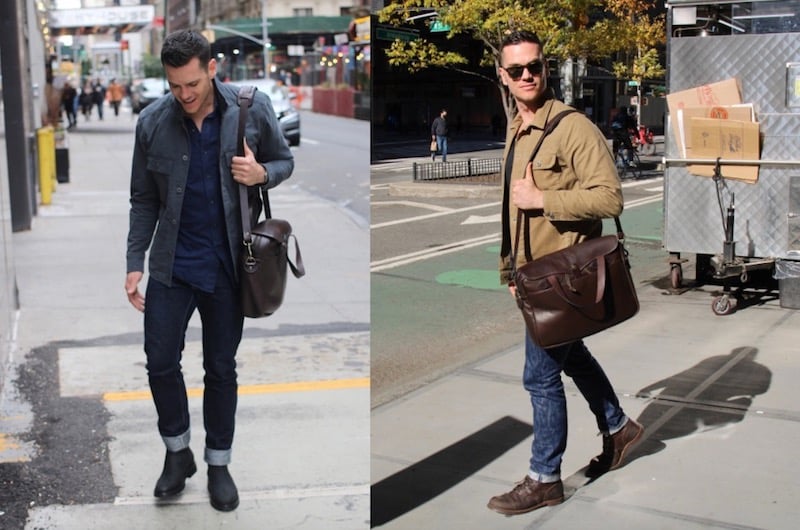 Filson Leather Briefcase Pros & Cons
Pros
High quality vegetable tanned leather
Versatile design
Lifetime warranty
Single panels of leather
Internal stitching
Rolled edges
Waterproof treatment
Cons
Overpriced
Waterproof coating can look a little off
Exposed zippers = not that waterproof
Doesn't attach to roller bag
Zippers can scratch laptops/flesh
The design is a nice mixture of unconventional and classic. You've got the storm flap, the big external pockets for documents, the "there-if-you-need-'em" handles. It's functional, but it's not garish, overbuilt, heavy, or jangly. It really can work in the office or with some nice jeans. Their materials are top notch, but at the end of the day, Filson's versatile designs are what got them to the top of the industry.
The construction and lifetime warranty bears serious emphasis: if the bag seems expensive, remember you'll never need to buy another one. The materials are as American as a Jeep Cherokee. Besides the price, the biggest problem, at the end of the day, is that the exposed zippers mean it isn't especially waterproof. It costs more than the best leather bag should cost, yes. But that doesn't mean it isn't a very, very good bag.
References
1. 'The Best Briefcases' by The New York Times: https://www.nytimes.com/wirecutter/reviews/our-favorite-briefcases/
2. 'Beyond the (Ubiquitous) Filson Bag' by The Wall Street Journal: https://www.wsj.com/articles/beyond-the-ubiquitous-filson-bag-1405700557
The following two tabs change content below.
Nick English
By day: Manhattan-based journalist with reporting experience on four continents, published in Vice, Men's Health, Popular Science, and a bunch of other places.By night: ravenous consumer of anything and everything related to high end men's boots.Stridewise is where I nurture a maniacal obsession with footwear and share my findings. Say hey:
[email protected]
.
Latest posts by Nick English (see all)