Beckett Simonon is a pretty unusual footwear company in that everything is made to order. They don't carry inventory. The idea is that this makes for a more ethical company: having inventory, they say, increases waste, energy, and fuel consumption, but it also means their shoes are really inexpensive because they don't need extra warehouse space and there's less up front investment needed.
So, they're cheap boots, but the downside of them being made-to-order is that they take a good two or three months to arrive in the mail. But finally, I received the tan Dowler Cap-Toe Boot — for free, I should mention. Beckett Simonon sent me these in exchange for a review, and unfortunately, I actually like them a lot. That, I know, makes people think I'm just saying nice things because I didn't pay for them, but all I can say in response is that I've criticized free boots before and I'm going to criticize these ones too. Let's take a closer look.
[USE THE CODE "STRIDE" FOR 20% OFF THESE BOOTS HERE]
Beckett Simonon Dowler Cap Toe First Glance
Hardy calfskin leather
Hues close to the foot
Full grain leather lining
Short laces
I wore these boots for a good few months before filming this review and taking these photos, and they've been worn hard — I even lent them to a buddy who took them on a trip around Europe. They've put up with a lot, and I must say I was impressed at how well the calfskin leather held up. It's unlike any other calfskin I've worn: it's much more rugged than I'd normally expect. It did crease pretty dramatically, but since they're casual boots and they cost so little, I didn't see it as a big downside.
The boot has a really versatile look and it really is easy to dress down with a t-shirt and jeans or dress up with chinos and a button down. You can't wear them with a suit, but the sleek silhouette gives them a refined air and snug, secure fit. It's not as much a dress boot/work boot hybrid as other modern, direct-to-consumer brands like Parkhurst, Thursday or Taft — the toe cap is too bulbous — but it's nonetheless an extraordinarily versatile shoe. Out of the box, my main complaints are that the laces are too short and the leather sole, well, has its downsides that I'll get into below.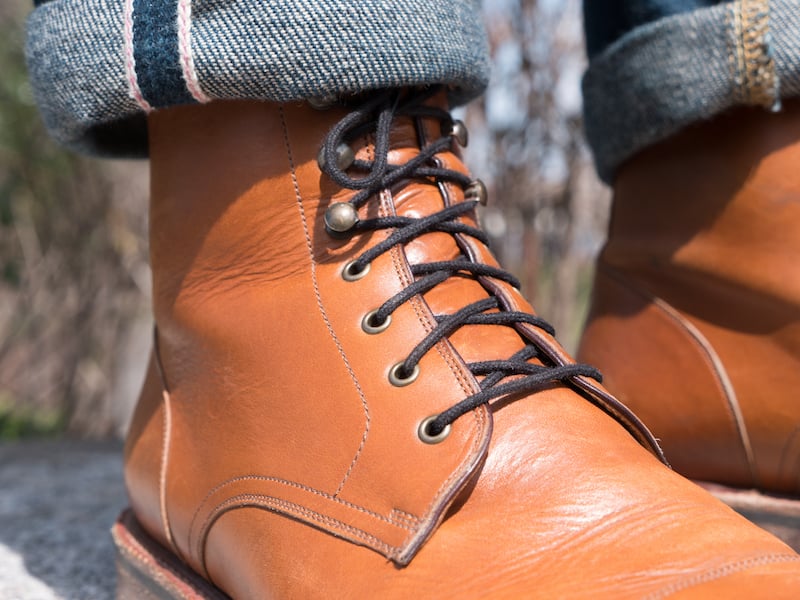 Beckett Simonon Dowler Cap Toe Leather
Full grain calfskin
Vegetable tanned
Surprisingly tough
Sourced from Argentina
This leather is full grain, vegetable tanned calfskin, and it's likely that the vegetable tanning is part of the reason why it's relatively tough for a calfskin. (Although, again, it has creased quite a lot.) I still love this leather, and it's a nice way to add variety to a closet full of oil tanned and Chromexcel boots.
The leather is from Argentina and there's a fun article on Beckett Simonon's site where they explore the third generation owned tannery that produces it, which is located outside Buenos Aires and owned by a family of Hungarians who fled to Argentina after World War 2. But the boots aren't made in Argentina; they're hand made in Bogota.
I should also note this shoe is available currently in seven different leathers, most of which are the same calfskin in different colors, but there are also a couple of pull up leathers if that's your thing (or if you want to minimize the creasing).
[What's best for your boots: Vegetable tanned or chrome tanned leather?]
Beckett Simonon Dowler Cap Toe Leather Care
Beckett Simonon recommends polishing every two weeks
Saphir Renovateur is preferred, but any waxy polish is fine
For taking care of the leather, they recommend polishing and cleaning them every week or two. I spoke to one of their associates, who told me if you wear them three times a week you should polish them every week with a waxy polish like this one from Saphir. Now, that's pretty darn frequent, and in all honesty, the boots you see in these photos were worn for months without a single application. Then again, I prefer a more rugged look, so you may want to take a different approach.
Beckett Simonon also recommend conditioning your boots every couple of months with something like Saphir's Renovateur, which has a well earned reputation as one of the best boot conditioners on Earth.
[See my full review of Saphir's Renovateur here!]
Beckett Simonon Dowler Cap Toe Sole
Leather outsole, midsole, and insole
Resoleable Blake stitch
Not very water resistant
This sole is pretty simple in that everything is leather: the leather outsole, stacked leather heel, leather midsole, leather insole. No cork whatsoever. (Note that the pull up versions of this boot have a rubber outsole.)
I have conflicting feelings about leather outsoles. The pros are that it's flexible, it's relatively soft, it has nice groundfeel, and that timeless "clack clack clack" sounds great when you're walking around in them indoors.
The downsides are that it gets scratched up and ugly, it's not great in water, and it has next to no grip. Now, once you've been wearing them for a while and you've scratched up the sole, that does confer some decent grip. But, you know, then you have an ugly sole like the one you see above. So, it's really up to you as to whether or not leather soles are worth your dollar. Some days I love leather soles and some days I hate them (I'm very erratic) but since I accepted what they offer and what they don't, I can appreciate it when I'm in the mood for it.
This is also Blake stitched, not Goodyear welted. This makes for a lighter shoe, albeit one that's a bit harder to resole. Beckett Simonon insists on calling this a "resoleable Blake stitch" and there are indeed some Blake stitch shoes that can be resoled, you just might have a slightly harder time finding a cobbler happy to perform the operation.
Beckett Simonon Dowler Cap Toe Fit & Sizing
Fits true to size
Cradles the foot nicely
Great arch support
Leather lined
These shoes run from sizes 7 to 14 and they're true to size: I'm an 11.5 on a Brannock device and their 11.5 fit me very well. As I mentioned before, the shoe hues quite close to the foot, and while a potential downside of the slim last is that this makes the toecap look a tad bulbous, the upside is that it really feels like it's cradling my foot very nicely.
Since there's no cork, there's not quite the same feeling of the boot molding to the shape of your foot in the same way as you might get with a cork midsole like the kind you find in most Red Wing Heritage boots. But honestly, I found these boots extraordinarily comfortable. A metal shank gives great arch support, the slim last feels great on the instep, plus it's lined with full grain leather which provides extra comfort. Combine all that with the fact that I had no difficulty breaking in the boots, and you've got full marks for comfort.
[See my review of these Oni Stretch Selvedge Jeans here!]
Beckett Simonon Dowler Cap Toe Price
The gigantic upside with these boots is the price. They're just $219 when they're full price and they're 20 percent cheaper with the discount code "STRIDE," which is really phenomenal value for what you're getting. (Even without the discount.) These boots are easily worth $100 more than what you're paying.
There's also free shipping and returns, but the big downside of Beckett Simonon's whole ethical, made-to-order approach is that you have to wait some 10 to 12 weeks from ordering your shoes to them arriving at your door. There are some companies, like Dayton and White's, that will make you a boot to your specifications and get it to you in less time than that. But those shoes are close to $500, so for the price of a pair of Beckett Simonon, I don't think it's the end of the world.
Beckett Simonon Dowler Cap Toe Pros & Cons
Pros
Inexpensive
Very comfortable
Versatile
Free shipping and returns
Cons
Not very water resistant
Not great grip
Leather creased a lot
Long wait time
The biggest complaint I have with these shoe are the long wait time and the short laces. The boots themselves are fantastic, comfortable, versatile, and phenomenally well priced. They're not a water resistant or easy to resole as Goodyear welted boots, sure, but for the price you're paying it's very hard to look past them. I wear mine a lot, and you will, too.
The following two tabs change content below.
Nick English
By day: Manhattan-based journalist with reporting experience on four continents, published in Vice, Men's Health, Popular Science, and a bunch of other places.By night: ravenous consumer of anything and everything related to high end men's boots.Stridewise is where I nurture a maniacal obsession with footwear and share my findings. Say hey:
[email protected]
Latest posts by Nick English (see all)