Beckett Simonon is a pretty unusual footwear company in that everything is made to order. They don't carry inventory. The idea is that this makes for a more ethical company: having inventory increases waste and energy consumption, but it also lowers the price because they don't need extra warehouse space and there's less up front investment needed.
So, they're cheap boots, but they take a good two or three months to arrive in the mail. But finally, I received the tan Dowler Cap-Toe Boot — twice. Once in 2018 and again in 2023, because a lot has changed since I first got them, most notably the leather used.
To be up front: the leather isn't as nice as my first order, but I think if you get one of their pull up leathers, you could get a well balanced boot at a very solid price.
Beckett Simonon Dowler Cap Toe Pros & Cons
Pros
Inexpensive
Blake stitch construction is flexible and lightweight
12 leathers to choose from
Great quality lining
Free shipping and returns
Cons
~3 month wait time
Not very water resistant
Low quality leather
Rubber midsole means the leather outsole doesn't breathe as well as all leather construction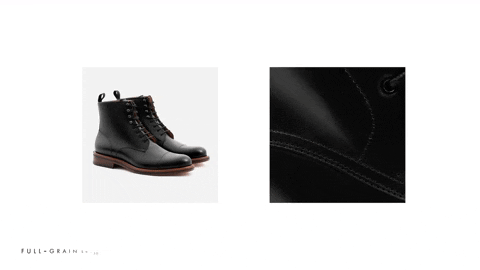 Beckett Simonon Dowler Cap Toe First Glance
Hardy calfskin leather
Hues close to the foot
Vachetta leather lining
Short laces
The boot has a really versatile look and it really is easy to dress down with a t-shirt and jeans or dress up with chinos and a button down. You can't wear them with a suit, but the sleek silhouette gives them a refined air and snug, secure fit. It's not as much a dress boot/work boot hybrid as other modern, direct-to-consumer brands like Parkhurst, Thursday or Taft — the toe cap is too bulbous — but it's nonetheless an extraordinarily versatile shoe. Out of the box, my main complaints are that the laces are too short and the leather sole, well, has its downsides that I'll get into below.
Beckett Simonon Dowler Cap Toe Leather
Full grain calfskin
Sourced from sustainable (LWG-rated) tannery in Italy
3 varieties available: full grain, pebbled, and pull up
My full grain ones are pretty low quality
My 2018 boots were made with a hardy, vegetable tanned calfskin that I adored. (You can see it below.)
Since then, the tannery has changed and the leather is now sourced from Italy. It's important to note there are three kinds of leather you can get: full grain, pebbled texture, and pull up. Pull up leather has been infused with extra oils to make for more color variation and weather resistance, and I think it would have been a better bet. The "full grain" leather I got is the Tan color and, to be honest, it's pretty cheap looking.
The leather is very chromey, which is to say it's vibrant but in a plasticky way, and it's thin and creases easily in an unattractive way. To be fair, these are $205 boots, so I'm not saying the leather is bad for the price. Just that if you're comparing this with the similarly priced Thursday Boot Company, it's clear that you can get better leather for a cheaper price. (Thursday's boots are $199.)
[What's best for your boots: Vegetable tanned or chrome tanned leather?]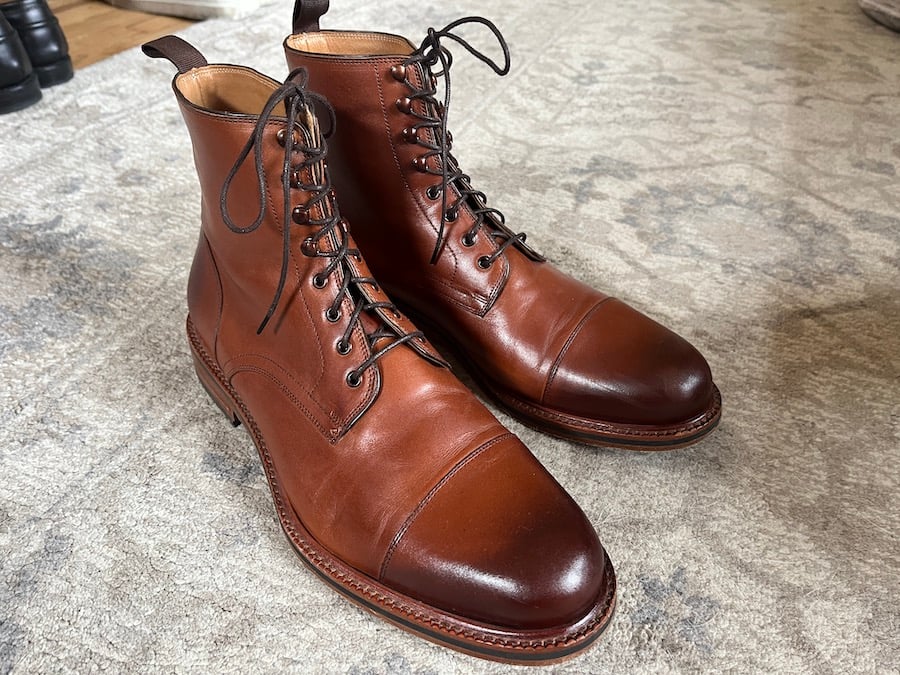 Beckett Simonon Dowler Cap Toe Sole
Leather outsole, rubber midsole, leather insole
Resoleable Blake stitch
Not very water resistant
The construction is a leather outsole, rubber midsole, leather insole. (Note that the pull up and pebble grain versions of this boot have rubber outsoles.) Like Thursday's Cavalier, putting rubber under the leather messes with the breathability of a leather outsole, a key reason many prefer it. Still, it's a very lightweight, soft, and flexible construction. Note that leather soles are a little too slippery to wear out in the rain.
This is also Blake stitched, not Goodyear welted. This makes for a lighter and more flexible shoe, albeit one that's less water resistant and a bit harder to resole. They can be resoled, it's just harder to find a cobbler who will do it and you might need to mail them away.
Beckett Simonon Dowler Cap Toe Fit & Sizing
Fits true to size
No wide widths
Cradles the foot nicely
Great arch support
Vachetta leather lined
These shoes run from sizes 7 to 14 and they're true to size: I'm an 11.5 on a Brannock device and their 11.5 fit me very well. As I mentioned before, the shoe hues quite close to the foot, tapering at the midfoot and flaring slightly to an almond shaped toe.
Honestly, I found these boots extraordinarily comfortable. A metal shank gives great arch support, the slim last feels great on the instep, plus it's lined with great quality vachetta leather which provides extra comfort. Combine all that with the fact that I had no difficulty breaking in the boots, and you've got full marks for comfort.
Beckett Simonon Dowler Cap Toe Price
The gigantic upside with these boots is the price. They're just $259 when they're full price and they're 20 percent cheaper with the discount code "STRIDE," which is good value for what you're getting. (Even without the discount.)
There's also free shipping and returns, but the big downside of Beckett Simonon's whole ethical, made-to-order approach is that you have to wait some 10 to 20 weeks from ordering your shoes to them arriving at your door. The value proposition makes it worth it, just know that if you need to exchange them, your ordering process might take half a year.
Wrapping Up
The biggest complaint I have with these shoe are the long wait time and the so-so leather. They're not a water resistant or easy to resole as Goodyear welted boots, sure, but for the price you're paying it's very hard to look past them. If you're considering them, I'd suggest getting the pull up leather — the "full grain" version looks too cheap and doesn't offer the versatility you might expect. I say to go in the direction of hardier leather, and you'll find some boots that are very easy to wear.