With over a thousand reviews and a starring role in HBO's The Last of Us, this is one of, if not the most popular American made waxed jackets on the market.
The company that makes it isn't the oldest — Flint and Tinder, an inhouse brand of Huckberry, was founded less than ten years ago — but with savvy marketing and solid construction they've come up with what many are calling the perfect fall jacket. (Or zombie-fighting jacket.)
Waxed canvas is a wonderful material that fellow YouTuber Carl Murawski calls a "patina cheat code." The word patina refers to desirable aging such as faded jeans, beat up boots, and old leather jackets. It normally takes years to get, but with waxed canvas your jacket looks old when you get it — and that's the beauty of it.
Well, that, and the fact that the coating of wax applied to it provides water resistance and a little insulation as well.
So this is the kind of jacket that ages well, takes a beating, and has timeless style.
Flint and Tinder Flannel-Lined Waxed Trucker Jacket Aesthetic
When i say it's similar to a Type 1 Levi's jacket, that's the always-sold-out old denim trucker jacket that the brand was known for, and the Flint and Tinder jacket ticks many of the same stylistic boxes with:
Dual hand pockets,
A chest pocket with button flap closure, for a really classic look
Adjustable waist buttons
A classic fit, as opposed to like an athletic, modern ,v-shaped fit
It also comes with a snazzy media pocket that is the perfect size for a smart phone.
The jacket is available in eight colors right now, but this field tan is the most popular. Part of why I love it is that I already have grey, brown, and black jackets, whatever color you get this jacket goes well with jeans and boots, chinos, sneakers, and it also looks great over a button-down shirt.
It's not dressy, but it's elevated casual, and again, it looks great the more beat up it gets. It's the kind of jacket you can happily stuff into a bag, get all wrinkled up — and it'll only look better.
[Related: The 7 Best Waxed Jackets for Men]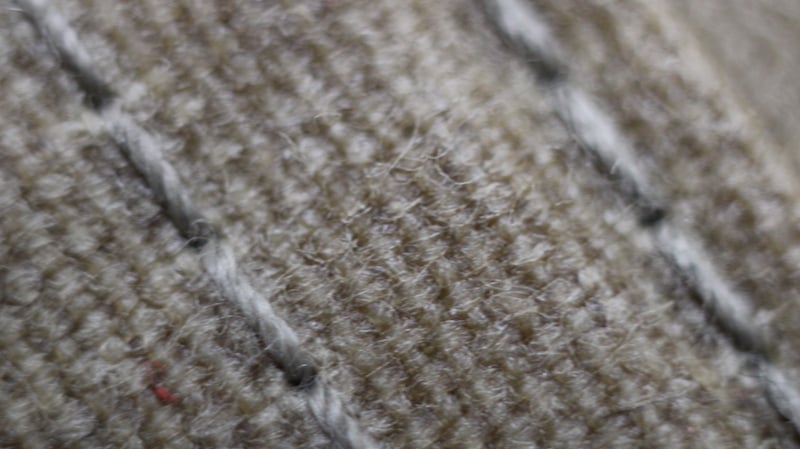 Flint and Tinder Flannel-Lined Waxed Trucker Jacket Price Waxed Canvas
7oz waxed canvas
Made by Fairfield Textiles, NJ
Water resistant
Ages well
The main event with this jacket is the canvas, of course.
This is 7 ounce Martexin sail cloth from Fairfield Textiles in New Jersey. Fairfield is very proud of their Martexin products, noting it's "dyed with reactive dyes for the very best dye penetration."
[Related: Best Waxed Backpacks]
I'll discuss some alternatives below, but at 7 ounces, it isn't crazy thick. Fairfield Textiles says it's 9 and a half ounces after finishing, but it's still thinner than a pair of jeans. An upside of the weight, though, is it makes it light and unstructured and not too restrictive.
On the inside of this jacket, it's lined with 100% polyester flannel. A potential downside might be that it's not cotton or wool, it's synthetic, but it really feels like a flannel shirt when you put it on — and you don't really want an unlined waxed jacket, as they feel clammy on the skin and don't breathe at all.
Flint and Tinder's Waxed Jacket Line Up
The flannel-lined trucker became so popular that it spawned a series of sequel jackets that we went through in the video above and this article if you'd like to learn more.
For a lighter, unlined take, we're big fans of the Big Horn. It's a tad longer and has larger pockets than the trucker, designed for a more modern and youthful appeal.
They've put out even more waxed jackets since we published that video, with the warmest American-made option now the Rancher, although if you like the trucker look you should opt for the Quilted Trucker over the Wool-Lined one.
Flint and Tinder Flannel-Lined Waxed Trucker Jacket Care
You are sternly told to not wash or dry clean your waxed trucker jacket.
A lady at Flint and Tinder told me that because it's waxed, washing it can damage the jacket and other items if they're washed with it, and it can remove the wax, and it can shrink the jacket. There's even an article on Huckberry that says to "never ever wash your waxed jacket" and that,
despite its ability to withstand the worst Mother Nature can throw, its only weakness is your washer and dryer.
So to keep it clean you just need to spot clean it. Use a stiff haired brush for dust and stuff, cold water and a sponge for stains.
Rewaxing Your Jacket
After a season or three, the time may come to rewax your jacket.
To test if it needs to be rewaxed, you spray the jacket with water to test its water resistance, wait 5 minutes, and see if it beads off. If it does, you're good. If not, you add some wax with a hairdryer — they recommend Filson's Oil Finish Wax.
[Read our step-by-step guide for how to wax a jacket]
Flint and Tinder Flannel-Lined Waxed Trucker Jacket Fit & Sizing
Order your usual size
Waist can be tapered with cinch buttons
There's all your sizing info above.
With a chest of about 43 to 44 inches and a 33-inch waist I went with the Large, and while it's advertised as being 45.5 inches, it's lined and allows a little room to layer up. I was considering going with a Medium but I have a weirdly long torso and didn't want to risk winding up with a waxed midriff. Plus, if I'd gone with the Medium it would have been harder to wear anything more than a thin shirt underneath. So I got a large and used the adjustable waist button tabs to taper the aesthetic a little.
Again, this is a classic fit, not an athletic, slim, or "modern" fit: it's straight up and down. If you want more of a V-shaped fit you'll be out of luck, but the waist buttons can help.
Flint and Tinder Flannel-Lined Waxed Trucker Jacket Price
When it's not on sale it's $298.
For an American made waxed jacket, you're probably going to compare that to Filson. Their cotton lined waxed canvas jacket, called the Tin Cloth Short Lined Cruiser Jacket, is $350 — but while the canvas twice as thick at 14oz, it's no longer made in the USA.
Tom Beckbe has a similar, casual waxed jacket called the Chatom which is about the same weight and also made in America, but costs over $100 more. Same goes for Freenote Cloth's. We could go on.
You can see more options in our list of the best waxed jackets but if you want American made and lined — which we recommend, because waxed canvas feels clammy against the skin '— you won't find better value than Flint and Tinder.
Flint and Tinder Flannel-Lined Waxed Trucker Jacket Pros & Cons
Pros
Best value on the market
Great, classic look
Tough as nails and ages well
Available in 8 colors
Water resistant
Fully lined
Unpretentious
Cons
No arm gussets or anything to enhance mobility
Lined with polyester, not cotton or wool
Not the thickest waxed

jacket
I like this jacket a lot. It's completely unpretentious, works with any casual outfit, it comes in a ton of colors, it'll last a million years, and the fabric patinas well and looks great. The price is great, it's a good weight, and it's all made in America. If you're after this weight, look, and country of origin, you won't do better.
And it doesn't hurt that it's made for slaying zombies.