With over a thousand reviews, this is Huckberry's most popular jacket and one of, if not the most popular American made waxed jackets there is.
The company that makes it isn't the oldest — Flint and Tinder, an inhouse brand of Huckberry, was founded less than ten years ago — but with savvy marketing and solid construction they've come up with what many are calling the perfect fall jacket. Or spring jacket. Cool-but-not-the-depths-of-winter jacket.
Waxed canvas is a wonderful material that fellow YouTuber Carl Murawski calls a "patina cheat code." The word patina refers to desirable aging such as faded jeans, beat up boots, and old leather jackets. It normally takes years to get, but with waxed canvas your jacket looks old when you get it — and that's the beauty of it.
Well, that, and the fact that the coating of wax applied to it provides water resistance and a little insulation as well.
So this is the kind of jacket that ages well, takes a beating, and has timeless style.
[SHOP THIS JACKET IN 8 COLORS HERE!]
Note: I made a mistake in the video when I said the Ship John waxed jacket is $250 — that's the deposit, the jacket is $500 in total.
Flint and Tinder Flannel-Lined Waxed Trucker Jacket Aesthetic
When i say it's similar to a Type 1 Levi's jacket, that's the always-sold-out old denim trucker jacket that the brand was known for, and the Flint and Tinder jacket ticks many of the same stylistic boxes with:
Dual hand pockets,
A chest pocket with button flap closure, for a really classic look
Adjustable waist buttons
A classic fit, as opposed to like an athletic, modern ,v-shaped fit
It also comes with a snazzy media pocket that is the perfect size for a smart phone.
The jacket is available in eight colors right now, but this field tan is the most popular. Part of why I love it is that I already have grey, brown, and black jackets, whatever color you get this jacket goes well with jeans and boots, chinos, sneakers, and it also looks great over a button-down shirt.
It's not dressy, but it's elevated casual, and again, it looks great the more beat up it gets. It's the kind of jacket you can happily stuff into a bag, get all wrinkled up — and it'll only look better.
[Related: The 7 Best Waxed Jackets for Men]
Flint and Tinder Flannel-Lined Waxed Trucker Jacket Price Waxed Canvas
7oz waxed canvas
Made by Fairfield Textiles, NJ
Water resistant
Ages well
The main event with this jacket is the canvas, of course.
This is 7 ounce Martexin sail cloth from Fairfield Textiles in New Jersey. Fairfield is very proud of their Martexin products, noting it's "dyed with reactive dyes for the very best dye penetration."
[Related: Best Waxed Backpacks]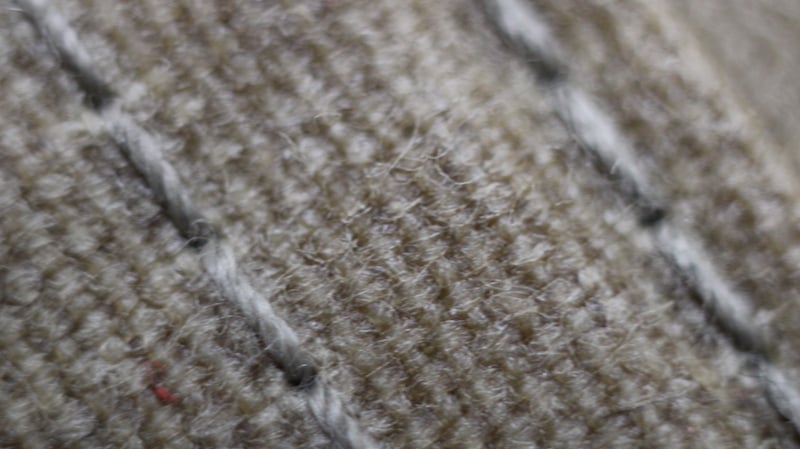 I'll discuss some alternatives below, but at 7 ounces, it isn't crazy thick. Fairfield Textiles says it's 9 and a half ounces after finishing, but it's still thinner than a pair of jeans. An upside of the weight, though, is it makes it light and unstructured and not too restrictive.
On the inside of this jacket, it's lined with 100% polyester flannel. A potential downside might be that it's not cotton or wool, it's synthetic, but it really feels like a flannel shirt when you put it on. Unlike…
[Related: Check out my favorite waxed canvas backpack, the Filson Journeyman]
Flint and Tinder's Lined vs Unlined Trucker Jacket
You may have seen Flint and Tinder's Unlined Waxed Trucker Jacket which is for warmer weather. I've tried it and I do not like it because it's a different fabric from Britain that has the wax infused into the cotton. So not only is it unlined, but all of the fabric is waxy, so it gets your arms all sticky whenever you wear it. That one's a "do not buy."
The fabric used for the lined version is waxed on the outside and on the inside for some extra insulation, but you get a nice liner, so it's the best of both worlds.
Flint and Tinder Flannel-Lined Waxed Trucker Jacket Care
You are sternly told to not wash or dry clean your waxed trucker jacket.
A lady at Flint and Tinder told me that because it's waxed, washing it can damage the jacket and other items if they're washed with it, and it can remove the wax, and it can shrink the jacket. There's even an article on Huckberry that says to "never ever wash your waxed jacket" and that,
despite its ability to withstand the worst Mother Nature can throw, its only weakness is your washer and dryer.
So to keep it clean you just need to spot clean it. Use a stiff haired brush for dust and stuff, cold water and a sponge for stains.
[Want to wax your canvas? Our favorite product is Tom Beckbe's Reproofing Tin]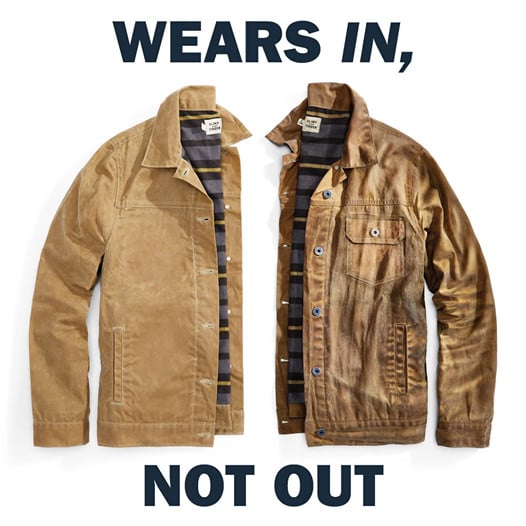 Rewaxing Your Jacket
After a season or three, the time may come to rewax your jacket.
To test if it needs to be rewaxed, you spray the jacket with water to test its water resistance, wait 5 minutes, and see if it beads off. If it does, you're good. If not, you add some wax with a hairdryer — they recommend Filson's Oil Finish Wax and there's a whole article on how to do it right here.
[For more lightweight fare, check out my favorite warm weather jacket, Taylor Stitch's Ojai]
Flint and Tinder Flannel-Lined Waxed Trucker Jacket Fit & Sizing
There's all your sizing info above.
With a chest of about 43 to 44 inches, I went with the Large, and while it's advertised as being 45.5 inches, it's lined and allows a little room to layer up. I was considering going with a Medium, but I have a weirdly long torso, so didn't want to risk winding up with a midriff top jacket! Plus, if I'd gone with the Medium it would have been harder to wear anything more than a thin shirt underneath. So I got a large and used the adjustable waist button tabs to taper the aesthetic a little.
Again, this is a classic fit, not an athletic or slim fit: it's straight up and down. If you want more of a V-shaped fit you'll be out of luck, but the waist buttons can help.
Flint and Tinder Flannel-Lined Waxed Trucker Jacket Price & Alternatives
When it's not on sale it's $240.
For an American made waxed jacket, you're probably going to compare that to Filson. Their cotton lined waxed canvas jacket, called the Tin Cloth Short Lined Cruiser Jacket, is $350 — but that material is 14 ounces with 6 ounce lining. The Flint and Tinder jacket is advertised as 7 ounces.
Taylor Stitch's Lined Long Haul Jacket is very waxy and costs $248, that's 9 ounces and the lining is 13 ounces, but the lining is mostly wool, not synthetic polyester. It's made in China, though.
A lot of guys say this Flint and Tinder jacket is fantastic value, and it's hard for me to decide. It's a very cool jacket, but the cheapest and thickest it isn't.
But while there are jackets at around this price that are heavier, I don't know of any this weight that are cheaper. So if you want a good, not-too-cold-weather type of waxed jacket, I think it's a great pick.
If you'd rather heavier, you can get heavier for the same price, so it's really about what kind of weather you're shopping for and how much you like the look — I love wearing this jacket when it's a little chilly. Plus, look, the waxed canvas jackets from Barbour and Freenote Cloth are $400 and the Ship John's Wills Jacket, probably the most beloved American waxed canvas jacket on the market right now, is $500. So it could be a lot more expensive.
[SHOP THE FLINT AND TINDER FLANNEL LINED TRUCKER JACKET IN 8 COLORS HERE!]
Flint and Tinder Flannel-Lined Waxed Trucker Jacket Pros & Cons
Pros
Great, classic look
Ages well
Available in 8 colors
Water resistant
Fully lined
Unpretentious
Cons
No arm gussets or anything to enhance mobility
Lined with polyester, not cotton or wool
Not the thickest waxed

jacket
I like this jacket a lot. It's completely unpretentious, works with any casual outfit, it comes in a ton of colors, it'll last a million years, and the fabric patinas well and looks great. The price is fine, it's a good weight, and it's all made in America. If you're after this weight, look, and country of origin, you won't do better.
The following two tabs change content below.
Nick English
By day: Manhattan-based journalist with reporting experience on four continents, published in Vice, Men's Health, Popular Science, and a bunch of other places.By night: ravenous consumer of anything and everything related to high end men's boots.Stridewise is where I nurture a maniacal obsession with footwear and share my findings. Say hey:
[email protected]
Latest posts by Nick English (see all)