Business Insider says they're "all over Instagram," Forbes says millennials are "obsessed with them," so why are you supposed to be so crazy about Koio's sneakers? I've been wearing these Capri Triple Whites that they sent me for about two months, and this is the best review you're going to get.
Koio is one of the more prominent entries in the world of the upscale, luxury, minimalist white sneaker, a category that also includes Oliver Cabell, Beckett Simonon, Greats, and of course, the brand that started the gold rush for this type of shoe, Common Projects. (See my review here.)
Koio (so named because it sounds like the Italian word for leather, cuoio) was started in 2015 by Chris Wichert and Johannes Quodt and while the company makes a lot of other sneakers, including canvas ones and even boots, the Capri Triple White is their flagship shoe.
Each sneaker is handmade (forty-two hands touch them in the production process) by the same artisans that make Chanel sneakers in the La Marche region of Italy.
And they're really Italian. Absolutely nothing is outsourced. They don't last them in one place and package them in another, the leather is sourced from local farms in Italy, and even the box is made there.
While it's a little hard to say Italian humans make shoes better than other humans, the reason it's worth considering paying the extra for Italian is that you can be much more confident in labor standards and the workers' rights than you can be when a product is made in, say, China. The labor cost, says Koio, is 15 times higher than it would be in other parts of the world, and I believe them. Wanting your shoe made in a place where your money is contributing to worker wellbeing and fair wages, I think, makes it an OK thing to prioritize.
Of course, this is totally subjective. Let's get down to brass tacks.
20% Discount!
Koio Capri Leather Sneakers
This sneaker from Koio is hands down one of the most comfortable sneakers out of the box! Completely made in Italy, get 20% off with the code STRIDEWISE20.
Get the Discount
We earn a commission if you make a purchase, at no additional cost to you.
Further Reading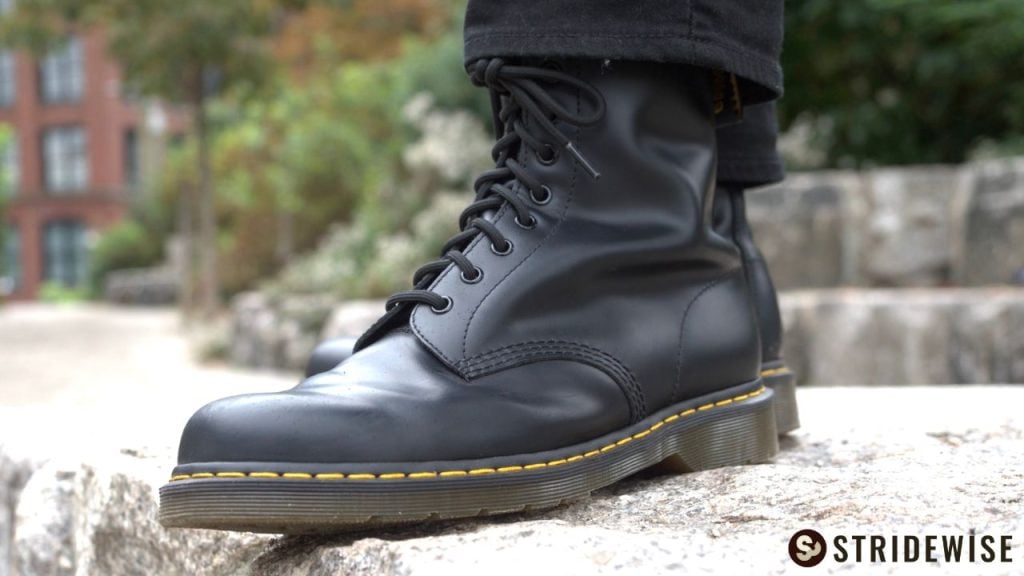 Koio Capri Aesthetic
Minimalist, sleek, low profile
Robust Margom sole
Stitched construction
Slim last
This is, obviously, a very minimalist sneaker. It's sleek, low profile, very clean, and very well designed. It's the kind of shoe for guys who want to dress with clothes that are timeless, classic, and, well, won't look weird when they're looking back at photos of themselves in ten or twenty years' time. Like good boots and jeans, shoes like this are fashion-proof.
Notable features include the robust and famous Margom sole (which I'll get into a bit later), the slim, almost dressy silhouette, and the fact that it's stitched to the sole instead of just being glued. This helps to reinforce stress points (like at the toe break, where most sneakers get holes) and it improves the leather's longevity.
If you want to know how this compares to the famous Common Projects sneaker, I'll tell you right now.
Koio vs Common Projects
Common Projects is about two hundred dollars more expensive.
They have the exact same outsole.
They have the exact same stitch construction.
They're made in the exact same region of Italy.
Koio has more padding around the ankle and heel.
Koio isn't quite as slim on the foot, so it has a more democratic fit — many complain about Common Projects being too skinny for their feet.
Common Projects' leather is softer, the footbed is softer, and tongue is thicker and softer.
Koio's leather feels a bit tougher, a bonus of it not being quite as soft. In other words, Koio doesn't feel as vulnerable as Common Projects.
Phew. If you want to do more of a comparison, I encourage you to check out my Common Projects review and compare it with this one. For now, let's focus more on what Koio has to offer.
Koio Capri Leather Quality
Vitello "calf" leather
1.44mm thick
Chrome tanned in Italy
Actually made from cowhide
This is called Vitello calf leather. It's 1.44 millimeters and it's chrome tanned in Italy. Chrome tanning makes for leather that's relatively soft and holds color well (learn more in my breakdown of chrome vs vegetable tanning), but what Vitello calf leather is not is calf leather. It comes from meat cows in the European Union! Koio tells me
The leather that we use is actually from fully matured cows. "Calf" is referring to the characteristics of the leather as it is extremely soft and has a fine grain.
Which is a bit misleading, isn't it? They don't use real calf because they think slaughtering babies is unethical, which I get. A lot of companies, like Thursday Boot Company, shy away from calfskin for similar reasons. That's totally fine, maybe even admirable depending on your own philosophy, just… don't call it calf leather then.
[Check out my review of the ultimate casual canvas, the Chuck Taylor All Star]
Koio Capri Leather Care
Treat with Crep Protect Spray before wearing
Clean with Crep Protect "Cure" (or any leather spot cleaner)
Use white shoe cream to cover up scuffs
Use shoe trees between wears
Condition with Walter's Leather Conditioner
For caring for their leather, Koio actually recommends treating them with a leather protectant before wearing. Their favorite is Crep Protect Spray, which puts a stain and water resistant coating on the leather. (I didn't do this, which might be why they look a bit worn in in my photos.)
For cleaning, they recommend the Crep Protect Kit they sell, which you can totally get for free with the code "STRIDEWISE" at checkout. To be completely objective, you can use any leather spot cleaner. (I tend to use the one from Cobbler's Choice.)
Once you get scuffs, and the shoes will accrue scuffs, you can use a white shoe cream to cover that up like Saphir (the "Cadillac" of shoe polishes) or Kelly's (which, you know, will still get the job done fine).
When storing your sneakers, you need to use cedar shoe trees, because these are leather shoes. This helps the sneaker smell better, helps it retain its shape, minimizes creasing, and helps to suck up moisture from your stinky feet that can decrease the longevity of the stitches and such. These cheap shoe trees will work fine, though some prefer shoe trees with rounded heels like the famous ones from Allen Edmonds. Ideally, you'd let them rest in shoe trees at least a day between wears. (I know, it seems like a lot of work for a pair of sneakers but hey, you want your investment to last.)
You're also advised to condition your shoes once a month. They like Walter's Leather Conditioner, which they sell on their site. It's true that leather is skin, after all, and needs regular moisturizing, but once a month is a lot. I think conditioning a couple of times a year would probably be fine; don't feel too guilty if you skip a month or a six.
Koio Capri Triple White Sole
Margom outsole
Lasting board
Open cell PU footbed
Leather lined
Stitched construction
The outsole is Margom, which is a real institution among the elite, luxury sneakerheads. It's what's used in Common Projects, Oliver Cabell… practically any company that wants to be taken seriously in the space eventually surrenders and gets Margom.
It's known for its product consistency, it's pretty resistant to splitting and abrasion, it has a good elastic quality — important for flexing a zillion times a day as you walk — and it has a nice heft to it.
There are four layers in the sole here:
The Margom sole
A lasting board (that's cardboard that helps keep the shape of the shoe and reduce the amount of wrinkles)
Leather lining, and
This "ultra comfortable, bouncy, removable insole" made from open cell polyurethane. It's more resistant to compression than some competing brands which gives it more bounce and a little less "pillowyness."
As mentioned above, the upper is glued and hand stitched to the outsole. This helps with durability, but don't think you can resole these shoes once the sole wears through — the leather probably won't be able to take it. The main reason to like the stitching is that it's friendlier on the leather and makes the sole far less likely to come away from the upper.
Koio Capri Fit & Sizing
Order up if you're between sizes
Roomier in toe than Common Projects
Good shock absorption
My true size — what I am on a Brannock device — is 11.5, and unfortunately the shoes don't come in half sizes.
They say on their site to size down if you're between sizes, and I did, but they were too small. So I returned them for a size 12 and they fit great.
That might not happen to you, but all the other times I've said 11.5 is my true size I've received the right fit, so… consider going up a half size if you're between sizes.
As for the comfort, the polyurethane gives it great shock absorption and the upshot of it not looking quite as sleek as Common Projects is that there's more room in the toes. This is a big reason why many prefer Koio over other brands.

Koio Capri Price
A pair of these shoes will run you $295, and they promise they're only making a 50% profit.
20% Discount!
Koio Capri Leather Sneakers
This sneaker from Koio is hands down one of the most comfortable sneakers out of the box! Completely made in Italy, get 20% off with the code STRIDEWISE20.
Get the Discount
We earn a commission if you make a purchase, at no additional cost to you.
Sure, it's hard to know how much these companies are telling the truth. And sure, you can get some Adidas sneakers which, according to Wikipedia, can be made in any of these countries: Algeria, Canada, China, Czechoslovakia, France, Germany, Hungary, India, Indonesia, Morocco, Portugal, Spain, South Korea, Taiwan, USA, and Vietnam.
As I mentioned in the introduction, there are real ethical reasons to seek out pricier shoes made in more developed countries, plus they're not like any old Adidas sneaker: the stitching and the robust sole means they'll last longer, plus I think they look a lot more grown up than the chunkier Stan Smiths.
The Capri isn't as inexpensive as the Low 1 but the price is a great compromise between the ludicrously pricy brands and the crummy glued-sole made-in-China brands.
Koio Capri Pros & Cons
Wrapping up:
Pros
They're over 100 bucks cheaper than Common Projects, Gucci, and many other sneakers made in the same place with the same materials.
They tick all the same boxes as these pricier brands: they're very cool, very versatile, very made in Italy, very low profile, and it's fully lined.
It has cushy padding on the heel, which is lined with suede to prevent heel slippage.
The shoes come with a shoe bag.
Vitello leather is a bit tougher than many contemporaries.
Cons
No half sizes.
They still cost almost $300.
The footbed isn't quite as soft as Common Projects.
You should probably buy shoe cream and conditioner off the bat, so the cost winds up more than you'd expect.
The company is venture backed, which some people don't love. They got $3 million from Acton Capital Partners and private investors like Winklevoss Capital, and some consumers prefer smaller operations. This is totally up to your individual preference; it doesn't bother me that much.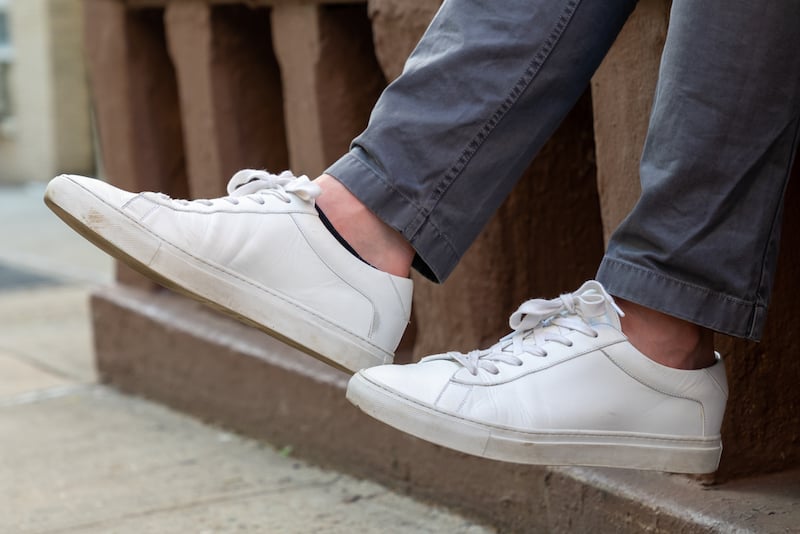 All in all, I'm a big fan of these shoes. They're not insanely overpriced like many of their competitors, but they maintain just about all of the same qualities. It's not quite as sleek and dressy as some bigger names, but the difference is a fraction of a percentage and I think the pros outweigh the cons here. They're as Italian as you can get and hey, maybe there are karma points for that. Labor rights aside, they're just damn cool shoes that work with any outfit and they'll last you years longer than a pair of Stan Smiths — that's something I can get behind.
The following two tabs change content below.
Nick English
By day: Manhattan-based journalist with reporting experience on four continents, published in Vice, Men's Health, Popular Science, and a bunch of other places.By night: ravenous consumer of anything and everything related to high end men's boots.Stridewise is where I nurture a maniacal obsession with footwear and share my findings. Say hey:
[email protected]
.
Latest posts by Nick English (see all)