Huckberry is an online retailer that lives and breathes the heritage lifestyle. Founded by friends Andy Forch and Richard Greiner in 2010, the company has evolved from selling popular brands you all may know such as Red Wings, Danners, and Baracuta, to more niche ones such as Rocky Mountain Featherbed, to now selling their own in-house products.
One of their own labels is Flint and Tinder. A Los Angeles-based brand specializing in clothing fit for outdoorsmen and for city strollers alike, they sell denim jackets, flannel shirts, wool cardigans, and various cuts of chino pants, in addition to their famous 10-year hoodie. However, their most popular offering is their waxed canvas jackets, especially their Flannel-Lined Waxed Trucker Jacket. This jacket was so high in demand that Flint and Tinder decided to make what we're calling "sequel jackets": varieties of waxed outerwear intended to reach broader audiences.
In total, the brand released five additional jackets and we will see what they're all about today.
Flannel-Lined Waxed Trucker Jacket
Up first is the Flannel-Lined Waxed Trucker Jacket. As the name suggests, this jacket draws its influence from the traditional, short, type-1 denim jackets that you might find at vintage shops. Its' got dual hand pockets, a chest pocket with a button closure, and adjustable waist buttons on the side. But unlike those vintage pieces, Flint and Tinder includes an interior media pocket for modern convenience.
8 colors – Black, Coal, Navy, Field Tan, Forest, Havana, Light Gray, Moss
sizes XS – 3XL
$268
The shell of this wholly American made jacket is a 7-0z, 100% cotton Martexin sailcloth that is made in New Jersey. The sailcloth, which is already weather-resistant, is given extra water-repelling properties via a thick coat of wax that is applied on both sides of the fabric. This dual wax application provides excellent protection from rain as well as wind. As you wear the jacket, areas of stress will lighten from the wax rubbing away. This patina gives the jacket character and a little bit of customization to your lifestyle.
The inside of the jacket is lined with a patterned polyester flannel that adds warmth and also a touch of style. What's great about this lining is that it makes the jacket comfortable and flexible outside of the box — avoiding the damp feeling that can accompany unlined waxed canvas.
The Flint and Tinder Flannel-Lined Waxed Trucker comes in 8 colorways and retails for $298. For a waxed cotton garment that's cut, sewn, and finished in Los Angeles using American-made materials, keeping the price under $300 is a remarkable feat.
The Best Value!
[Learn more: How to Wax Your Own Jacket]
Flannel-Lined Quilted Waxed Trucker Jacket
This jacket is the brand's newest and warmest sequel to the original. It is nearly identical to the FLWTJ, except this one is lined with a quilted cotton layer. One advantage that a quilted liner has over flannel is that more insulation can be stuffed into the jacket making it a much better option for the colder months.
1 color (for now): Frog Camo
sizes XS – 3XL
$348
In addition to the lining, Flint and Tinder also uses a different fabric for the shell. The quilted version uses a waxed 8-oz canvas sourced from British Millerain that's heavier than the original trucker. If the name sounds familiar, that's because British Millerain also produces canvas and twill for the legendary Filson brand.
Currently, the Flint and Tinder Flannel-Lined Quilted Waxed Trucker only comes in a camo colorway and retails for $398. At a glance, it might seem a little bit expensive for a cotton jacket, especially compared to the original, but that's because it's lined with cotton instead of polyester, it's thicker than the original Trucker, and most importantly it's packed with insulation.
Updated classic!
Flannel-Lined Waxed Hudson Jacket
If you're into British-style hunting jackets, then the Hudson might be for you.
This jacket resembles the Barbour Beaufort or Belstaff Trialmaster, but unlike those jackets, the Hudson's style is more inconspicuous and versatile. Functionally, it can be worn on a hunt, but it also works as a casual jacket on a windy day.
What sets the Hudson apart from those British brands is that while this jacket has all the hunting motifs, such as front flap and game pockets, the design remains fairly minimalistic and modern. There aren't any belts or contrasting fabrics. Instead, the entire shell is made from the same material, creating a streamlined look. In terms of fit. it is not ultra roomy and the more fitted — but not too slim — look makes it work well in the city and the field alike. Wearing this hunting-style jacket in a big city would not feel out of place at all.
5 colors – Black, Forest, Havanna, Navy, Tan
sizes XS – 3XL
$348
Now onto some specs. The Hudson's shell is constructed out of 8-oz Tekwax Evolution canvas from British Millerain and the liner is a cotton flannel from the famous British mill, Abraham Moons. With such premium textiles, this jacket should retail much higher than it is, but because it is made in Indonesia, Huckberry prices the jacket at a modest $348. This jacket is perfect for those who desire a durable waxed canvas jacket but don't want to look like a British dad on a hunting trip.
Hunter style jacket!
Bighorn Waxed Jacket
Up next is the Bighorn. Being semi-lined and crafted out of 6-oz British Millerain's Tekwax canvas, it is Flint and Tinder's lightest waxed jacket. The Bighorn is meant to be worn in warmer climates and serves as a replacement for the brand's now-discontinued unlined trucker.
2 colors – Brown, Forest,
sizes S – 2XL
$198
That unlined trucker jacket was fully unlined and customers complained that it was not very breathable. Perspiration from normal daily activity would get stuck in the jacket, making it feel sweaty and waxy. In addition to that, people said the exposed waxed canvas also rubbed against their skin making wearing the jacket a very irritating experience.
The Bighorn is designed to rectify these issues. First of all, the jacket is semi-lined with polyester in the sleeves and pockets only. Having the jacket lined in those areas allows the wearer to move their arms without friction.
Moving on to the build, compared to the trucker, the Bighorn is cut longer, has wider chest pockets, and all of the buttons are snaps.It fits loosely on the body, has big enough pockets for your EDC, and fastens rapidly. These elements, particularly the longer cut, are intended to appeal to younger customers.
Currently, this jacket retails for $198 on Huckberry. It's one of their cheapest waxed canvas jackets, but don't let the price point fool you to think it is not high quality. The price is just lower than the other selection because it uses lighter material — and is also constructed in Indonesia.
Lightweight and Versatile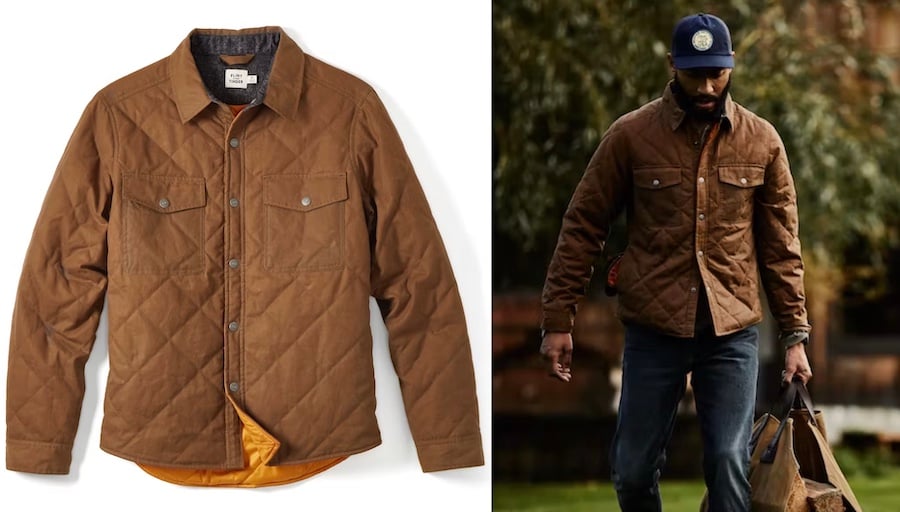 Quilted Waxed Shirt Jacket
The Quilted Waxed Shirt Jacket is a midweight layer meant for people who live in cooler climates. It has quilted details on the shell as well as the interior. Like many of the jackets mentioned above, the shell is crafted from 6-oz cotton canvas from British Millerain, but unlike the other jackets, the liner is quilted Japanese polyester.
4 colors: Black, Brown, Gray, Dark Forest
sizes XS – 3XL
$258
Snuggled within the liner is a layer of insulation made from recycled Primaloft. Primaloft is a synthetic microfiber that traps warmth within the air pocket that forms between each fiber. The trapped air is what keeps the body warm. While down insulation is a little better than Primaloft at trapping heat, Primaloft is more water-resistant and will still keep you toasty when it rains.
Other details that should be noted about this jacket are that it has hidden side hand pockets with button-snap closure, dual chest pockets that are perfect for EDC and tools, multiple interior media pockets, and a soft chambray lining under the collar.
Currently, the Quilted Waxed Shirt Jacket retails for $258. I advise you size up for a look like the model in the picture above; otherwise it winds up a little too slim for a jacket.
The hybrid jacket!
Quilted Waxed Vest
The Quilted Waxed Vest is just like the Waxed Shirt Jacket but sans sleeves. The shell comes from the same mill, has the same weight, has the same polyester lining, and even has the same Primaloft insulation.
One advantage of this vest over the shirt jacket is that it gives the wearer more flexibility and makes a good mid-layer for colder days. Another would be that it gives the wearer more storage space without adding too much bulk or requiring a bag — who likes bringing a bag just because you don't want your wallet and phone bulging out of your pockets? The vest has hidden side pockets, a front chest pocket, and an interior media pocket.
2 colors – Brown, Dark Forest
sizes XS – 2XL
$198
Flint and Tinder sells this vest for $198 and it comes in 2 colors.
Insulated vest!
Flint and Tinder Quilted Waxed Vest
This Primaloft insulated vest will keep you warm without restricting your movement. The large pockets found on the shell and the media pockets on the liner is perfect for the daily commuter.
Check Best Price
We earn a commission if you make a purchase, at no additional cost to you.
Conclusion
Huckberry makes some of the best-waxed canvas jackets around. What started off as one jacket evolved and branched off into a line of multiple hard wearing variations. We love the way Huckberry is diversifying the market with jackets for various climates and budgets.
Here at Stridewise.com, we like the Bighorn the best of the new offerings. It's longer than a trucker jacket but shorter than a traditional coat while ensuring the pockets are large enough for a phone. All of the jackets and vests here have their pros and cons, but Huckberry made sure there is one for everyone.
Are waxed jackets comfortable?
Yes! If they are lined, then you can wear the jacket comfortably all day long.
Can you re-wax a waxed canvas jacket?
Yes! Once the wax wears off, you can apply another coat on it.
Are waxed jackets for winter or cold seasons?
They can be depending on how cold your winters get. If you live in a colder region, they're best saved for spring or fall unless they're insulated or wool-lined.
The following two tabs change content below.
Humphrey Tsui
Humphrey is a native Brooklynite who loves to talk about personal styling! He is an expert on leather, shoe construction, and the history of American pop culture. Message him
on Instagram
. here!
Latest posts by Humphrey Tsui (see all)