This post may contain
affiliate links
that at no additional cost to you, I may earn a small commission from.
When I discovered waxed canvas bags, I knew there was no turning back. Finally, I had found a style that was classic, durable, timeless, stylish, and did I mention durable? This fabric makes for bags that will probably outlast me and, unlike me, look better with each passing year. I've spent many, many hours and days researching and testing waxed canvas bags so that I could bring you the best, most accurate, and most unbiased list. Whether you're a diehard vintage guy or you just like the fabric's toughness and want to see it on modern, ergonomic bags, you'll find what you're after on this list.
But let's start with why I love waxed canvas.
The Benefits of Waxed Canvas
If you're new here, waxed canvas is an early waterproofing technology. In the days before nylon and GoreTex people used wool and wax. Wax, in fact, got its start as a waterproofer on shipping vessels: sailors realize their sails caught more wind when they were wet, so to mimic the effect and make the material less porous, they started waxing them — and noticed that water beaded right off of their sails once they had. This tech made its way from sails to coats, tents, and bags, and even with hundreds of years of fabric technology innovation since, waxed canvas has maintained popularity.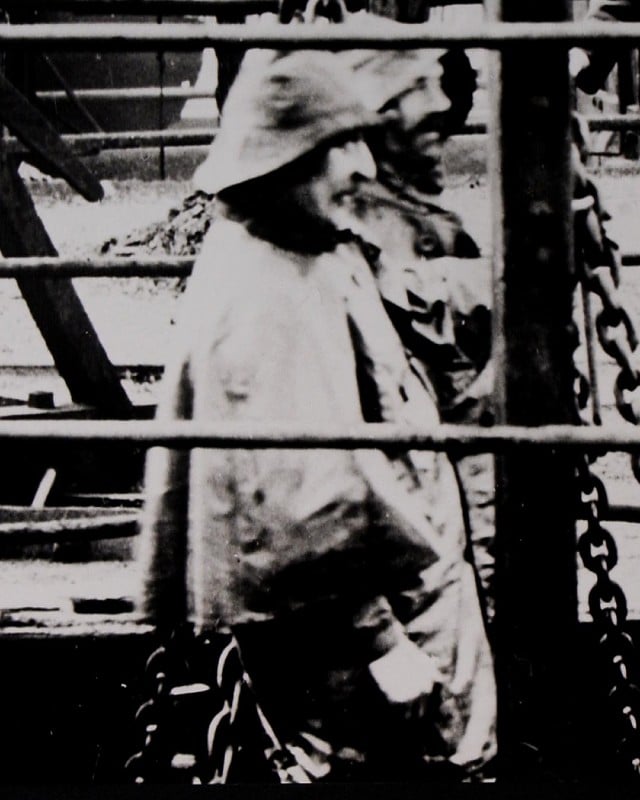 Sure, it's not as lightweight or waterproof as Goretex, but it has endured for a range of reasons.
1. It's Water Resistant
Canvas is a densely woven cotton that tends to be so thick that it's fairly water resistant on its own, but adding the wax makes it less permeable and makes rain roll right off of it.
2. It's Tough as Nails
Canvas is extraordinarily resistant to tearing and abrasion. A nail once sliced open a leather jacket of mine and it was never the same, but this won't happen to canvas — there's a case that canvas bags and jackets are a better pick for durability than leather!
3. It's Cool as Hell
Nobody covets 10-year-old Goretex, but canvas looks better as it ages, telling tales of its adventures and reflecting your own history in its appearance. Add wax and it ages even better: it provides glorious depth of color and a range of hues that make the bag stand out as a well loved character that's only getting wiser with age.
4. It's Eco-Friendly
This fabric is vegan, biodegradable, wears well, and lasts forever. This is no fast fashion; canvas is the opposite of disposable and has a far lower carbon footprint than synthetic stuff.
Your average pair of jeans is about 11 or 12 ounces per square yard, but the cotton used for bags is usually much heavier — I've reviewed some that are over 20 ounces. Canvas is heavier than modern waterproof materials, yes, but if you think the pros outweigh the cons — and they do, damn it — then read on to find the heirloom bag that will be with you into old age.
1. The Best Waxed Canvas Backpack: Filson Journeyman
18-liter capacity
14 oz waxed canvas
Large, padded laptop sleeve
Moleskin lined straps
Comes in Otter Green or Field Tan colors
Filson simply makes the coolest bags in the game and the Journeyman is the best waxed canvas backpack I own. In fact, it's my best bag period: I do own their nylon backpack but I use the Journeyman every chance I get.
As I must whenever I discuss this bag, I should note that CIA agent Jack Ryan (John Krasinski) himself carries it in his Amazon incarnation. This bag works in the stuffy halls of the CIA and the treacherous Venezuelan jungle because of its extraordinary versatility: it's made of tough canvas. Still, it's not covered in buckles and leather like many waxed bags.
In stark contrast to Filson's Rucksack, their other everyday carry standout that's sadly bereft of any features or internal pockets, the Journeyman is simple but also functional: padded laptop sleeve and zippered compartment on the inside, a collapsable bellows pocket on the front with slots for your wallet and pens, and that's just about it. It's all the pockets you need with none that you don't, and combined with the bulletproof craftsmanship and a lifetime guarantee to fix any holes or broken buttons that may take place, you've got a stupendous bag that fits into just about any environment.
Price
$395.
[SHOP THE FILSON JOURNEYMAN BACKPACK HERE]
Who should buy Filson's Journeyman
Men who like heritage materials but shy away from the ultra rugged, overbuilt designs
Those who value versatility; this is a mature bag that works in the office and with casual wear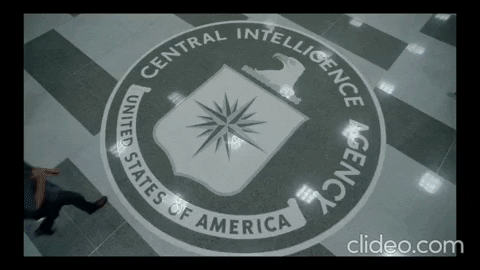 Who shouldn't buy Filson's Journeyman
Guys who think $395 is too expensive. Filson is overpriced, but I still love having this bag in my life.
Men who need a lot of pockets
Anyone who needs a sternum strap or hyper adjustable shoulder straps; these straps are adjustable but only along belt holes, so options are limited
Anyone who wants heritage products made in America, this is made overseas.
[SHOP THE FILSON JOURNEYMAN BACKPACK HERE]
[Read my Filson Journeyman review]
2. Coolest Waxed Canvas Backpack: Bradley Mountain Wilder
28-liter capacity (3.5-liter front pocket)
19.8 oz waxed canvas
Unpadded laptop sleeve on interior
Exterior water bottle holder
Belt cinches can strap items to exterior
The next entry is the coolest waxed canvas backpack. While plenty of guys value versatility as much as materials, if you're someone Googling for best waxed canvas backpacks there's a good chance that what you're after is exactly this: twenty-ounce waxed canvas, bristling with vegetable tanned leather accents, and looking completely ready for a hike through the Yukon. In 1850.
So made in America that even the canvas comes from New Jersey (Filson's is from Britain), this also has a leg up on a lot of brands because it's a tiny company: about half a dozen guys work out of their San Diego facility, meaning that while it's fifty bucks more expensive than the Journeyman it carries more, the canvas is thicker, and your dollar goes further with the small team. It's true that it's hard to pull off such an ostentatious bag with suits or shorts, but with jeans and boots it looks divine. Note that if this is a bit much for you, Bradley Mountain has a couple of smaller bags — the Muir and the Biographer — that might better fit your needs, but for a weekend trip I always break out my Wilder.
Price
$445.
[SHOP BRADLEY MOUNTAIN'S WILDER]
Who should buy Bradley Mountain's Wilder
Guys that want the toughest, thickest canvas around
Men after heirloom quality; this will last the rest of your life
Fans of really vintage inspired design
Guys looking for a large waxed backpack that can handle a weekend trip
Anyone who wants to support a small company that makes everything in the US
Who shouldn't buy Bradley Mountain's Wilder
Guys who don't need such a large backpack; 28 liters might be a bit much for everyday carry. It's great for a trip, though, and again Bradley Mountain has some smaller bags.
Guys who prioritize modern features like micro-adjustable shoulder straps, sternum straps, or padded laptop sleeves
Men who need to be able to open and close their bag quickly; the stud closure system isn't as quick as a zipper
Guys who want a versatile bag; this is hard to wear with shorts or a suit
[SHOP BRADLEY MOUNTAIN'S WILDER]
[Read My Bradley Mountain Review]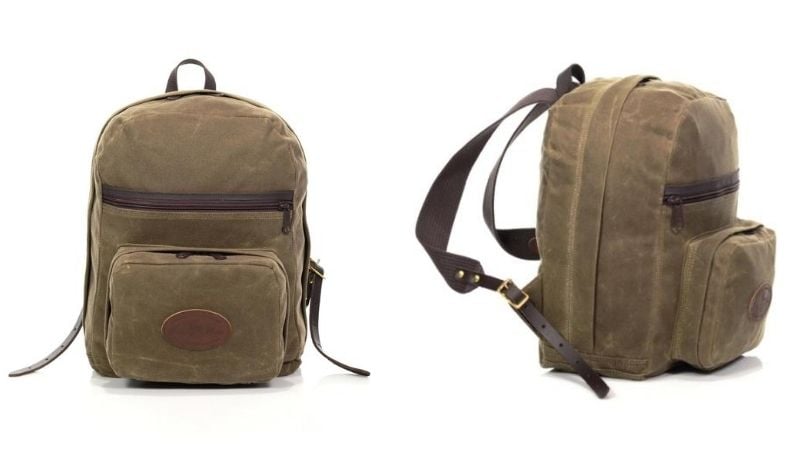 3. Best Value Waxed Canvas Backpack: Frost River North Bay Daypack
18 oz waxed canvas
17.5-liter capacity
Exterior slip and exterior gusseted pocket, both with zips
Interior sleeve (optional padding) with three slip pockets
Great value
Uses leather from Red Wing's tannery
It is very hard to get an American-made waxed canvas backpack for under 300 bucks, but the best that I found at this pricepoint is from the Duluth, Minnesota-based company, Frost River.
This brand makes a massive number of waxed canvas bags and backpacks and they can even personalize yours by stitching your state onto it. The canvas is a hearty 18 ounces per square yard, and uses leather from Red Wing's own leather tannery, SB Foot Tanning Co. They have a wide range of bags that are mostly very outdoorsy, suited (and designed) for canoeing, trekking, and the like. Of all their backpacks, I'd consider the North Bay Daypack as the most city friendly of them, coming in Field Tan or a more urban black waxed canvas.
I encourage you to click around their site for the best value in the game.
Price
$150.
[SHOP THE FROST RIVER NORTH BAY DAYPACK HERE]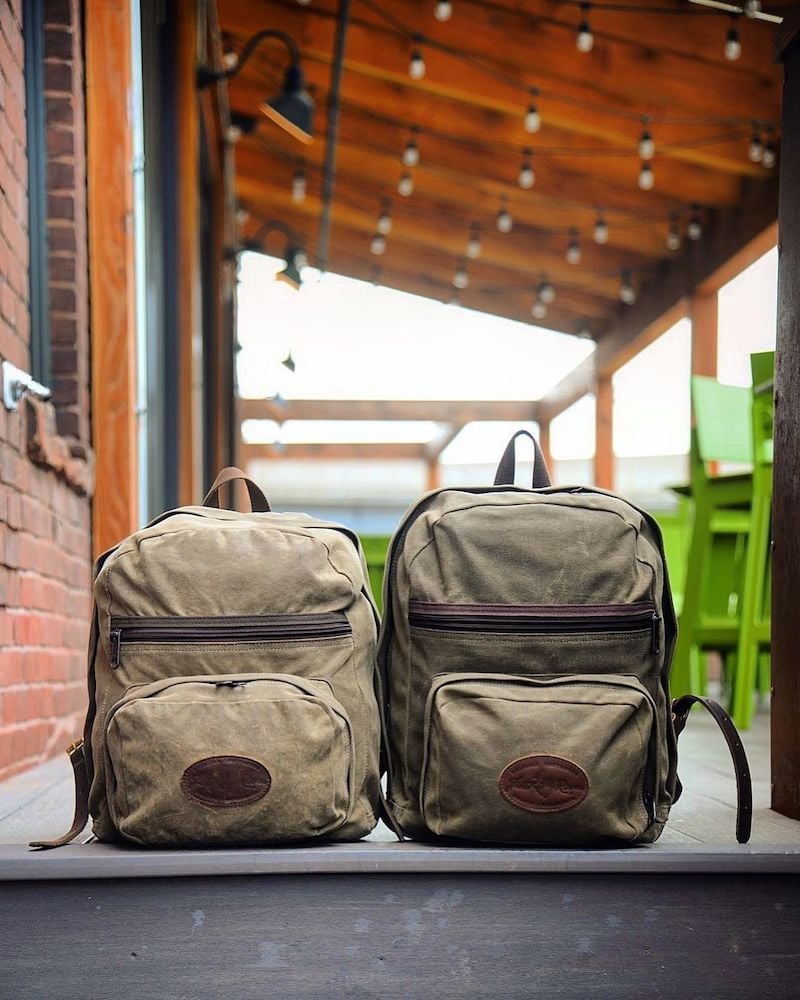 Who should buy Frost River's North Bay Daypack
Guys who like heritage materials without paying an arm and a leg
Folks after unusually thick canvas
People who don't mind simple designs
Who shouldn't buy Frost River's North Bay Daypack
You need to a laptop bag larger than 12"
People who like choosing from fun colors; there's just drab tan and black available for this bag.
4. Most Modern Waxed Backpack: Winter Session
Sleek, modern design
20 oz waxed canvas
Two external side pockets for small items
Padded laptop sleeve
Inside accessory pocket and small zipper pocket
Winter Session was founded in 2010 by a husband and wife team who design and make a ton of different waxed canvas products, from plant pots to wallets. Based in Denver, this is clearly a team who love the fabric's utility but want to bring it to a more modern audience, and I'm really impressed with the way they've devised this pack with the finesse and design flair of an Apple product: it's sleek, utilitarian, cool, and understated.
All of their products are hand made right at their store and this bag is pretty functional for a fabric that's so old timey: it has several internal pockets that make storing and quickly accessing your stuff easy, there are also two exterior side pockets for small items (water bottles and glasses cases are my go to), and a big plus is that there are five colors to choose from. Winter Session has classic waxed canvas colors like tan, grey, and black, but they also do brighter colors like yellow and blue.
Price
$289.
[SHOP WINTER SESSION'S WAXED CANVAS BACKPACK]
Who should buy Winter Session's Waxed Canvas Backpack
Dudes who value simple, modern design
Women; this is one of the more gender neutral designs in the game
Penny pinchers; it's not cheap, but it's rare to find an American made waxed bag for under $300
Anyone who wants thick canvas; 20 oz is unusually beefy
People who like a bit of color in their wardrobe; this has the brightest colors you'll find.
Students; I don't know, it seems perfect for college?
Who shouldn't buy Winter Session's Waxed Canvas Backpack
Guys who prefer the 19th century lumberjack vibe
[SHOP WINTER SESSION'S WAXED CANVAS BACKPACK]
5. Most Technical: Mission Workshop's Sanction AP
Modern design ideal for commuting and biking
Zippered pocket fits any laptop
20-liter capacity
4 Internal weatherproof pockets
1 External Compartment
Internal frame sheet
Optional WaistBelt
Winter Session's bag is modern in its minimalism; Mission Workshop's is modern in its maximalism. Well, it's still a pretty sleek bag, but this one is jam packed with hidden pockets and technical materials. For starters, if you've been missing the ergonomic and posture friendly additions of sternum straps and waist belts, those are available for this bag. (The sternum strap is included, WaistBelt is extra.) The shoulders are wonderfully padded to keep you comfortable no matter how heavy it gets, it's lined with a tearproof (if a little noisy) ripstop liner, and it has a structured internal frame so it keeps its shape and weight distribution fairly consistently — all of these features are rare on typically old timey waxed canvas bags.
Note that this bag is 20 liters, ideal for commuting, but it also is available in the 40-liter Fitzroy and the 14-liter Fraction. They're not always available in waxed canvas — more often it's burly, 1000-denier nylon. (See my Filson's Dryden backpack review for more info on that material.)
Price
$325.
[SHOP MISSION WORKSHOP'S SANCTION]
Who should Mission Workshop's Sanction
Guys who want value features; this has waterproof pockets and tearproof lining
Folks who want a modern look with rugged materials
Men who value ergonomic design and comfort; the padding and extra straps make this very easy on the back
Cyclists; this bag works for anyone, but is definitely inspired by designs valued by bikers
Who shouldn't buy Mission Workshop's Sanction
Guys looking for a more "heritage" style
People who like leather on their canvas bags
[SHOP MISSION WORKSHOP'S SANCTION AP]
6. Best Roll Top Waxed Canvas Backpack: Pack Animal's Rally Pack
Design is both traditional and a modern
18 oz waxed twill
Easy access zippers
Sternum strap
Ripstop lining
Can be mounted on motorcycle
25-liter capacity
Made in China
Pack Animal's Rally Pack is a very funky pack that I really enjoy. It stands out in the market for its innovative design that melds tradition with, well, I want to say post modern. It's almost like a futuristic old fashioned bag, with bright colors, eye catching leather, sternum strap and micro adjustable shoulder straps for extra ergonomics, external belts for strapping your jacket or an umbrella to the outside, zippered front compartment, and another zipper that gives you easy access to the interior when you don't want to go through the rigamarole of opening the roll top. Certainly, some people prefer standard zips over roll tops, but the zippered entry fixes the access-on-the-go problem while also making for a very water resistant bag. In fact, it's not just the wax and the thickness of the twill that keeps this bag waterproof — it also has a bright red ripstop lining to keep your valuables safe and dry.
The main downside, besides the fact that some guys don't like the fact that it's made in China, is that it might be a bit too rugged and casual for some offices, and it's pretty large for everyday carry at 25 liters. People tend to love it or hate it, but from the moment I saw it I couldn't stop thinking about it. It's an earworm of a backpack, and I mean that in the best way possible.
Price
$279, but STRIDEWISE10 bumps the price down to $251.10.
[GET 10% OFF THIS BAG WITH THE CODE 'STRIDEWISE10' AT CHECKOUT!]
Who should buy Pack Animal's Rally Pack
Anyone who wants a combo of heritage style and materials with modern design and functionality
Guys who want a sternum strap and micro adjustable shoulder straps to best distribute load
Men who like the extra water resistance of a roll top closure and ripstop lining
Penny pinchers; this is a very well priced bag
Who shouldn't buy Pack Animal's Rally Pack
Anyone who doesn't like roll tops
Guys who prefer to buy American made goods
People who need something versatile that can fit in at the office
[GET 10% OFF THIS BAG WITH THE CODE 'STRIDEWISE10' AT CHECKOUT!]
7. LM Leather Goods' Keystone Rucksack
18-liter capacity
18 oz waxed canvas
Zippered and expandable front pocket with storm flap
Available in 4 colors
Here's another bag that I couldn't stop thinking about once I saw it. LM Leather Goods is a third generation owned company of craftsmen that have been making their products in Anderson, Indiana since 1975. The Keystone is their only canvas rucksack (they've also got a leather one) and I'm a huge fan of the wide range of colors, the way the top folds rather than rolls down, and the rugged belt buckle that secures the interior.
Described as "drawing historical roots from the military as well as outdoorsmen," it's a grown up pack with an 18-liter capacity that can work as a weekender travel bag or as a daily commuter. It's less sparse than it might look as well: the back panel is padded to protect you and your cargo, it has a latop sleeve, and the buckle is actually quick release so it's far easier to open on the go than you might think.
Price
$390.
[SHOP LM LEATHER GOODS' KEYSTONE RUCKSACK]
8. Billykirk's No. 297 Standard Issue Backpack
10 oz waxed canvas
20-liter capacity
Classic "school-style bookbag" style
Available in 5 colors
Two interior organizational pockets
Billykirk gets the heritage crowd. Their motto is "the proof is in the patina", and they take care to make high-quality goods in New Jersey. Their aptly named Standard Issue Backpack might look a little too "just walked out of homeroom" for certain tastes but it's far from juvenile, swapping the grade school nylon for a tough-yet-lightweight 10-ounce waxed canvas. It's also spectacular for guys who like minimalist looks, yet it ticks a lot of boxes with its interior organizational pockets, water resistant canvas nylon lining, and and padded laptop sleeve.
Price
$350.
[SHOP BILLYKIRK'S NO. 297 BACKPACK]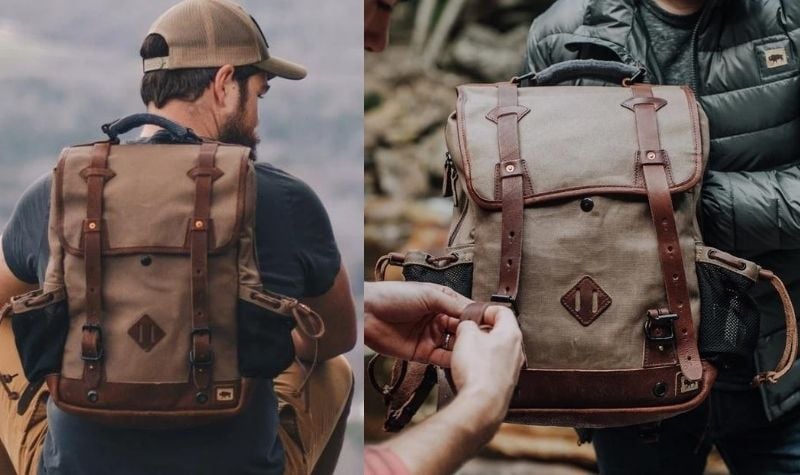 9. Buffalo Jackson's Waxed Canvas Commuter Backpack
15-liter capacity
15 oz waxed canvas
Exterior quick access opening
Padded shoulder straps and laptop sleeve
3 interior pockets (one zippered)
Made in Mexico
With a nice clean vintage look, the mesh water bottle holders might not be everyone's cup of tea but this bag can be a nice way to signal to other commuters that you're ready for a hike at a moment's notice.
Besides the water bottle holders — which have nice leather pull tabs to tighten — there are a lot of great things about this 15-liter bag: the distressed veg-tanned leather, 15-ounce wax coated canvas, cool vintage backpack carry straps, and the exterior quick access opening (so you don't have to fumble with buckles). It happily carries a laptop and whatever you can stuff into its three interior pockets, just note that not everyone likes the fact it's made in Mexico — but that keeps the price under that elusive three hundred dollar threshold.
Price
$275.
[SHOP THE BUFFALO JACKSON WAXED CANVAS COMMUTER BACKPACK]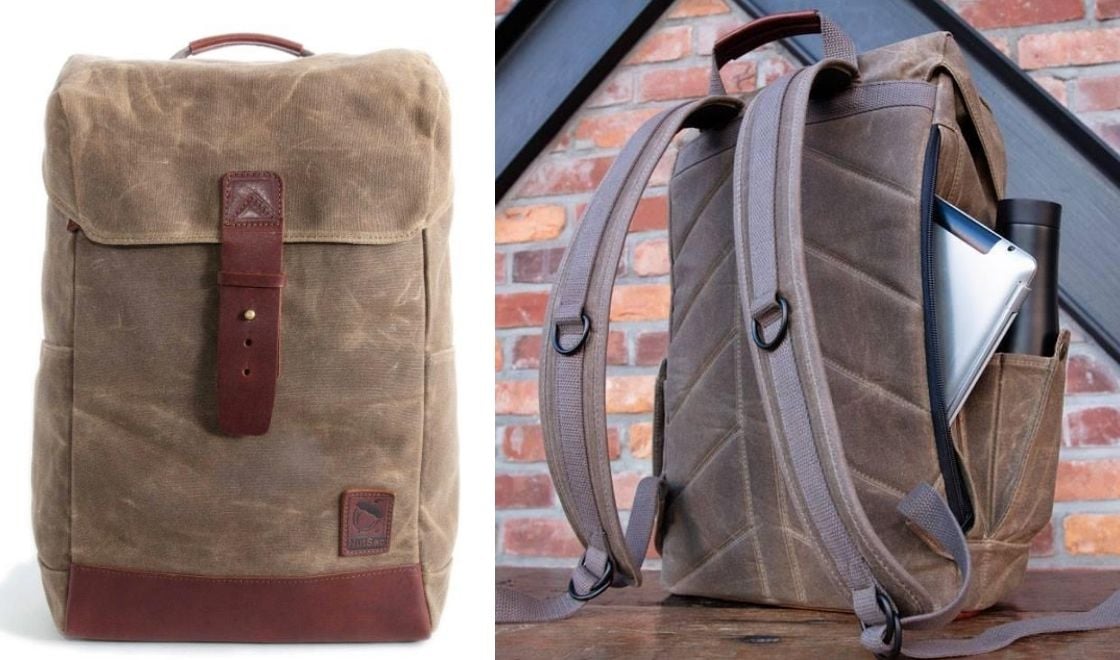 10. Nutsac's RuckSac
20-liter capacity
Leather enforced bottom
Side zipper access
Available in 3 colors
Made in USA
One of the better known waxed bag companies, Nutsac has exploded in popularity with its simple designs and dopey brand name. Schoolyard humor aside, this is an American made bag that deserves recognition.
I'm a big fan of easy-to-open stud closure on bags, as they give you a rugged look without the need to fumble with buckles. Simple to the nth degree, the design includes collapsible side pockets, an internal laptop sleeve, padded straps and back for comfort, a leather bottom for durability, and my favorite part: side zipper access. As a digital brand with the consumer in mind, it comes with a 30-day money back guarantee which is followed up with a lifetime guarantee after that, a rare plus that may justify the price. So long as you're fine with the word "NutSac" stitched to the front of your pack.
Wrapping Up
Gone are the days where waxed canvas was only found on hulking rucksacks designed to hold canoe oars. In the 21st century, this unbeatable fabric graces countless brands with bags that range from heritage to bike commuter, vintage to ergonomic, and drab tan to bright blue. It's true that most of these designs lean vintage, but wherever you fall in your apparel sensibilities, we're confident you'll find something you love here — and it'll be with you for decades to come.