Irish Setter and Red Wing often get mentioned in the same sentence and there's good reason: they're the same company.
Red Wing owns Irish Setter, both are boot companies, and fun fact: the Red Wing 875 — widely considered their most iconic boot and the one we're comparing today — was created in the 1950s under the Irish Setter family name. Red Wing's most beloved boots were originally Irish Setter boots.
Here we're comparing the two most popular and most similar boots from these two brands: the Red Wing heritage moc toe and the Irish Setter Wingshooter S.T.
Note that I'm not comparing the Wingshooter, which is more of a hunting boot. We're looking at the Wingshooter ST, which is specifically developed as a work boot. (The S.T. stands for safety toe).
To sum up: Red Wing is more for fashion, Irish Setter is more for work.
Red Wing Vs. Irish Setter
Red Wing's Moc Toe started its life as work boot in the mid-20th century and its construction was top of the line for most work situations back then: A thick leather upper that's reasonably puncture resistant, a very water resistant Goodyear welt, a nice rubber midsole and leather insole and cork filling that molds to your foot and helps prevent foot pain when you're on your feet all day.
It was a great work boot back then but technology has evolved since the 1950s and shoes have more features now. The tale of Red Wing and Irish Setter is a little like the Converse Chuck Taylor: they were a super popular basketball sneaker a hundred years ago, but nowadays Chucks are more worn for casual wear and actual basketballers use more high-tech shoes with components like energy rebound foam.
So what are the differences between an old-fashioned work boot like the moc toe and a modern work boot like the Wingshooter ST?
[Further reading: Our complete Irish Setter work boot review]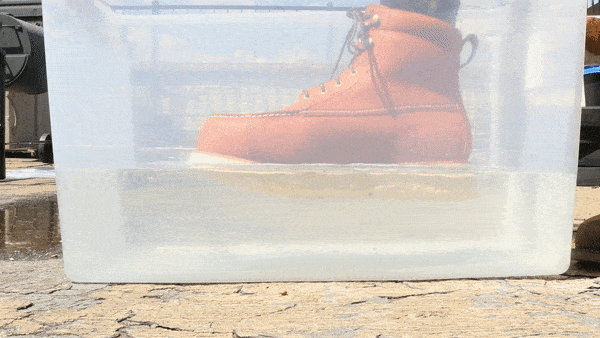 You can't do this with Red Wings.
1) Water Resistant vs Waterproof
The Irish Setter is waterproof, Red Wing is water resistant
While the Moc Toe is water resistant, the Wingshooter ST is waterproof.
Water resistant means that if you're in wet conditions for a short period, your feet will remain dry. That's enough for most guys: a not-technically-waterproof boot like Red Wing can still be worn in a rainstorm and your toes will stay dry.
A lot of guys prefer non-waterproof because they're actually more comfortable: since they don't have a waterproof membrane, Red Wing's boots are unlined. This means they're much more breathable, making them great for cold or warm weather — and for sweatier guys.
But, if your water resistant boot is submerged in water for an extended period of time, water may leak into the boot through the seams. If you're out in wet weather all day long, the water will eventually saturate the leather uppers as well.
Again, the Red Wing Moc Toe is water resistant enough for the average person. But the Irish Setter is waterproof.
The Wingshooter ST uses something they call the Ultradry system: they line the boot with a synthetic membrane similar to GoreTex and use other waterproof components to make sure water doesn't seep in from the seams and pores in the leather. If you were to remove the membrane, it would like a like boot-shaped plastic bag.
2) The Irish Setter Has a Safety Toe
The Irish Setter has a non-metallic safety toe that meets ASTM standards
The 'ST' in Wingshooter ST stands for 'safety toe,' an important element if you work where you might drop something heavy on your feet. The Red Wing does not have this component.
This particular Irish Setter's toe isn't metallic, but it's lightweight and passes all ASTM safety standards and CSA standards for select styles.
The moc toe just has a regular leather toe that won't do much good against dropping something really heavy on your foot. Now, this author's unstructured leather boots once saved him from severing his toes while chopping wood, so don't forget that plain leather footwear is still more protective than a sneaker.
But it won't pass many ASTM safety standards.
[Related: How Tight Should Steel Toe Boots Fit?]
3) Heat Resistant Soles
Irish Setter soles can withstand 475°F
The Wingshooter ST has HRO soles, which means they have to withstand at least 475 degrees Fahrenheit.
People use HRO soles for a couple of reasons. Some are pretty obvious, like you work jobs where you come into contact with extremely hot surfaces or are around other heat sources. But they also come in handy in summer: when it's very hot, the dense rubber will hold up better and increase the lifespan of the sole.
The crepe sole on the Red Wings would probably melt at 475 degrees, plus the softer outsole wears down more quickly.
Crepe rubber is a low grade, natural rubber that's usually created by adding acid to natural rubber from rubber trees, causing it to coagulate into latex. Once the crepe rubber is rolled thin by giant rollers, it looks similar to the French food crèpe. (It's a kind of pancake.) Crepe rubber is a comfortable material that's very soft and flexible for a shoe sole, plus it adds some cushioning and some shock resistance.
4) ASTM Safety Standards
Irish Setter is accepted in many work settings
The Irish Setters meet ASTM safety standards, specifically ASTM F2413-18, M/I/C, EH.
Let's break down this code. The American Society for Testing and Materials (ASTM) is the organization that created this safety standard, and F2413-18 is the name of a specific standard for safety footwear set by the ASTM. This standard,
covers minimum requirements for the performance of footwear to provide protection against a variety of workplace hazards that can potentially result in injury.
M/I/C, EH in the standards refer to the type of boot and which dangers the footwear protects against..These are men's boots (M).
They have impact (I) and compression (C) resistance. You need impact and compression resistance if you carry things that could be dropped on your feet. Anyone who works in warehouses or loads trucks or works near heavy pipes or anything that could roll onto the toes has to have protection.
Electrical Hazard (EH) means "capable of withstanding the application of 18,000 volts at 60 hertz for one minute with no current flow or leakage current in excess of one milliampere under dry conditions." So if you work around or near electricity, you need the EH standard.
The moc toe doesn't have this certification and shouldn't be worn in workplaces where ASTM F2413-18, M/I/C, EH footwear is required by OSHA.
5) The Break-In
Irish Setter has an easier break in than Red Wing
The Irish Setters have an easier break-in than the Moc Toes.
This is mostly due to the Wingshooter ST's modern materials like the polyurethane footbed and Rubber-EVA Traction Tred soles.
EVA is a foam commonly used in the midsoles of sneakers that provides great shock absorption when you walk or run. While "comfort" is (of course) a subjective term, it's often considered more comfortable than traditional midsole and outsole materials like cork, leather, and rubber. The leather upper is also thinner and of lower quality relative to the Red Wing, further enhancing the break in.
Meanwhile, Red Wing Heritage boots are usually a pain to break in. The steel shank, the thick leather, and the cork all require a bit of use before they soften up and mold to your feet.
[Related: 12 Tips for Breaking In Tough Boots]
6) Price
Irish Setter costs $90 less than Red Wing
And lastly, the Wingshooter is almost a hundred bucks cheaper at $210 dollars versus $300.
Irish Setters are also sold in more places. Red Wing Heritage is usually sold in Red Wing stores and online, Irish Setters are also distributed to Outdoor Big Box, Farm and Ranch, Branded, and other retailers.
Red Wing Heritage Boots vs Red Wing Work Boots vs Irish Setter
If you actually need footwear that meets ASTM or any other safety standards, go with Irish Setter or the Red Wing Work Boots line, which are pretty much the same as the Irish Setter boots. The 875 moc toe we're looking at here is from Red Wing Heritage, their more fashion-focused line, but Red Wing has a work boots line that will also meet your needs. (They even have a hiking line of boots called Vasque.)
Red Wing Work Boots and Irish Setter boots are not identical products with different branding, there are a few differences here and there, but the main points are the same: the work boots from either company are made for modern working conditions, they're cheaper, and they might be made in Asia.
[Related: Red Wing vs Thorogood | Which Is the Best Moc Toe for You?]
Why Red Wing Is Better than Irish Setter
But why do so many folks wear more Red Wing boots than Irish Setter?
1) Red Wing Looks Better
We're being completely superficial here, but there's nothing wrong with prioritizing aesthetics in your apparel. As a fashion-focused boot, Red Wing Heritage's moc toe looks a lot better. The proportions are more urban-friendly. It's lower profile than the Irish Setters because it doesn't have that waterproof membrane or hardened toe, plus the leather is higher quality, looks better, and will age better.
2) Red Wing Has More Colors and Leathers
Red Wing Heritage has a wider range of colors and leathers available because, of course, it's more of a fashion boot. Irish Setter has mostly orange or brown, while Red Wing also offers greys, blues, yellows, and reds — in both full grain and roughout — depending on the time of year and availability.
[Related: The 5 Best Moc Toe Boots On the Market]
3) Red Wing Breathes Better
On the note about the waterproof membrane, it's worth emphasizing that the Red Wing Heritage boot breathes much better because the upper is just unlined leather. If you have sweaty feet, you might want to think twice about getting a waterproof boot if you don't really need one. The waterproof lining is only breathable to a degree, whereas the unlined leather is much more breathable.
4) Red Wing's Insole Is Better
The vegetable-tanned leather footbed in the 875 is more durable than the removable polyurethane one on the Wingshooter ST, which will eventually need replacing.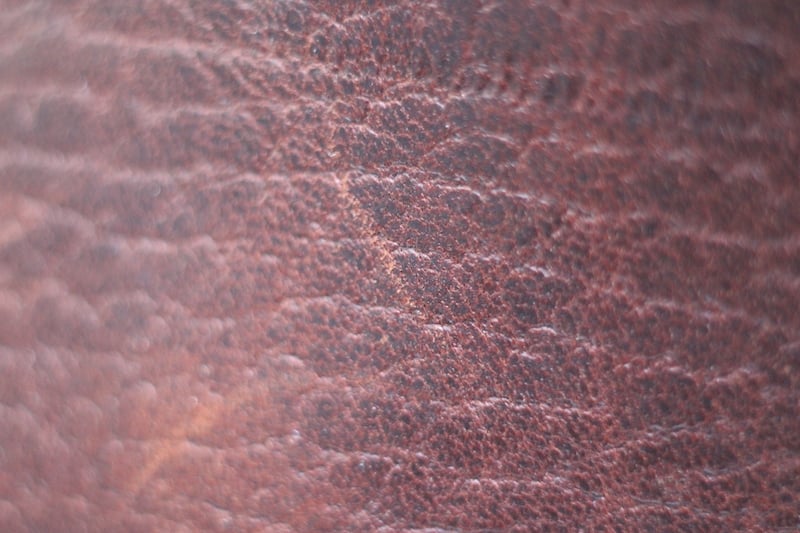 5) Red Wing's Leather Is Higher Quality
The leather is of higher quality in Red Wing Heritage boots. The Irish Setter's is embossed with a fake "skin" pattern, whereas the 875's leather is thicker, tougher, and looks better with time.
Here it's worth noting that we don't know where the leather on Irish Setters comes from, while all of Red Wing Heritage's leather comes from their tannery right in Red Wing, Minnesota.
6) Red Wing Heritage is Made in the USA
None of the Irish Setter boots are made in America. Most, including the Wingshooter ST, are made in Vietnam. All of Red Wing Heritage's footwear is made in Minnesota.
Some consider this the most important difference between the two. If you like the Red Wing brand because of that old-fashioned Americana ethos, Irish Setter might put you off.
[Related: The Best American Made Boots You Can Buy]
Who Should Wear the Irish Setter Wingshooter ST Work Boots?
Guys who want a boot that meets common safety standards
People who need a waterproof boot (more than a breathable one)
Men on a budget
Who Should Wear the Red Wing Heritage Moc Toe
Folks who want a boot that's made in America
Anyone who wants to resole their boot; the Red Wing heritage boots are Goodyear Welted.
Guys who want more leathers and colors to choose from
People who aren't wearing their boots on factory floors
Wrapping Up
So that's it. Both boots are superb, but for vastly different reasons. Which one is right for you depends completely on what you want from a boot!