Trying to decide if you can go for a hike with those trusty work boots? It might seem crazy to buy another pair of boots for a singular activity — boots are boots, right? But you'd be surprised how different they are. Luckily some companies make boots are that suitable for both. So if you're looking for a new pair of boots that are designed for hiking and work, keep reading!

Summary: Hiking Boots vs Work Boots
For those looking to wear work boots on a hike, here's the long and short of it.
Who Should Wear Work Boots Hiking
Anyone going on short, non-technical hikes that don't require full hiking boots.
Guys who work on light duty job sites and own a boot specifically made for work and hiking like the Red Wing TruHiker.
Who Shouldn't Wear Work Boots Hiking
Guys who only own heavy duty, hard core work boots designed for puncture resistance, metatarsal guards, or electrical resistance.
Men who go for multi-day technical hikes in high elevation or dangerous terrain
Anyone who prefers boots built for specific activities and dislikes the compromises made with jack-of-all trade boots.
What's the Difference Between Hiking Boots and Work Boots?
Hiking boots are designed to provide stability, protection for injury, and comfort during extended periods of walking in natural environments. They are often designed for carrying extra weight for overnight backpacking or they can be lightweight, designed for quickly moving over uneven terrain.
Work boots refer to specialized boots for a specific industry that meets Occupational Safety and Health Administration (OSHA) standards to protect workers in high-risk jobs like electricians, construction workers, and mechanics. These boots may have steel shanks, a steel toe, no-slip soles, puncture proof soles, and insulation from electrical shocks.
There is some overlap between the two styles in terms of materials, construction, and manufacturers, but they can be very different boots designed for specific purposes. Fortunately, some companies make crossover boots that work both on the trail and on the job site.
How the Boot is Constructed
There is a lot of overlap in the materials used for hiking boots and work boots. Take the Danner Mountain (above), a classic pair of hiking boots, which have leather uppers for added ankle support; a waterproof Gore-Tex (GTX) lining; a solid, grippy rubber outsole for absorbing shocks while providing traction; and a shank for added stability. Modern, lightweight hiking boots might have EVA foam in the insoles and resemble a beefed up running shoe.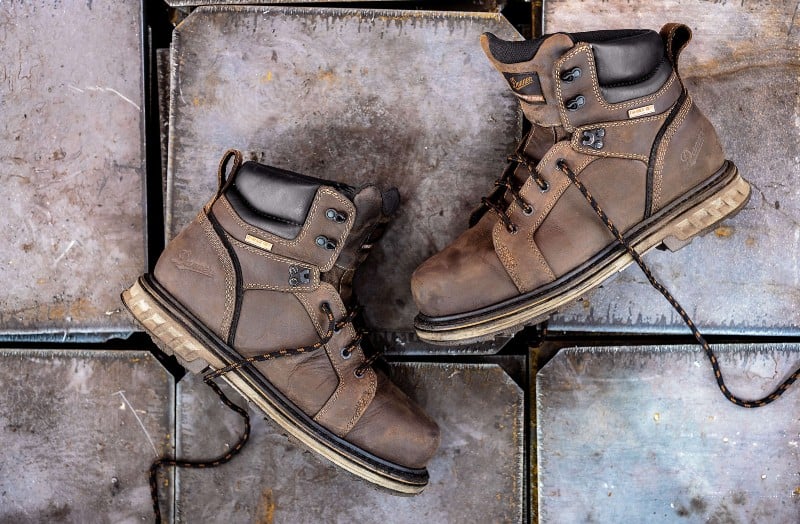 Durability
Both hiking boots and work boots are built for rugged conditions, whether it's the muddy work site or a slippery trail. Both use a combination of leather, synthetics, rubber, and even steel to make durable footwear.
Traditionally, hiking boots were pretty simple: leather, rubber, maybe a steel a shank. Modern hiking boots may also have Gore Tex for waterproofness and may replace the steel shank with a lighter weight synthetic shank. (Fiberglass is a go to.) Lightweight hiking boots may have mesh to help them dry faster in wet conditions, because wet feet can be a real pain if you're wearing your boots hiking for several days.
Work boots are often constructed similarly to hiking boots, but the durability of the boot will depend on the type of work you do and how often you use them. They may have more steel and trade the light weight for extra thick, hardy materials to shield your feet from danger.
You can also buy resoleable Goodyear welted work boots like Irish Setter's Mesabi Logging boot, though it's worth noting that if you prioritize a waterproof work boot, it won't be Goodyear welted.
Traction
Both hiking boots and work boots are similar because both require good grip. While both have soles that are anti-slip and will perform well in rain, snow, and ice. However, work boots need to function in a wider range of surfaces with different hazards like oil and chemicals, so you'll often find them labeled as "oil and slip resistant."
If you to go hiking regularly in places with especially slippery surfaces and conditions, like rivers and mossy rocks, look for soles that have a soft grippy rubber like Vibram's MegaGrip. This sole is a favorite of mountain guides and climbers. You can make sure you're prepared for all conditions and terrain.
Flexibility
Work boots are often more rigid than light hiking boots because they need to protect against punctures from the bottom and heavy falling weight from the top. Some work boots have puncture resistant soles and shanks for extra rigidity.
So work boots are typically built with special stiff rubber soles that are primarily a safety feature. You probably don't need these hiking; many people want something much more flexible and lighter so that you maintain contact with uneven surfaces while hiking.
Indeed, some hiking boots are basically beefed up running shoes with higher uppers. They can even have EVA foam, just like running shoes. Some light duty work boots also have EVA, but it's not as common as it doesn't offer much protection from punctures.
Weight
If your job requires you to stand all day but you don't need to carry heavy things, a hiking boot can be an excellent workwear solution.
But work boots are often not ideal for hiking. They can be very heavy and rigid because of the steel toes and the added material needed to protect against punctures and chemical spills. As an example, the average Danner hiking boot weighs 46 oz while their work boots weigh 70 oz per pair. This won't matter for short walks, but for long slogs this is noticeable.
[Related: Red Wing vs Danner – Which Is America's Favorite Moc Toe?]
Types of Work Boots
Work boots are very specific to the job and fall under fairly standardized categories for legal compliance. They need to meet OSHA, ASTM, CSA standards to protect your feet from dangerous conditions and terrain you might encounter on a worksite.
Light vs Mid vs Heavy Duty Work Boots
Light duty work boots are the best compromise for guys looking for a boot that can function as a work boot or a hiking boot. An example is the Red Wing Truhiker, which is essentially a light hiking boot with added features for working environments.
The Truhiker has all the features of a great hiking shoe and electrical hazard, puncture resistance, waterproof leather uppers, and slip resistant and heat resistant rubber/EVA outsole. You'd wear these in a warehouse or light manufacturing. These may or may not have a steel toe, so check carefully if you need one.
Mid duty boots perform well in both indoor and outdoor light- to mid-duty work environments. They may have steel toes, shanks, and electrical hazard resistance, but may not have the EVA cushion built into the midsoles such as Red Wing's King Toe Boot.
Heavy duty boots are great for tough work environments such as the oil and gas industry, construction, manufacturing and railroads. If you look at Red Wing's heavy duty TruWelt Boot, they have extra-strength double-stitched construction built for extreme environments with a variety of flat and uneven surfaces such as manufacturing, welding and construction.

Work Boot Electrical Resistance
If you work with electrical hazards, you'll need one without metal. Take Red Wing's King Toe: it has fiberglass in place of any metal pieces. You'll find a non-metallic toe and shank.
Work Boot Puncture Resistance
Many work boot companies offer puncture resistance. Red Wing uses Swen-Flex®, a non-metallic, puncture-resistant insole manufactured with high-strength, woven fibers. They meet or exceed all world standards for puncture resistance, including CSA, ASTM and EN.
Work Boot Toe Types
There are a few common types of toe protection you'll find with work boots.
An aluminum toe offers protection from compression and durability, just like a steel toe. The difference is that it's lighter weight, but it is also more expensive than steel.
A steel toe is usually stronger than aluminum, but heavier.
There's also the fiberglass toe that's lightweight and less expensive. You'll also find carbon fiber toes such as Wolverine's CarbonMAX.
Types of Hiking Boots
Much like work boots, hiking boots are designed for a specific use case, but they're used for just one activity: hiking. This means there's a lot less variation in their design. They will work well on the trail, but may not always be suitable for the job site.
Classic Hiking Boots, Trekking Boots
Most classic hiking boots are tough, comfortable, lightweight, and sturdy. These days, most companies add GoreTex to maximize waterproofness, nylon or fiberglass shanks to provide stability and keep the shoe light, and nylon for abrasion resistance and breathability.
Light Hikers, Hiking Shoes, Approach Shoes
These are essentially the same type of footwear with different names. They differ from more classic hiking boots in that they often have lower profile uppers and EVA or cushioning in the midsole for more comfort when you hike. They may not have GoreTex so they may not be fully waterproof; they are made for faster hiking when you may not be carrying a heavy backpack. Light hikers often look more like beefed up running shoes with leather than a classic hiking boot.
Best Work Boots for Hiking
The pair of work boots you choose will mostly depend on the type of job you have and most are rated with actual safety standard like the CSA or ASTM. The list below is comprised of companies that are known for making work boots but also make crossover boots that work for hiking.
Red Wing's TruHiker ($204.99)
This fast, flexible and CSA-approved light-duty boot combines the ankle-high comfort of a hiking shoe with the toughness of a work boot. The steel safety toe protects the feet up front, while the full-grain Red Wing leather upper provides protection everywhere else. Underneath, the rubber/EVA outsole keeps you sure on your feet with best-in-class slip, oil, gas, chemical and heat resistance. They aren't waterproof so keep that in mind if you hike around water.
[Like these boots? Shop Red Wing's TruHiker here]
Irish Setter's 6-inch Crosby Waterproof Safety Toe Hiking Boot ($189.99)
These boots are very similar to the Red Wing Truhiker. The Crosby meets ASTM Safety Standards and has a non-metallic toe, so it's lighter weight. Irish Setter uses their Trout Brook Leather by their own S.B. Foot Tanning Company. They meet ASTM standards for electrical hazards, have polyurethane foam for cushioning, a non-metallic shank and grippy sole. The biggest difference with the Truhiker is that they have Irish Setter's UltraDry™ Waterproofing System to keep your feet dry on the trail.
[Like these boots? Shop Irish Setter's Crosby here]
Thorogood's CrossTrex Waterproof Safety Toe Mid Cut Hiker ($99.99 – $109.99)
These look less like a pair of work boots and more like a pair of hiking boots. Thorogood did a great job shaving off the ounces. Instead of a steel toe, they have a composite toe cap for extra protection. They are waterproof and the grippy sole meet ASTM F2913-19 slip test standards.
[Like these boots? Shop Thorogood's CrossTrex here]

Should You Go Hiking in Work Boot?
Yes, and no. If you have a great pair of boots like the Red Wing TruHiker, go for it! But if you're sporting a 75 oz boot with 8" uppers, that could be very uncomfortable for long hikes. But the good news is that you can find a decent boot that works on the job site and on the trails. Really, all you need is sturdy boot with a grippy sole and plenty of stability. That way you can hit the trails and keep going no matter what comes your way.
If you're thinking about going on a hike and you only have a pair of work boots, you'll be fine. Yes, your feet may be a little extra sore at the end because of the added weight and lack of flexibility.
But if you'd like to go on a few hikes throughout the year, picking up a pair of hiking boots is worthwhile. The added safety and comfort will just make your hobby even more enjoyable. All you need is an option like those listed above — happy trails, Hans!
Featured image via Danner
The following two tabs change content below.
Karl Wasson
Karl is an IT product manager living in South East Asia who gets a kick out of durability and dependability. He believes form and function are not mutually exclusive. When he's not working, he's searching for the best bespoke menswear in South East Asia and beyond.
Latest posts by Karl Wasson (see all)