You might be familiar with denim and chambray as a pair because for just about 150 years, denim pants and chambray work shirts have been a popular outfit choice for many working men. Denim and chambray have a number of important similarities, especially that they both come from cotton. They are both typically made by weaving a white thread with an indigo thread and the happy result of this shared practice is that both denim and chambray develop a beautiful fade through time and wear.
Chambray tends to be thinner than denim, and I subsequently spent years thinking that chambray is just a fancified knockoff of denim, but this is not the case at all. Understanding the fundamental characteristics and ideal uses of both denim and chambray will strengthen your styling choices. Let me help give you an introduction to denim and chambray, so you can begin to dress with more intention in each circumstance.
What is Denim?
Denim is one of the most beloved and well-known fabrics worldwide. Here in America, it is inseparable from the legacy and history of Americana style, but today it's appropriate in many settings. From classic blue jeans to denim bags and jean jackets, denim as a fabric is all over the fashion world, but there are specific defining characteristics that you should look out for if you want ideal denim.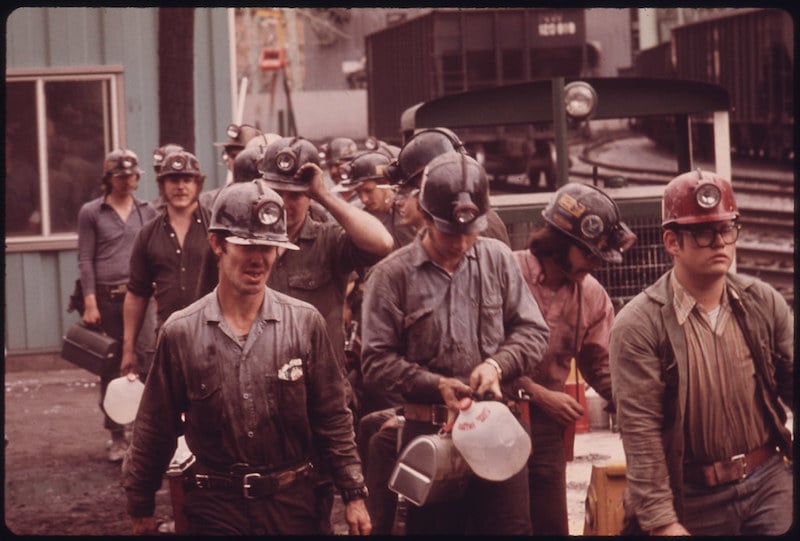 History of Denim
As many fashion fans already know, denim jeans originated in 1873 when Levi Strauss and Jacob Davis got their patent for putting rivets on denim pants. Since that defining moment in fashion history, blue jeans have ascended from being only the uniform of working class men to commanding a huge amount of popular culture adoration. But, denim as textile has a history that stretches long before 1873.
In fact, denim's lineage traces back to France, in Nîmes. The very word "denim" comes from the phrase "Serge de Nîmes", meaning "twill of/from Nîmes." Denim was an accidental invention when French textile manufacturers were trying to echo an Italian fabric, but denim quickly became a go-to for working men.
Denim pants were first popularized by Strauss and Davis, who initially sold them on the West Coast, primarily to gold miners. Denim quickly became the fabric of choice for men who needed low-maintenance pants that would hold up well during manual labor. Since that time, denim was adopted as the fabric of rebels, à la James Dean and Marlon Brando (below), and evolved into what we recognize today as one of the must-have fabrics for, well, just about anyone.
[Related: How the Denim Jacket Got So Popular]
Characteristics of Denim
A twill weave
Alternates over and under two weft threads, creating diagonal lines
You may already consider yourself quite familiar with denim. (Many people are!) Its popularity means that most people own multiple pairs of jeans and other denim items that they regularly use, like jackets, shirts, or even bags. If this sounds like you, then you can already attest to denim's powers of durability and holding a shape.
Denim is made with a twill weave. A twill weave essentially means that the denim's warp (the thread that runs between the selvages) alternates over and under two weft threads (the thread that runs lengthwise on the fabric), creating diagonal lines. Twill weaves have an increased likelihood to fray, but are desirable because it can change its shape and hold the adopted shape better than other weaves. It is one of the most durable weave styles.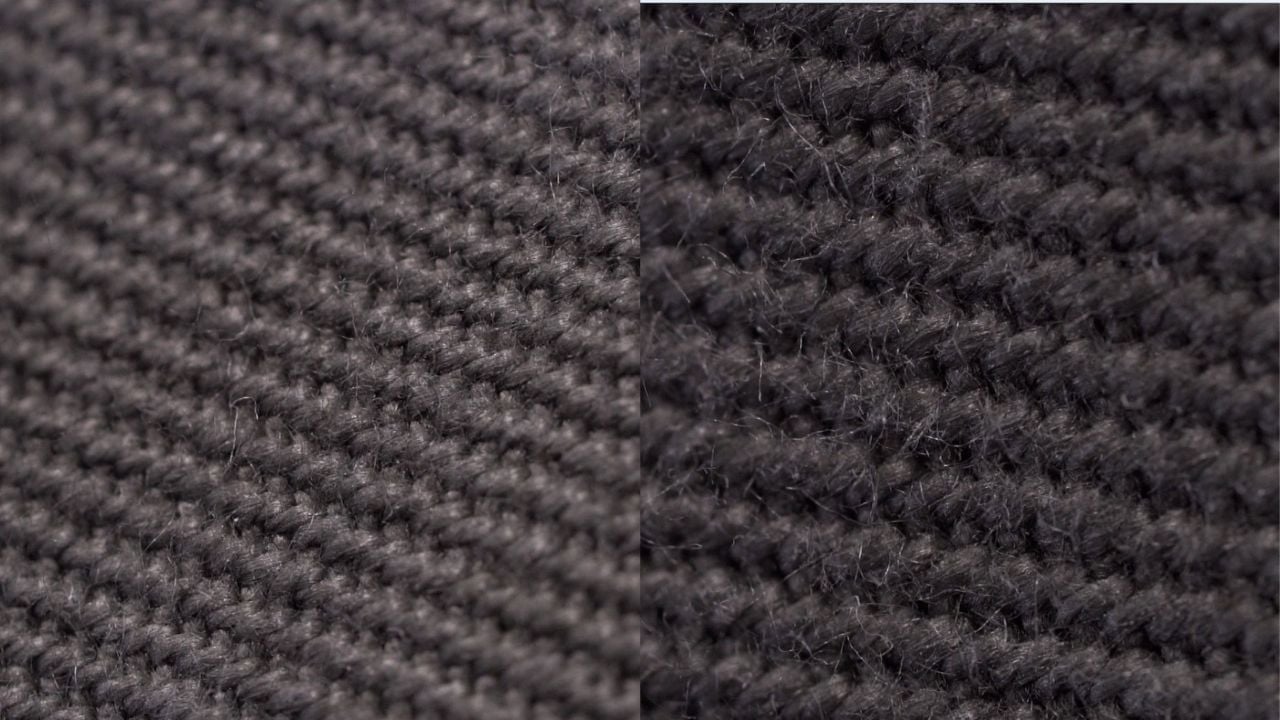 The best denim is made with 100% cotton, although there are many (subpar, in my opinion) pairs of jeans out there that often blend cotton with polyester (to limit stretch) or elastane (to increase stretch). Like other textiles made from cotton, denim is very low maintenance and it is often best when given minimal care. Denim needs very few washes, with some people claiming that you should wash your denim as sparingly as once as every five months — or years.
Denim pros and cons
Denim is great for:
Anyone looking for a forever piece; your jeans or your jacket will conform to your frame and they will hold up for many years.
Men who want to pay homage to America's fashion history by tapping into Americana aesthetics that are only rising in popularity.
Guys who want a piece of clothing that will mold to your unique frame and fit you like nothing else.
Dudes looking for an item that will hold up through any activity, particularly manual labor.
Denim isn't a great choice for:
Fellas who live in warmer climates; denim is pretty heavy and can heat you up uncomfortably. (See our list of summer-friendly jeans.)
Guys looking for clothes for a rainy day. Denim is already a heavy fabric, and water will only weigh it down.
Dudes who are looking for formalwear, or who dress up on a regular basis. Since the 90s, denim has become accepted in just about any setting, but it's not quite there yet as formalwear.
[Related: In Defense of the Canadian Tuxedo]
What is Chambray?
A cousin of denim, chambray has had a subtler influence on the fashion industry, but it is just as important to know about. Many people will confuse a chambray item for denim, and sometimes chambray items are marketed by retailers as denim. Despite this, as soon as you touch chambray you can tell that it is only somewhat related to denim. Any man who wants to make their wardrobe warm-weather appropriate should become familiar with chambray.
History of Chambray
Similarly to denim, chambray's name belies its roots in France. Initially from the town Cambrai, the change in spelling and pronunciation is due to English influence. This fabric was created in the mid-1500s, but has a special place within American sartorial history as well.
Along with denim pants, American working-class men would wear chambray shirts to work manual labor. We actually get the term "blue collar" from the traditional color of a chambray work shirt. Much like denim, chambray was selected as a favorite of working men for its durability and relative ease of care.
Within the past century, chambray was adopted by different groups of men. After literally making a name for itself among manual and industrial laborers, chambray work shirts were adopted by the U.S. Navy around the time of the First World War. The breathability of this fabric enabled Navalmen to wear it for many days at a time. Chambray shirts were even worn by Elvis.
Chambray shirts have never really gone out of style, but these days, chambray is used for far more than shirts. While it has been a popular fabric in womenswear for a while, men's retailers have also been using chambray more. You might find yourself looking at a chambray tie, or admiring chambray pants.
Characteristics of Chambray
Plain weave, not a twill weave
Warp and weave alternate equally
Usually has a higher thread count than denim
Softer and more breathable than denim; ideal lightweight fabric
Although they look similar from afar, chambray is different from denim in important ways. There is a pretty immediate difference in the way that chambray feels, namely that it is softer and more breathable. In many ways, it is also more versatile than denim and can be styled almost however you wish. Chambray is an ideal lightweight fabric for staying cool and maintaining a put-together but relaxed look.
Despite chambray and denim both being made from cotton, they are differentiated by having different weaves. Chambray is woven with a plain weave, as opposed to denim's twill weave. A plain weave has a somewhat checkerboard appearance to it. The warp and the weft are made with a 1 to 1 construction: the warp and the weave alternate each other equally. This change in weaving creates chambray's tight threading and crisp feel.
Because the threads of chambray are woven more tightly together, chambray often has a higher thread count than denim. Chambray is known for being quite soft and having a light and fine feel. That being said, chambray is not necessarily a weak or low-quality fabric. There are certainly few textiles as durable as denim, but chambray can hold its own for long term use as well.
Chambray pros and cons
Chambray is great for:
People who live in consistently warm places, or someone shopping for great summer clothes.
Dudes who want a versatile piece they can dress up or down; you can keep a chambray shirt all the way buttoned up, or throw it over a t-shirt!
Guys prone to perspiration; chambray has decent moisture wicking capabilities.
Men looking for a machine-washable piece that is pretty low maintenance.
Fellas looking for a softer fabric.
Chambray doesn't work well for:
Anyone who wants a piece that will hold its shape for a long time.
Guys who work in offices with strict dress codes.
Gentlemen who want items that reveal less of their shape; most chambray pieces tend to be fitted to the wearer's body
Men who don't own an iron.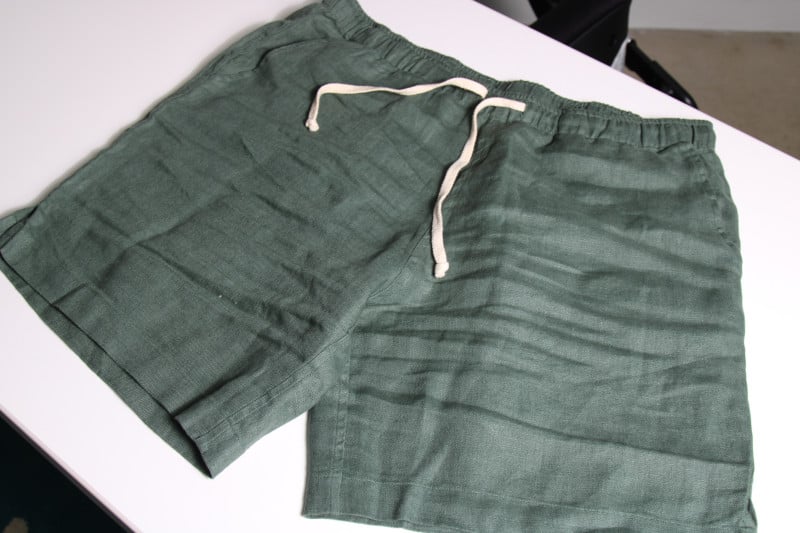 Chambray vs. Linen
Linen is another fabric that often comes up during conversations about lightweight fabrics, which led me to wonder, how similar are chambray and linen really? In order to understand that, let's first look at linen and try to understand the characteristics.
Characteristics of Linen
Porous, breathable fabric ideal for hot weather
Usually made from flax (sometimes hemp)
Moisture wicking
More eco friendly than cotton
Wrinkles a lot
Linen is another fabric with history on its side — in fact, it may be the oldest textile. Experts believe that linen originated in what is now Switzerland around 8000 BCE. Since then, it has grown to become one of the most popular and prolific fabrics around. Linen is usually made from flax fiber, though it's sometimes made from hemp. Since flax is very easy to grow, it makes sense that this fabric became popularized. An added bonus of the low-maintenance requirements of flax plants is that linen is far more eco-friendly than many textiles, including cotton, as it doesn't require as much water to grow. (Same goes for hemp.)

Like chambray, linen is a very light fabric that many people choose during hotter temperatures. Linen's porous composition makes it quite a breathable fabric, and this also enables it to have moisture-wicking properties. Linen is definitely a great choice for hot climates, and you don't have to worry about sweating as much when you are wearing linen!
Now, since I've spent some time talking up how great linen is, it's only fair that I let you know about all the downsides. Linen tends to wrinkle a lot, because it doesn't have much natural elasticity. Because of how easily it wrinkles and how it softens over time, linen also requires some special care. To best take care of your linen items, you should dry clean them, or at the very least, make sure to use cold water when you machine wash them.
Should you pair chambray with linen?
As you're beginning to understand each fabric's purpose, you might now be wondering how to mix and match different textiles. While creating a full outfit out of one fabric may indeed be a… "fashion-forward" choice, it's a bit more safer, and equally stylish, to create a look that blends complimenting fabrics.
Chambray and linen share many similarities, and while they have different strengths, they can definitely be combined to create fashion good as well. For many guys, this combination of fabrics may indeed be the best way to dress to beat the heat, as they perform well in hot temperatures. Maybe try a nice linen shirt, paired with some chambray pants.
The Best Chambray Pants
Although you might be quite familiar with chambray in shirting, chambray pants are starting to catch on, particularly in the Spring/Summer season. Because chambray is also a stretchier and softer fabric, it's probably more comfortable than most blue jeans you own. Chambray pants are most often dyed blue like denim jeans, so they might make a good update to your beat the heat outfits.
Chambray pants tend to have a relaxed or loose fit, but there are some that are made to taper to your thigh. The variety available among chambray pants allows you to try a bunch of different ways of styling this fabric: you can definitely create a casual look with some chambray pants and a t-shirt or sweater, or you can pair them with a button-up shirt and a nice hat for something more upscale. While chambray pants will probably never be formalwear, they certainly aren't only rugged or workmanlike anymore. There may even be some that you can wear to the office!
Chambray pants can sometimes look a bit like jeans, but there are noticeable differences upon close inspection, such as a slight sheen and a definite softness. A number of men's designers also make chambray pants with pleats and a variety of colors. Swapping your regular denim blue jeans for some chambray trousers can slightly elevate an outfit while keeping you comfortable. Take a look at some of my personal favorite chambray pants, and consider where you might want to wear them.
Alchemy Tapered Chambray Trousers ($289)
The elastic waistband will provide an upgraded degree of comfort that holds to your body well. The cut of these pants are great for men who want to have a more easygoing look, that doesn't sacrifice shape: these pants are designed to hold around your waist, but hang loose over your legs.
[Shop the Alchemy Chambray Trousers]
Bonobos Stretch Chambray Pants ($99)
Although it has stretch in the name, you won't end up looking like a slob. Bonobos has created a signature contour waistband, which means that these pants will adhere to your shape and stretch to an appropriate size, while not compromising on appearances. These pants fit well and are made with 2% elastane, which means that they can bounce back after a bit of movement.
[Shop the Bonobos Stretch Chambray Pants]
Ralph Lauren Relaxed Fit Polo Prepster Chambray Pant ($98.50)
Courtesy of :
These Ralph Lauren pants are a twist on the chambray pants we've been looking at. Although chambray is often thought of as a way to make denim look more upscale, Ralph Lauren proves here that chambray can stay casual and cool just as well. These pants come with a drawstring waistband to help you control the fit even more, and they look especially great cuffed or with sneakers.
[Shop Ralph Lauren's Chambray Pants]
Todd Snyder Black Label Chambray Traveller Suit Trouser in Indigo ($198)
The New York City designer blends his love of bespoke style and American heritage with these trousers. By pairing with a jacket and a button-down, you can create a smart outfit that is ready for the office, while also keeping you comfortable. If you aren't crazy about the adjustable drawstring, you do have the option of concealing it. This chambray comes from 100% Italian cotton, so no matter how you style these pants, you know you're getting quality.
[Shop Todd Snyder's Chambray Pants]
Wrapping up
So now you know that denim and chambray are pretty different! Although they have similar histories in American style, they have become appropriate for different situations. Denim, with its diagonal weaving and weight, is a great fabric to mold to your shape or when you want a more rugged look. Chambray is far more versatile, but you might want to save it for spring and summer.
But as different as these fabrics are, you can always honor their shared history and pair them together.
The following two tabs change content below.
Kate Miano
Kate Miano is a freelance writer. She is a regular contributing writer at Shareably Media Network and also has poetry published in Venture Magazine, Dynamis Journal, and Overheard Lit. She lives in Brooklyn, New York and can most often be found at the Botanic Garden. You can contact her on Twitter: @_katemiano.
Latest posts by Kate Miano (see all)