Reader, you're in for a treat. This is one of the most commonly asked questions in the world of boots: which is better, Red Wing or Danner?
They're the two most beloved and longstanding icons in the world of American heritage footwear, and it was only a matter of time until these two monsters crossed paths and battled.
I decided to compare their most similar models, which are among their most popular: the classic, tough guy moc toe. More specifically, the Red Wing 8890 and the Danner Bull Run, two boots that have a lot in common but a surprising number of differences, from the welt to the leather to every single layer of the sole.
The casual observer might find them to be similar, but you're no casual observer. You want to intimately know the pros and cons of your boots before you shell out hundreds of dollars for them, and friend, you've come to the right place. Let's start with the overall aesthetic before diving deeper into the leather, construction, comfort, and cost.
[TEAM RED WING? CHECK OUT THE DIFFERENT COLORS HERE!]
[PREFER DANNER? SHOP THE BULL RUN HERE!]
(Editor's note: My Red Wings are the first pair of boots I owned, and as you can see in these pictures they are way, way more worn in than my Danner boots. Nonetheless, I spent a few months in the Danners before writing this review and I'm confident I've got a feel for both boots.)
Red Wing vs Danner – First Glance
Both of these boots are six inches high, made from oil tanned leather, and have a relatively soft wedge sole. The silhouettes are similarl, but there are plenty of differences if you look closer.
Stitching
Besides the Danner's orange-y laces and the little American flag on the top of the shaft, the stitching is perhaps the biggest difference at first glance. The Red Wing is triple stitched, which suggests serious durability and longevity, but what's cool is that only the middle stitch is white, so the three threads don't stand out too much against the black leather.
The Danner boot, meanwhile, only uses two stitches along the vamp and counter, but the upside is neither of them are white, so it comes away with a cleaner look. At least, that's the case when viewed from the side; when looking at the boots front on, the two layers of bright white stitching along the moc toe and the sole is more striking than the single thread of white stitching you'll get on the Red Wings. Even when they're new, the Red Wings, overall, have a cleaner look because there are fewer bright white threads.
New Red Wings have white stitching on the moc toe, but just one thread versus the two on the Danner. Note the "shelf" around the perimeter of the Danner; Red Wing's look is cleaner.
Sole
Another difference worth noting off the bar is the Danner's stitchdown construction, in stark contrast with the Goodyear welt of the Red Wing. This refers to the way the upper is attached to the sole; I'll get into more detail in the sole section below, but Danner's stitchdown means that not only is it harder to resole, but it has a pronounced shelf running along the perimeter of the boot that you won't find in the cleaner (but heavier) Red Wing boot.
I've already overused this word but with Red Wing's more subtle stitching, tighter welt, plainer laces, and lack of an American flag, it's a cleaner looking boot. The Danner stands out more, which could be a pro or a con depending on your purposes. In any event, they're both relatively plain boots.
But let's talk about this leather.
[See my original, full length review of the Red Wing Moc Toe here!]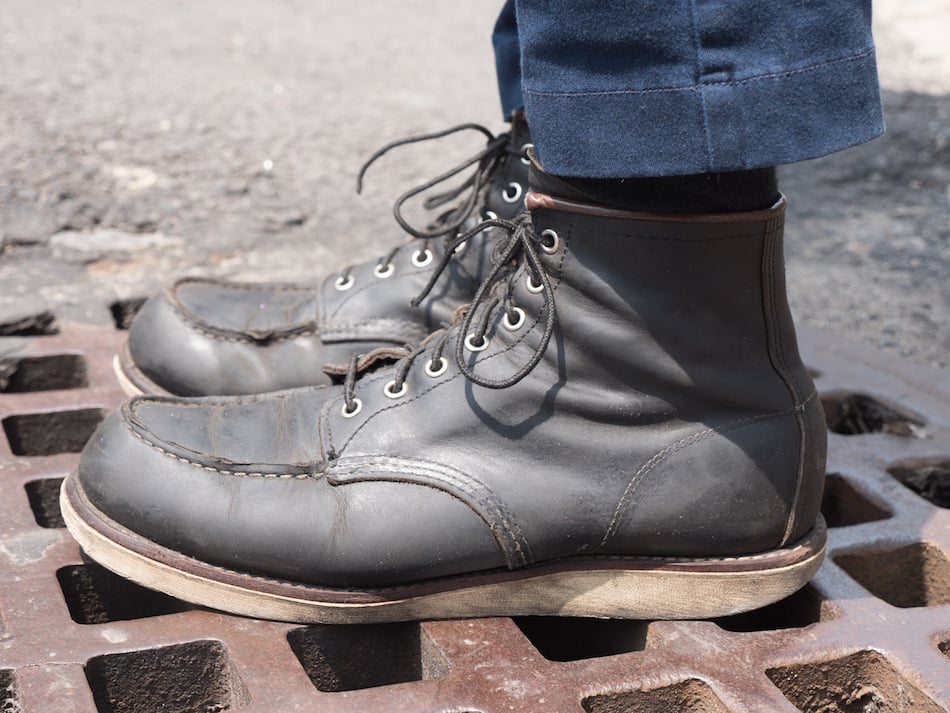 The (very old) Red Wing 8890
Leather
Red Wing
Leather is thicker, smoother, and more outdoorsy
Red Wing has their own tannery, SB Foot Tanning Co, which affords them a lot of control over the quality. The vast majority of the leather Red Wing uses in their Heritage line is oil tanned, and that includes my 8890s. Oil tanned leather doesn't generally have the same kind of luster of dressier leathers, but it's tough and it doesn't need much conditioning.
The "Rough and Tough" leather is slightly different to Red Wing's other oil tanned leathers in that it's saturated with more oils and waxes, giving it more of a "pull up" feel and a more moist quality overall. It's slightly corrected so it's very smooth, so while it doesn't have quite as much of a Wild West cowboy aesthetic as some of Red Wing's other leathers, it makes up for it with the extra durability.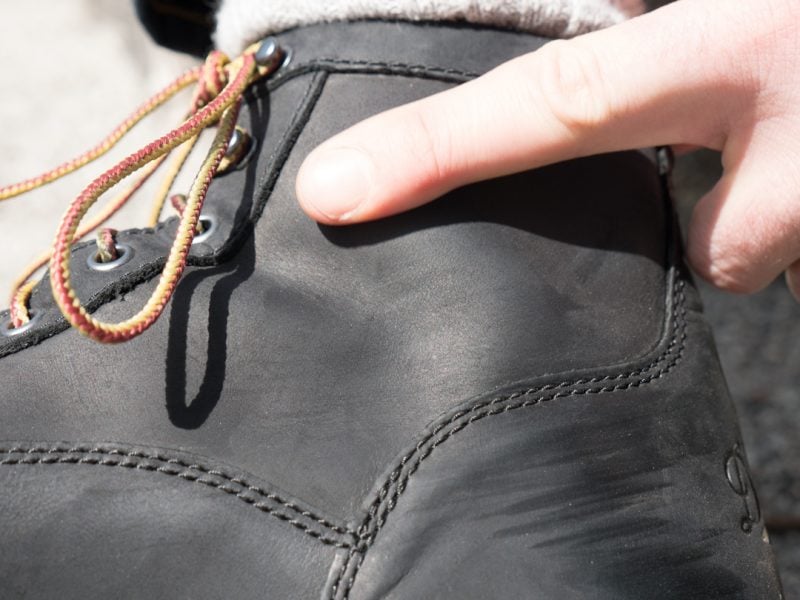 Danner Bull Run
Danner
Leather is thinner and more velvety to the touch
Danner also has oil tanned leather, but with a few differences. For starters, it's considerably thinner: Red Wing is about 2 to 2.2 millimeters thick while Danner is 1.5 millimeters thick, and it doesn't feel as "rough and tough" at all. In fact, an interesting component of Danner's leather is that it's quite velvety to the touch; you can even run your finger over it and it will darken or lighten.
A final thing to note is that Danner's leather doesn't all come from the United States like their competitor; a representative told me that they "have too big a demand for it to be coming from one spot," and some of their leather comes from overseas.
[Read my full-length review of the Danner Bull Run here!]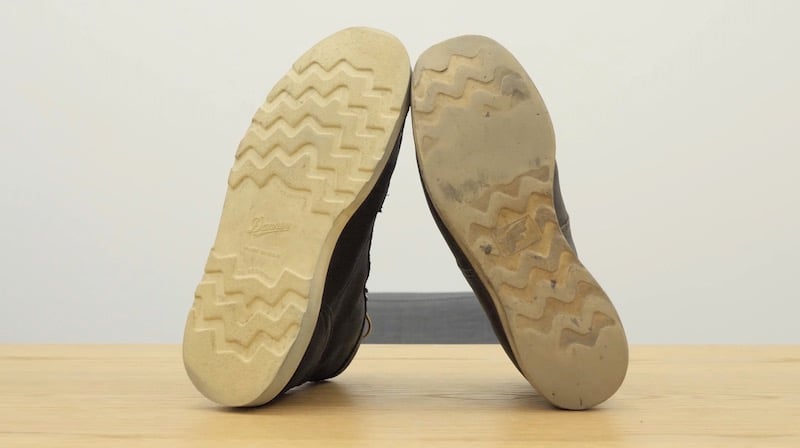 The newer Bull Run is on the left, Red Wing on the right
Sole
Red Wing
Crepe rubber outsole
Cork midsole, leather insole
No shank
Goodyear welt, easier to resole
[Related: What are crepe soles?]
Red Wing uses a wedge outsole made from crepe, a type of rubber made by running coagulated latex through rollers. I was surprised to learn this, because perhaps the most famous crepe-soled boot is the unbelievably flimsy (but well priced) Clark's Desert Boot. That crepe falls apart easily, but Red Wing's is very sturdy.
Then there's a cork midsole and a leather insole, just like the Iron Ranger and the Blacksmith, a classic type of construction that means the boot will slowly mold the shape of your foot over time.
Everything is affixed to the upper with a Goodyear welt, meaning there's an extra layer between the upper and the outsole that both are stitched to. This makes the boot very easy to resole and very water resistant to boot.
[Related: The 8 Kinds of Boot Soles You Should Know About]
The Danner Bull Run
Danner
Slightly softer
Shank provides better arch support
Stitchdown construction, harder to resole
Even correcting for the fact that my Bull Runs are much newer than the 8890s, Danner's wedge sole is slightly softer, spongier, and thicker. But Danner rightfully called this a very bare bones boot, and instead of the traditional cork and leather midsole/insole they've got a super thin rubber cushion midsole and a footbed made from OrthoLite, a type of open cell polyurethane that helps with heat dissipation and air circulation.
Note that the Bull Run has a steel shank, while the 8890 doesn't, and unlike the 8890 the Bull Run's sole is guaranteed oil and slip resistant and it's resistant to electrical shock. This makes Danner more welcome in some work environments.
Finally, it's a stitchdown construction, not a Goodyear welt. This meant the upper is sewn right into the sole and while it's a lighter boot, it's going to be a little harder to find a cobbler who can resole it when the time is right.
[Related: 5 Things to Look for When Buying a Pair of Boots]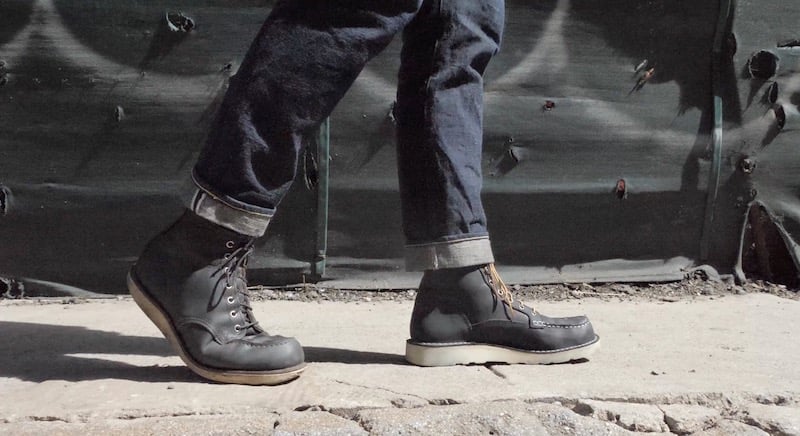 Fit & Sizing
Red Wing
Order half a size smaller than your true size
Tough break in
Sturdier feeling
I ordered a half size down from my true size for these — my true size is 11.5, but I'm an 11 in Red Wing, Wolverine, Thursday, Viberg, and most others.
The break in was not fun. Red Wing deserves their reputation for brutal break ins and for the first week I was losing chunks of my heel every day. Eventually, though, the trusty cork-and-leather combination in the sole softened around my foot and today they feel like they were designed for my own feet.
[Related: 12 Tips for Breaking In Tough Boots]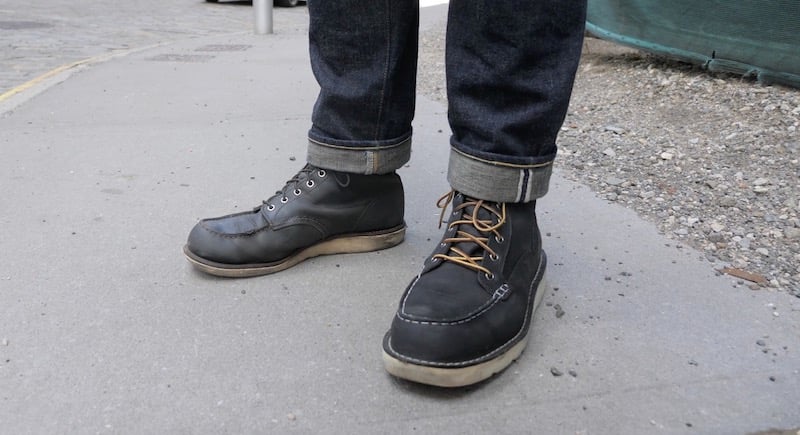 Danner
Roomy, true to size
Easier break in
Softer, less sturdy, more sneaker like
Beyond some abrasion around the top of the shaft, I didn't have a break in with the Bull Run, but if you read online reviews it becomes clear that everybody else did. I can't universalize my experience here; I had an easy break in but most people seem not to.
These boots feel a lot more like sneakers than Red Wing: the sole is softer and less sturdy, but hey, it's nice to wear softer soles sometimes. It depends on what you're looking for.
I will note Danner had better arch support from the shank and that it's an all round roomier shoe. I ordered true to size and it's a good fit, but it would work fine for someone with an E width foot as well as a D width.
[Related: The Ultimate Guide to How Boots Should Fit]
Price
Red Wing
$240 to $280. They're cheapest on Amazon; check out the colors available here.
Danner
$180 to $200. Also cheapest on Amazon; shop the Danner Bull Run here.
Red Wing vs Danner Pros & Cons
Red Wing
Pros
Thicker, tougher leather
Fits a bit better on the foot
Easy to resole
More subtle aesthetic
Cons
More expensive
Harder to break in
Heavier
No shank
Not as good at shock absorption
Danner
Pros
Cheaper
Lighter
More work friendly
Better arch support
Cons
Less stable
Thinner leather
Harder to resole
Slightly gaudier
The Takeaway
All in all, the pros and cons list above should make it easy to figure out which boot is right for you. Personally, I prefer the Red Wing: it's tougher, sturdier, and simpler. But I've got nothing against someone wanting to save a hundred bucks on a pair of boots and picking the Danners, particularly if they're more lightweight and feel more like sneakers. Which one gets your vote?
The following two tabs change content below.
Nick English
By day: Manhattan-based journalist with reporting experience on four continents, published in Vice, Men's Health, Popular Science, and a bunch of other places.By night: ravenous consumer of anything and everything related to high end men's boots.Stridewise is where I nurture a maniacal obsession with footwear and share my findings. Say hey:
[email protected]
.
Latest posts by Nick English (see all)