This post may contain
affiliate links
that at no additional cost to you, I may earn a small commission from.
Naked and Famous are hugely popular in the world of selvedge denim, they fill the gap between brands like Levi's and the really expensive Japanese brands.
They're a Canadian company that use Japanese denim and they're basically the entry point to the world of selvedge denim — sort of like how Red Wings are the entry point to Goodyear welted boots. Known for their impressive variety of fits for the selvedge niche, N&F are also wholly dedicated to pushing the boundaries of denim: some of their seasonal offerings have included jeans made with milk, turmeric, seaweed, and collabs with big brands like Batman and Street Fighter.
What's not gimmicky is the quality, at least not these jeans: it's raw denim, 100% cotton, straight from Japan, and the left hand twill is their signature denim. Let's see what the hype is about.
[SHOP NAKED & FAMOUS' LEFT HAND TWILL HERE!]
Naked & Famous Left Hand Twill Denim
13.75oz
Left hand twill
Indigo warp and white weft

Fades

more vertically
Now this is sanforized denim, so it won't shrink a crazy amount when you wash it, and it's selvedge, so it's heavier and more durable than your average jean. The weight is 13.75oz, so that's midweight — most Levi's are like between 10.5 and 12.5 ounces, so it's relatively stiff but it's not as cardboard-like as 20-plus-ounce denims out there.
Non-gimmicky and perfectly old fashioned, the denim is woven in Japan, the jeans are made in Canada, and the big draw here is that it's left hand twill, not right hand twill like most jeans: it goes from the bottom right to the upper left.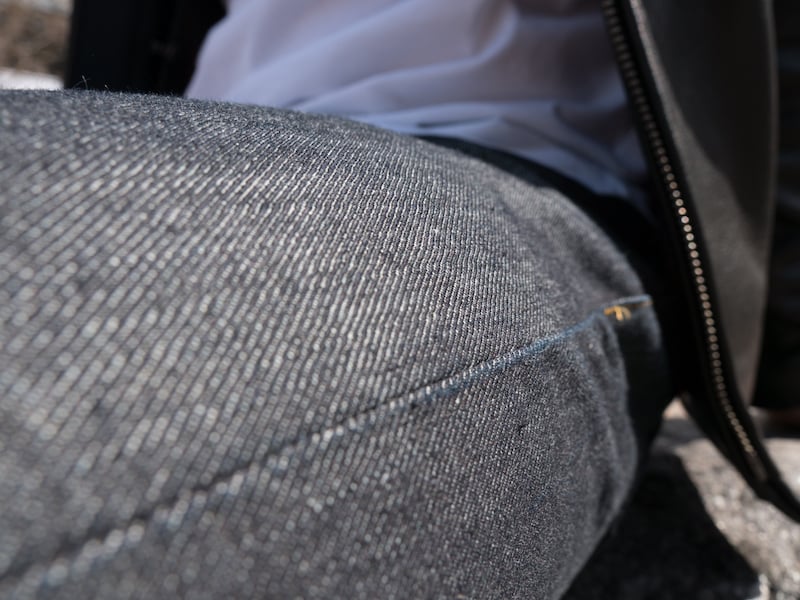 The industry standard is right hand twill, which is tighter and more compact, while left hand twill is a bit softer because of the yarn twist. Right hand twill uses yarn that's twisted in a counter clockwise twist, which loosens in a clockwise (or right handed) direction. LHT pulls it to the left so the warp lines up in order, and more practically it makes a softer feel, and as it fades it gets fuzzier.
An 8-month old pair with 4 washes.
Now, if you're drawn to the world of Japanese denim — or Naked & Famous themselves — because you're drawn to wild, fuzzy, boundary-pushing denim, this ain't it. Brands like Tanuki and Pure Blue Japan can be great for that, and Naked & Famous have a huge variety of bizarre denim, and not just those that incorporate weird materials like turmeric. Their Classic Slub and Lord of Nep are plenty interesting for 100 percent cotton jeans, but the Left Hand Twill is their staple, classic jean to appeal to the masses.
The fade is of course what everyone wants to know about raw denim. These jeans have an indigo warp and a white weft and the left hand twill fades a lot vertically and becomes lighter (whiter) as it ages.
A 3 year old pair from Mack Levine.
[Related: Why Tanuki Charges $700 for These Jeans]
Naked & Famous Left Hand Twill Construction
5-pocket design
Dark gold stitching
Exposed selvedge on coin pocket
Unlined pockets
As for the construction, you can see at least while my jeans are relatively new — they're just a couple of months old — the indigo and white produce a kind of metallic look to them and the stitching is a dark gold color, which I think hits a nice balance of interesting but not too eye catching.
It's got your classic button flies with Naked and Famous written on them and it's a standard 5-pocket with an exposed selvedge detail on the coin pocket, which is pretty cool.
One thing worth emphasizing with these is that the pockets are unlined, so that means as they fade if you often have your wallet or phone or keys in the same pocket they will come through.
That might be a pro or a con depending on your preferences but it does mean that your keys or whatever are more likely to poke holes in the pockets, so keep that in mind.
[Learn more: The 4 Biggest Myths About Raw Denim]
Naked & Famous Left Hand Twill Fit & Sizing
Easy Guy best for high rise and big thighs
Up to 7 fits available
Vanity sizes; stated size is about two inches bigger at waist
I only put muscle on in my legs and ass (thanks, genetics) and I need a high rise, so for my body type I went with the Easy Guy. It has a high rise and a roomy fit around the thighs and butt and it tapers down sharply from the knees, I really like it.
Normally I'm a 32-inch waist and here I got a size 31. Naked & Famous uses vanity sizes: a size 31 is really a size 33.
I'd recommend actually measuring your waist and then seeing their sizing comparisons on their site.
Naked & Famous Left Hand Twill Care
Wash cold, inside out, and on its own
Some prefer to soak and/or freeze
Many wash once or twice per year
While it's not the thickest and toughest denim on Earth, Naked and Famous have one thing in common with a lot of fancier and more expensive brands in that you are expected to wash them seldom. How seldom? Plenty of people wash them just once or twice a year, but I'll be honest, relative to some of my other jeans (like Studio d'Artisan), I don't love the way these feel after a couple of months of not washing them. I tried, but I'm sticking to washing every 20 wears or so.
If you do wash them, please turn them inside out and do it cold, and remember they bleed when wet so just wash them on their own. If you don't want to agitate the denim you can always put 'em in a big bucket of cold water and hold them down with a brick. That's soaking, not washing, but many guys are happy with a combination of soaking and freezing.
That stuff is really up to you. I need to make it clear that how often you wash your raw denim is really a matter of preference, you can wash them as much or as little as you like, I just honestly felt that after a couple of months, I could kind of feel the mustiness in the jeans moreso than some pricier denim.
Naked & Famous Left Hand Twill Price
$130 to $160, normally $145. This is very inexpensive for selvedge denim and one of the biggest pros for the brand.
[SHOP NAKED & FAMOUS' LEFT HAND TWILL HERE!]
Naked & Famous Left Hand Twill Pros & Cons
Pros
Inexpensive
Variety of fits
Classic denim; not too bizarre
Sanforized, so it's easier to find a fit in store
Twill is easy to follow
Cons
Stretches a lot between washes
Not very "boundary pushing" as far as Japanese denim goes
Accrued some loose threads after a couple of months
Fades more vertically
They bleed when wet
These jeans are indeed a great entry point to the world of selvedge denim. I'm not heartbroken over the loose threads, though I'm not crazy about how much they stretch between washes. That said, they fade well and, boy oh boy, is the price right. In under a year you can get a very nice fade for a very good price with Naked and Famous.
Thanks to contributor Humphrey Tsui for his assistance with this piece.