This post may contain
affiliate links
that at no additional cost to you, I may earn a small commission from.
We're branching out at Stridewise with our new series on raw denim — because if you know anything about rugged boots, it's that nothing goes better with them than some tough, raw denim.
So today I'm looking at a pair of Studio d'Artisan G-003 jeans. They're not fresh off the rack; I picked them up from Self Edge in New York City about 5 months ago and took them all over the Middle East during the trip that also led to my Thursday Vanguard boot review.
These jeans needed more breaking in than a pair of Viberg boots — here's what I thought of them.
GET 10% OFF THESE JEANS HERE WITH THE CODE "STRIDEWISE" (You have to make an account to use it)
Studio d'Artisan: The Company 
Founded in 1970
Known for traditional indigo dyeing and ritualistic weaving methods
Uses shuttle looms to make thick, sturdy denim
If you know raw denim you know Japan has really cornered the market, especially in places like Okayama, where these jeans are made. The Japanese denim makers have these old shuttle loom machines that make denim the way it was made in the early twentieth century, which is to say thick and sturdy, broadly speaking, but also with a tighter, denser weave than non-selvedge. Very few places outside of Japan have these machines.
Historians of this stuff like to talk about the "great outsourcing" of manufacturing during the 1970s and 1980s when the US started developing more seasonal collections and cheaper goods, a period during which many of the mills in the US closed and sold their old shuttle looms to the Japanese, who took them back home and started making old fashioned denim.
Studio d'Artisan was one of the original pioneers in this market, they were founded in 1970 and they're one of the most highly regarded denim houses in Japan. SDA is known for traditional indigo dyeing and ritualistic weaving methods and while their most famous collection may be their SD line, I grabbed jeans from their G line. What makes them different?
[For more on why Japanese fashion loves Americana, read my interview with Red Wing's Japan GM.]
Studio d'Artisan G-003 Denim
15oz denim
Made with G3 shuttle loom
Low tension fabric
Heavy slub yarn
Rough, hairy texture
Indigo warp and grey weft
The G3 shuttle loom used to make these is Japan's first power shuttle loom made by Toyota, a vintage loom that has needed to be retooled and it requires some hand operation.
It runs at really low speeds, so it's renowned for making low tension fabrics with heavy slub yarns with a rough, kind of hairy texture. It makes an irregular weave that really adds character, comfort, and unique fading properties compared to many other denims.
The weight of the denim is 15 ounces. Most Levi's are between 10.5 and 12.5 ounces so 15 ounces is considered midweight: stiff and rigid and durable, but not comically heavy.
It's also indigo dyed and made made with an indigo warp and a grey weft so as they fade more of that grey will come through. Finally, it's unsanforized denim, meaning it really is raw: when you get them you need to soak them in order to shrink them, which I'll discuss more in the fit section below.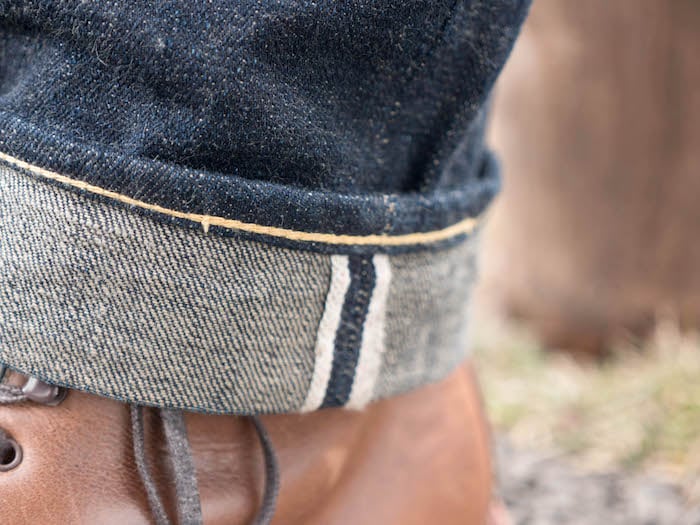 Studio d'Artisan G-003 Construction
Gold selvedge line
Chainstitched hems
Goatskin leather waistpatch
Duck canvas pocket lining
So what else is going on with these jeans?
The selvedge line is a nice gold color and combined with the indigo, it really has an almost regal feeling to it, which I really liked.
It's got chainstitched hems as well, that's a really old fashioned sewing technique that gives a really cool roping pattern. The hem in the picture above, I should note, has been hemmed for me by the good people at Self Edge, but it's also chainstitched at the waistband, yoke, and seat.
The waistpatch here is one of the highlights of any pair of good jeans, this one has SDA's signature pig on it and it's made of goatskin leather, so this leather should age nicely as the denim does.
There are a few other interesting touches as well: you've got nickel plated brass buttons on the fly and engraved copper rivets as well, and the front and back pockets are made from duck canvas, a heavy, tightly woven kind of cotton. This means that your keys or wallet are less likely to shred up the pockets over time.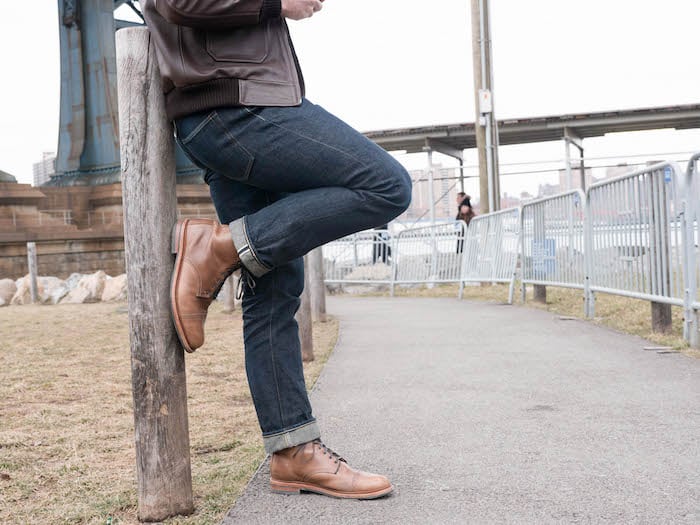 Studio d'Artisan G-003 Fit & Sizing
Run slightly large
Moderate rise seat and thigh
Heavily tapered inseam
These run slightly large. I'm a 32-inch waist in most jeans, but I have short legs and a big ass and big thighs (thanks, front squats) so when I walked into Self Edge and asked them for jeans that look relatively slim on legs like mine and have a high enough rise to handle my glutes, they pointed me to this 34-inch pair of jeans.
This model is usually described as moderate rise and thigh, with a heavily tapered inseam. for me on my body type they kind of just look like regular jeans with a modest taper and are a tad loose at the waist.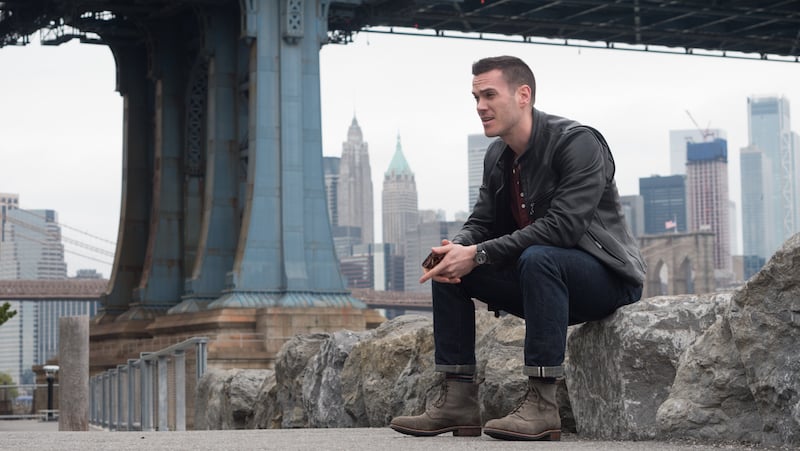 Studio d'Artisan G-003 Care
Sit in cold water for 30 minutes
Line dry half way hung
Let rest on body
Shrinks more vertically than horizontally
First wash after ~50 wears, then every 15 – 30 wears
Here's the thing: this is unsanforized denim so it hasn't been shrunk. It's raw, it's what some guys call "dry."
So while most of the time when you get jeans they tell you they'll stretch, these actually shrink. When I bought them they were baggy, and I was instructed to leave them in a bathtub of cold water for a half hour and let them line dry half way hung and then rest on the body to control the shrink and make sure they don't shrink too much in the waist. And they shrunk: about  1″ in the waist, 2.5″ in the length (inseam), and about .3″ in the leg opening and the rise.
This kind of denim shrinks a lot vertically and they'll shrink again a bit the first time I wash them. That's when you should do your final cuffing, after the first wash.
When should you wash them? When I bought them I was told to wear them 100 times before the first wash, I think a more realistic number to aim for is about 50, then afterward to wash them every 15 to 30 wears, that's what Division Road told me.
There's a lot of debate out there about how you should practically never wash jeans like these because of their alleged antibacterial properties — apparently one study out of the University of Alberta found that raw denim has the same amount of bacteria after two weeks of wear and 15 months of wear, but others insist that dirt will get into the fibers and cause them to break down. I'd rather not take a stance either way and just take the middle path: wear these 50 times before washing.
Studio d'Artisan G-003 Price
So I got these at Self Edge in the East Village and paid about $350 for them, but you can get them for $211 on Denimio.
I've seen them on okayamadenim.com for $215 as well, so shop around. But generally, a bit over $300 is the price here, which is pretty standard for this quality Japanese denim.
GET 10% OFF THESE JEANS HERE WITH THE CODE "STRIDEWISE" (You have to make an account to use it)
Studio d'Artisan G-003 Pros & Cons
Pros
Sturdy, durable, thick denim
Partly lined pockets
Good for cold weather
Great and unique fade potential
Cons
Pricy
Pretty thick, not super summer friendly
Slightly scratchy, not uncomfortable but not buttery soft (but this will change over time)
Hairy, the twill is hard to follow
This is a magnificent pair of jeans. They're thick, sturdy, and will develop great fades over time. They're not super summer friendly and some guys aren't crazy about the super hairy texture, which makes the twill hard to follow. But they're thoroughly unique, they fit me well, and I can't wait to see more of these grey and electric blue fades.