This post may contain
affiliate links
that at no additional cost to you, I may earn a small commission from.
Versatility is always something I look for in my footwear. It's fun to have unique pieces, but with costs rising it can be tough to justify $300 to $400 for footwear you will only wear once or twice a year. But a good pair of loafers are incredibly versatile. You can wear them with a sports coat and trousers, khakis and polo, or even go sockless with shorts.
If you're in the market for a versatile, great looking, Made in USA pair of loafers then look no further than Maine's Rancourt and Company. In February 2022 I purchased a pair of their Eastport Penny Loafers as part of their crowdfunding pre-order campaign (more on that later).
I encourage you to read and get my one-year review of these (spoiler) very nice shoes.
Who the Heck Is Rancourt?
David Rancourt moved from Quebec to Lewiston, Maine to learn the trade of shoemaking and in 1967 he broke out on his own to make handmade moccasins.
With the help of his son Mike, they ran the business as a private label manufacturer, making product for Quoddy and Cole Haan. When that factory was closed, Mike created a new brand, Maine Shoe, with his wife.This venture made products for and was later acquired by Allen Edmonds. When Allen Edmonds was selling their business in 2008, Michael convinced the new investors to sell the factory back to him and in 2009, Michael and his son Kyle created Rancourt & Co. Now in its third generation, Rancourt & Co. continue to make their products in Lewiston, Maine.
View this post on Instagram
What is a Genuine Moccasin?
Moc-toes have always been a popular style within the heritage footwear sphere but their construction methods have evolved from their origins. While most of the moc-toes available use updated construction methods, Rancourts are built with a Genuine Moccasin construction.
So what does that mean? You can see an example of their Harrison Boot being made in a reel from a factory visit we embedded above. Essentially, it's an upside down shoe: a single piece leather bottom is pulled up on the sides and stitched to an upper piece to create the toe box. This way, the shoe's interior has practically no sems or stitches on the sides or sole of your foot. Red Wing 875 Moc Toes, by comparison, have the uppers completely stitched together and are lasted to a leather insole. That insole is then attached to the outsole using a Goodyear welt.
The Eastport Penny Loafer is lasted and Blake-stitched to a double leather sole. Rancourt also offers Loafers and Mocs with Lactae Havea rubber soles, Vibram rubber soles and many others.
The Eastport loafer is an all-leather genuine moccasin construction, using Horween's Tan Bulldog leather on the upper and a double leather outsole. There is a leather lined insole that has some arch support that features the Rancourt branding, though I had to add an aftermarket insole to make up for a personal sizing mistake.
The thick Bulldog leather has a lightly snuffed surface, similar to nubuck, and is hand burnished leaving a beautiful finish. The titular penny slot is ever present on the saddle, but unlike the less formal beefroll, where the sash is rolled and stitched, the Eastport in a pinch style, so the saddle is draped over the moc stitch, creating a more streamlined look.
The shoes are unlined for increased breathability, which allows them to be worn sockless
The shoes are unlined for increased breathability, which allows them to be worn sockless — even on the Vegas strip in September. I used these for a weekend trip to Las Vegas and they had no problem fitting in at the Bellagio Fountain, Freemont Street and even poolside. I wouldn't suggest breaking them in over a weekend, but by the end of the summer they were like slippers.
As for break-in, it does take some time for the leather insoles to flex, and the heel slippage might cause a couple blisters early on, but as long as sizing is correct it shouldn't be an issue for long.
Rancourt's Penny Loafer Sizing
Rancourt provides a number of resources to help you find the right size for each last they provide. They Eastports and many of their other offerings come in multiple widths including, B (narrow/women) D, E and EE (wide). I would recommend going true to size and if you are between sizes or prefer a snug fit to size down ½ size. I sized up slightly because I wanted to wear these at the office with socks, but in the future I would have gone true to size and there would have been plenty of room for socks.
Are Rancourt's Loafers Durable?
I have found the leather outsoles to be wearing in very nicely. If you are new to leather outsoles they may take some getting used to. The transition from concrete to tile or carpeted flooring can be harrowing at first, but you get used to it, and within days the sole accrues enough scratches that the grip becomes considerably better. And if you've never gone dancing in leather soles be prepared to wow the crowd with your electric slides. Weddings will never be the same!
The leather bottoms seem to break down quickly at the beginning but as you wear them the leather tends to compress and deterioration will slow down. Mine have worn out the blake stitching, but I see now reason they won't last at least another summer.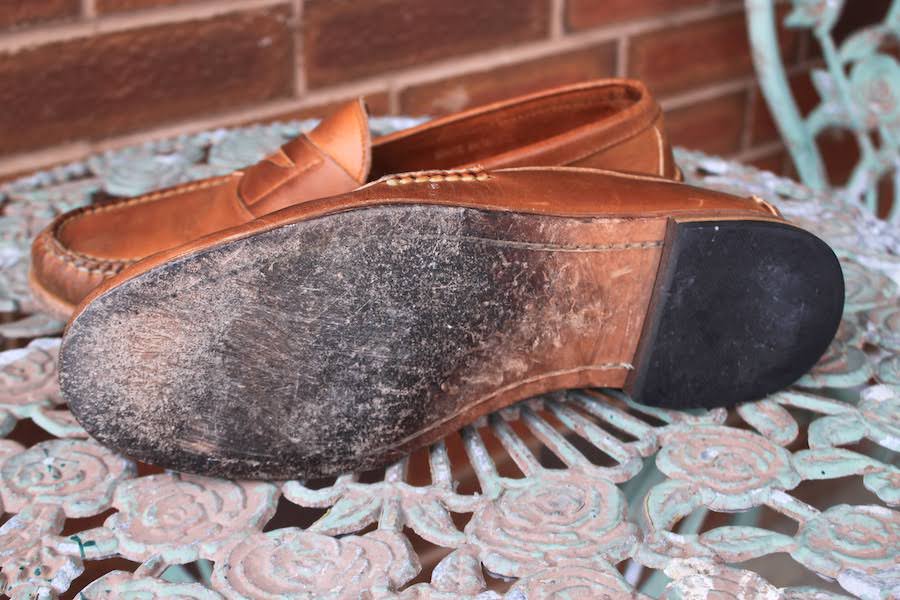 Rancourt Eastport Penny Loafer Price
Coming in at $318 USD the Eastport is a great value for what you are getting. All leather resole-able construction, Horween leather, and Made in USA. It's hard to beat.
That is, unless you buy them as part of their annual crowdfunding presale.
Starting in 2020, Rancourt looked for new ways to streamline construction. During the early days of the pandemic they came up with a wholesale crowdfunding idea: for a 2-3 week period Rancourt offers a dozen or so of their most popular offerings for a wholesale prices: typically a 30-40% discount. This allows them to plan larger production runs, reducing the cost on those items, and passing the savings onto the customer.
For reference I paid $195 for my Eastports in the 2022 campaign. The only drawback is the delivery date, which can be 4-5 months in the future.
3 years later, Rancourt has now completed their 3rd round of crowdfunding.
Rancourt Eastport Loafer Alternatives
Rancourt offers their loafers in a multitude of leathers including Calf, Chromexcel and Shell Cordovan. The only area that they are lacking is in the suede department. If suede is what you're after, consider checking out some of these options.
GH Bass Weejun (175+)
The original Penny Loafer was designed by Bass in the 1930's, and you can still get fairly priced models today. Their production has moved overseas, and they have more choices of makeups than I care to list, but you really can't go wrong if you are looking for a classic Penny Loafer.
Grant Stone ($312+)
Grant Stone Traveller Penny Loafer is a viable alternative to Rancourts. They are Goodyear welted and range from $312-360, depending on if you're going for Calf, Suede, Chromexcel, or Kudu. They also offer Shell Cordovan makeups from time to time, but typically those are available for presale only and tend to sell out.
Alden Leisure Handsewn ($650+)
The Alden Leisure Handsewn is classic look with a collector's price tag. With their calf models starting around $650, it's hard to compare them to the other items on the list. The look is more refined than the Rancourt's, and they are made in USA, which Grant Stone and Bass aren't. But at the end of the day, you are either willing to spend Alden money or you aren't. And if you are, I sincerely hope they bring you joy.
Conclusion
I have been pleasantly surprised with my Rancourt's. So much so that I placed another order during this year's Presale Campaign for a pair of Color 8 Beefroll Penny Loafers. I was happy to get them discounted, but I wholeheartedly believe that these are more than worth it at full price, and if they announced that the presale will not happen again, I will still put in a new order to have them ready for springtime.
I encourage you to look at all that Rancourt has to offer and take pleasure in knowing you are helping to support a family business that will hopefully be striving for generations to come.