Among solid leather boots, few are as lauded and iconic as the Red Wing 875 Classic Moc.
While we have reviewed at least half a dozen moc toe boots on Stridewise over the years, including an overview of Nick's own three-year old Red Wing Mocs, we have yet to do a thorough review of the 875. Here's what ours look like after a year of wear and a coat of Venetian Shoe Cream.
Red Wing 875 Pros & Cons
Got somewhere to be? Here's a summary of the plus and minuses of the boot guy's boot.
Pros
Iconic style; accept no imitators, these are the OG
High build quality throughout, from leather to stitching
Lightweight despite high build quality
Made in the USA
Easily resoleable and water resistant due to 360 Goodyear welt
Available in variety of leathers (all tanned in the USA)
Useful for work and for casual wear
Cons
Price is higher than non-US made competitors
Rough break in period
Orange toned leather isn't for everyone (though other colors are available)
Blocky look can't be dressed up and may not be ideal for skinny jeans
Red Wing 875 Leather
Rich orange color
2 to 2.4mm thick
"Limited supply, grade-A, HHH Weight": heavier and thicker than other Red Wing leathers
Aniline dyed
Chrome tanned at Red Wing's Minnesota tannery
Red Wing has a reputation for using very sturdy, high quality leathers. That reputation is well earned, considering that Red Wing owns their own tannery in Minnesota, a couple of miles from where they're made. The Classic Moc comes in several different leathers which vary based on availability, but typically there are versions of dark brown ("Briar"), light brown ("Copper") red ("Oro Russet"), black, and grey ("Charcoal"). (We've reviewed the Charcoal version here.) From time to time there are limited runs of special colors as well as other colors available only in women's sizing. Thick and with distinct pull-up, the leathers are supple and oily when it's new, if a bit stiff.
Oro Legacy is one of the most iconic leathers used by Red Wing. The leather is a HHH thickness, meaning it's 5.5 – 6 ounces or 2 to 2.4 millimeters in thickness. Because of the color and 'clarity', the leather shows every blemish and scar that would appear on the animal's hide. This means a lot of quality control work to make sure the leather is nice and uniform in appearance.
In a previous article, Red Wing Heritage's Design and Development Manager told us,
It's a very tough boot to make. It's Triple-H weight, it's really heavy, and there's a limited supply of that, so we like to conserve this leather and use it in very special occasions.
[See our review of Red Wing's 8-inch Moc Toe]
Red Wing 875 Construction
Goodyear welt construction: resoleable and water resistant
Vegetable tanned leather footbed
Cork filling
Rubber midsole and outsole
The stitching throughout the upper is rock solid, with tidy even rows and even a solid, three-row puritan stitching along the vamp. The tongue is gusseted, increasing the boot's water resistance. While a gusseted tongue can, at times, make for uncomfortable bunching along the top of the foot (see: the White's Perry Boot) there wasn't any real issue for me.
It's worth noting that this boot does not have a shank. One might think that would result in some problems in terms of stability and support for the arch or the rigidity of the boot overall, however, due to that molding effect which occurs after the initial break in, there is plenty of support. From there on out, the boots become comfortable and supportive thanks to that thick crepe sole, This simple but functional sole is held together by a sturdy 360 degree Goodyear welt, further reinforcing the boot's water resistance. This also means it's easy to resole, so your boot will outlast any pair of sneakers several times over.
The toe box of the boot is lined with a thin piece of smooth leather, but the rest of the interior of the boot is unlined. The main differences between lined and unlined are that unlined boots breathe better, don't heat up as much, and your heels are less likely to slip. The grain within the boot is instead nice and grippy, which is further enhanced by the leather heel cup that also helps to keep your foot from slipping too much.
Red Wing 875 Break In and Comfort
Softer underfoot than Red Wings without wedge soles
Expect a tricky break in
Blisters certainly aren't out of the question, though. While there are some Pacific Northwest boots with thicker, stiffer leather than Red Wings, Red Wings are still well known for their break in, due largely to the 5mm thick vegetable tanned leather insole.
That veg tan piece is stiff as all get out, and really takes some time to begin to take the mold of your foot. But, after two or three weeks of consistent wear, the leather begins to compress and mold to the shape and sink into the cork midsole. They'll stop hurting after the first five to ten wears.
[Related: 5 Tips to Prevent Heel Blisters]
Red Wing 875 Sizing
Go a half size down from your true size
Available in D, E, and EE
Now, sizing the Classic Moc is notoriously challenging for would-be buyers. Hands down the biggest criticism of the boot, from an aesthetic standpoint, is that the tall toe box has a tendency to curve upwards with wear. The reason this happens is people are simply buying boots that are too big. Furthermore, using shoe trees will serve to not only help maintain that shape of the boot, but will also draw out residual moisture from a day's work.
The boot comes in various sizes, from 6-15 and in three different widths: D, E, EE.
Naturally, if a physical Red Wing store is within reach, nothing beats trying on a pair in person. But failing that, traditional wisdom states that Red Wings run at least half a size large from what you normally wear. Your best bet is to get your foot measured on a Brannock device and subtracting 0.5.
Note that this isn't necessarily the same thing as subtracting half a size from your sneaker size — sneakers are often a half size larger than your Brannock size.
Some folks, like me, subtract a whole size from their Brannock if they prefer a snug fit or if they have a slimmer foot, which I do. But most guys, including Nick, size down half a size.
Red Wing 875 Price
At $299.99, the Red Wing Classic Moc is pretty good value for an American-made boot. There are heavier moc toes with thicker leather that cost hundreds of dollars more, but most would call them unnecessary if what you're after is a great looking casual boot or something to survive hard work.
Thorogood and Danner are American-made moc toes that cost less, but the build and leather quality aren't as high. Thursday and Beckett Simonon are cheaper options for slimmer moc toes suited for city wear, though they're not made in the USA and don't have the same aesthetic or heft.
There are boots out there that look a bit like the Red Wings, or that take inspiration from the Red Wings. But that's the thing: all of those other boots on the market exist in response to the Red Wings.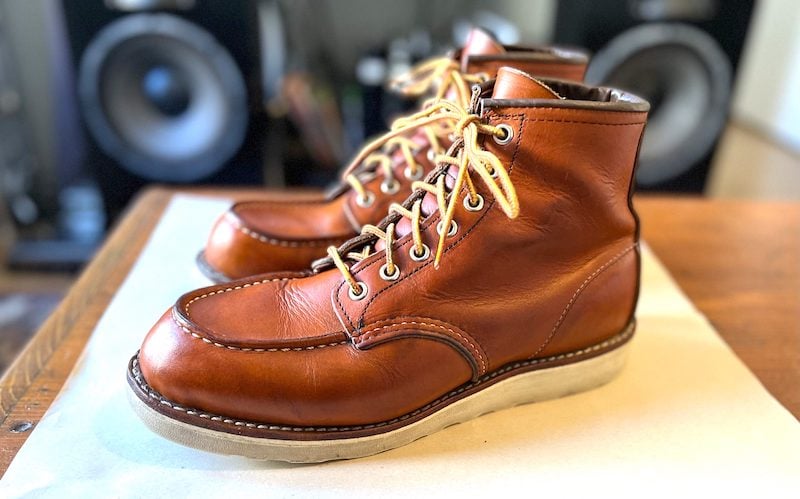 Wrapping Up: Is the Red Wing 875 Worth It?
The Red Wing Classic Moc is a very well made, durable, and functional boot. In terms of the materials, construction, and care that goes into making these boots, there is no doubt that the price is justified. These are designed to stand up to hard wearing day in and day out, providing comfort and support in hard working environments. In those terms alone, they are more than up to the task. They also happen to be cool as hell.
In terms of the materials, construction, and care that goes into making these boots, there is no doubt that the price is justified.
It is a boot that has been in production, by the same company, made largely in the same manner, for over 70 years. It has been used by countless hard working men and women and stood up to untold use and abuse. It's a boot that has earned its iconic status not as a result of some clever marketing campaign or some fashion influencer, but through decades of hard work.
It's not trying to look like the real deal, because it is the real deal.
Scroll down for some more tidbits on the Red Wing Moc Toe!
The History of the 875
Launched in the 1950s
Old fashioned construction typical of '50s jobsites
Red Wing's are about the most iconic American made boots you can find. A brand with over a hundred years of history, their footwear was originally made to outfit miners and workers in pre-war Minnesota. Today, the brand has split into two: there's Red Wing, which is for modern workboots that need to pass OSHA and other workplace safety standards, and there's Red Wing Heritage, which makes their boots the old fashioned way.
Red Wing Heritage is where you'll find the company's world famous 875 moc toe boot, which is so popular and beloved that when we interviewed a team of Red Wing employees, they named it the best Red Wing boot.
The Red Wing Moc Toe didn't start out with its current configuration. According to Red Wing themselves, the Classic Moc was first made in 1952, though just prior to that, the company released the Irish Setter hunting boot, named as such for its orange toned leather. Two years later, the story goes, the traditional heel was swapped out for a softer crepe sole in order to make a hunter's footstep softer and quieter through the brush. But this stealthy outsole had the benefit of being much more comfortable for long work days.
Thus the workwear mainstay was born and, apart from a few small tweaks, the boot would remain largely unchanged for the next 70 years. As a result the 875, and its near relations, have become a mainstay work boot for decades. Regardless of whether you are in a metal working shop or just tooling around Manhattan, you are likely to see at least one Red Wing Moc Toe.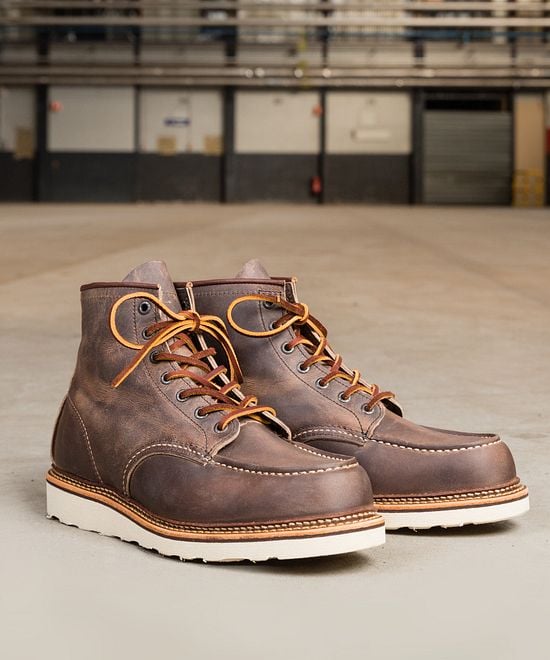 Red Wing 875 vs 1907
Red Wing has a range of moc toe boots and while they're largely the same boot with different leathers, there are a few important differences with the 1907.
Different lasts
A "last" is the foot-shaped mold that quality footwear is built around and it's what determines the fit. The 1907 is unique among Classic Mocs in that it's made on a different last that has more room. Why?
A removable, shock absorbing insole
Because a removable insole has been added. The 1907 has a padded leather footbed that adds extra shock absorption. Red Wings are usually made very traditionally, so the shock absorption isn't really high tech — not so for the 1907.
Better water resistance
You might notice extra leather where the sole meets the upper. That's a storm welt, an extra piece of leather curling up and onto the upper to better keep water from seeping into the boot. It's not as waterproof as Gore-Tex, but it's more waterproof than the regular Goodyear welt construction.