The two most talked about conditioners for leather boots are Venetian Shoe Cream and Saphir's Renovateur, so let's compare the two so you can decide which one you want to use. Or, to speak a little more honestly, if it's worth spending three times more on Saphir, which costs about $9 per ounce.
In today's video-which-is-also-an-article (everyone's favorite form of content!) we're going to condition one boot with Venetian Shoe Cream and one with Saphir to see how they're affected. The boot in question: my trusty Oak Street Trench boots, a lovely boot that's made in Chicago with America's most popular boot leather, Chromexcel. This is a dependable, combination tanned leather that's infused with a variety of oils and waxes to give it durability and depth of color; you can read more about it in my guide to Chromexcel leather care.
Venetian Shoe Cream vs Saphir Renovateur – Which Is Best?
Got somewhere to be? Here's the summary of what we found, but the short version is that for boots, there's not much of a difference. Renovateur brings a little more shine to smooth, dressy leathers like calfskin but for thicker, more hardy leathers, I'd go with the cheaper option.
Who should buy Saphir Renovateur
Those for whom softness is a priority; this one makes for a slightly more pliable leather
Guys using it on dressy shoes; it imparts more of a shine to smooth, glossy leathers
Folks who want a product that's easier to apply; it's thinner and less 'gluggy' than VSC
Who shouldn't buy Saphir Renovateur
Those who want to save money; it's three times the cost of VSC
People who'd rather not buy mink oil products
Guys who are using the product on casual or outdoorsy boots; there's nothing wrong with it, but there's no practical advantage over VSC in this arena
Who should buy Venetian Shoe Cream
Guys who want a quality conditioner to breathe life into their boots
People who like a good balance of value and quality
Who shouldn't buy Venetian Shoe Cream
Guys who are really invested in water resistance should pick a different conditioner, like Huberd's Shoe Grease
Again, I recommend buying Venetian Shoe Cream for boot leathers. For dressy shoes, Saphir is worth the extra, but Venetian is still a perfectly fine conditioner for any and all leather.
Ingredients
Leather is skin, and just like the skin on your face, you need to moisturize boot leather regularly to keep it fresh and happy, improve its strength, and reduce the risk of wrinkling and cracking. While it's true that some people even use the same products to condition their boots and moisturize their face (think coconut oil), people typically condition their boots with other oils and waxes.
But since we don't eat shoe conditioners, companies aren't obliged to disclose their ingredients. The precise ingredients list of these products aren't publicly known, but I did manage to find a few things out.
Venetian Shoe Cream Ingredients
A blend of 6-7 waxes to condition, preserve, shine
no thickeners or silicone or waterproofers
Some petroleum distillate to help clean the leather
Venetian Shoe Cream, which is described as containing "fine oils, gentle cleaners and imported waxes formulated to clean, condition, preserve and polish all smooth leather footwear and articles."
I spoke to the guy who makes it, Phil Collias, and I found out that it has a blend of six or seven different waxes, each with their own purpose: one moisturizes, one shines, one preserves, and so on.
He also disclosed there's no silicone or waterproofers, which Phil said would "hurt the leather" because it adds a coating that's very difficult to get off once it's on your boots.
Finally, it also contains some petroleum distillates, which help to clean the leather as you're conditioning.
[Related: My original Venetian Shoe Cream review]
Saphir Renovateur Ingredients
Mink oil
Waxes
Coconut fatty alcohol
Long chain primary fatty alcohol
Neutral pH
That's about all the information I was able to glean from my research into the ingredients of Saphir Renovateur.
The big difference is that Renovateur contains mink oil, rendered from the pelts of minks destined for the fur industry.
Mink oil is unusually high in unsaturated fats for an animal product, but it doesn't go rancid like most unsaturated fats. This makes it a rare in-betweener as far as fat goes. It replenishes oil in leather fibers so they can be more flexible and durable, and it's also decent at improving water resistance because the oil goes into the pores and creates something of a hydrophobic barrier around the leather. Water is polar, oil is nonpolar, so the two repel one another.
[Related: My original Saphir Renovateur review]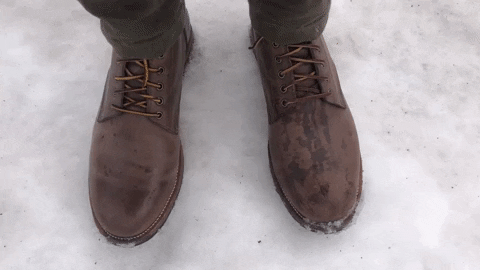 Venetian Shoe Cream vs Saphir Renovateur: The Results
Here are the differences I found worth emphasizing.
The Application
After cleaning the shoes with a damp rag, I applied a capful of product to each. Saphir was thinner and easier to apply; Venetian Shoe Cream was more likely to pool and it smells like petroleum. Saphir had a more pleasant smell and was more enjoyable to work with.
To be clear: this is pretty irrelevant, but we're comparing both products as best we can, here.
[Watch my original full Venetian Shoe Cream review]
One Day After Application
Aesthetically, there was no notable difference at all. However, once I walked in the boots it was clear that the Saphir shoe's leather was softer; the tongue bent and flexed more easily as I walked.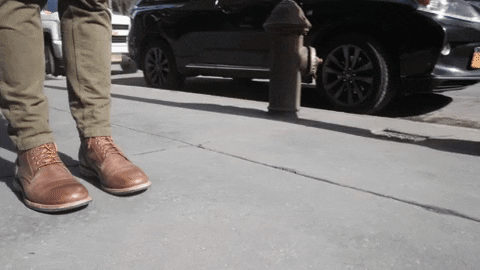 Two Weeks After Application
As you can see above, the shoes are identical. Neither is darker than the other and after testing them, neither is more water resistant either. This was a little surprising given that mink oil is meant to be a great waterproofer, but either there's too small an amount in Saphir to make a difference or the plenitude of waxes in Venetian Shoe Cream provided similar waterproofing capabilities.
The Takeaway
If you're looking to condition a pair of boots and you're trying to decide between Saphir Renovateur and Venetian Shoe Cream, go with Venetian Shoe Cream. They're as useful as each other for moisturizing the leather and both boots looked identical, aesthetically.
Given the Venetian Shoe Cream is a third of the price, it's made in the United States, and it doesn't use mink oil (which some find ethically questionable), it's easy to recommend siding with Venetian Shoe Cream. I'd recommend Saphir if you're conditioning dress shoes or if you're expressly conditioning in order to soften leather to avoid a tough break in. (Something few boots really need.)
If you're just conditioning to keep your leather healthy and longlasting? In this instance, the cheaper option isn't inferior. Venetian Shoe Cream is what I recommend.