Allen Edmonds have been making boots in the United States since 1922 and are currently headquartered in Port Washington, Wisconsin. While the brand started out making the formal and business footwear on which they built their brand — shoes like the 5th avenue, McAllister, and Macneil — they started churning out more rugged men's boots in the 1950s.
The Higgins Mill is actually a relatively new item, with the latest design having hit the market in early 2016, but the idea is still vintage: Allen Edmonds say that the boot's design is supposed to "hark back to the early logging years in Maine" and that "these shoes are not only rugged, the strong features also have an elegant traditional side where the boot portion can be hidden under a pant leg."
At almost $450 a pair, they're about middle-tier for men's boots but noticeably pricier than contemporaries like Red Wing and Wolverine. So is it worth the extra dough?
[Shop Allen Edmonds' Higgins Mill boots to nab your own pair.]
Allen Edmonds Higgins Mill First Impressions
Versatile dress boot/work boot hybrid
Extra water resistant storm welt
Dainite outsole
Brown Chromexcel leather
These are nice looking boots that are quite similar to the Thursday Boot Company's President boot. The leather is a lustrous, shiny, greasy Horween® Chromexcel® full grain leather that definitely doesn't need extra oiling — this is some rich leather. There's also a nice glove leather lining on the inside of the boot that goes all the way to the end of the sole and a nifty suede tongue for some extra comfort and style.
The design is also pretty sleek. Most guys say these aren't particularly formal, but I truly believe they could pass with slacks or a blue suit, provided the trousers hide the shaft. They have a much slimmer profile than Red Wing's Iron Rangers or Wolverine's 1000 Miles and aesthetically they're more pleasing and less casual: there's no double stitching and with a much less bulbous toebox.
One thing that isn't vintage is the sole, which is made from Dainite rubber instead of leather or cork, and is dotted with fourteen circular studs for grip. That does make it a little less formal than a leather or single oak sole, but it appears more durable and less prone to slippage.
So, these boots have a good first impression. But when I took a closer look at them, I noticed some serious quality control issues.
[Related: The 10 Best Dress Boots]

My first instinct is always to take a close look at the stitching and there were several loose threads along the vamp: near the eyelets and on the back.
More egregiously, there was loose grain on the outer heel and sciving along the stitches. That means the leather showed a clear imprint of the machinery used to make the stitches, and it's not something you should expect at boots of this price point. It looks sloppy.
I'm also never a fan of soles that have the stitching touching the ground (external stitching?), since it makes it easier for the threads to fray.
In short: from a distance, they're great looking shoes, but up close they were a little disappointing.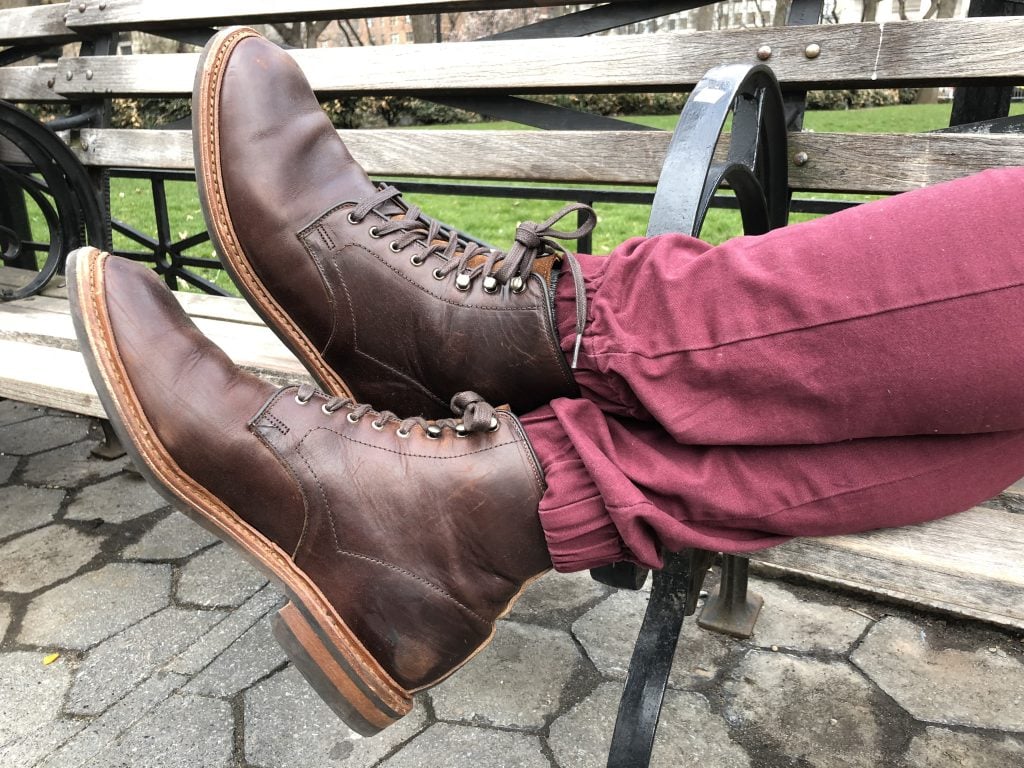 Allen Edmonds Higgins Mill Leather
Rich, oily, full grain leather
Horween Chromexcel leather
Good color depth, ages well
Top finish not very durable
As I mentioned, this is a rich, oily Chromexcel Horween leather. So what does that mean? First off, it's a full grain leather, which means it comes from the top layer of the hide (the steer's skin) and includes the skin's natural grain. Many consider the highest quality grade leather on the market: it's more durable, achieves more patina, and ages better than its cheaper cousin top grain leather, though it's less uniform in color.
Chromexcel (sometimes called CXL) refers to one method of tanning leather and it comes from Horween Leather Company, a beloved American tannery in Chicago that was founded in 1905. Chromexcel was used in engine seals on tanks in World War 2 and the company claims that it's "a combination tanned leather that undergoes at least 89 separate processes taking 28 working days." The tanning process impregnates the leather with oils, waxes, and greases — including beef tallow and cosmetic-grade beeswax — and it's finished with neatsfoot oil, all of which result in the leather's well-known lustre.
Chromexcel is a favorite with the folks at the Goodyear Welt subreddit for its color depth, durability, oiliness, and its ability to achieve a nice patina. That said, the thin top finish isn't all that durable and it scuffs somewhat easily. Over time, the top coat can wear away, at which point you may feel the boots won't pass as "formal" any longer.
As mentioned above, there was some loose grain on the boots. Contrary to popular belief, loose grain doesn't make leather less durable. It just doesn't look great.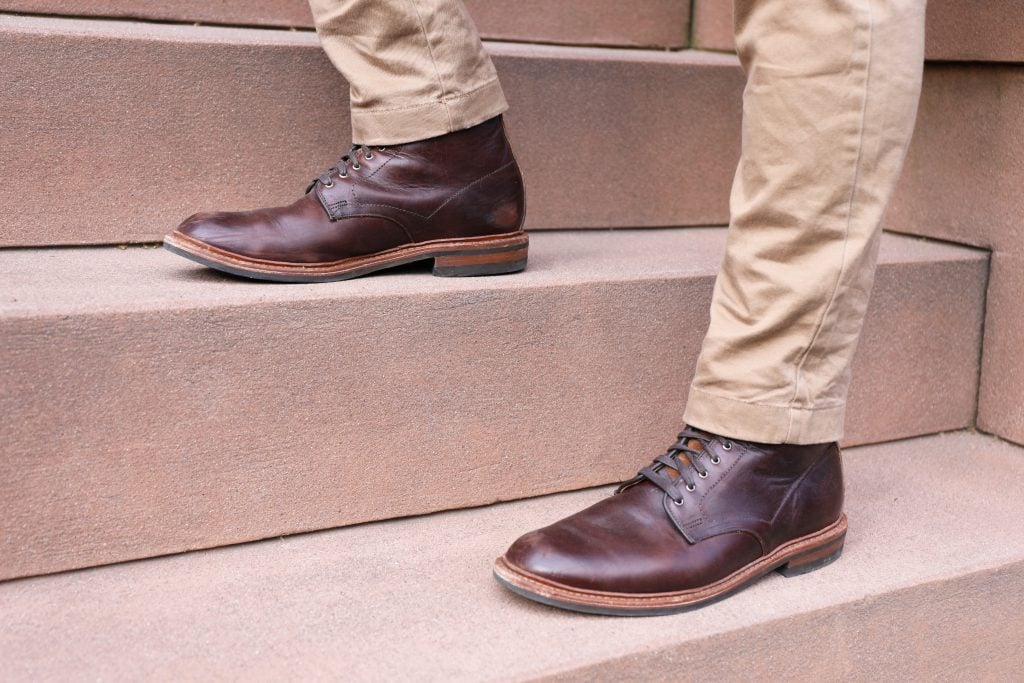 Allen Edmonds Higgins Mill Leather Care
Think twice about using polish or shoe cream
Allen Edmonds suggests their neutral leather lotion
Lotion is free from silicone, petroleum, and mink
I called up Allen Edmonds HQ to get the lowdown on leather care, and they actually advised against using polish or shoe cream because it'll stain the leather. They recommend just using a damp cloth to clean it and their own "leather lotion" to condition it, which is neutral colored.
Allen Edmonds is unusually cagey about the ingredients: they're not displayed on the site and when I called their helpline, the representative was unable to find out what was in it. I do know that is free from petroleum, silicone, and mink. After several emails to their customer service email, I was told only that it has "water, surfactants, polymers, chelating agents, preservatives , emulsifiers." One of the ingredients is cetyl pyridinium chloride, which apparently means you shouldn't eat it.
I also asked if I can just use Obenauf's leather conditioner, a favorite of mine, instead of their own. I got a firm no. Apparently it's not a great idea on Chromexcel because it's softer and doesn't really adhere to oils and polishes very well. I should stick with the lotion, which has some water repelling properties.
[Related: The 5 Best Leather Conditioners for Boots]
Allen Edmonds Higgins Mill Sole
Dainite studded rubber sole
Good traction in snow and rain
Three layers: Dainite, cork midsole, leather insole
360-degree storm welt
This is a Dainite sole. Dainite is a competitor of Vibram, another rubber sole commonly seen in American boots. Allen Edmonds appear on Google before the actual Dainite company does, so it appears that the company is one of its best known purveyors.
As I mentioned above, Dainite looks a little less formal than a plane leather or cork sole if you happen to be looking directly at the underside of a boot, but there's a big advantage over those materials: grip. I've spent weeks marching around Manhattan in my Higgins Mill and there's far, far less slippage compared to other, more traditional soles. It's also super durable and won't need replacing as often as Allen Edmonds' traditional single oak sole.
There are three layers to the sole: the Dainite, a cork midsole, and a leather insole, plus there's also a wood shank that spans the arch and is intended to provide some arch support. Additional support is meant to come from the cork and insole which, courtesy of your body heat, slowly mould to the shape of your foot as you wear them in.
The sole is attached to the boot with a 360-degree Goodyear welt — often seen as an indispensable component of quality footwear. Compared to other methods of fusing the sole to the vamp (like a Blake stitch), Goodyear welts are pretty water resistant and they're a lot easier to resole, meaning the boots can last longer than the Dainite if you take care of them.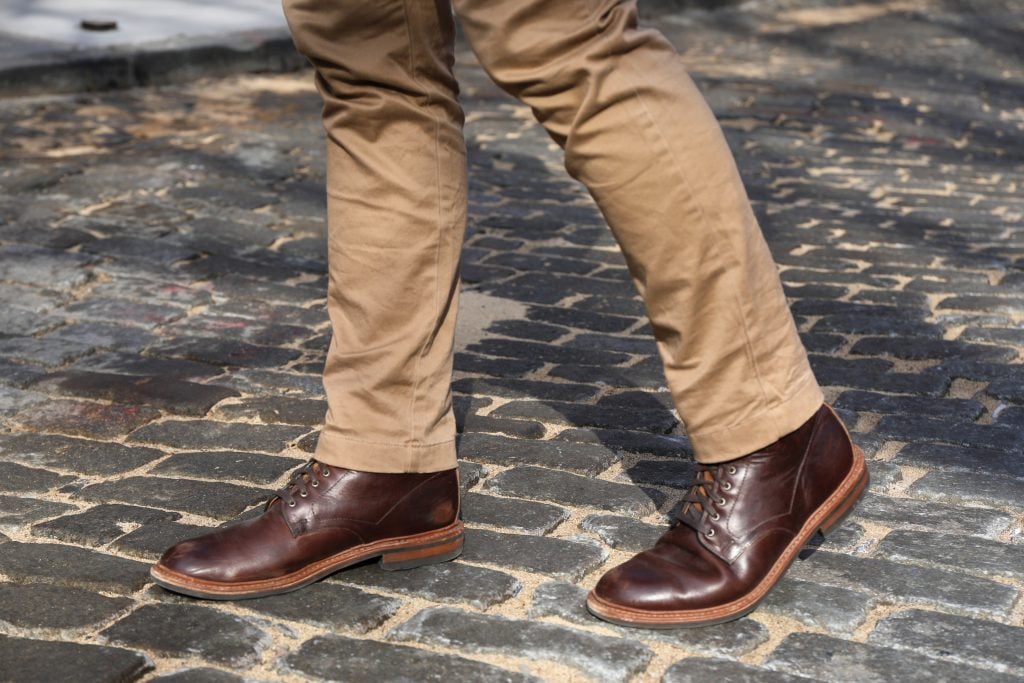 Allen Edmonds Higgins Mill Fit and Sizing
Fits roughly true to size
Width available in B, D, E and EE
My shoe size is a pretty annoying 11.75. I'm a size 11 in Red Wing and Wolverine (which run large) but a size 12 in sneakers, like Converse. One neat thing with Allen Edmonds' site is that they have a Live Chat feature, so I talked out my concerns with a rep who recommended that I try an 11.5, which fit perfectly when they arrived. Note that this shoe is fitted with a 1757 last.
As far as width goes, I'm "normal" — that's "D" — but the Higgins Mill offers a considerable variety of widths: B (narrow), D, E (wide), and EE (extra wide). There is a wider size out there (EEE) and a medium narrow width (C), but four widths is more than most competitors offer.
Allen Edmonds Higgins Mill Break In
The leather on these boots is a little under two millimeters, thinner than Red Wing Iron Rangers and Wolverine 1000 Miles, which it's often compared to.
I'm pleased to say that the leather didn't need any breaking in: they were ready to wear out of the box and I found myself traipsing around New York without any pain or blisters. Compared to boots of similar thickness I'd say that the leather doesn't even feel stiff when they're worn for the first time.
Funnily enough, the stiff Dainite sole took a longer to wear in than the leather. It took about two days of walking before my soles stopped aching and my arch started feeling more supported, but it wasn't until I'd been wearing them about a week that I felt the insole had contoured to my foot as much as it would. Ultimately, I think the arch support is relatively decent and it suits my feet just fine, but if you have flat feet, you might want to consider an orthopedic insert.
[Related: My list of The Best Boots]
Allen Edmonds Higgins Mill Price
While Allen Edmonds is often lumped in with other popular American brands like Red Wing and Wolverine, the Higgins Mill is a little more expensive than those brands: one pair will run you $445 on the official site and on Nordstrom.
[Shop the Allen Edmonds Higgins Mill here!]
Allen Edmonds Higgins Mill: To Buy or Not to Buy?
Along with the frustrating quality control problems — sciving, loose threads, loose grain — the main issue with a boot like this is that it's not quite as durable as its more rugged contemporaries. That's not to say it isn't durable; this is high quality, full grain leather with an advanced rubber sole and a Goodyear welt. But it's single stitched, the stitching on the sole rubs against the ground, and the Chromexcel has something of a reputation for losing its top finish with age.
Despite all this, I'm a fan of the boot. It's super comfortable, the leather didn't need breaking in, While some people hate the suede tongue, I really like it and I think the sleekness of the profile is just right. They are more formal than most workboots, but they're also more urban. It's slim enough that it looks great in fancier attire but it also works fine with dark jeans and a quality t-shirt. They boots may become less shiny and less formal with age, so the window to wear them with suits might not be super wide. But their versatility is rare and the comfort is next level.
[Love the way these look? Get the best price on three different colors here.]
The following two tabs change content below.
Nick English
By day: Manhattan-based journalist with reporting experience on four continents, published in Vice, Men's Health, Popular Science, and a bunch of other places.By night: ravenous consumer of anything and everything related to high end men's boots.Stridewise is where I nurture a maniacal obsession with footwear and share my findings. Say hey:
[email protected]
.
Latest posts by Nick English (see all)