Filson is an interesting company. Existing at an intersection of utilitarian functionality and rugged, trendy, heritage wear, they have a deep history, having been in operation for 125 years. That history is central to Filson's identity and at the core of their product designs.
Over the past few years, Filson and its parent company have made announcements that they would be conducting layoffs and consolidating (closing) manufacturing facilities. At the same time, a small portion of its manufacturing has moved overseas. (Their famous Journeyman backpack, for instance, is now Vietnam-made.) Despite these changes, Filson has continued to expand its product offerings and increased price points in an effort to move more upmarket and offer more luxury products.
It is amongst these seemingly contradictory elements that we find Filson today: a company that seems at once desperate to cling to their history and heritage, but pulled more and more into opposing directions by the realities of commerce in the world as it is today. It is one thing to see such dichotomies represented in a company's share price or on a balance sheet, but it is another entirely to see them played out in the products themselves.
Enter Filson Denim.
Filson Rail Splitter Jeans
14.5 ounce cotton denim
Non-Selvedge
Zipper fly closure
Raw Indigo (sanforized), Rinsed Indigo, or Rinsed Black denims
Sewn in the USA
Filson leather patch
The Filson Rail Splitter Jeans are Filson's classic, medium rise, straight fit jeans. They are in many ways exactly what most people think of when they think of blue jeans: simple, minimally decorated, blue denim. Very little fuss, very few frills. They are intended to be an easy wearing companion: something that you can throw on in the morning, spend a full day moving and working in comfortably, and do it all again tomorrow.
These are meant to be uncomplicated. There's no need or focus on soaking or shrinking-to-fit or concerns over how much stretch will occur as one normally navigates when purchasing premium heritage jeans. The marketing on Filson's website features rugged men in rugged environments doing rugged jobs. These aren't the kind of guys who are going to be bothered with how the yarn was dyed, if the back patch has a poem written on it, or where the denim itself came from.
Which is good, because Filson doesn't actually say where the denim is from. While they do say that their denim is sourced from "North America, Europe or the Japanese islands–wherever the best could be found…" the specific source of each different denim is conspicuously absent. As long as these jeans are made in good ole' America, who cares where the fabric itself comes from, right?
[SHOP FILSON'S RAIL SPLITTER JEANS HERE]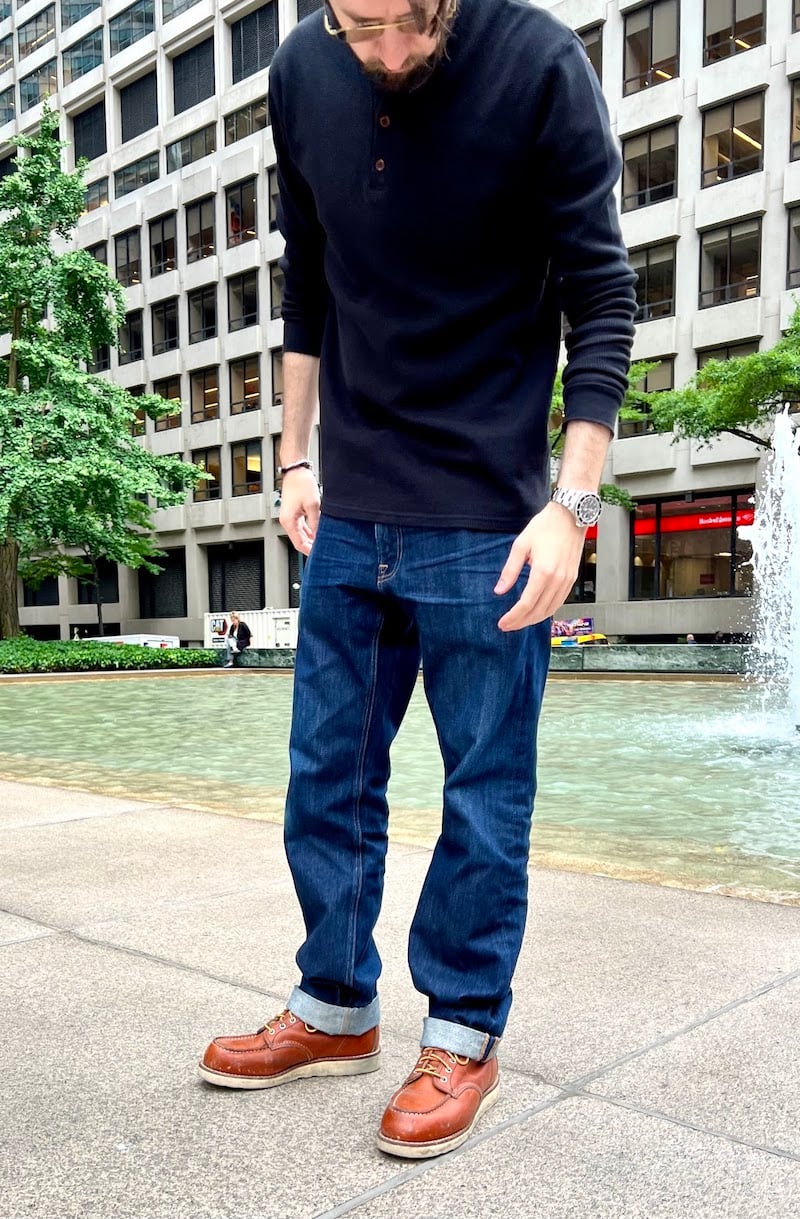 Features
At first glance, the Rail Splitter Jeans are what they seem to be – unfussy, every day jeans. The Rinsed Indigo (which Filson generously sent our way to review) feels nice and soft, but not thin. It's comfortable; not something that masochistic denim heads, who regularly seek out impractically stiff and confining pants, are used to.
Through the rinsing process, Filson has done away with most of the starchiness that one might expect. (Though this is certainly not likely to be the case with the seldom-available Selvedge option.) If you plan on actually working in these jeans, the last thing you want is to have to fight them for 3-6 months while they become comfortable or something like it.
The confusion begins when you start to notice one or two aesthetic details. Namely, the whiskers on the front of the jeans and the light honeycomb on the back of the knees. That is to say, near the back of the knees. These are pre distressed jeans, which isn't uncommon, but if the legs don't line up just so, that honeycomb pattern ends up closer to the back of your calves. It's a strange choice for a pair of jeans that is marketed towards someone who works for their living(!) not someone who is concerned about the cute little patterns that form in their pants.
It's not all for show, however. One of the absolute best features of these jeans (if not the best feature) is the pockets, or specifically the pocket bags. Rear pockets are unlined and have an extra bit of denim stitched in the bottom to prevent tears or blowouts. The front pocket bags are made from a nice thick canvas and then reinforced at the bottom.
The pockets are roomy, sturdy, but still lay flat – likely due to the roomy nature of the jeans themselves. It is not an exaggeration to say that these are the best pockets of any jeans we have yet tried. For what most high end denim costs, it is a glaring oversight that the vast majority do not have pockets as well made and thought out as the ones on the Filson Rail Splitter.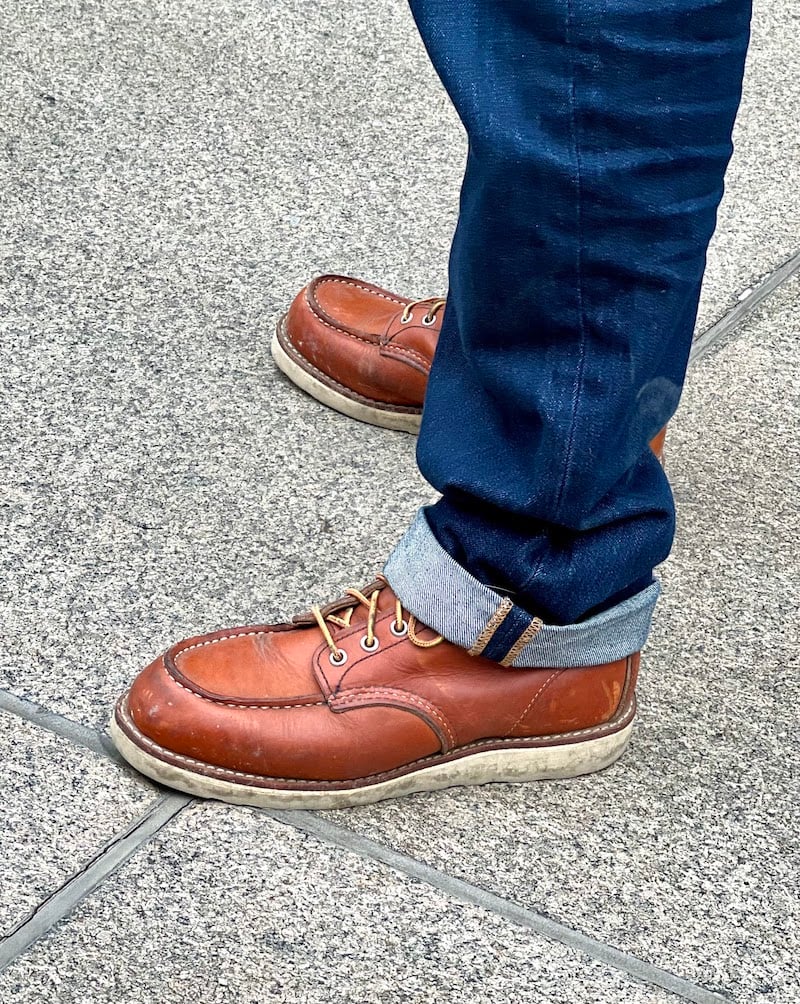 Sizing, Fit, and Quality
Roomy straight leg
33-34-inch inseam
Size down
The Rail Splitter is a standard, roomy, if slightly baggy, straight leg jean. Sizes 28-33 have a 33 inch inseam and sizes 34-40 have a 34 inch inseam. This is nice, as most folks can roll the cuff or wear them without the need to hem the jeans if they don't want to.
My typical size in most jeans is a 30-31 in the waist, and these fit comfortably in a 30 (though certainly a belt is required to keep them from falling down). Personally, these are a bit more relaxed than what I would typically gravitate towards, which tend to be more slim tapered, but not skinny. Then again, at 5'11 and about 150 pounds, I'm quite a bit more slender (scrawny) than the serious, barrel chested, working men that Filson advertises these jeans fitted.
At first, I was eager to put these jeans through their paces. That might be difficult to do in NYC, with days spent making content, reviewing products, going to coffee shops, or whatever else a skinny "Brooklyn Hipster" spends their days doing. These are work jeans(!) after all. They should be put to work. Fortunately, my summers are spent in large part at a horse barn in the country. Thus, these became my go to jeans for shoveling out horse trailers, a role they performed fine in for a month or two.
Shortly thereafter, however, I began to notice some loose threads poking out. No big deal. That is until the stitching from the inseam on the left leg began to come loose. From here on out these became house jeans – after all, seeing as they're a bit baggy and soft, they're pretty comfortable for just hanging out in.
[Related: The Best High End Athletic Fit Jeans]
Since then, after about 15 wears or so and one wash, the stitching has progressed a bit more, and the cuffs have begun to fray and wear through where they were folded. Though, to call these 'wears' would be to certainly exaggerate, as the vast majority of the time was spent around the house and couch bound. In that time they have faded very little, with a slight increase in the definition of the whiskers on the front and pre-made honeycomb patterns.
Pros & Cons
Here's the long and short of it.
Pros
Soft, 14.5 ounce denim is comfortable right from the start
Rivets and hardware are decent quality
Roomy fit is comfortable to both relax and work in
Thick leather patch will age nicely over time
Reinforced pockets are possibly the best pockets I've ever had in a pair of jeans
Cons
Price – $165 is a price that few working in manual labor jobs are likely to respond to
Loose threads and stitching coming loose with relatively light wear
Preplaced whiskers and honeycomb texture are just strange
More relaxed fit could be a plus or minus depending on the wearer
Fabric's origins are unclear
[SHOP FILSON'S RAIL SPLITTER JEANS HERE]
The Takeaway
Filson is a company that has built its entire brand identity around being rugged, hardworking gear for rugged, hard working people. But with ever increasing prices and marketing campaigns focusing on a younger "hipster" clientele, it feels as though Filson is at a bit of a crossroads, unsure of which direction it really wants to go and, in turn, who it wants to be.
The Rail Splitter jeans are similarly at odds with themselves. At $165, these are significantly more expensive than the Carhartt, Duluth, Levi's, or (let's face it) Wal-Mart jeans that many blue collar laborers are likely to buy and wear at their jobs. I can tell you from personal experience working construction, the last thing I would have done is bring a fancy pair of jeans anywhere near a jobsite. This is not to say that no person with a labor intensive, blue collar job would buy these. I'm sure they would, and they would probably be quite comfortable in them – that is until their coworkers learned how much money they spent on their fancy city jeans (or until one of the seams started pulling out after a few months).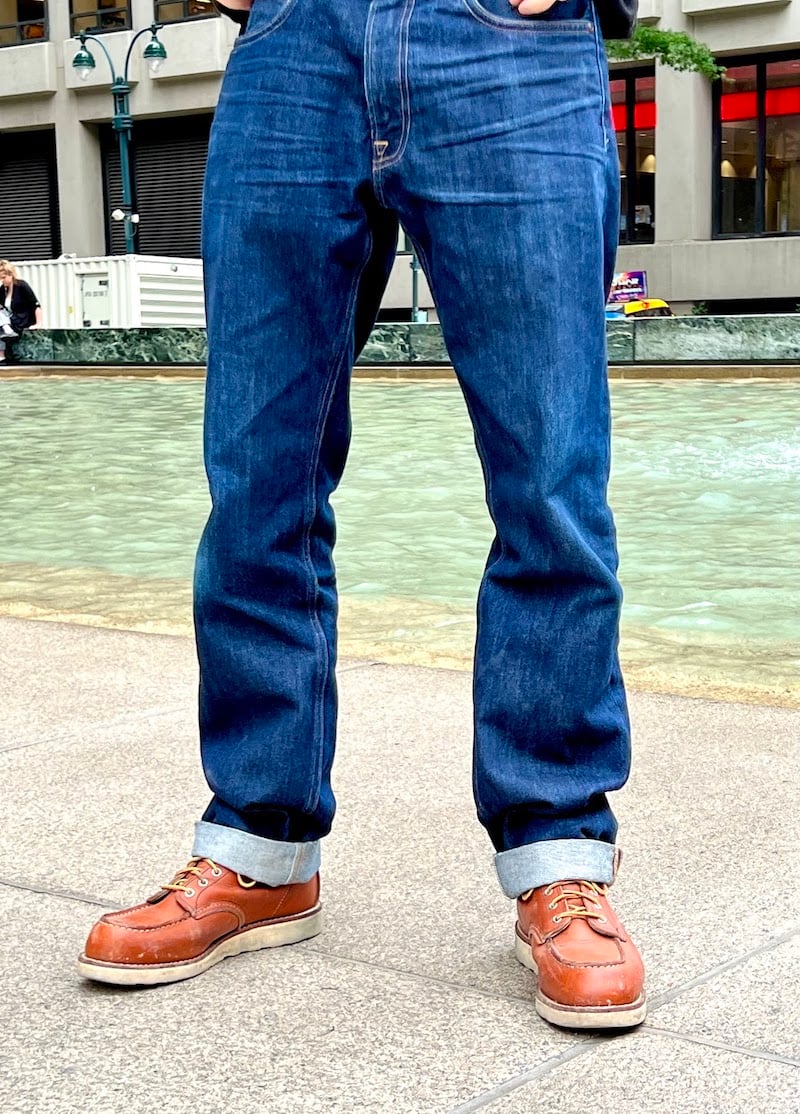 In the same breath, the denim nerd, which I woefully label myself as, isn't left with much to get excited about either. It's nice that these are pre-washed and soft from the get-go, and that no stretch material was integrated into the denim itself. But why would Filson include the pre-creased whiskers and honeycomb? The only people who tend to care about that are those who would want to create those patterns themselves.
The state of Filson today is that of a brand that can't really decide what it wants to be: rugged workwear with 125 years of hard living to its name, or a luxury goods company that wants to appeal to those heritage enthusiasts in style alone. Like many of Filson's products these days, the Rail Splitter jeans are nicely designed, decently made, a bit too expensive for what they are, and overall, just a bit confusing.
The following two tabs change content below.
Troy Barmore is a watch, luxury, and heritage goods specialist and writer based in New York City. Growing up in the mountains of Colorado, Troy has had a passion for subtlety and detail since childhood. Whether it be denim, leather, eyewear or watches, he has made the study of quality goods a lifelong focus.
Latest posts by Troy Barmore (see all)