The hobby-slash-cult that is selvedge denim is a subculture composed of people who don't bat an eyelid at 300 dollar jeans. Most of the big name brands are between 200-300 bucks, it's not a cheap hobby.
But seven hundred dollar jeans?
OK, I'm rounding up — they're $660, but that's still very expensive. I'm a guy who doesn't mind paying for quality, but I also need to know how a high price is justified.
So I was fortunate to build something of a relationship with Tanuki, who reached out to me after I made a video about their "Kaze" jeans. They offered to send me a free pair as a thanks-for-the-promotion and after checking out their site, I couldn't help but be drawn to their most expensive pair: the AHT 18oz Shoai "Arashi" High Tapered Jeans.
After wearing them in for a couple of months, their sales rep Markus was gracious enough to agree to an interview. How does a company justify $700 jeans? Read on.

Summary: Tanuki's AHT 18oz Shoai "Arashi" High Tapered Jeans
Everything about producing these jeans is slow and laborious but you might be in a hurry, so here's a quick guide summarizing the pros and cons of these unique jeans.
Who Should Buy Tanuki's Arashi Jeans
Men who value precision, craftsmanship, and heritage
Guys who value not only handmade goods, but labor; the arashi dyeing technique requires extraordinary, generational skill to produce.
Anyone who wants to wear a 100% unique pair of jeans.
Folks looking for something that stands out; not only is the texture unique, but the appearance earns its name Arashi, or storm, because the dyeing technique makes for jeans that look like a rainstorm.
Men who like jeans made with real, natural indigo; there's nothing synthetic here.
Guys who value Japanese heritage; not only is it handmade by Japanese artisans and sold by a Japanese company, but even the indigo is grown in Japan.
Who Shouldn't Buy Tanuki's Arashi Jeans
Simply put: if you don't value craftsmanship enough to spend this much on a pair of jeans. No judgment!
Guys who prefer a smooth, regular denim.
Anyone who likes a darker, deeper shade of indigo.
Why People Like Japanese Jeans (In General)
Produces unique fades (that cheaper brands just try to fake)
Thicker, more protective than your average Levi's
Requires more skill, labor, and coton to produce
Wide variety of textures
Takes more skill labor and cotton to produce.
Has a wider variety of textures available.
Woven on old fashioned shuttle looms
As a quick summary about Japanese denim, if you're coming across the heritage raw selvedge denim scene from regular cheap jeans like Gap or most Levi's, even paying ~$300 for your average, non aizome pair of Japanese jeans might seem outlandish.
So I'll briefly introduce selvedge denim, which usually comes from Japan. There are a few advantages to this material: by and large it's thicker, takes more skill and labor and cotton to produce, has a wider variety of textures available, and most importantly for many fans, they produce unique fades that cheaper brands just try to fake.
They have very low production numbers so almost everything is limited edition, and every pair of jeans is unique because it's made on old-fashioned looms that are very hard to maintain, require a ton of skill to operate, and typically produce a fabric that is irregular — no other pair of jeans has precisely the same weave as the pair you get.
Tanuki's Arashi Jeans
There are three reasons why these particular jeans stand out that we'll be exploring in this article:
The Denim
The Dye
The Dyeing Process
I mentioned before that these jeans aren't the same creatures as a pair of fast-fashion or big box store jeans. Everything about these, from the fabric, the dye used, and the dyeing technique are meticulously thought out and perfectly executed. This is a thing in Japan.
"Every Japanese person who takes on a trade, they have this idea that they need to master this," says Markus, the Tanuki rep I interviewed. "It's the one thing they devote their lives to. These guys who basically do nothing but dye things by hand, like that's their life."
In addition to perfecting their own traditional crafts, Japan is also known for looking at something great from another country or time period, like whiskey, handwelted boots, or jeans, and perfectly recreating the traditional process — often improving it — until they get something new and old at the same time.
And the Arashi jeans are on an entirely different level even to most Japanese denim.
Tanuki's Arashi Fabric
Hand picked and sorted
Requires serious labor to sort and split before spinning
70% of cotton picked is unusable
Zero tension
For starters, the cotton comes is flown in from Texas,which has a great climate for growing high-quality cotton.
"You probably want to know why these jeans are so expensive," says Markus. "So I'm going to start off by saying that there's so much manual labor involved in making these. The first thing is that every piece that goes into the yarn is actually handpicked. These people split the yarns, actually looking for the things that go into the yarn, and these craftsmen have been doing this for hundreds of years. It's still done in one of these tiny dyeing factories where they pick everything by hand and split everything by hand. Just sorting the threads that go into the yarn before it's spun takes ages, and that's just one of the first steps."
[Related: Why Is Zimbabwe Cotton So Popular?]
The cotton is a combination of long and short staple. Many people think long staple equals better, and that's often true: longer fibers resist pilling, breaking, and tearing, while short staple is soft and low maintenance and inexpensive. Mixing them produces a nice, slubby texture.
[Review: Pure Blue Japan Review – The Slubbiest Jeans on Earth?!]
The fabric is also expensive is because for every 100 meters of the fabric, roughly 70 meters are not usable because some yarns are so brittle that they'll fall apart in the almost hundred-year-old looms that Tanuki uses to create the jeans. Don't worry, they recycle them — but a tiny amount of the fabric winds up usable in these jeans, which adds to the cost.
There's also no tension in the yarn at all. If you look at a lot of Japanese jeans, you've heard the term "low tension" weaving produced by rope dyeing. But the Arashi is produced by hand dyeing, which produces zero tension. That means they stretch a considerable amount and that more cotton goes into a pair of jeans than those made with high or even low tension. But we'll talk more about the tension in the dyeing section.
Tanuki's Natural Indigo Dye
Dyed using real indigofera plants grown in Japan
"A lot of people just want these in their collection, they're not wearing them," says Markus."Because they know what aizome fabrics are. There is a massive market out there of people who basically just wait for a new release in aizome. They're gonna snatch it up. I've seen it, it's intense."
So what's the big deal with the dye? A lot of guys think Japanese denim is expensive because it's dyed with real indigo, as in dye made from the indigofera plant — but that's rarely the case. If you're getting 300-dollar jeans, you're getting synthetic indigo, even if it's called "pure indigo."
"Pure indigo is basically a fancy word for synthetic indigo," says Markus. "Pure Indigo just sounds a lot better than 'it's chemical.'"
To be clear, synthetic indigo is chemically the same as the natural stuff, but natural indigo has more impurities, like indirubins, which give beautiful color variations. Synthetic indigo makes a blue that doesn't vary, but in Japanese jeans, it's actually the impurities and irregularities that people covet.
The Arashi jeans are dyed with actual indigofera, and not only that, it's grown in Japan. When you do buy jeans with natural indigo it's usually grown in India, but these plants are grown right in Japan for a hyper-Japanese bent to the product. And because it's locally sourced in such a developed country that adds to the cost.
An informative video about the Aizome dyeing technique from Great Big Story. (Note that this isn't on denim, but it is the same dyeing process Tanuki uses.)

The Aizome Dyeing Technique
Requires tremendous, generational expertise
Zero tension put on yarn
Where the high price really comes from is the way the fabric is dyed.
If you look on their very underwritten product page, Tanuki just says,
It is a traditional Japanese dyeing method that is unrivalled (…) It is our most limited fabric as the production is slow and there are only a handful of Japanese craftsmen able to dye the fabric. No other denim requires this much manual labour.
But I wanted to know more.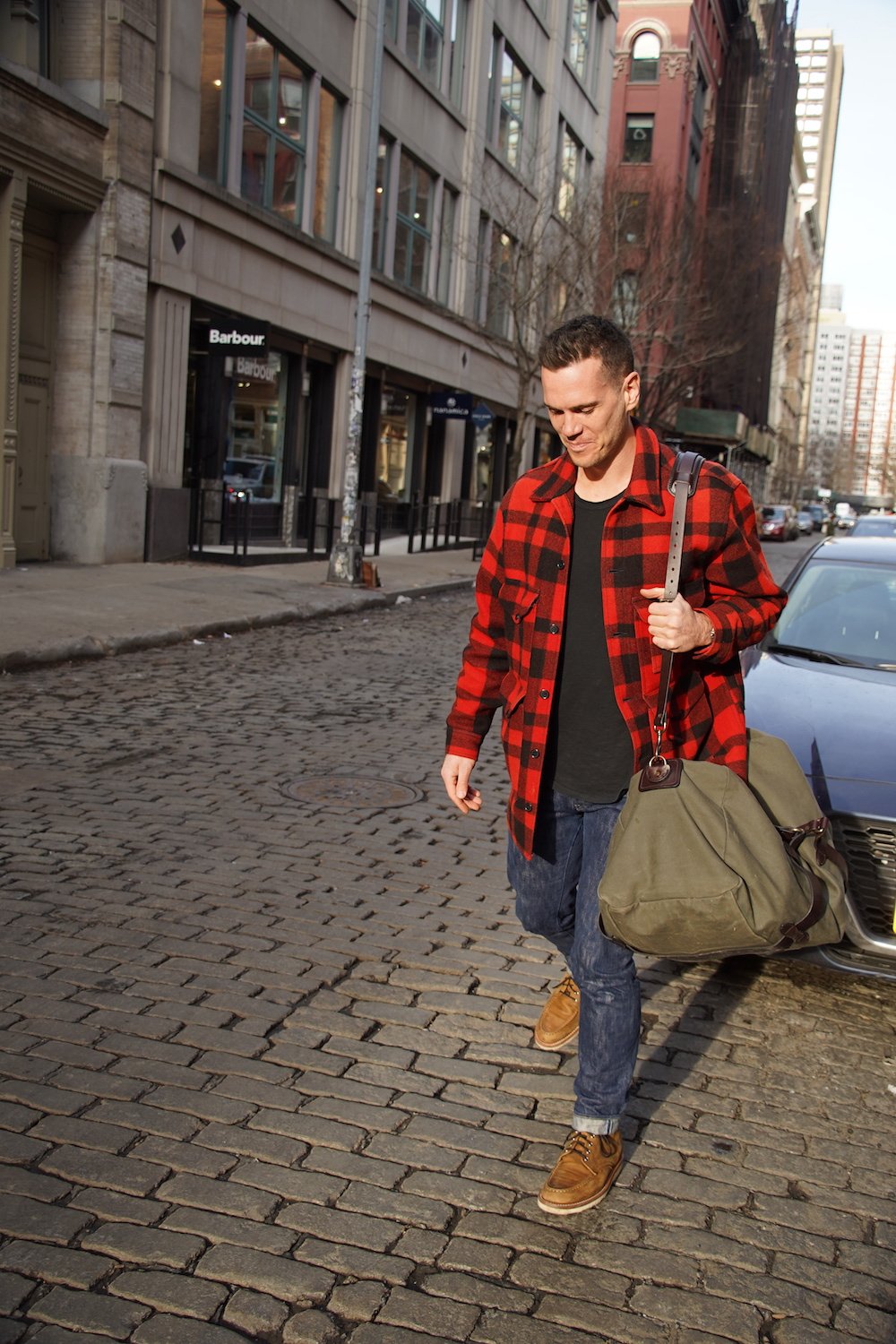 "They put the yarn into a dyeing container by hand. They wrap it around a stick, and then they dunk it in here for about 24 to 48 hours, and then they take it out again," he says. "(Normally) you have these massive machines… which puts tension on the yarn. And a lot of the natural texture of the yarn actually gets stretched out, undoing all the work those guys did hand selecting each fiber for its unique properties. Within (our) process, there's never any tension on the yarn whatsoever. All the slubbyness that the guys have deliberately created by picking up the different fibers that go into the yarn is preserved."
With the Aizome process there are no machines, just these artisans who "dunk [the fabric] in there by hand, take it out, let it oxidize for a couple of days, put it back in, until they get just the right shape," says Markus, who explains that the reason there's so much skill involved is that the craftsmen need to take oxidation into account when deciding when and how to extract the fibers: when and how the indigo reacts to the air will lead to different shades.
With no other technique can you achieve something that is so irregular. It's simply not possible to get something so slubby with rope dyeing processes. So, this is something that is really unique. After we have done this for, actually, sometimes weeks, because it has to go out dry, go back in.
Compared to other denims, Tanuki controls this aizome process by doing everything by hand. They don't just make these jeans to look good right after you buy them. In other selvedge denim, the core of the yarn is still white. This way, the more you wear them, the more of the indigo gets chipped off, and you get to see the white core of the yarn. There's nothing wrong with this; it's how a lot of great fades are made.
"(But) this is a bit different when it comes to aizome fabrics because in this case, the yarn is actually dyed to the very core," says Markus. "They dip it into this container multiple times until it's 100% penetrated. So you get fades over time that will be a lot less pronounced than when you do something that is rope dyed, for instance."
This isn't something that can be done with machines. It's an authentic craft that takes years to perfect, and this is so important to understanding why these jeans are so expensive and sought after. The people who make these jeans are artisans.

Wrapping it Up
Aizome jeans, man.
"This is something that we're really proud of," says Markus, who insists Tanuki barely makes any profit on these jeans. "Honestly, this is incredibly expensive. I know this, but this is what you pay for. This literally is what you pay for: something that is unrivaled, and no one else can do it."
Now, there are more expensive jeans out there. I know Full Count once grew their own cotton so they could have Japanese cotton and Japanese indigo in their made-in-Japan denim, resulting in jeans that cost thousands of dollars, but that's a story for another time.
Except it probably isn't, because Japanese companies seldom give interviews to guys like me. That's why I'm extraordinarily grateful to Tanuki and to Markus for taking the time to speak with us.
The following two tabs change content below.
Nick English
By day: Manhattan-based journalist with reporting experience on four continents, published in Vice, Men's Health, Popular Science, and a bunch of other places.By night: ravenous consumer of anything and everything related to high end men's boots.Stridewise is where I nurture a maniacal obsession with footwear and share my findings. Say hey:
[email protected]
.
Latest posts by Nick English (see all)