Probably the most talked about men's leather bag on Earth, this is the legendary, and slightly controversial, Large Classic Leather Briefcase from Saddleback.
And I'm reviewing two of them.
One of them is my own Dark Coffee Brown bag that I've been carrying around New York City for about 6 months. The other is from my buddy Troy Barmore, who bought his Chestnut briefcase eleven years ago. One could argue that the patina, or how they age, is one of the primary reasons people buy these bags, so I was really fortunate to get my hands on such an old briefcase.
You might have seen Saddleback in the million "is it worth it" posts on Reddit or in their YouTube commercials. According to Saddleback's CEO, he spent three years in a $100 a month apartment in Mexico — while dodging mercenaries — to found the company:

Today, they produce a wide range of bags and backpacks: mostly leather, some canvas, all very heritage. Judging from the number of reviews on their site the Large Briefcase is their most popular bag. It comes with a 100-year warranty, but is it worth it? Let's take a look at the leather before diving into the construction.
Saddleback's Leather
Full grain
Chrome tanned
Pull up
Raw edges
Tanned by Le Farc
Condition with Chamberlain's or Venetian Shoe Cream
At about a quarter inch, this is enormously thick leather and, at 7 pounds, it's produced an extraordinarily heavy bag. (It's not for the faint of core strength — lugging this thing around town might be tougher than you think.)
The leather is full grain, so it's made from the outer layer of the animal's hide, and Saddleback says on their site that the leather's origin
is a trade secret, but we can tell you all of our cows were raised in North American pastures and were raised for meat as well as their hide.
I can tell you it comes from Lefarc Tannery in Léon, because it says so on the front page of their website.
The good news is that Lefarc is one of the best tanneries on Earth. They do a lot of leather for Thursday Boots, Wolverine, Timberland, Sperry, and others.
[Check Out: The Best Leather Backpacks For Men]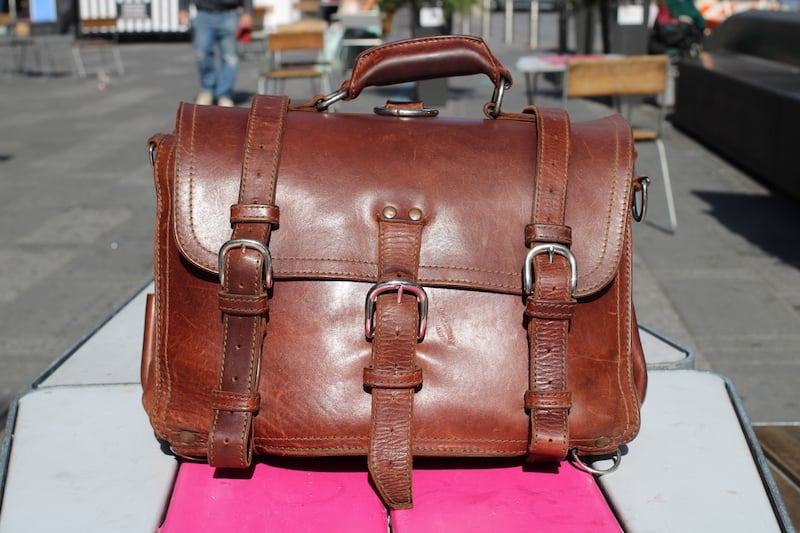 So, it's thick. It's meaty. As you can see above, it has aged beautifully.
I'd be remiss, though, if I didn't note that the leather is chrome tanned, as opposed to vegetable tanned — and there's no shortage of guys who feel that a chrome tanned, Mexican made bag shouldn't be this expensive. You can read more about the differences between chrome and veg tanned leather here, but in short: veg tanned leather takes much more time and money, money, and skill to make. Chrome tanning takes just a day or two, and the chemicals used are harsher on the hide and produce a leather that probably won't last as long as veg tanned, plus some guys think it doesn't look as good as it ages.
You can make up your own mind as to whether this bag has aged well — it has — but even if you think chrome tanned is inferior, you're still getting a 100-year warranty, and you can plainly see the bag is showing no signs of slowing down after eleven years of daily use.
A potential downside of the leather is the raw edges. See how the edges above haven't been rolled, burnished, or finished? That's a cost cutting measure, and as time goes on the edges can become frayed and fuzzy. Personally, I think it works fine with the bag's rugged aesthetic; it's not meant to be a luxury bag, plus Saddleback says the reason the edges are raw is to show that the leather has been tanned all the way through and doesn't have any of the blue you'll see in cheaper chrome tanned leather. So it's intended to be an act of transparency, according to the manufacturers.
But it does save them money as well.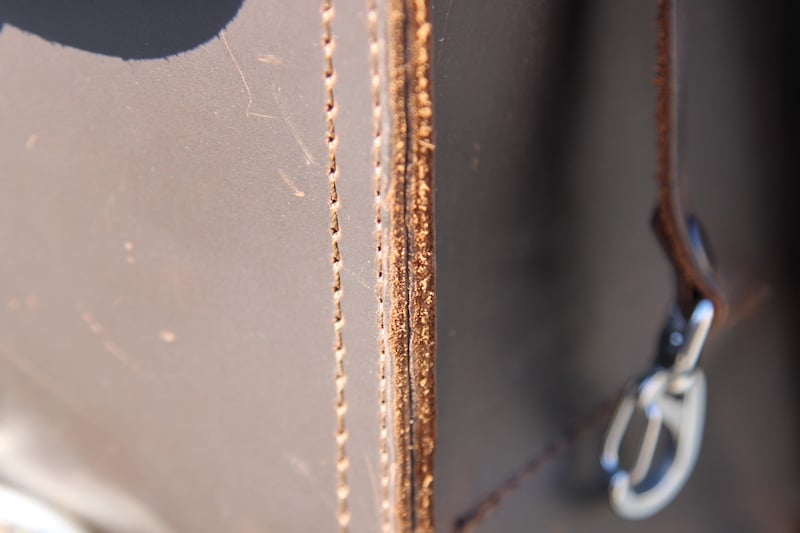 There are also plenty of other aspects of the leather that contribute to the cost besides the way it was tanned, like its extreme thickness, its pull up quality, and the minimal pieces of leather used to make it. Notice that wherever possible, the bag uses one large piece of leather instead of sticking together multiple pieces: there are no seams running down the middle of the bag like you'll see in cheaper leather products that get away with using scraps of leather instead of continuous strips of hide. This means there are fewer places for the bag to tear, but perhaps more importantly, it makes for a cleaner look.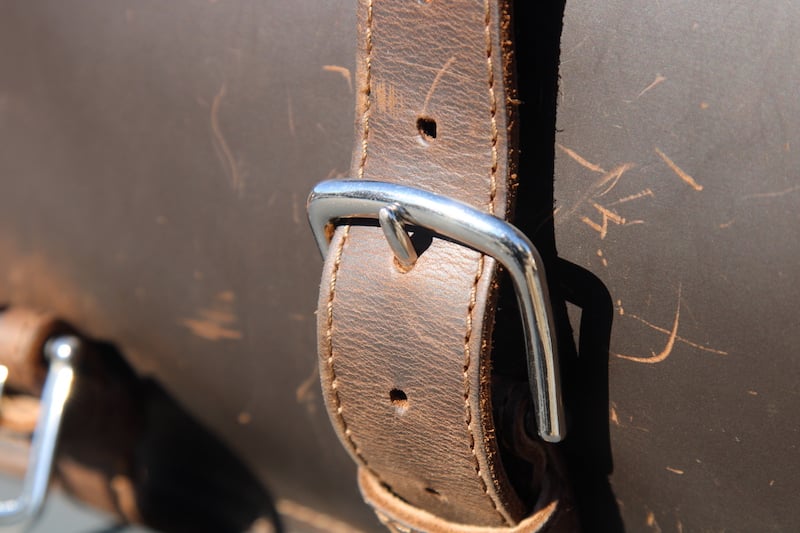 Saddleback Briefcase Construction & Features
Rugged, informal aesthetic
316 stainless steel hardware
Converts into a backpack
~52 pieces of leather
UV-resistant polyester threads

Stress points secured with rivets and polyester
The bag has been updated since the old one was purchased: it now has a two rivet design on the middle strap, the lining is made from suede, and the hardware is a different kind of metal: it's now 316 stainless steel, which is very resistant to corrosion and rust. (Moreso than 304 stainless steel which it's often compared with. It's pricier than 304 because of the extra nickel and molybdenum in it. Yes, I Google a lot of weird things when I write my reviews.)
This is a bag that is so rugged and weatherproof that, sure, it's a little hard to pull off in a formal setting without someone asking if you're trying to be Indiana Jones. But while you might look at this bag and think it's very busy, and indeed Saddleback proudly calls this bag "over engineered," note that there are no zippers, snaps, buttons, or magnets — in other words, nothing breakable.
The straps are all single pieces of leather, which is a little pricy to do; cheap Wal-Mart belts, you might notice, are often multiple pieces glued together. In a pinch, you can even turn a strap into a 36-inch belt.
The D rings and bridle rings you see above are for strapping on blankets, dirty boots, fly rod tubes, or for dangling a water bottle from a carabiner. Or lashing it to your horse while you're delivering the mail in the 19th century. You can even thread the shoulder strap through the rings to turn it into a backpack, which is very useful if you're going a long way with this bag, particularly since it weighs seven pounds empty.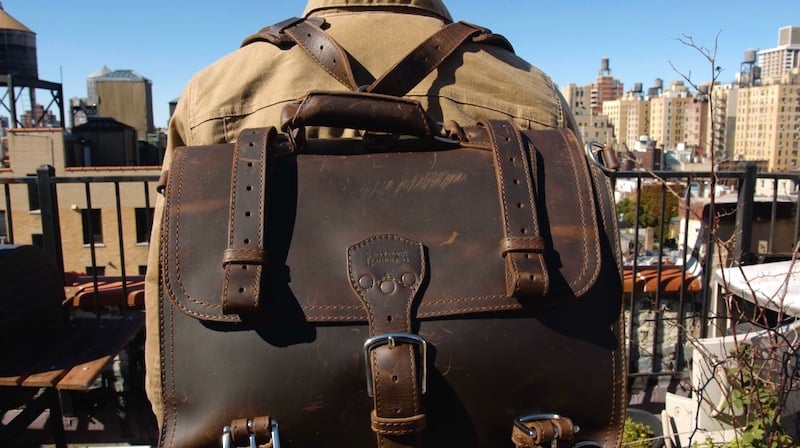 The Thread
This bag is about 52 pieces of leather (all cut by hand) and the thread is ultraviolet resistant marine grade polyester. Apparently, you want your polyester to be saltwater and UV resistant, as it can deteriorate in the sun. Sure, polyester is "synthetic," but you don't want cotton if you want to get a hundred-year-old bag; it's not strong enough.
Note that the bag is stitched with five stitches per inch, which is relatively low density. This means there's more leather between the holes and the stitching is less likely to mess with the leather's integrity.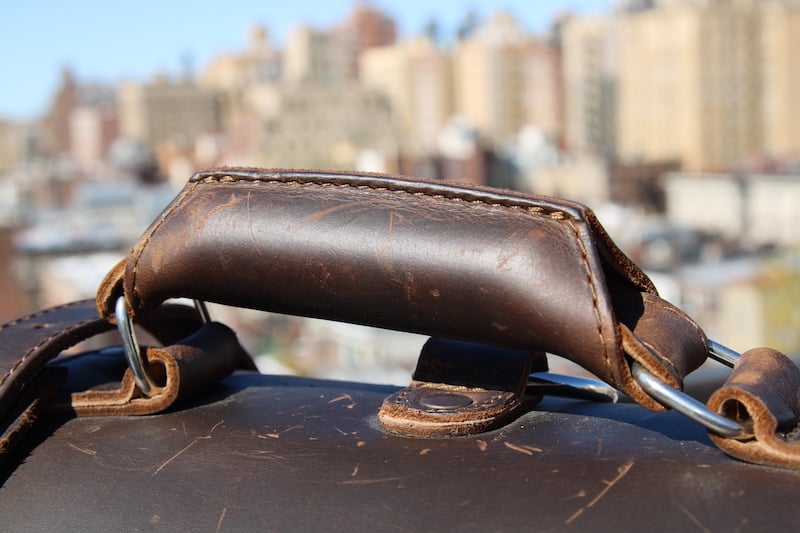 Speaking of polyester, there are extra polyester strips hidden under the leather in stress points throughout the bag, like on the central buckle and under the handle. This is because leather stretches and polyester doesn't, so it helps to keep the bag from losing shape over time. (It's a construction technique borrowed from saddlery, which might be where the name of the company comes from.)
The Rivets
A little Leather Bag Making 101: you want rivets at stress points to bear weight minimize the odds of stitching coming undone. Saddleback has dutifully punched them at the very ergonomically round leather handle, which is reinforced to a bar on the top of the bag, and also there are rivets at the D rings and bridle rings.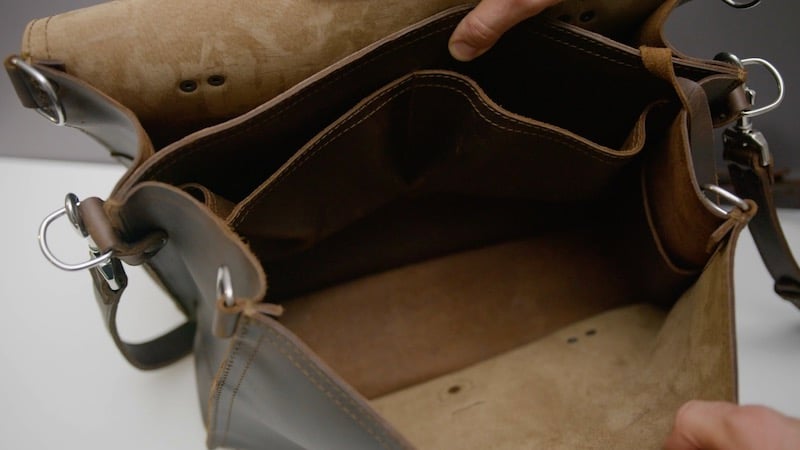 Saddleback Briefcase Interior
Lined with pig suede
Divided into two compartments
No laptop sleeve
False bottom
The biggest downside to the bag, in my opinion, is this big divider running down the middle of the interior, which limits the stuff you can keep in the bag. If you want to bundle up a big coat or carry a pie, you can't. The second biggest downside is there's no laptop sleeve, so the inside of the bag is a tad disappointing.
But I love the tough, pigskin suede lining, and there are plenty of extra pockets and a key holder to boot. Another cool feature is the false bottom in the rear compartment: you can lift up a flap of suede to stash your passport or cash out of sight.
[Love heritage style bags? Check out my review of Jack Ryan's backpack, the Filson Journeyman]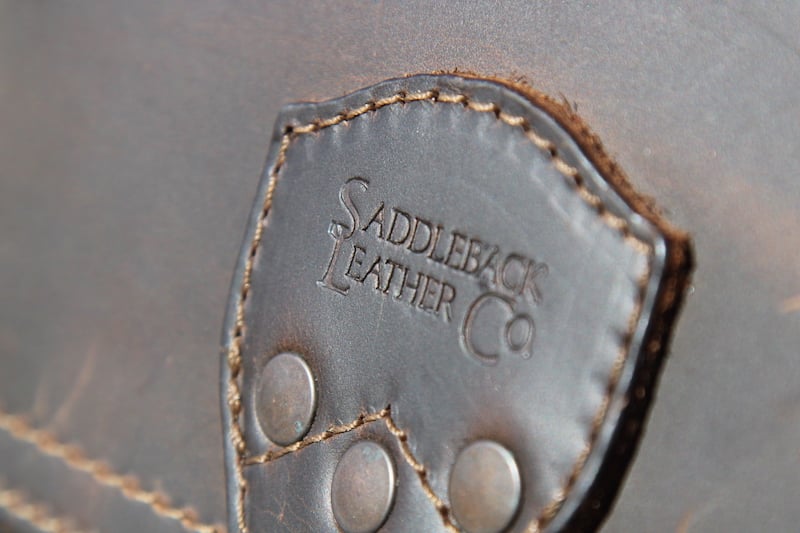 Saddleback Leather Briefcase Price
$689.
Very expensive. It was about $500 when the old bag was purchased a decade ago, and that price increase is double what it would be if it were just increasing from inflation. Like I said earlier: for a chrome tanned bag made in Mexico, many consider that a ripoff.
I'll say this: While it is made in Mexico, the company has quite a facility. Workers get free childcare, finance and relationship management classes, and English lessons, plus they're paid well above a living wage. The business owners engage in a lot of philanthropy. (A lot of it is missionary work, which some guys aren't as jazzed about, but I'm not going to take a stance on that one.)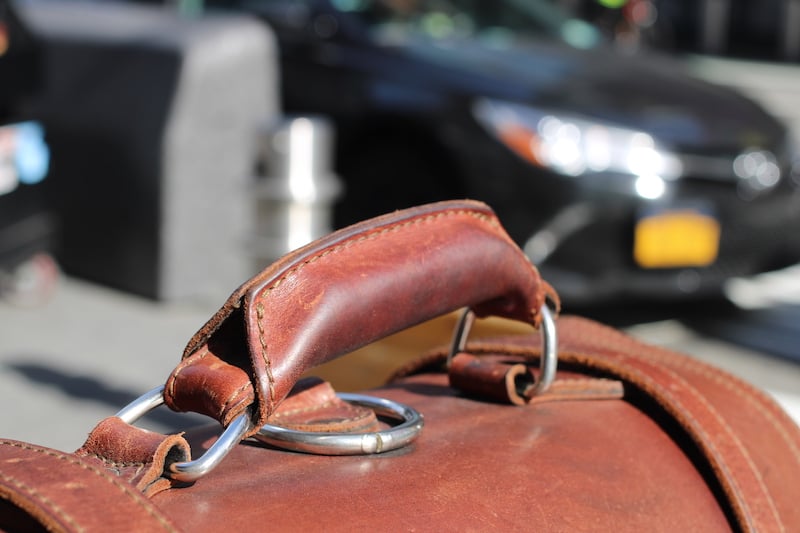 And look: the bag is very well made. It's chrome tanned, sure, but the leather is so thick, it's full of rivets and ultra tough polyester, there's a 100-year guarantee, and I even showed it to my buddy Tyler, who has his own leather bag company called Home Field Advantage. He said of this bag:
It's a beautiful, rugged bag crafted with full grain leather. No bells and whistles like zippers and snaps, just an all round durable and strong bag that will last a lifetime.
And this is a guy who only works with veg tanned leather. He still adores this bag.
Is it worth 689 bucks? I mean, it's still made in Mexico and it should probably be a hundred bucks cheaper, but it's a cool bag and you can give it to your grandkids. That's worth the markup to some guys. You can check out the 11-year-old bag and decide for yourself.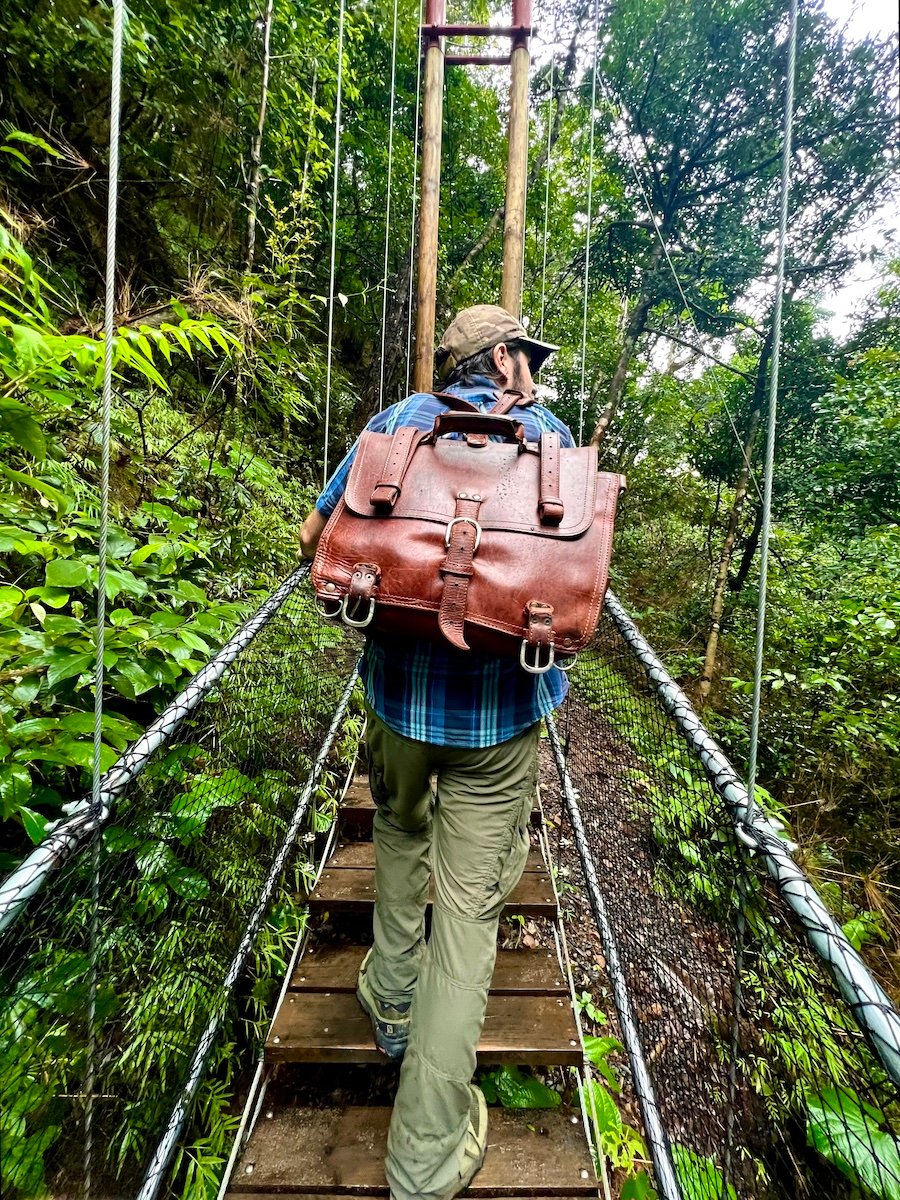 Saddleback Briefcase Pros & Cons
Pros
Tough as nails
Patinas well
Won't lose shape
Rings/buckles won't rust
Ergonomic handle
Cons
Not dressy
Some don't like the chrome tannage/Mexican origin
Unfinished edges
Heavy
Divider/lack of laptop sleeve limit storage
A little noisy from all the buckles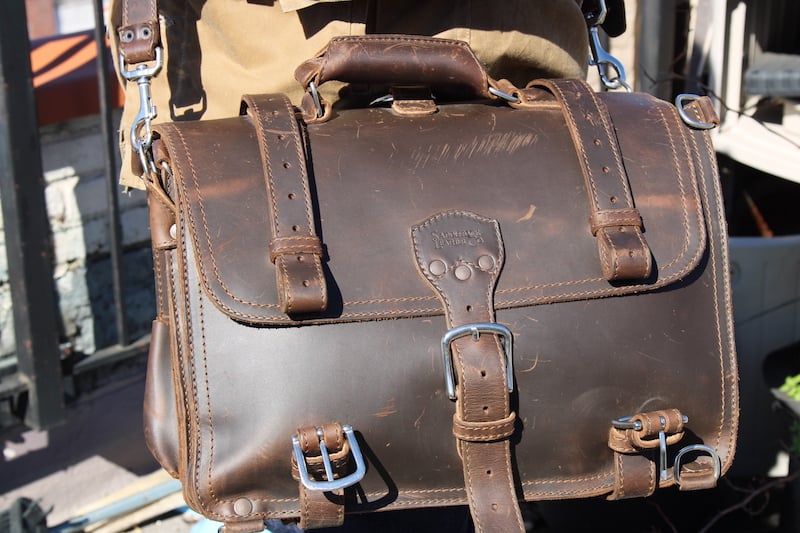 Why buy this bag? It'll last a hundred years and it'll look great while it's doing it.
I mean, that's the whole thing. The leather's crazy thick, the rivets and stitching are all super long lasting, the hardware won't rust. I dig the pigskin lining and the false bottom, the rings let you lash all manner of crap to the outside and they let you turn it into a backpack, the handle feels great in your hand even when it's heavy.
Plus, look at this 11-year-old bag. It looks cool as hell. This is what people want when they get a leather bag.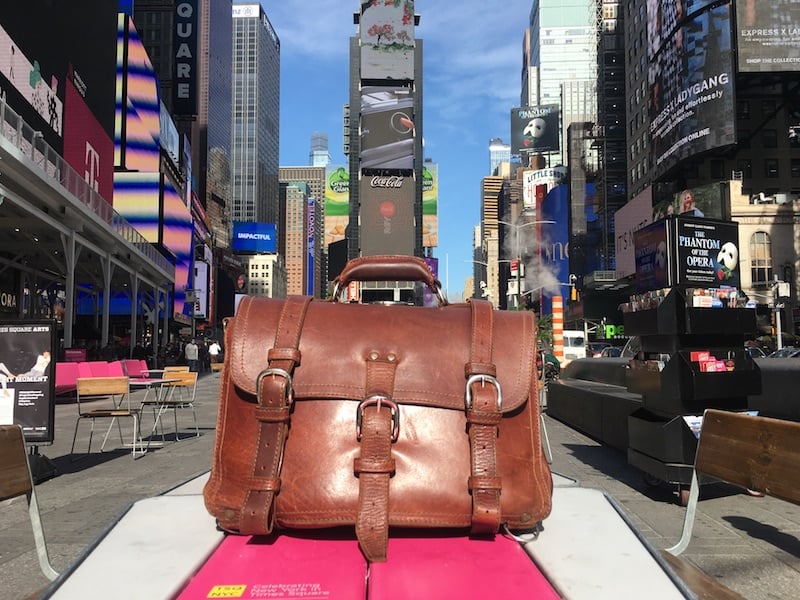 As for cons? Well, it's not a dressy briefcase. Don't take it to formal environments.
It's very expensive and it's made in Mexico, but the craftsmanship is top notch. It's chrome tanned, so it won't age like veg tanned leather, if that's a priority. It's got. pretty big logo above the front buckle, which I don't love. The edges aren't finished, it's noisy, there's no laptop sleeve, and it's heavy.
But it might be the coolest casual leather bag you can buy. Saddleback deserves their slogan: "They'll fight over it when you're dead."