Whether you're true blue, honest-to-God cowpuncher, or a Brooklyn hipster looking to add a little bit of Western flair into your folksy wardrobe, odds are you've heard of Tecovas.
There are so many new brands popping up every day following a seemingly similar model" create a shiny new, direct-to-consumer brand, market yourself as a fresh, new product cutting out high markups, and then slowly establish your own brick-and-mortar retail.
This is, essentially, how Tecovas began. Amidst all of this enticing and allegedly disruptive marketing, it can be a little bit of a challenge to tell what is in fact a good value, and what is made cheaply and advertised expensively.
We can settle that question right up top: Tecovas makes great boots.
So Are Tecovas Worth It?
If you're in a hurry or don't have the desire to work your way through a whole review, that's the takeaway. Do you want really solid-quality, Western-style boots that aren't dreadfully expensive? Then you should probably buy some Tecovas.
The Subtle Cowboy Boot
Tecovas' Earl Roper Boot
The bestseller from the most talked about Western boot brand, the Earl has a subtle, casual style that can be worn anywhere.
Check Best Price
We earn a commission if you make a purchase, at no additional cost to you.
Pros
Full grain leather from Lefarc is of a quality we've come to expect
Traditional construction method results in a classic Western-style boot, rather than a hybrid
Virtually no break-in period
A wide variety of exotic hides are available (though at a premium)
The shorter 'roper' style heel is a little less dramatic than on a normal cowboy boot
Available in half sizes in wide widths
Cons
Western styling can be polarizing and feel a bit out of place in some environments
EVA foam component of the insole is not replaceable, which could become a headache down the road
The Earl might be a bit too simple if a full-on cowboy boot look is the goal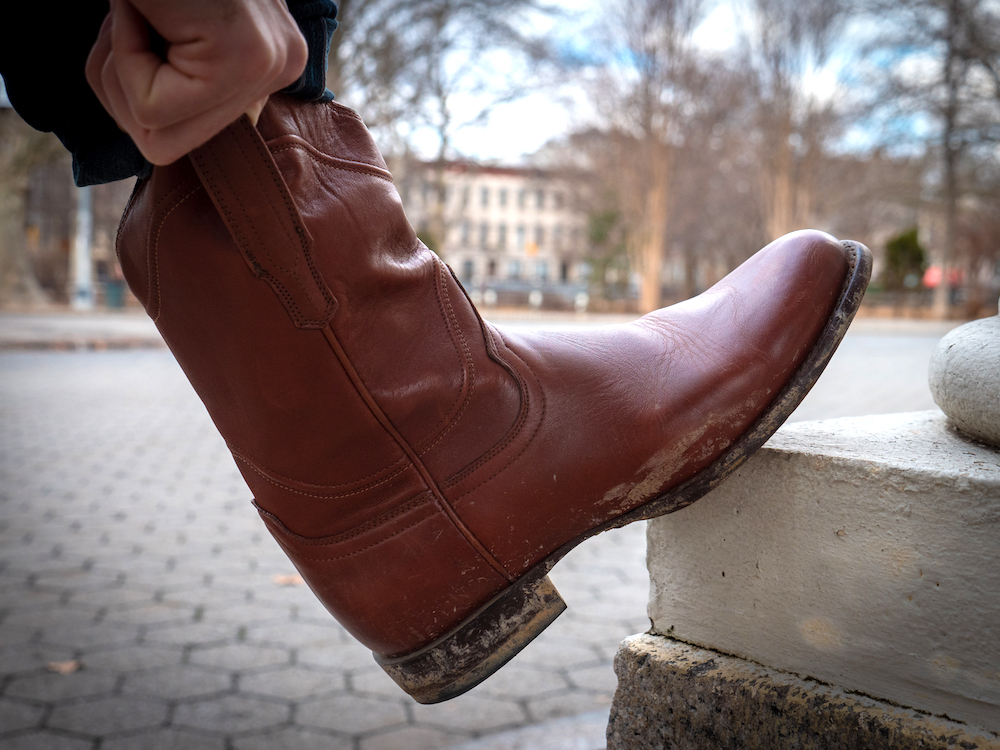 Tecovas – The Brand
Based in Austin, TX, Tecovas was started by Paul Hendrick, a Harvard graduate and former business/financial analyst. While the company initially started as a direct-to-consumer company specializing in cowboy and Western-style boots, they have since expanded to brick-and-mortar retail spaces across 16 states, offering clothing, leather bags, accessories, and a more work-focused collection entitled 'Ranch Wear'.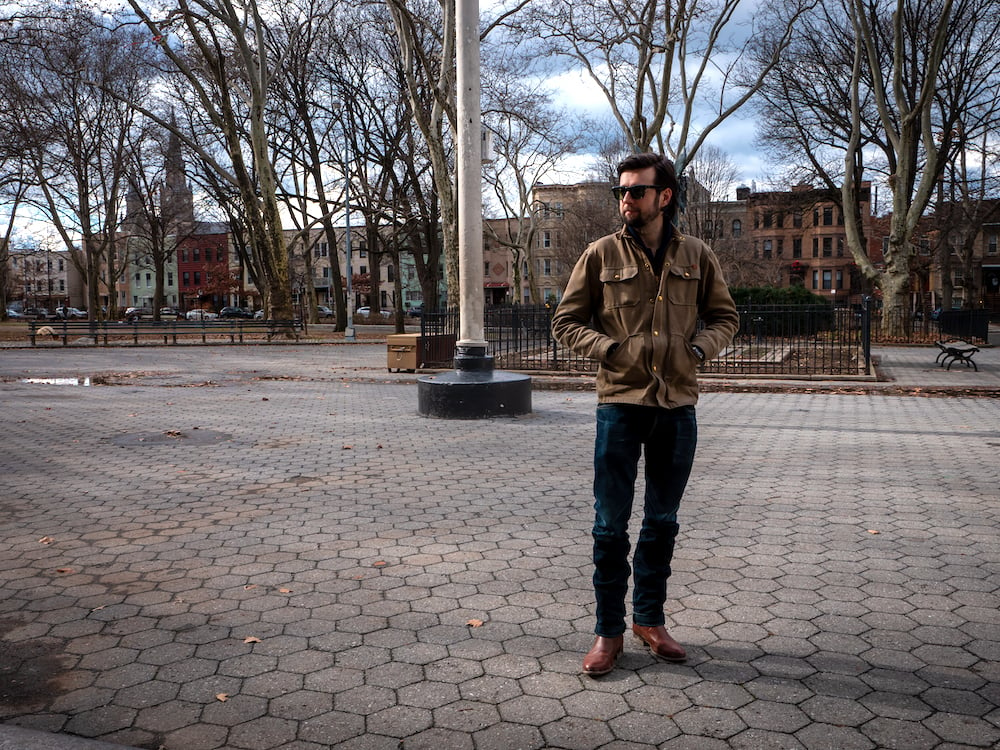 The Earl Boot
10″ shaft
Shorter heel than more ostentatious Western boots
Unadorned, simple, slip-on look
Tecovas offers a few different combinations of boot designs, but in essence, it breaks down to a combination of round or square toe, and short or tall heel (a few more variations include a wedge sole, zipper shaft, and Chelsea.) From there, each style is defined by a combination of design features and a different hide. While some of the boots can get pretty fancy with more exotic hides or ornamentation (also resulting in an increase in price) the most simple and understated of their designs is the Earl.
Made in several colors of bovine leather and a famous Scotch Goat, the Earl is a classic, Western-style roper boot with a 10-inch shaft and a flat, 1 1/18th-inch stacked heel.
Now, the 'roper' style boots differ from a more traditional cowboy boot in that they have a shorter, less dramatic style heel as compared to the slanted style normally associated with a cowboy boot, as well as a shorter shaft that comfortably fits under slightly more fitted jeans. This results in a more casual, perhaps more accessible style for those that don't want to go full-on yeehaw with their boot.
Tecovas Construction and Materials
Excellent leather from a world renowned tannery
Resoleable, Goodyear welt construction
Shock absorbing EVA foam insole
Stacked leather heel
Fully leather lined for comfort
The Earl is made from calfskin leather in Mexico at Lefarc. Now, we've talked about Lefarc a number of times, as they are the tannery behind a number of our favorite companies like Thursday and Saddleback, among many others. Long story short: Lefarc makes some excellent leather. Certainly, there are other elements involved, but generally, if you know leather is coming from Lefarc, you're off to a pretty good start.
The Earl is built in a fairly traditional cowboy boot fashion, with a slim shaft and relatively fitted toe box that pinches towards the middle of the foot. The lining is a smooth cowhide with the footbed liner made from a similar hide with a bit of EVA padding underneath the heel for added immediate comfort and extra shock absorption.
From there, the sole is constructed with a combination of stacked leather, cork, and a metal shank with a flared plastic coating of sorts, resulting in a slight fiddle waist shape. Along that waist is a double row of lemonwood pegs which further secure the sole.
Using wooden pegs is a very traditional manner of building a cowboy boot, but Tecovas does also use some additional brass nails beneath for added reinforcement. The benefits of wooden pegs vs nails is frankly a far more detailed and nuanced debate, better suited for cobblers than us. In any case, it's a charming feature that has held up well enough.
The 1 1/8th stacked heel is a combination of rubber for the cap, four layers of thick leather, and a plastic piece that meets the upper. The rubber heal cap is very thick and provides a nice amount of supper and an added bit of traction, considering the rest of the outsole is also leather.
All in all, it's a very nicely built boot, with clean details and even stitching through both the welt and the mild ornamentation along the shaft. As the boots have gotten more broken in, a few loose threads have appeared here and there, but these all seem to be fairly cosmetic – nothing suggesting that anything is coming apart or failing.
Tecovas Sizing and Comfort
Order down from your true size (possibly a full size from your sneaker size; get measured on a Brannock)
D and EE widths available
Like our initial thoughts on Tecovas, we can be fairly frank here – these boots are super comfortable. From the very first moment, the footbed was soft and supple and only improved as it began to form the shape of the foot. It's a fairly rare thing to be able to say, but in terms of the usual battle of breaking in a boot, these had virtually no break-in period at all.
In terms of sizing, the Earl is available ranging from 7-15 with most half sizes and both a D and EE width. Going about a half size down from your Brannock size should do the trick. Now, much like a Chelsea or a Jodhpur boot, a cowboy boot is going naturally fit differently than a normal laced boot, in that your heel will lift a bit in the boot as your walk along. This is normal to a certain extent, as long as your foot is not sliding forward into the toe box or, the inverse, jamming itself into the front of the toe box. While the heel does sink in touch with wear and break-in, a good fit should be fairly obvious from the get-go.
With that having been said, a brand new, stiff pair of cowboy boots can be a touch tricky to put on and even tougher to get off. The trick really is to not be sitting down when putting the boot on but instead to stand and use the pull tabs, allowing your foot to slide into place. Once in, you should feel relaxed but secure.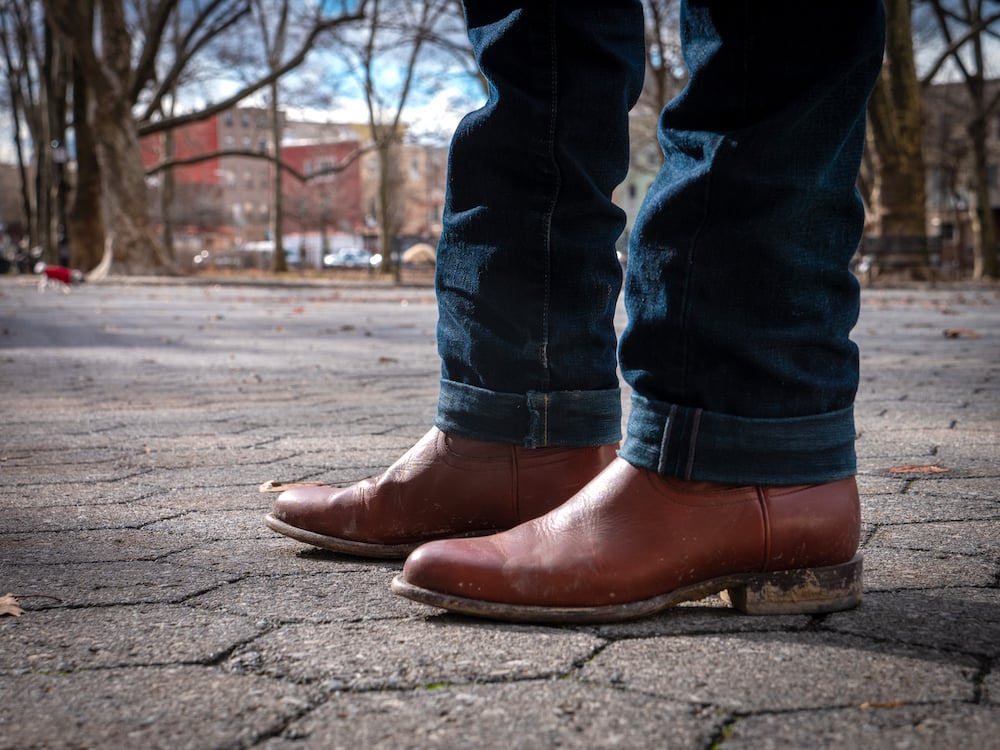 Tecovas Earl Boot Price
At $265 dollars, the Earl offers remarkable value for a resoleable boot. Considering the quality and finishing presented here, the price feels completely fair. Many other options are available with more exotic hides and more detailed decoration, all of the course increasing the price, but in terms of a basic, no-nonsense Western-style boot, it's really hard to go wrong with the Earl.
The Subtle Cowboy Boot
Tecovas' Earl Roper Boot
The bestseller from the most talked about Western boot brand, the Earl has a subtle, casual style that can be worn anywhere.
Check Best Price
We earn a commission if you make a purchase, at no additional cost to you.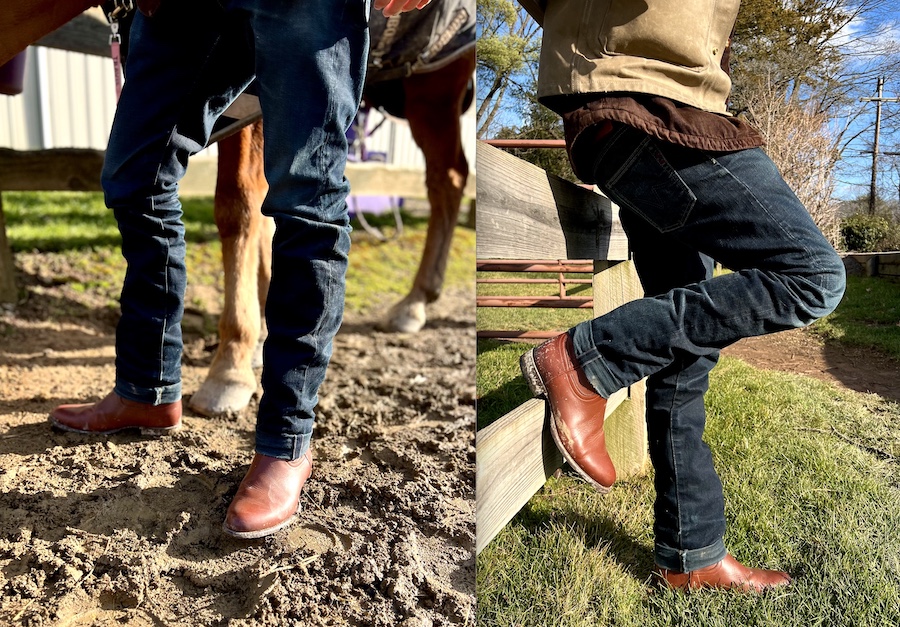 What To Know Before Buying The T
ecovas

Earl

The Earl is one of the more subdued cowboy boots on the market. If you're looking for an ornate boot that looks like it could be seen at the rodeo, then the Earl isn't it. (Consider one of Tecovas' true cowboy boots.)

There aren't any embellishments or medallion decals on the toe, which is excellent if you plan on wearing these in the big city. They will not draw too much attention and will not distract from the rest of your outfit.

Despite their clean design, one potential drawback of these boots is that they have leather soles. I called this a potential drawback because while some people prefer them, others avoid them. Leather soles have their benefits, such as being more flexible, and breathable, and helping keep a boot sleek. However, they are not as supportive or offer as much grip whenever it precipitates.

This leads to our next point that the Earl may not be the best work boot. Once again, with the leather soles, you might find physical work to be a little harder whenever it rains or snows. That said, I used the boots on the farm (above) several times without issue: it's very water resistant and comfortable, it just isn't the best on ice.

Tecovas does make a more work-oriented cowboy boot called the Bandera. The Bandera is a taller boot with much higher heels and rubber soles. The elongated heel gives your feet better arch support on long shifts and the rubber Vibram soles are lugged for enhanced traction.
Tecovas Earl Alternatives
If Tecovas sold out of your size or if you want to check out other brands, here are some alternatives that might be of interest.
Thursday Boot Co. – Frontier ($220)
The Urban Cowboy
Thursday Boot Co. Frontier
Available in four leathers and an understated aesthetic, this roper boot is the best value cowboy boot you're likely to find.
Check Best Price
We earn a commission if you make a purchase, at no additional cost to you.
Thursday Boots began selling cowboy boots not too long ago. They have three styles out at the moment but the one that is the most similar to the Earl is their Frontier boot.
Thursday's Frontier offers everything that you would expect from the brand's lineup and is quite similar to Tecovas with the Poron foam, roper style, and welted construction. Here are some key specs.
Goodyear welted construction
Fully lined with glove leather
Poron® Antimicrobial Shock Absorbing
Cork-Bed Midsoles and steel shank
Leather outsoles
Made in Mexico
Lucchese – Tanner ($795)
Home Grown Luxury
Tanner's Lucchese Boot
If you want a real institution in American boots, Lucchese is handmade in Texas to the highest standard — and one of the highest prices.
Check Best Price
We earn a commission if you make a purchase, at no additional cost to you.
This is a brand that has a long history of making cowboy boots. As a matter of fact, they've been crafting since 1883. They're considered high-end in the cowboy boot world so prices will be a little higher than Tecovas.
The Tanner boot is one of Lucchese's roper boots. The brand has over a dozen styles to pick from but the Tanner is the most similar to the Earl. It is minimalistic and has a shorter heel that is perfect for city folks. Here are some key specs.
Goodyear welted construction
Fully lined with glove leather
Leather outsoles
Stacked leather heels
Made in Texas
Ariat – Heritage Roper ($159)
Thrifty Style
Heritage Roper Western Boot | Ariat
Ariat's flagship roper boot can't be resoled, but the price is right and it's just as at home in the barn as under nice jeans in a restaurant.
Check Best Price
We earn a commission if you make a purchase, at no additional cost to you.
This brand carries a ton of western work boots and equestrian boots. They stand out because they have some of the most comfortable insoles in the footwear space. The Ariat ATS insole system is engineered to help you stay on your feet for hours on end. It consists of a moisture-wicking liner, molded orthotics, and a Gel-cushioned forefoot with a heel pad.
Like the rest, this is a shorter cow boot. However, unlike the Tecovas, Thursday, or Luccheses, these Ariat roper boots have rubber soles and isn't Goodyear welted. But the rubber soles do make it more suitable for you to do work in them.
Here are some key specs.
ATS® lightweight forked shank for enhanced support
Durable barnyard acid-resistant Duratread™ sole
Fully lined with glove leather
Available in B, D, and EE widths
The Takeaway
As previously mentioned, Tecovas makes great boots. From the first moment, the Earl was instantly comfortable, even if it put up a bit of a fight getting it on. Having worn them in a variety of environments from walking around New York City all day to spending the day out at a horse barn mucking out trailers, the Earl has been comfortable and reliable.
What we can say is that if you want a little bit of Western flair in your boot wardrobe, you could do a hell of a lot worse. The Earl is fantastic.
Frequently Asked Questions
Are Tecovas high quality?
Yes. Unlike most boots at their price point, they are Goodyear welted so that they can be resoled, while the full grain leather upper will last more than long enough to need it. They will last you for years if they are well taken care of.
Do Tecovas break in?
All leather footwear will break-in over time. However, with Tecovas, the boots are more comfortable out of the box because of the EVA foam insole. We didn't experience a break in, but while some customers will, the materials don't lend themselves to tough break ins the way that many heavy work boots are.
Is Tecovas made in USA?
No, Tecovas boots are made in Leon, Mexico.
The following two tabs change content below.
Troy Barmore is a watch, luxury, and heritage goods specialist and writer based in New York City. Growing up in the mountains of Colorado, Troy has had a passion for subtlety and detail since childhood. Whether it be denim, leather, eyewear or watches, he has made the study of quality goods a lifelong focus.
Latest posts by Troy Barmore (see all)