Founded in 2015 as a direct to consumer cowboy boot manufacturer, now with an ever growing amount of brick and mortar stores, Tecovas has been taking the cowboy boot world by storm as of late. They have an excellent marketing team and I see more ads daily for Tecovas than any other cowboy boot company out there. Not only are they good at marketing but they also offer their boots at a very affordable price, many of which cost less than $300.
We've reviewed their casual Earl boot and women's Annie boot, but this review will focus on the Stockton, their Roper boot they describe as "Ready to work," their "most functional and durable roper yet," because "you'll work hard in them." They're Tecovas' work boots.
Some of the things we'll cover in this review are: Can you work in the Tecovas Stockton? Is the Tecovas Stockton comfortable? How are they made?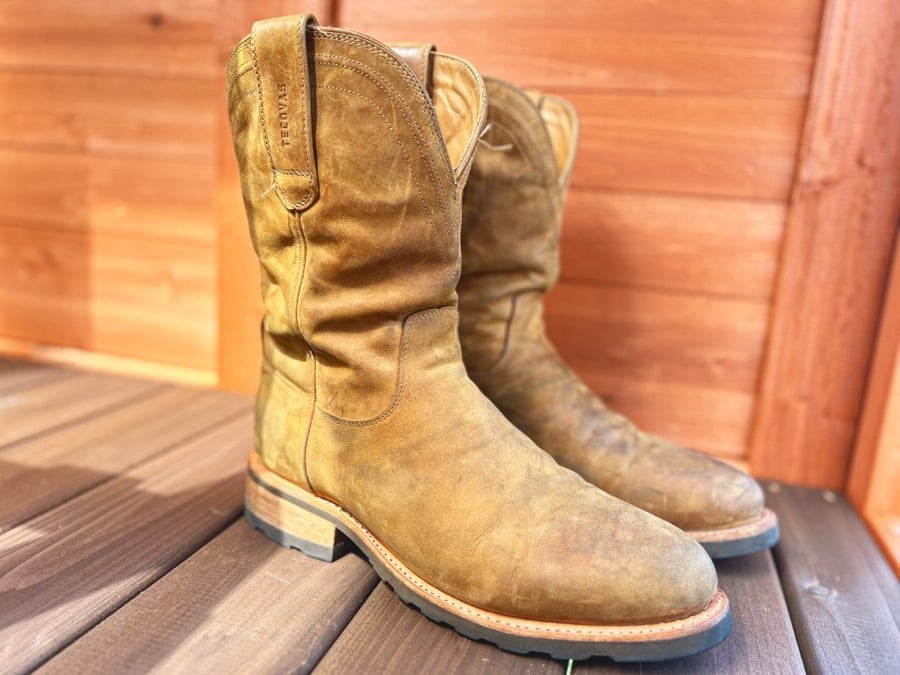 Pros and Cons
Before we get into the review, here is a quick pros and cons list if you don't have time to read the full review.
Pros
Great value (under $300)
Can be resoled (Goodyear welt)
Quality leather
Removable insoles
Good arch support
Great traction (Vibram outsole)
Cons
No ASTM certifications
Lengthy break in
Dye on leather liner stained socks
Shaft lining stitched over heel counter rather than behind it (caused rubbing on the heel)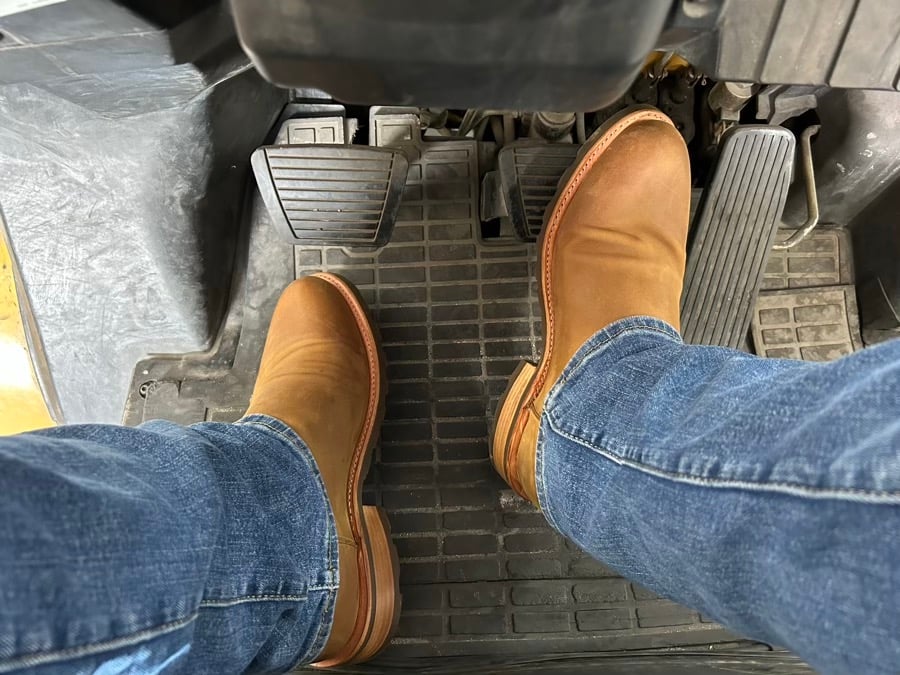 How Did I Review the Tecovas Stockton?
For my day job I do sheet metal fabrication and welding. So when I review boots that are geared towards work, I wear my boots to work and put them through their paces and see how they handle everything that kind of environment can throw at them.
Where Are Tecovas Boots Made?
While Tecovas is based in Texas, the Stockton boots are handmade in León, Mexico. León is well known for being home to Mexico's best boot makers, much like the Pacific Northwest here in the States. Many popular boots such as Thursday Boots are made in Mexico and even Drew's Boots (a PNW boot maker) has an affordable line of loggers produced in León. What I'm getting at is the Stockton is a good quality boot that's made by people with a high degree of boot making skills.
How Is the Tecovas Stockton made?
This is where I could spend hours talking, but I'll keep it pretty concise and to the point. So let's see just how Tecovas makes the Stockton, what materials they use and if they are full of synthetic materials or if it's a more traditional build using lots of leather.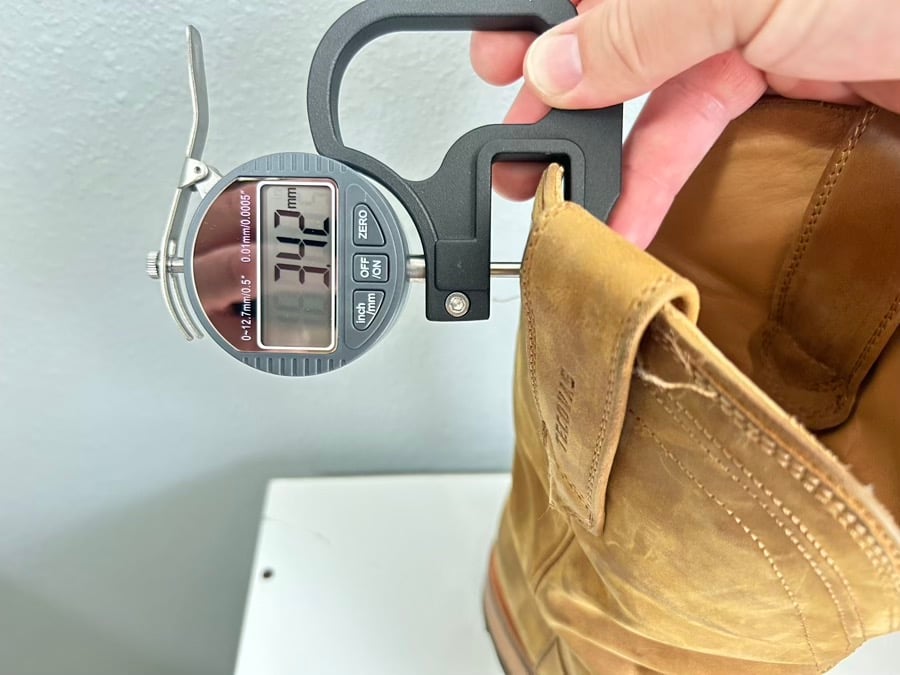 1.1 The Leather
Bison or bovine options
Very good quality, will age well
3.42mm thick, including liner
The Stockton comes in two leather options: Chocolate Bison and Straw Oiled Bovine. I picked Straw Oiled Bovine, a fancy way of saying it's oiled nubuck from a cowhide. Quite frankly, this leather looks really good in my opinion, and I can already tell it's going to patina very well.
Inside the boots is a very soft and supple bovine leather liner. I was honestly surprised that the leather liner didn't make the boots feel hot or make my feet sweat excessively. It is heavily pigmented/dyed and for the first few days the dye they used for the leather stained my socks.
As far as thickness goes, Tecovas couldn't tell me how thick the leather is or what thickness range they aim for. So I put my leather caliper on them, and it looks like you have 3.42mm of leather between the liner and the leather upper protecting your feet from the outside world.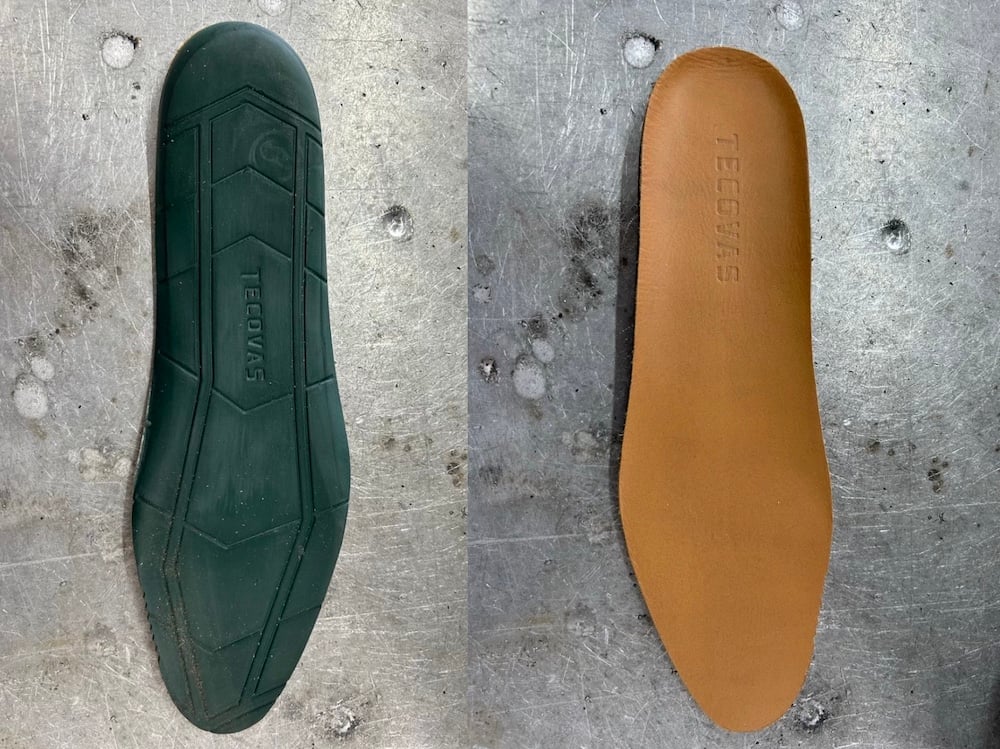 1.2 Insole and cork
Leather insole topped with shock absorbing foam
Goodyear welt with cork filling
The Tecovas Stockton has two insoles: A removable leather topped polyurethane insole, which we'll talk about later, and a non removable insole/lasting board. We're going to focus on the latter for this part of the review.
If I understand Tecovas's website and my multiple emails with customer service correctly, the Stockton features a leather insole/lasting board that is topped with foam and then a thin(very thin) leather lining over the foam. There is also a leather half sock liner glued over the heel which tapers off at the arch area of the boots. Underneath all of that is a layer of cork to fill in the void created by the welt.
I like how they did the insole for two reasons. First the cork and leather will form to your foot shape much better than a synthetic insole will.
Secondly, the foam topped leather insole and half sock liner allow you to wear the boots very comfortably with the removable insole out. This gives you the option to comfortably wear thick wool socks in the winter months and adjust the fit some.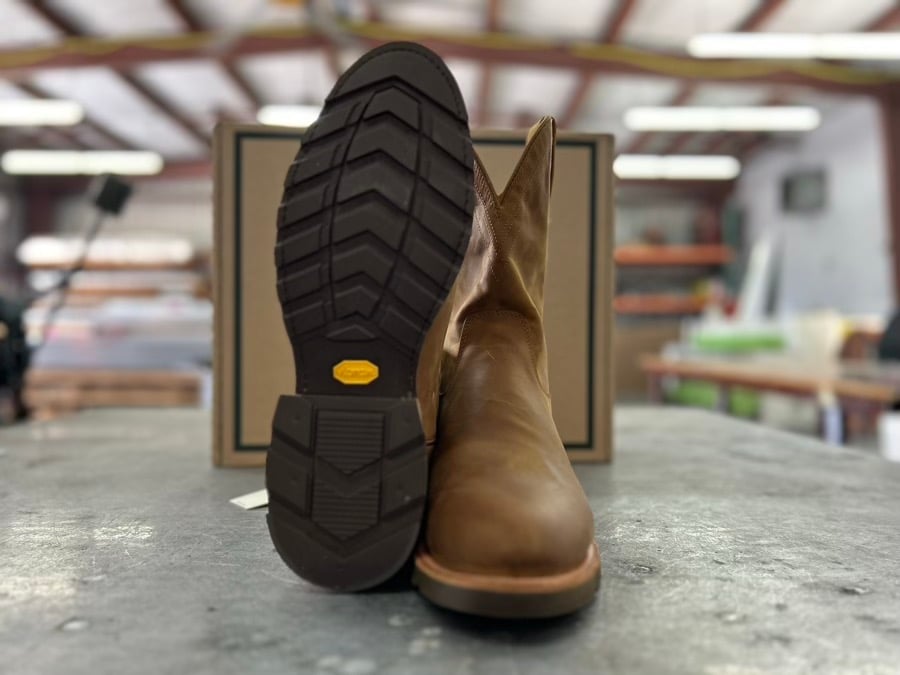 1.3 Welt and Outsole construction
Goodyear welt construction
Water resistant and resoleable
No midsole, for better flexibility
Running around the perimeter of the boots is a 270°, or ¾, stitched leather welt. So if you were wondering if you can resole the Stockton, the answer is a resounding yes! It's very rare to see a Goodyear welt at this pricepoint.
There is no midsole here: under that leather welt is a custom Vibram outsole stitched directly to the welt. You may think it's weird to not have a midsole but many boots (like the Red Wing Iron Rangers) have the outsole stitched directly to them, which allows for a greater degree of flexibility than you would normally have on a boot with a midsole.
Moving on to the heel, Tecovas is using a stacked leather heel that is nailed down like traditionally made cowboy boots. At the bottom of the heel stack is a piece of 9mm thick rubber that helps with shock absorption as you walk and helps to add a bit of traction.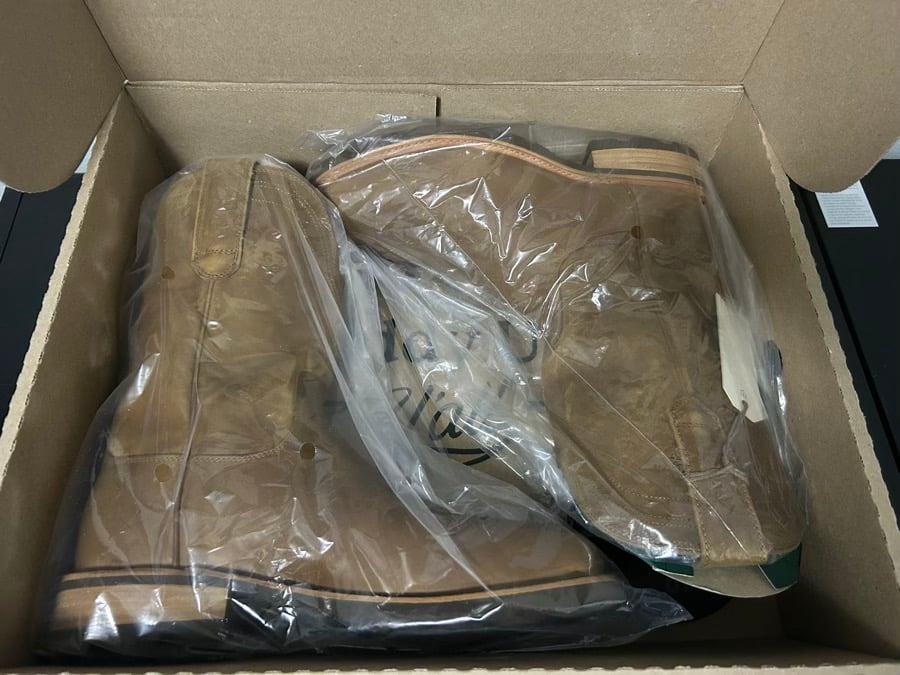 Tecovas Stockton Boots Comfort and Break In
Now that we know how they are made, let's see how comfortable they are and if you can expect a break in period or if they are ready to go right out of the box.
2.1 Leather topped removable insole
Firm for a polyurethane insole, but molded to the foot after a week
I'm honestly not the biggest fan of the removable insole. While the leather top was nice, the polyurethane bottom was very stiff and firm. Usually polyurethane insoles are a little squishy but that wasn't the case with these. It did, however, form to my feet a bit and I had a visible foot impression in them after about a week of wear.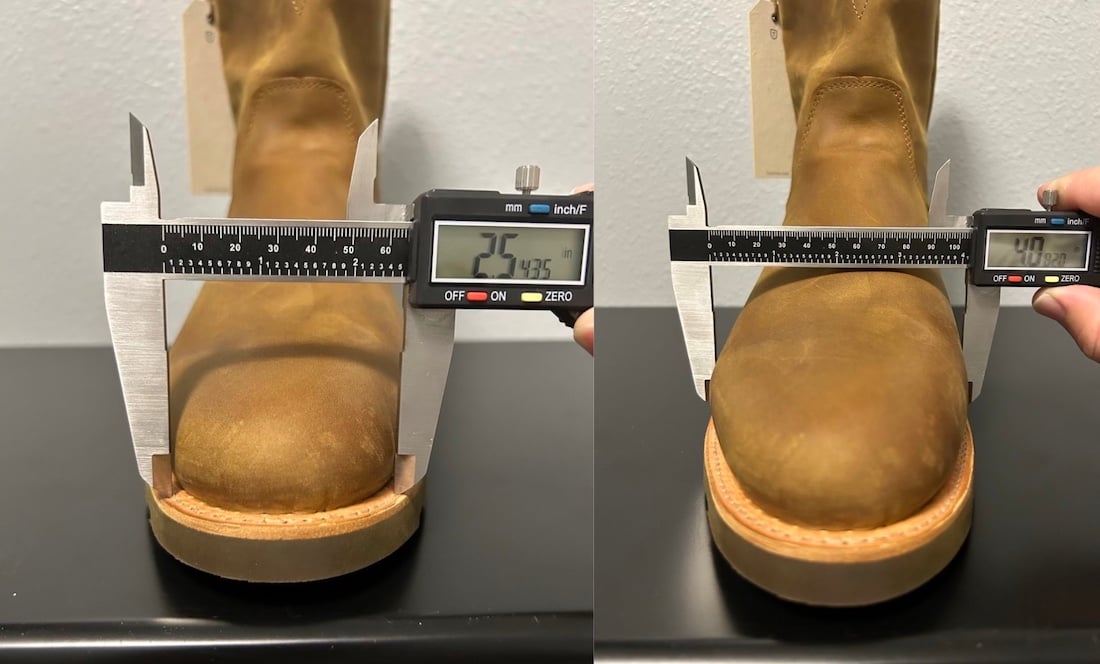 2.2 Toe Box
Roomy, but not a lot of vertical space
Coming in at 4 inches wide, the toe box was roomy enough to wiggle my toes some, but there isn't a lot of vertical space which creates a very snug fit despite the fact that the toe box isn't quite as pointy as some of the other Roper/cowboy boots out there. However, this style of boot does need to have a snug fit to help them stay on your feet and prevent excessive heel slip.
2.3 Arch Support & Heel Height
Good for moderate arches, not for high arches
The arch support is pretty decent. Tecovas says on their website that if you have high arches you should consider one of their other boots. I expeceted a little more of an arch for a boot with a 1 ½ inch tall heel stack, but they worked great on my moderately high arches.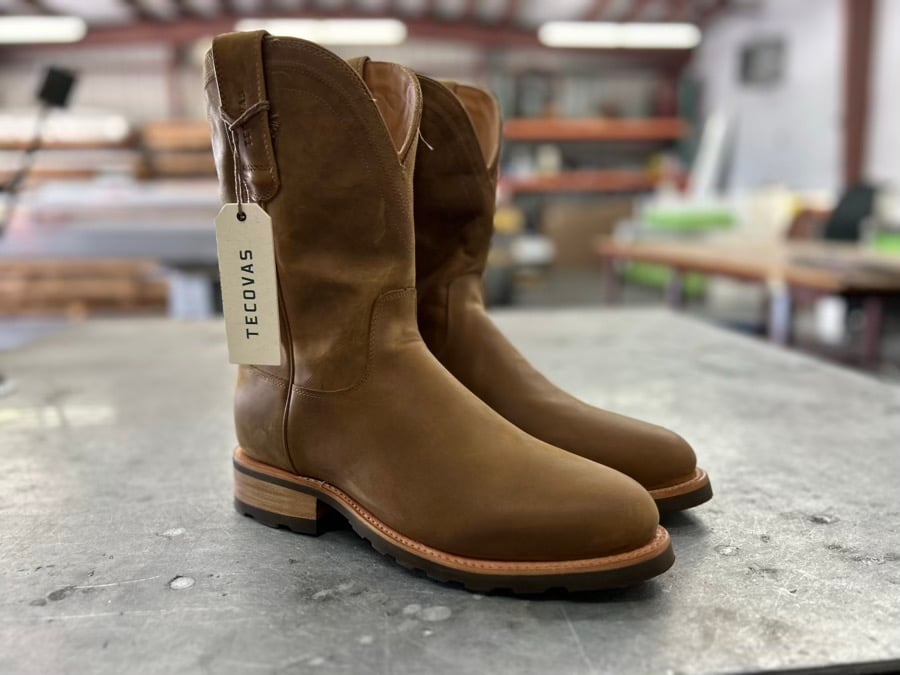 2.4 Break in
Tough break in
Stiff insole and tight shaft contribute
The break in was much longer than I was expecting. I'm not one to wear my boots for small amounts of time around the house to try and break them in, I like to go all in and commit and just wear the boots every day.
And let me tell you, my feet were hating me.
It's not that the boots weren't flexible or that they were too tight, it was how stiff the insole was for that first week.
The shaft was also extremely tight, to the point I had to buy a boot jack to help me get them off. I also tried the "shopping bag method": I placed the bag along the back of the shaft inside the boot, then slid your foot in, and pulled the bag back out. It's a little difficult to do, but it keeps you from wearing plastic bags all day.
With all that said, now the boots are broken in, I can easily slide my feet in and out of the boots.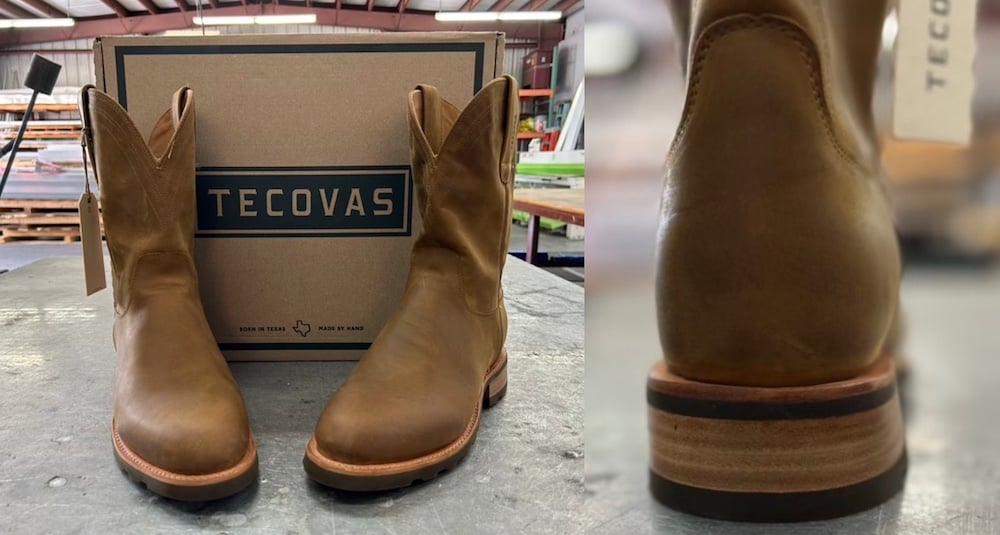 Tecovas Stockton Sizing and Fit
Order a half size smaller than Brannock size
Tecovas recommends sizing down a half size for the Stocktons. For reference, I'm an 11.5 on a Brannock device and the size 11 Stockton fits me perfectly length wise.
As I mentioned earlier, the Stockton has a removable insole, so you can always wear them without it and use the built in insole if you prefer. You can also swap them out for different insoles to tailor the fit or arch support to your preference.
Personally, I bought a pair of Wickett & Craig veg tan leather insoles to try in the boots as I prefer the feel of leather insoles over synthetic when it comes to boots.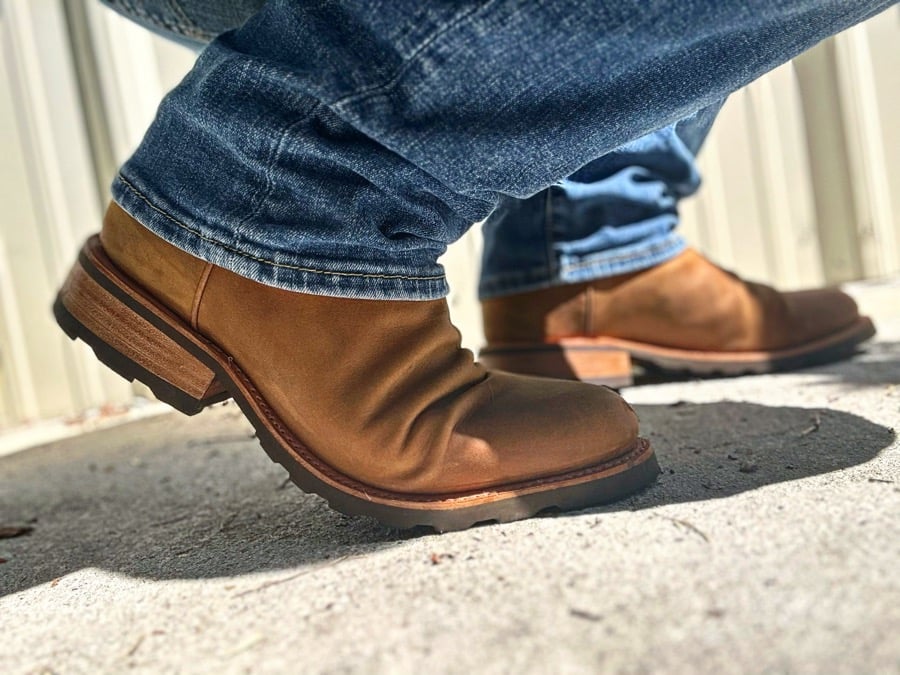 Are Tecovas Boots Good for Work?
No ASTM certifications
Thinner sole than most work boots require
Better suited to farm/ranch work and lawn work
Well, yes and no. I'll explain: while they are rugged enough to be worked in I don't believe they have a place on a job site for a couple reasons.
First, they don't have any ASTM certifications: no safety toe or electrical hazard protection, which are the main requirements you'll run into.
Secondly, there is very little boot between your foot and the ground, since the outsole isn't very thick and stitched directly to the welt.
They also aren't the greatest option for a shop or warehouse environment. Granted, I did wear them all day in a shop. Once broken in, they are comfortable to wear all day. But there are better options for being on concrete floors all day, like boots with wedge soles.
So, what kind of work can you do in them? I'd say they are best suited for farm/ranch work, lawn work, and DIY home projects for the weekend warrior. They're quite water resistant and stable, so work that has you on your feet — but not on overly hard surfaces — will suit fine.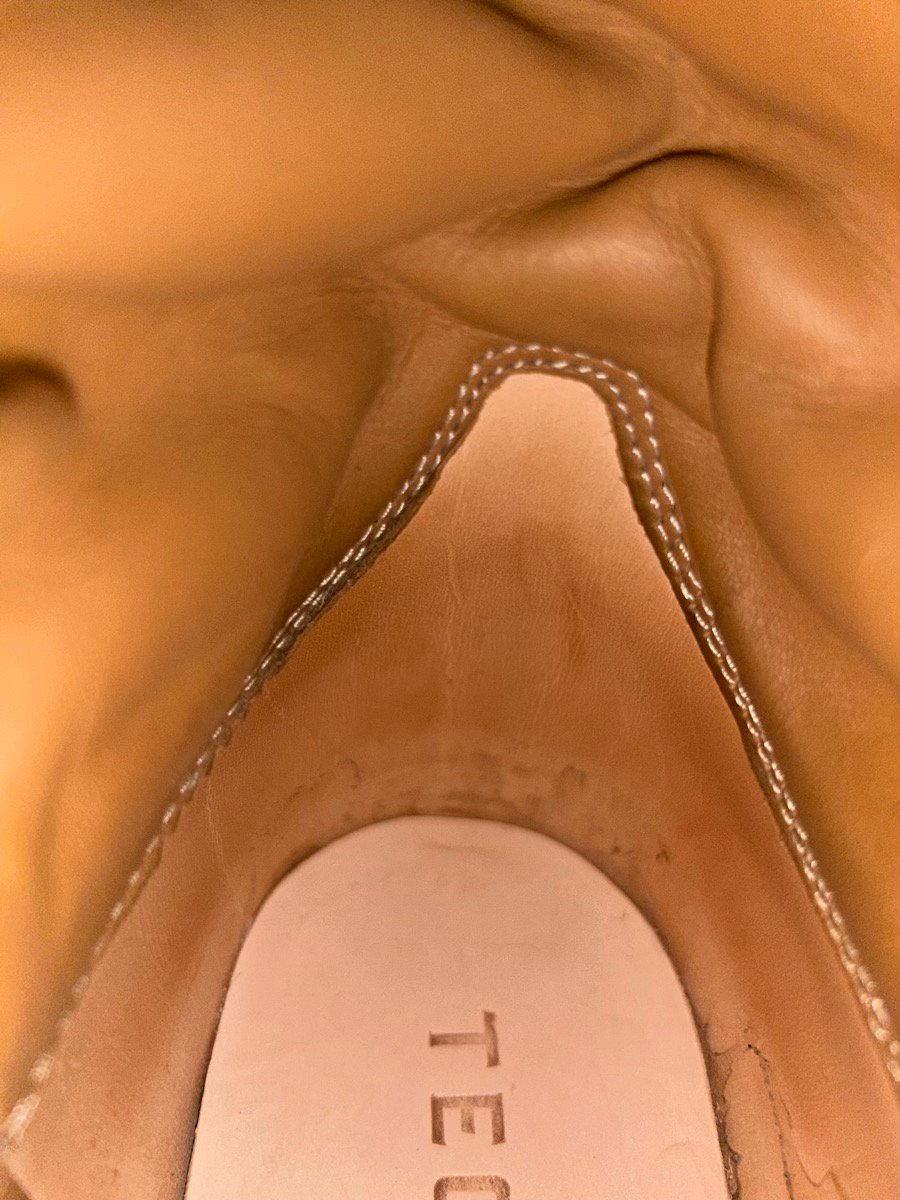 My Biggest Complaint
My big complaint about the boots is the heel counter material and how Tecovas attached the shaft liner to it.
The Stockton has a smooth heel counter cover, which isn't ideal for a pair of pull on boots because it allows your heel to slide around more than if it was a piece of roughout leather or suede.
The problem with the shaft liner is that they stitched it over the heel counter in an upside down V shape. This means that your heel rubs around on the edge of the shaft liner where it's stitched to the heel counter. While it didn't cause a blister, it was a bit annoying.
My understanding is that previous iterations of the Stockton didn't have a shaft liner, so stitching the liner over top of the heel counter seems like it was a cheap and easy way of adding the liner to the boots. Tecovas if you're reading this: please put that liner behind the counter cover and flip the counter to the rough side out.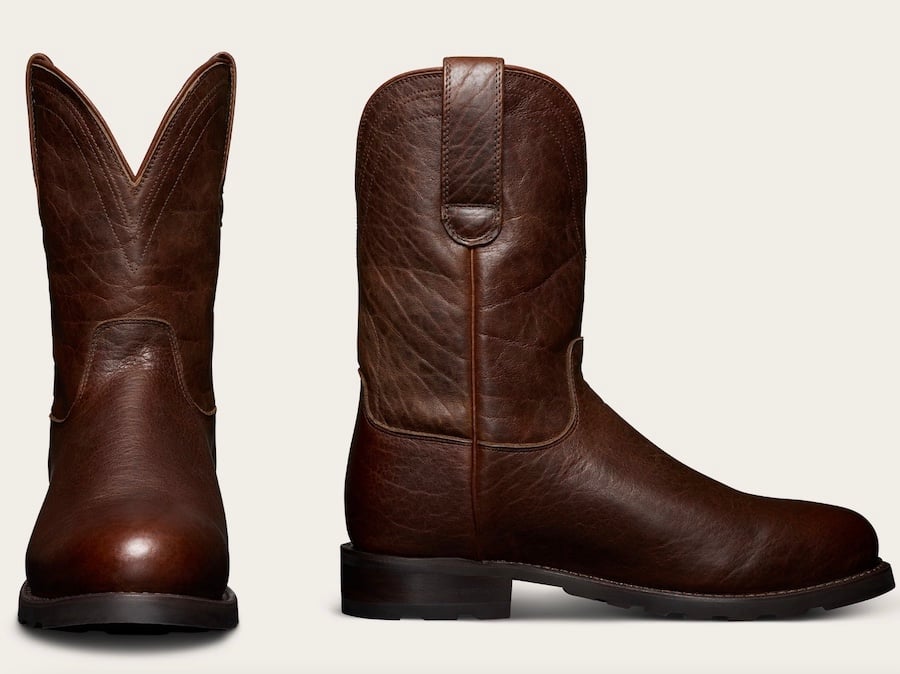 Tecovas Stockton Boots Price
Coming in at $245 for the Straw oiled bovine and $265 for the Chocolate Bison leather, the Stockton offers excellent value for the price over its competitors at the same price point.
For example the Stockton's closet competitor, the Rhodes Roper boots, have a fully synthetic, non removable insole for $248. The Stockton has a foam topped leather insole and a removable leather topped polyurethane insole at basically the same price.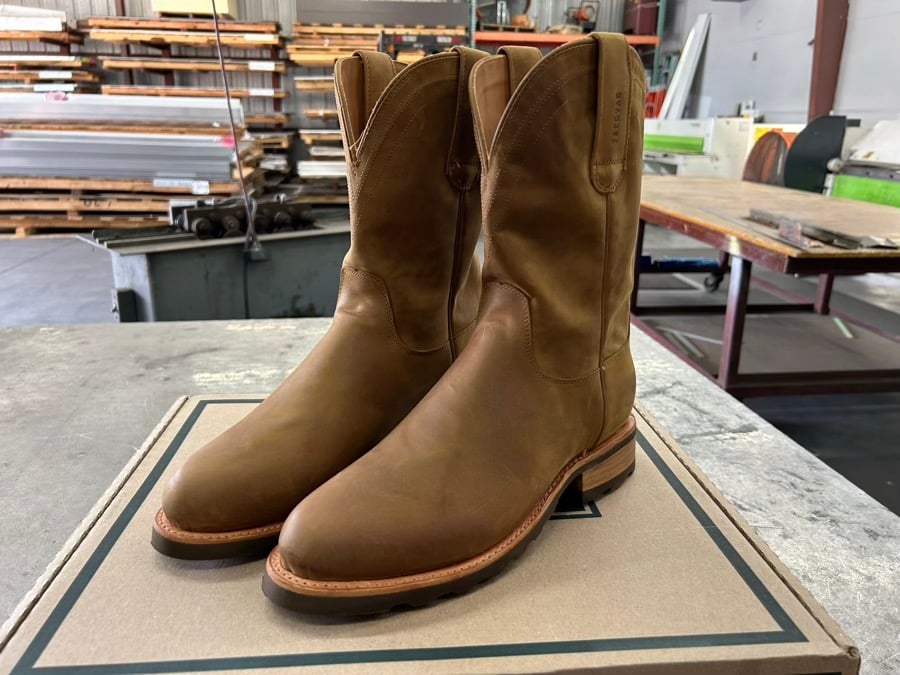 The Takeaway
With everything said, I think the Tecovas Stockton offers a lot for a great price. It may not be the best option or well suited for work, but it's robust enough to work in depending on the work you plan on doing. And while it's not a more fashion forward western boot, it looks good enough to wear casually or for a night out, which isn't something that can often be said for rugged boots.
If you're on a budget and you need one cowboy boot to do it all, the Tecovas Stockton should work well for you.
Personally, I'm going to clean mine up a bit and keep them for casual wear.