As a 5'8" woman, I used to be queen of the flat shoe. Residual insecurities from middle school when I was taller than all the boys, I guess.
But recently, a combined realization that:
flat shoes are awful for your knees, and
being a tall lady is actually cool and hot and powerful
have changed my approach entirely. Flat shoes no more.
The problem, though, is that I never learned to walk in heels, and now anything even remotely stiletto-adjacent has me stumbling around like a baby deer. (Learning to do new things when you are old is hard.) Also, comfort is still my number one priority for what I wear on my feet, so when it came to upping my height, I went almost exclusively for platforms.
Then I came across Thursday's Knockout Chelsea Boot, a chonky, heeled version of their classic Chelsea silhouette that adds 2.75 inches of height and a whole lot of attitude.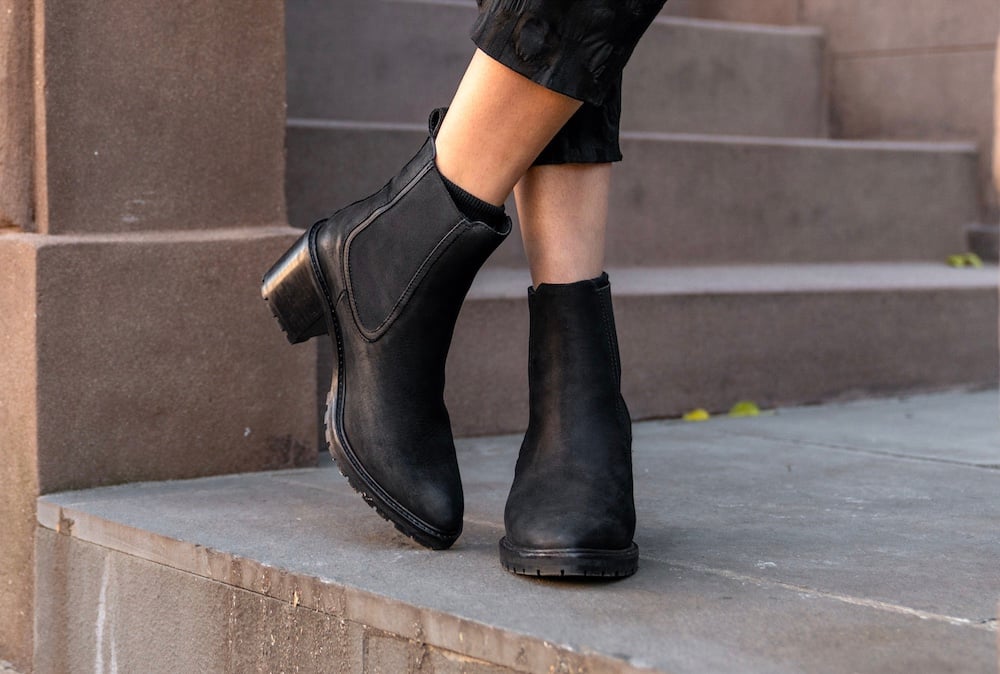 Thursday Boot Company, The Brand
When college friends Connor Wilson and Nolan Walsh founded Thursday Boot Company in 2014, they based it on the premise that high quality boots are just too dang expensive.
Their goal was to create an ever-evolving collection of boots that looked good, felt good, and cost mostly under $200, thanks to their almost impossibly low markups. Since then, they've branched out from men's boots into a variety of women's styles, including fashion-forward models like the Knockout Chelsea Boot.
Thursday's Knockout Boot
This boot hits the sweet spot between style and practicality, with a sleek silhouette made just-edgy-enough by its blocky leather-wrapped heel and grippy rubber lug soles.
My Matte Black color is timeless, classic, and works with pretty much any outfit you throw at it. Billowy Gen Z pants: Check. Elder Millennial skinny jeans: Check. Mini-skirt with black tights: Check. Floral maxi dress: Check.
This is a boot I could wear literally every day for the rest of my life without getting called out by anybody.
This is a boot I could wear literally every day for the rest of my life without getting called out by anybody. I wouldn't do this, of course, as I am still in an ethically nonmonogamous but very serious relationship with my platforms, but I could. I could also buy these boots for my mom or for my younger and cooler cousin, and both would be grateful.
Thursday's Knockout Boot: Construction
Full grain leather
Supple glove leather lining
Storm welt for water resistance
Not resoleable, but light and flexible as a result
Shock absorbing insole for comfort
This is a well-constructed boot, folks.
Both the upper and the buttery full glove lining are made of leather sourced from Lefarc Tannery in Mexico, one of the most sustainable leather manufacturers in the world. This means the boot starts out a bit stiff, but breaks in nicely after only a few wears, and now feels comfy enough to walk the streets of NYC for hours.
The shock-absorbing Poron insole helps with this too: Over time, it forms to your feet for all-day comfort. Flexible elastic goring and a helpful rear pull tab make these boots very easy to pull on and off, and I liked the way they sat close to my ankle without rubbing.
Best of all, the 2.75-inch leather-wrapped, rubber based heel is so thick and stable I barely feel like I'm wearing a heel at all (no baby deer steps here!) except for the fact that I am now tall enough to look most men dead in the eye, or even tower over them. Menacing.
These handcrafted custom-developed rubber soles deserve a closer look. Thursday took the interesting route of attaching a storm welt to a cemented boot. Usually, a storm welt is a kind of Goodyear welt construction, a laborious method that makes boots resoleable — and pricy. A storm welt means there's a strip of leather curling up from the welt onto the upper, creating more of a seal around the barrier between the upper and the mid-sole, thereby making the boot extra water resistant.
What Thursday did was add a 5mm welt extension and storm welt to a boot that's not Goodyear welted. Like the vast majority of women's boots, the Knockout is cemented, meaning the upper is affixed to the sole with adhesive instead of stitches. This makes for a more flexible and lightweight boot.
So what you're getting here is a boot that's as comfy as a cemented boot, but as water resistant as a storm welted one. Pretty neat, right?
Thursday's Knockout Boot: The Price
The Knockouts ring in at a highly reasonable $168, which is kind of incredible considering the quality of the leather and the innovative build. That's because Thursday is a direct to consumer company, meaning they cut out the middleman (think brick-and-mortar stores) to keep things cheap without sacrificing quality. I like that too.
Wrapping Up
I'm a big fan of these boots. Their versatility, easy slip-on style, and relative comfort (for a high heel) have made them one of my wardrobe staples, and their high quality means they'll likely remain so for years to come.