This post may contain
affiliate links
that at no additional cost to you, I may earn a small commission from.
I've owned a good dozen pairs of Thursday boots over the years, all at different stages of the company's growth. Why does that last part matter? Because Thursday has been regularly updating their lasts, the foot shaped mold you build a boot around that determines the fit and comfort.
This has made it a little hard to make blanket, permanent recommendations for sizing, because how their boots fit has changed throughout the years. But in 2023, they made announcement: they've released new lasts, and they're pretty much done updating them.
That's why now is the best time to get their sizing advice. Thankfully, it's pretty simple:
When ordering Thursday boots, order half a size smaller than your sneaker size.
That's the takeaway, but to get the most up-to-date information about widths, heel slip, break ins, and fit, I visited Thursday's New York office to interview their CEO, Nolan Walsh. Here's what we learned.
Thursday Boots Sizing Guide
Order a half size smaller than your sneaker size
"Generally, what we've seen work with people with standard 'D' widths, just saying, 'go half a size down from your sneaker' tends to get the best fit," says Walsh.
So each boot sizes similarly, regardless of the last they are built on. Some, like the Hero, have a roomier fit because they're made on a wider, more casual last. But while different boots can feel different on the foot, the sizing advice remains the same. I'm an 12 in sneakers, like my Chuck Taylors, and I'm an 11.5 in Thursdays.
If you wear a size 8.5D in the Captains, you'll also wear the same size in the Cavalier Chelsea, President lace up, or the Maverick cowboy boot.
"For most people, including myself, the size I wear in Thursday is the size I get in a Brannock," says Walsh. "Most athletic sneakers are actually a bit larger. That's just how people decided to do it."
Unlike Thursday, a lot of boot brands suggest sizing a half size smaller than your Brannock. Why? Possibly because they tend to be made with more voluminous lasts.
"If there's more instep volume or just a wider shape to the last, maybe you go further into the fit point in the toe box, that could enable you to wear a smaller size more comfortably," Walsh says.
Thursday Boots Captain Sizing
Order your Captain boots half a size smaller than your sneakers
The Captain is Thursday's most popular boot for a reason: it's a classic cap toe service boot with a low profile and an unusually versatile, streamlined look. Guys used to have to pick between sleek dress boots or chunky work boots, but the Captain melds those aesthetics to make a boot that pairs with just about anything. (Especially tapered pants.)
The Captain is also a great bet for guys with wide feet, as it's one of the brand's few models that comes in wide widths.
Note that not all of the leathers are offered in wide, but with at least half a dozen options for wide Captains at any given time, this model is definitely a haven for the wide-footed who are so often turned away disappointed.
The Best Damn Boot
Thursday Boot Co. Captain Boot
A comfortable, durable, and versatile cap toe boot handcrafted with quality leather from US hides and featuring Goodyear welt construction. The Captain is built to last — and match with anything.
Check Best Price
Read Our Review
We earn a commission if you make a purchase, at no additional cost to you.
Are Thursday Boots Good for Wide Feet?
Several Thursday models have wide options
Wide widths are currently available available on the Captain, President, Diplomat, Duke, Cavalier, Legend, and Wingtip boots
Wider guys can sometimes size up in a standard width and find a good fit
Thursday doesn't abide by the standard width measurements of D, E, EE, EEE, etc. Instead they have a "Standard" width (for 'D', or normal widths) and a "Wide" that is suited for E, EE, and EEE feet.
It's very expensive to develop new lasts and most companies don't have the resources to make wide boots for the small percentage of guys who need them, but a benefit of Thursday's success is that they are able to sell a range of models for wide feet.
The Captain has over half a dozen leather options with wide sizes, and you can also find them on the President, Diplomat moc toe, dressier Wingtips, and the three Chelsea models: Cavalier, Legend, and Duke.
But if there's a leather you love that isn't sold on a wide width, you might have a recourse.
"For some people, we've seen them go up a half size and be very happy with that," says Walsh. "For others, we've seen see them exchange to the EE last and be happy with that."
Thursday Boots Sizing for Women
Unlike the men's boots, women should order true to size
There it is, that's your advice. Perhaps because their women's lines are mostly cemented, rather than Goodyear welted — meaning they're lighter and more flexible, if unable to be resoled — the sizing advice for Thursday's women's boots is more straightforward: just buy your usual shoe size.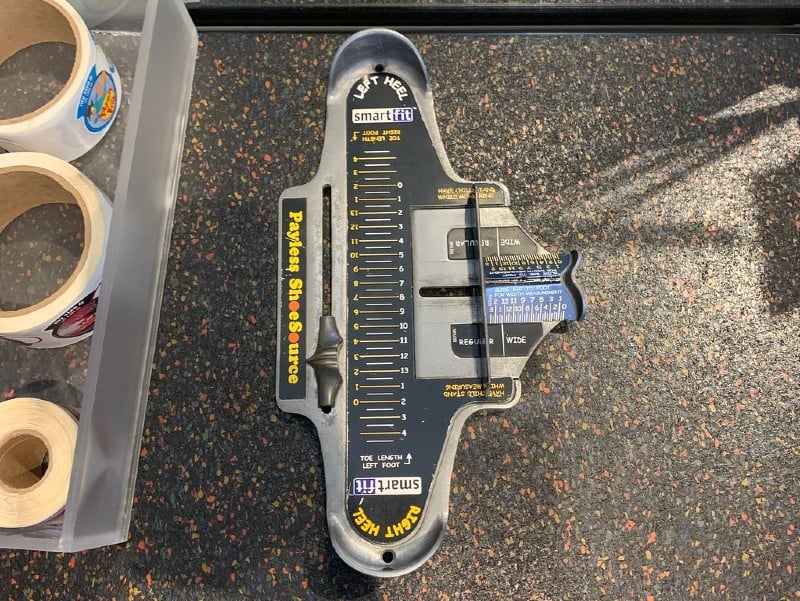 Brannock Size vs Sneaker Size vs Boot Size
Boots are usually a half size smaller than your Brannock, or "true" size
Sneakers are usually the same as your Brannock size or a half size larger
A nice thing about Thursday's sizing is that you don't really need a Brannock device, they tell you to just subtract 0.5 from your sneaker size.
But to make sure you aren't working off a weirdly sized sneaker, or a much wider width than you thought, it's a good idea to walk into a shoe store and get your "Brannock size."
For most people, including myself, the size I wear in Thursday is the size I get in a Brannock.
A Brannock device will provide both a numerical size and a letter size for the width of your feet, helping you determine what many refer to as your 'true size'.
Brannock Widths Guide
C – narrow width
D – standard width
E – wide width
EE – wider width
EEE – ultra wide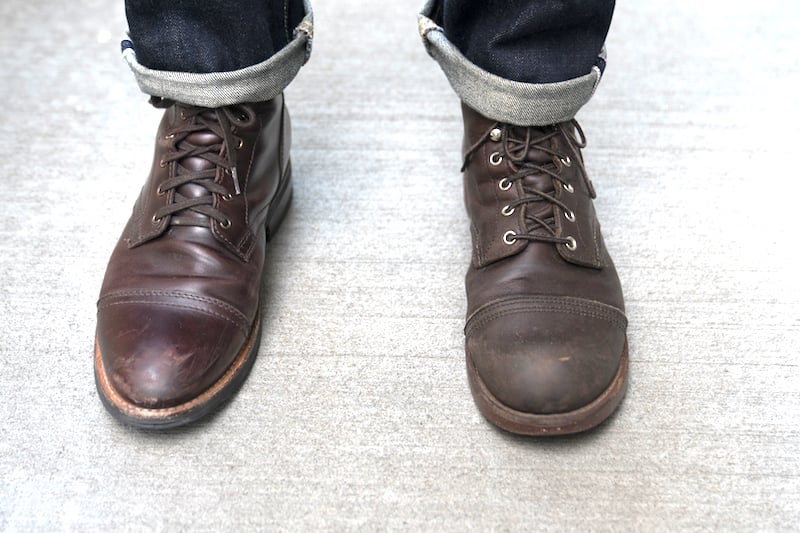 Thursday Boot Sizing vs Red Wing
Thursdays are usually smaller than Red Wing
If you're 11 in Red Wing, you're probably 11.5 in Thursday
In the footwear industry, your boot size tends to be smaller than your Brannock size, while your sneaker size is typically larger.
This is true not just for Red Wing, but also Wolverine, Grant Stone, Oak Street, Nicks Boots, and others.
I'm an 11D in Red Wing and all of those other brands. But I'm 11.5D in Thursday.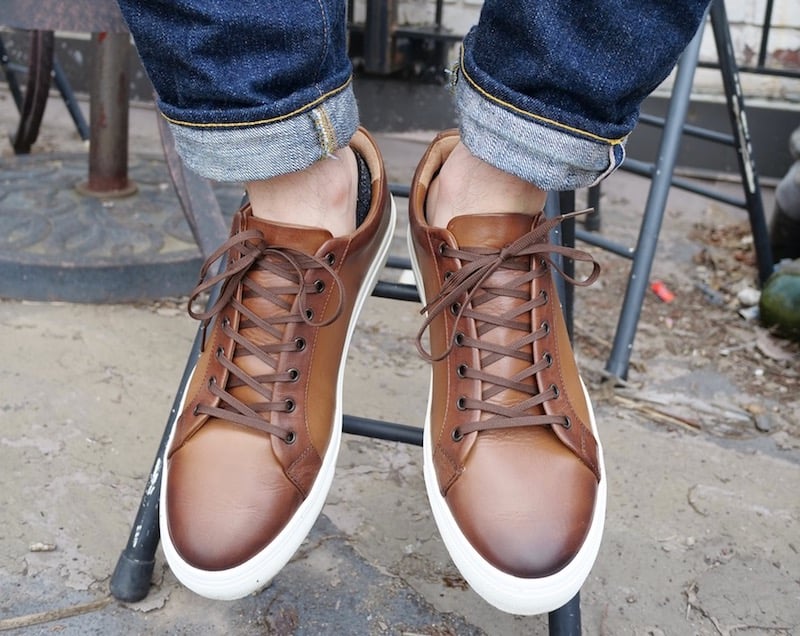 Thursday's Premier Low in "Toffee" leather
How To Size Thursday Sneakers
Order your usual sneaker size for Thursday sneakers
Thursday Boots follow the same sizing convention that other brands use for their sneaker collection. This means just get the usual size that you wear in athletic trainers.
Why is sizing different with sneakers and boots?
"With a sneaker, you don't have a high shaft so your ankles flex more," says Walsh. "A lot of footbeds are removable, they're spongier, things like that. I feel perfect in a 10.5 in a sneaker and a 10 in boots."
Should Your Thursday Boots Have Room In The Toes?
Extra room in the toe isn't a problem
It's more important that your foot bends where the boot does and that your heel doesn't slip too much
Boots intended for hard wear tend to have a more snug fit
I get a lot of e-mails from guys worrying about the toe room in their boots — and with good reason! Boots are expensive! It's normal to agonize over every little thing.
But some extra room at the end of the boot isn't something to agonize over.
"A lot goes into what you're doing in the boot," Walsh explains. "The lasts are different on our Classic Captains and our (harder wearing) Rugged and Resilient Captains. For a lot of movement outdoors, something you're really beating up, you actually want a snugger fit because as that leather breaks in, the tightness in the leather and that snugness will dissipate."
In other words, the Classic Captains have more room in the toes because they're typically worn more casually. The Rugged and Resilient ones are a little snugger.
What Thursday recommends:
The ideal toe space is having about a thumbnail's width of space between your toes and the edge of the boot.
In summary, yes, most Thursday Boots are designed to provide extra room at the end of the boot. This is fine as long as it doesn't hinder your movement.
How to Break In Thursday Boots
The leather will stretch a millimeter or so
But don't buy tight boots expecting they'll stretch
A benefit of leather boots is that the leather softens and conforms to your foot's individual shape with wear, resulting in an excellent fit. But to get there, the leather starts out stiff and needs to break in with heat and wear.
That means your feet might be sore the first week or so of wearing them.
Now, Thursdays are made with thinner leather (~1.9mm) than dedicated work boots (2.3mm+), and the insole is shock absorbing foam instead of vegetable tanned leather. These two elements mean the break in on Thursday boots is a lot easier than with heavier work boots.
So, there might be some discomfort the first week or so, but it's manageable. Just note that if you're getting a Thursday with one of their "Rugged and Resilient" leathers, which are stiffer than their "Classic" leathers, the break in will be a bit tougher.
"It's really important to think of snugness as 'a bit of snugness' and not 'pain,'" says Walsh. "If you're wincing as you walk, you have the wrong size for sure."
Don't order something that's too tight and expect it'll stretch, and don't mistake "bought the wrong size" for "having a tough break in."
A good rule to make sure you're just experiencing a break in, as opposed to the wrong size, is to make sure you can stand comfortably in the boots. If there's a little discomfort when you walk, that's not such a big deal — that's probably the leather softening and breaking in.
But it shouldn't be uncomfortable when you're standing.
Is Heel Slip Okay In Your Thursday Boots?
Heel slip decreases with wear
About ¼ inch heel slip is acceptable with new boots
This is the biggest headache for guys who are new to boots, because this is probably their first time wearing footwear with a high shaft. It can also be confusing because boots fit differently over time. In fact, they're the most uncomfortable when they're brand new.
This is true for heel slip; if you do have some with new boots, it'll probably go away with time.
"We use heat activated counters that mold to your foot, as you wear it," says Walsh. "Same thing with the cork bed right on the midsole, it's going to compress a little. I would say if you're experiencing a little heel slip early on, that's not something to worry about. But if your boots are tied well and you're getting a lot of heel slip, you probably want to size down."
As mentioned, the leather upper, insole, cork filling, and heel counters will all conform to your foot's shape as the boot is worn in.
Thursday's 2023 Last Update: Enter the Kingmaker
About 1.5mm of volume was added to the outer edge of the toebox, making for a slightly rounder look and roomier toe
Sizing is the same as always: half a size smaller than your sneaker size
Thursday recently opened their own factory, providing them with more direct control over how they execute their styles. The first thing that they did was update some of their lasts, with the biggest changes made to the Rugged and Resilient Captains and the Duke Chelsea Boot.
New Last For Captain Boots
The Classic Captains have the "Encore" last
The Rugged and Resilient Captains have the "Kingmaker" last
Both have increased room in the toebox, with Rugged and Resilient fitting a little more snugly
In a nutshell, the new "R&R" Captains have a little bit more room for the toes to splay, and they feel slightly roomier. I wear the same size in the new Kingmakers as I did in the old last.
"I wear a 10 in the old last, I still wear a 10 in the new last," says Walsh. "Really, the only difference is 1.5 millimeters added here to allow the toes to splay a little better."
The Classic Captain largely retains that almond shape, but the new Rugged & Resilient Captains look distinctly rounder and more like traditional boots now.
The sizing advice is the same, but it's worth noting that the R&R Captains look a lot less almond shaped than they used to. Thursday's rare, sleek, streamlined look is what helped skyrocket the brand, because guys who wore modern wardrobes gravitated toward the slim look.
The Classic Captain largely retains that almond shape, but the new R&R Captains look distinctly rounder and just a little more like traditional boots now. That makes sense, given they're intended for harder use than the Classic Captains.
New Last For Duke Chelsea Boots
The new last for the Duke has a tighter heel area
It also has a slimmer opening at the ankles.
The Duke Chelsea Boot, another one of the brand's earlier releases, underwent an update as well.
I have worn Thursday's dressier Chelsea, the Cavalier, a whole lot. (See my Cavalier boot review for proof.)
But I could just never get the Duke to work for me. The sizing was different every time I tried it, it was either too loose or too tight, and when it was too loose in the heel it was too tight in the forefoot, meaning I couldn't size down… you get the picture. I really wanted to wear their famous Honey Suede Duke, but it didn't seem like it was in the cards.
The latest iteration of the Duke Chelsea Boot has addressed the issue of loose heels and ankles by introducing a slimmer and more form-fitting last, providing a tighter, more secure fit (at the expense of a slightly longer break in).
Wrapping Up
In conclusion, Thursday Boots' rapid ascent to becoming the leading boot brand of the decade can be attributed to their commitment to delivering high-quality, affordable products and a consistent drive for innovative design.
Nevertheless, as a direct-to-consumer brand, sizing their boots correctly remains a challenge.
The take-home message is to subtract 0.5 from your sneaker size and make your purchase, and just in case that still seems too risky for an online boot brand, never fear: Thursday does free returns and exchanges, so there's really no risk.
Frequently Asked Questions
Do Thursday boots run big?
Yes, you should order half a size smaller than the size you wear in sneakers or dress shoes. This is true of all Thursday's boots.
Are Thursday boots good?
Thursdays are the real deal. Due to a supernatural understanding of logistics and supply chains, they managed to get a quality boot that's resoleable, for under $200. The value for money is unmatched.
Where are Thursday boots made?
Most of Thursday's boots are made in the shoemaking capital of the Americas: León, Mexico. However, their Vanguard and Logger models are made in the USA.