When it comes to boots, I've long been a fashion-over-function gal. This has led to an unfortunate tendency to buy cheapies that look cool but fall apart after a season or two. And though I'd heard good things about the Thursday brand, my assumption was that all they sold were brown leather boots with laces, and that didn't really jibe with my personal style.
After spending some time browsing the Thursday Boot Company website, however, I realized my assumptions were wrong. Sure, they had the practical everyday man boots I knew them for, but they also had some very of-the-moment styles that matched my eXtrEmEly cOoL Brooklyn aesthetic. My number one pick? The Reign, a sleek Chelsea boot with the ideal pairing of slim, flattering ankle shaft and fierce, chunky 2.75-inch heel. And despite a construction far superior to my usual DSW discount picks, these boots ring in at a highly reasonable $168.
How Thursday Made the Reign
Founded in 2014 by two friends named Connor Wilson and Nolan Walsh, Thursday Boot Company is based on the premise that high quality boots — a.k.a. the kind that don't fall apart after six months — are too expensive. Their goal was to create an ever-evolving collection of boots that looked good, felt good, and cost mostly under $200, thanks to their almost impossibly low markups. (DTC, baby!)
And sure, they started out with those practical, hiking-adjacent lace-ups for men that I knew them for, but since then, they've branched out into a variety of women's styles, including more daring models like my now-beloved Reign.
The Reign is the kind of boot I salivate over. The kind that looks sexy but also makes me feel like I could kick someone's ass. The kind that is sturdy and comfy enough that I can spend all night dancing in it, or all day strolling around the city, without sacrificing my all-important sense of pizazz. I feel powerful in these boots. And I feel hot.
The Reign slips on relatively easily thanks to its flexible elastic goring and durable pull tab, and comes in two colors, black and cream. I got the cream because of how visually striking they are, but soon realized I also needed the black. Which is saying something, because for several years now my Dr. Martens platform combat boots have been my go-tos when it comes to chunky black boots. Folks, this feels a bit like infidelity, but I think the Reign has stolen that title.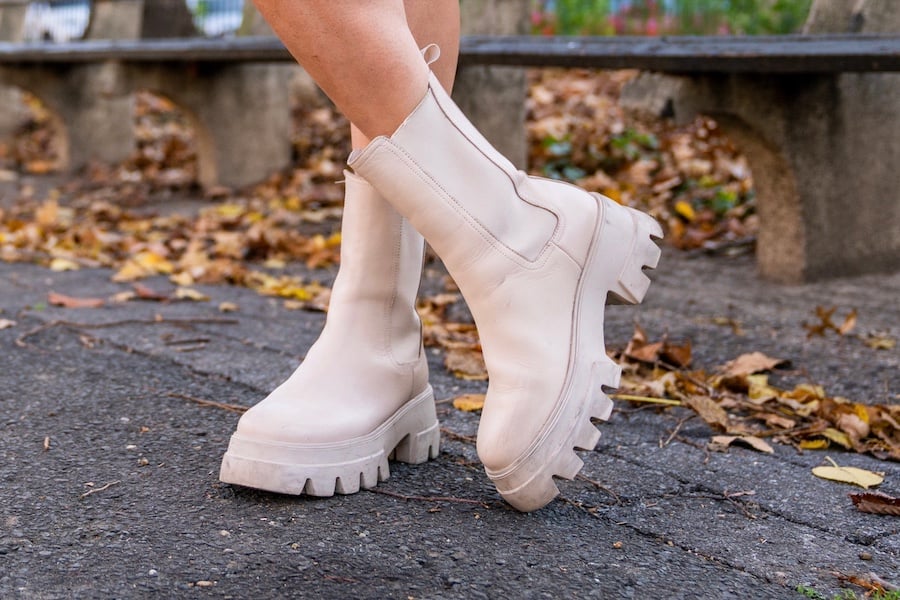 Thursday Reign Sizing & Fit
Unlike Dr. Martens, which feel kind of terrible for weeks, this boot requires little to no break-in period. The sizing runs more standard (these boots run a touch large, but not the full size larger that Dr. Martens typically do, and nothing a thick pair of socks won't fix). The lack of laces means I don't need to stop every few blocks to re-tie them, and the serrated soles bring an unexpectedly edgy touch to the whole affair.
Straight out of the box, I wore the Reigns out clubbing — a highly risky move I would not recommend to anyone and yet one that paid off.
Walking home at 5 a.m. after a night of dancing, I felt no pain.
Thursday Reign Leather
There are many more late nights ahead for me and these boots. They're made of full grain leather, which basically means leather that's thicker than some of those really thin dress leathers out there (the kind that starts wearing away as soon as somebody inevitably steps on your foot). "Full grain" means the leather has the outermost layer of the animal's skin, which a lot of brands shave or sand away to make it thinner and more aesthetic (read: smoother), at the cost of durability and longevity.
Thursday's is only slightly corrected; if you look closely, you won't see the wrinkles, pores, and grains of classic full grain leather, but this is typical.
A ton of leathers people call full grain have actually been sanded or shaved — the technical word is "corrected" — a little bit. So these boots are smooth (fashion!), but still far more durable than thinner, very corrected leather.
Thursday Reign Sole
Now let's talk about the outsoles. Big, chunky, and seriously grippy, these guys are made of an environmentally friendly material called Rubflex. Made with a low carbon footprint from repurposed pre-consumer non-toxic EPDM rubber, it's lightweight, highly durable, flexible, and porous, which makes it extremely comfy, especially when paired with the Poron antimicrobial shock-absorbing insoles.
A lot of traditionally made boots are only leather and cork in the construction, making for something that slowly gets comfortable, but never feels like a sneaker. The Poron avoids that walking-on-hardwood feeling of old fashioned boots, blurring the line between sneaker and boot.
[Further Reading: The 10 Best Boots for Women]
Thursday Reign Construction
Furthermore, unlike Thursday's men's boots, which are made with Goodyear welt construction, these boots are cemented. That means they're built more like sneakers, with the top glued to the sole rather than the typical boot construction: multiple heavy layers of leather and cork and welts and ribs and so on.
Of course, this means they're not waterproof or resoleable, but to me that's worth it for the comfort, flexibility, lightness, and lower cost. (And for what it's worth, I've stepped in several puddles with these babies and my feet stayed dry.)
Okay, so let's recap with a breakdown of our layers:
Two kinds of shock absorbing memory foam type stuff: one 2mm layer of Poron and a 2.8mm footbed layer of "Quick Recovery Memory Foam"
A layer of moisture-resistant cellulose called Celtec
A layer of fiberboard, which is a natural "engineered wood product" made by breaking soft wood down into fibers
A 15mm steel shank, a.k.a a super hard piece of material (usually steel) that goes under the insole around the heel/midfoot. What it does is confer stability to boots with heels and helps the boot retain its shape for longer. They're found in just about every good Goodyear welted boot and it's unusual to see one in a cemented boot like this — but all the better for kicking someone's ass, should the situation call for it.
Wrapping Up
All in all, the fact that these boots only cost $168 is kind of insane for their quality and style. Being direct-to-consumer means Thursday cuts out the middleman, thus keeping things cheap without sacrificing quality. And the stylish yet timeless design means my love for these boots will last as long as they do.