Thursday Boot Company's Rugged & Resilient leather has been tremendously successful for the brand. Once a one-off leather for their American made Vanguard boots, this line of leathers can now be found on almost every one of the company's shoes and it's available in a wide variety of colors like Tobacco, Black Matte, Burnt Copper, and Arizona Adobe.
Why are we writing a whole article about this kind of leather? Because the company writes,
Because these leathers are so unique, we do not recommend applying any conditioning or protective products to them.
Leather that doesn't need any conditioning at all? Are they serious? What if they're ten years old? We talked to the brilliant cobbler Trenton Potter of Potter and Sons to get a second opinion. You love your boots, want them to last as long as possible, and aren't sure if they need care? Watch the video below.
[Shop Thursday Boot Company's Captain here]
How to Clean Your Rugged & Resilient Leather Boots
For starters, whether or not you're planning to condition your boots (but especially if you are) it's a good idea to clean your Rugged & Resilient leather. If you check out the Care section on their website, Thursday Boot Company recommends
To clean these leathers, you can spray the Leather Cleaner and use a clean Microfiber Cloth to wipe them down, as well as a Premium Shoe Brush to remove any dirt on the surface.
They also note that if your leather is particularly beat up or hard to clean, you should take them to a cobbler. So what would a cobbler tell you to do? Potter suggests caring for this super rugged leather the same way you care for one of the most delicate leathers: suede.
"This is not a smooth leather," says Potter. "Therefore, if you use any kind of liquid shoe conditioner or polish it is going to completely change the texture and overall look of that leather."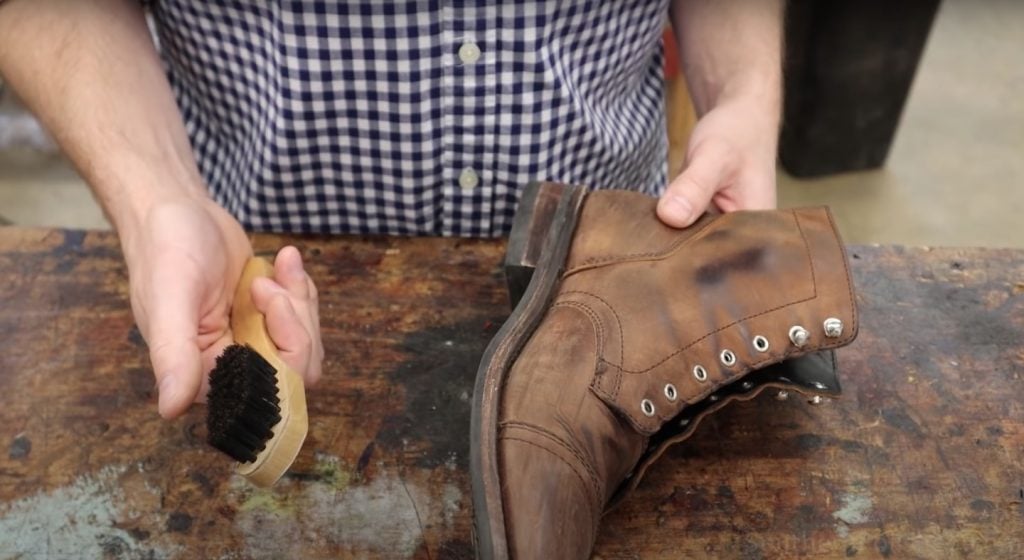 1. Use a clean horsehair brush to brush the boot down. Ensure it hasn't been used on any other boots so that there's no transfer of waxes or oils from a different kind of leather. Don't use a suede brush that has metal bristles, though, as it might scratch the leather. If you don't have a brush, you can wet a rag and wipe it down that way.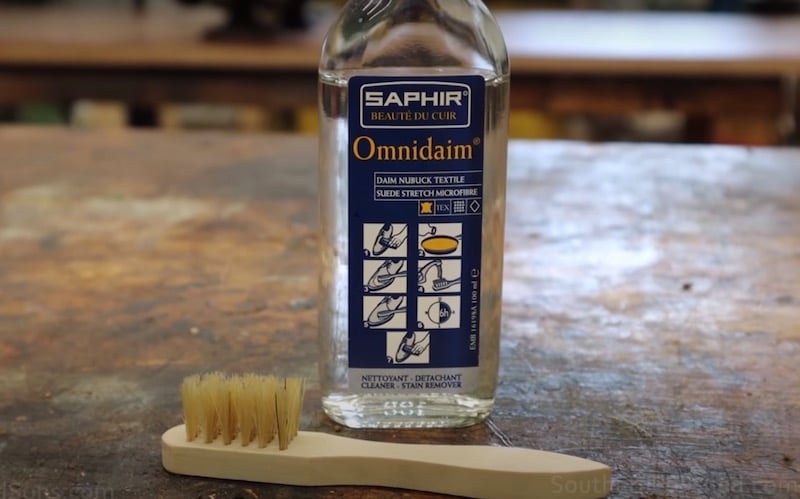 2. If stains aren't coming out, use some suede shampoo. Potter recommends mixing some Saphir's Omnidaim with water and working it into the leather with the brush that comes with the cleaner. After that, wipe it down with a cloth and let them dry completely.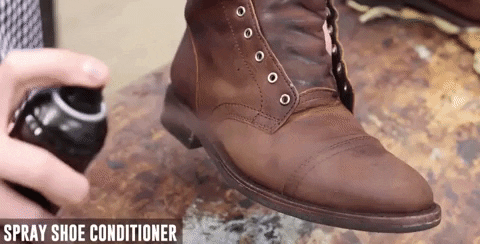 How to Condition Your Rugged & Resilient Leather Boots
Now that your boots are clean, you won't be trapping dirt in the leather if you condition them. So if you really want to condition them — let's say your boots are a year old and seem a bit dry — what do you do?
1. Use a Conditioning Spray
"Instead of using a liquid conditioner, I like to use Renovateur Conditioner by Saphir," says Potter, who used the Medium Brown Renovateur Conditioner spray on his Arizona Adobes. If you're unsure as to the right color for your leather, you can just use the Neutral Renovateur Conditioner spray. "It lightly sprays a mist onto your suede-type boot and allows moisture to get inside the leather without changing the texture."
Spray evenly and lightly, as shown in the gif above.
2. Weatherproof Your Boots
"You definitely want to make sure you're weatherproofing your boots, because that's what's going to protect the leather from the rain, dust, and snow," says Potter. He recommends applying Saphir's Invulner or Tarrago Nano Protector.
It's perhaps worth noting that Thursday Boot Company doesn't say there's any reason to weatherproof this leather, but if you want to hedge your bets, it's a strategy that Potter signs off on.
3. Condition Your Edges
Since there's a leather midsole and heel stack, applying some shoe cream to them will help to clean up their appearance and extend the longevity. Potter likes to use Saphir's Pommadier.
Conclusion
Even though it's much tougher, the advice is to treat your Rugged & Resilient leather like suede or nubuck. To be clear, a full soap and spray isn't always necessary — a wipe down with a wet rag will usually suffice. This leather is as tough as it's advertised, and it doesn't need to be treated like regular vegetable tanned or chrome tanned leathers that require conditioning every few months of regular wear.
But when you've really worn these boots hard and you want to give them some love, these steps are all you'll ever need.
Featured image via Trenton & Heath on YouTube.
The following two tabs change content below.
Karl Wasson
Karl is an IT product manager living in South East Asia who gets a kick out of durability and dependability. He believes form and function are not mutually exclusive. When he's not working, he's searching for the best bespoke menswear in South East Asia and beyond.
Latest posts by Karl Wasson (see all)