Not only did I wear these boots while hosting the World's Strongest Man, I even wore them to the tannery in Mexico, where the leather is made. After a ton of wear, it's time to review Thursday Boot Company's President boot.
One of the first three boots the company offered when they were launched via Kickstarter in 2014 (the other two are the Captain and the Diplomat), the President is a good example of the company's approach to design: when they couldn't find one on the market, Thursday's founders set out to make a hybrid that was neither a bulky work boot nor a dainty dress boot. They created something sleek, versatile, and can be worn with just about anything.
At the time of writing, the boot comes in a solid ten leathers, ranging from lush suedes to my rugged Tobacco leather. Given how outdoorsy it is, Tobacco may not be the best example of a boot for the office, but it's nonetheless the most popular leather for Thursday's President boot.
In this review, I'll do a deep dive into the leather, construction, price, and the pros and cons so you know if these are right for you.
In summary: I found them to punch far above their weight, offering a versatile aesthetic with tough-as-nails leather and a resoleable, water-resistant construction that handled everything I threw at it.
Who should buy Thursday Boot Company's President?
Guys who value versatility; the sleek-but-not-too-sleek look goes with anything
Anyone after a durable boot that can be resoled
Folks who want a boot that'll keep their feet dry in the rain
Wide-footed men with EE/EEE width
Budget conscious guys; at $199, there's no better value for money
Who shouldn't buy Thursday Boot Company's President?
People who prefer the more bulky, voluminous look of traditional work boots
Guys who prefer the feeling of old-fashioned boots; the EVA foam makes this softer underfoot
Anyone looking for a chunkier lug sole; the President only comes with studded rubber
[Read my Review of Thursday Captain Boot HERE]
Thursday's President Boot Style
Plain toe, sleek service boot style
Get a model with speed hooks for a more casual look that's easier to put on
Get it without speed hooks for a cleaner, dressier look
Low profile, unassuming boot that's deceptively versatile
Thursday's defining feature as a brand is combing a classic heritage look with sharper angles and a slightly dressier look. They sell the more outdoorsy Explorer and Commander boots, but when it comes to the President, the shape of the last combined with low profile sole and a variety of leathers make for a boot that can dress up but isn't pretentious.
It's often compared with their most popular model, the Captain boot. I made a video below comparing the two, but the main takeaway is that the Captain has a toecap and the President doesn't, though there are a couple of other small differences.
In either case, the aesthetic looks as good with a pair of jeans and a t-shirt as it does with khakis and a blazer — just pick the right leather for your purpose.
[Related: Thursday Captain vs President: 5 Differences to Know]
The President Boot's Leather
10+ leathers ranging from suede to full grain
Tanned in Mexico from Tier 1 US Cattle
"Rugged and Resilient" options are oil tanned for extra durability
I visited Thursday's primary tannery and was impressed by its sustainability. Many tanneries worldwide are responsible for environmental pollution due to chromium 6 runoff, but theirs is certified as producing zero chromium 6 pollution.
The leather itself is made from Tier 1 cattle raised in the United States, and Tobacco is part of Thursday's "Rugged and Resilient" line: leathers that are hot stuffed with extra oils to make them extra durable and weatherproof. They need practically no conditioning at all. Just note that as thicker leathers, the Rugged and Resilient line is a little harder to break in than the rest: you may have some soreness the first couple of times you wear them out of the box.
As you can see, my Tobacco has developed a ton of character without losing its integrity. This is meant to be a leather you can beat the you-know-what out of. It's quite matte in appearance; the extra oils aren't the kind that gives it a noticeable shine, but if you like this more subdued look, my Presidents have done a great job of handling punishment, and they've got many years of life ahead.
This "Rugged and Resilient" option may not be perfect for dressing up. Still, there is a range of leathers available on the President that can easily work with business casual outfits, like the burgundy-brown Thursday Chrome or plain Black. For a look that's right down the middle in terms of dressiness, consider a suede, a medium brown like Frontier, or Black Matte. Indeed, one of the coolest things about the brand is that they've gotten so popular that there's a huge range of leathers you can get them in.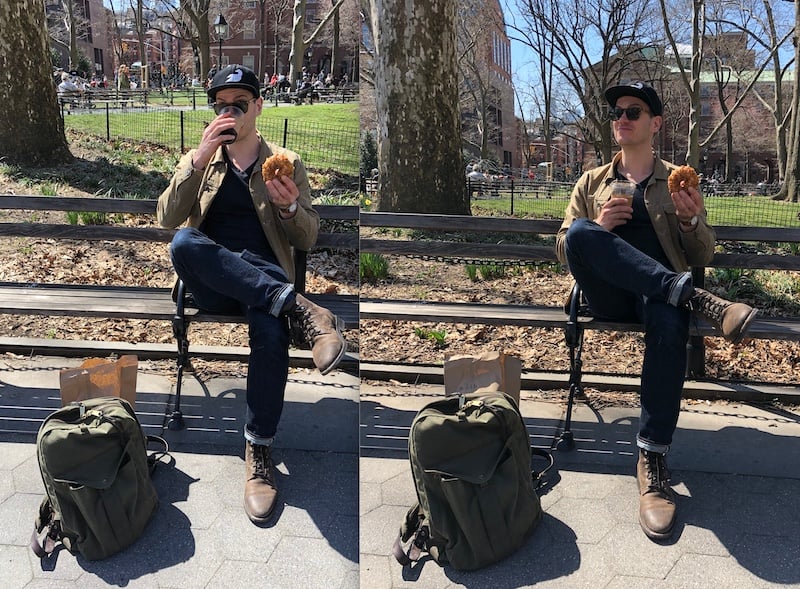 one of the coolest things about Thursday is that they've gotten so popular that there's a huge range of leathers you can get them in.
I'd be remiss if I didn't mention there are more leathers available on the Captain because it's a more popular product, so be sure to check out that selection if you can be swayed on the cap toe.
Whichever model you choose, there's leather for just about any style.
[To learn more about their suede options, check out another video I shot in Mexico: How Thursday Makes Their Suede]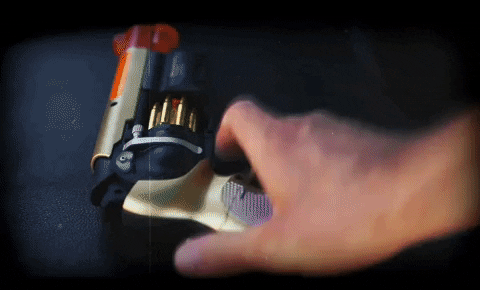 The President Boot's Construction
Resoleble Goodyear welt
Steel shank for stability
Cork midsole for comfort
Layer of Antimicrobial poron for additional shock absorption
Leather lining
Beneath this leather upper, there's a lot going on.
For those new to boots (welcome!), the leather and the sole are attached with a Goodyear welt. Unlike your sneakers, which are glued ("cemented") together, a Goodyear welt is a complex process that produces a very water-resistant boot that can be resoled when you wear through the rubber outsole. The nice thing about the outsole is that it's flat when viewed from the side, but it's dotted with recessed rubber studs that confer a surprising amount of grip.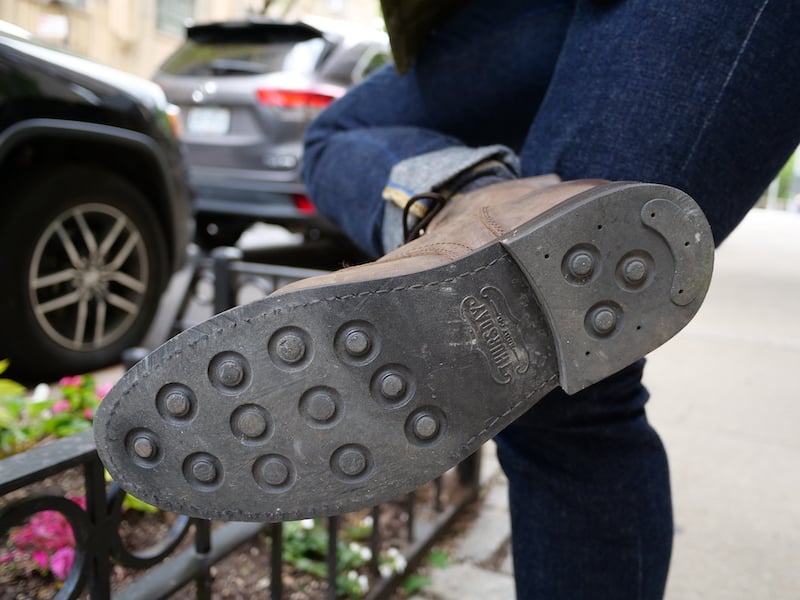 Between the outsole and the upper, you'll find layers of stiff vegetable tanned leather, cork, and a less traditional component: a layer of Poron, a foamy substance usually found in athletic shoes to absorb shock. One of the most frustrating things about the more old-fashioned construction you'll find in traditional brands like Red Wing is that even with cork filling, they can feel a little like walking around on hardwood. The President has cork and Poron, mashing old and new together per the brand's identity.
[Related: Red Wing vs Thursday: Which Is the Better Cap Toe Boot?]
The President Boot's Sizing & Comfort
Order half size down
Available in Standard (D/E) and Wide (EE/EEE) fits
Little break in
Poron sole offers great shock absorption
Soft leather lining
If you're new to ordering boots, you should know two things: your sneakers are probably bigger than your real size, and boots are probably smaller.
Get yourself measured on a Brannock device in a shoe store and go down to the nearest half size. I'm a frustrating 11.7, and I found the 11.5s comfortable, if roomy. Being between half sizes like me is annoying, but if you were 11.5, I'd say to go down to an 11. Go down to the nearest half size. The President also comes in an extra wide version that fits EE widths.
View this post on Instagram
These are made with a leather midsole, cork filling, and a steel shank for stability, all of which are hallmarks of any good boot. They're why boots feel better as they age: the leather and cork mold around your foot to eventually make your boot feel like it's custom-made for you.
Those components combined with 1.9-ish millimeter thick leather, shock absorbing foam, and soft leather lining means Thursday has a much easier break-in than most competitors.
[Related: The Complete Guide to How Boots Should Fit]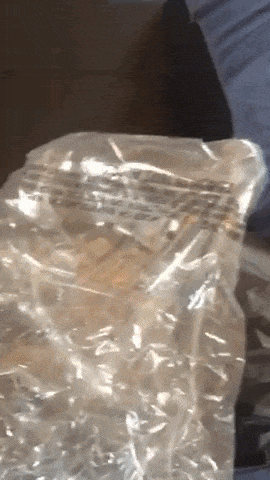 The President Boot's Price
A full grain leather boot with Goodyear welt construction would usually set you back at least $300, but Thursday sells them for $199. Whether you love or hate them, there's no denying Thursday Boot Company offers the best value in the game.
The price makes them accessible, and it's undoubtedly why Thursday has managed to bring the world of Goodyear welted footwear to a larger audience. I think many guys thought boots were out of their budget until they found this company. And I think that's cool.
[SHOP THURSDAY'S PRESIDENT BOOT IN 10+ LEATHERS HERE]
Thursday President Boot Pros & Cons
Here's the long and short of the matter.
Pros
Great value
Very water resistant
Can be resoled
Available in 10 leathers
Unusually good shock absorption
Versatile look
Cons
Not a traditional-looking work boot, if that's your jam
Only sold online, difficult to try before you buy
Not ideal for hiking or situations that need extra grip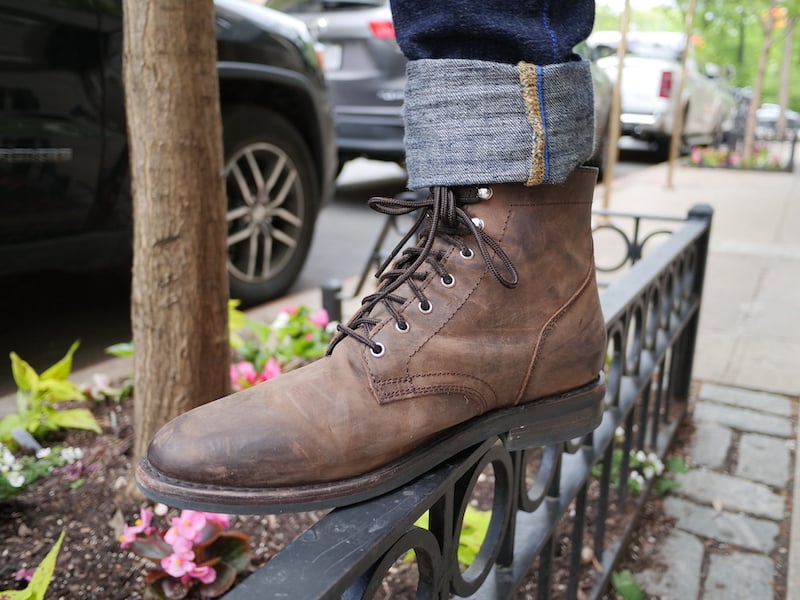 The tough leather and Goodyear welt are a great combination for durability. The value is insane, they're water resistant, shock-absorbing, and come in a ton of leathers to choose from.
Not many people offer such a democratic boot. The price makes it accessible, yes, but the streamlined look makes it easy to wear with a wide variety of outfits. A lot of knock-around boots are hard to dress up, but the right leather can fit right in at the office.
That look may be what turns off some guys who want a more traditional, voluminous, heavy boot, and that's fine if it's what you need. Others aren't crazy that they're a direct-to-consumer brand that exclusively sells online and at their Manhattan showroom — they're hard to try before you buy, in other words. But exchanges are free, and the price is low.
These are very low-risk, high-reward purchase.

The following two tabs change content below.
Nick English
By day: Manhattan-based journalist with reporting experience on four continents, published in Vice, Men's Health, Popular Science, and a bunch of other places.By night: ravenous consumer of anything and everything related to high end men's boots.Stridewise is where I nurture a maniacal obsession with footwear and share my findings. Say hey:
[email protected]
Latest posts by Nick English (see all)