Let's be honest. Calling a timepiece an 'homage watch' is a very polite way of calling it a knockoff. While imitation may be considered the sincerest form of flattery to some, there is a very fine line between drawing inspiration from vintage designs and turning in someone else's homework. While the new D7 Arctic Swiss Diver by Vaer is undoubtedly inspired by vintage dive watches, it has so much more to offer than mere reference alone.
Vaer was started in 2016 with the mind to offer classic, durable, and affordable watches for watch enthusiasts. The name is an original word, comprised of influences from a few different languages including, but not limited to, Latin, French, Danish, and even Old Norse. The simple answer is the word sounds pleasant and has positive connotations in a myriad of languages. That might sound a bit silly at first, until you remember that the Big Crown itself, Rolex, has a very similar origin to its name. As legend has it, Hans Wilsdorf chose 'Rolex' because it would be easy to pronounce in virtually any language.
Many of Vaer's early watches were very simple in design, focusing on the clean simplicity of the time-only field watch, with very reliable American made quartz movements (these field watches deserve a review all their own). But after a few years and a tidal wave of interest from fans of the brand, they announced a line of automatic dive watches. The ambition was to make a reliable, sturdy dive watch, with enough water resistance that the user could feel safe taking it surfing.
[GET 15% OFF THIS WATCH WITH THE CODE 'STRIDEWISE15' HERE]
The Watch
39mm Stainless Steel Case
Ceramic Dive Bezel insert with Luminous Markers
Double-domed Sapphire Crystal with Anti-Reflective Coating
Sapphire Crystal Exhibition Caseback
ETA 2824 Automatic Movement with Hacking Seconds
200m Water Resistance
Super-LumiNova Elements with Faux Patina coloration
Horween Leather Strap, Tropic-style Rubber Strap, or Stainless Steel Bracelet
Now, when most watch companies release a new watch, they usually have a fairly straightforward set of specs to go along with it. But Vaer has done something rather interesting – they offer two variations on most of the models in their dive lineup. Starting at $499, the D5 variants are assembled in the USA with Japanese Miyota movements. At $799, the D7 variants are assembled in Switzerland with Swiss ETA movements. (The code stridewise15 nabs you a 15% discount on either model, remember.) There are a few different permutations available in the form of different dials, handsets, date windows, and lume color, with slightly different names – i.e. D7 Arctic, D7 Arctic White, or D7 Atlantic (white lume with date window). While you can't mix and match components, there are plenty of cool watches to choose from.
The watch in question here is the D7 Arctic Swiss Diver. As with all of the automatic Vaer divers, the watch features a very comfortable 39mm stainless steel 'twisted lug' case and is nicely proportioned overall. Fans of vintage watches, or more specifically Omega, will recognize the case profile as it has been a mainstay of both their Speedmaster and Seamaster collections for decades. Interestingly enough, the twisted lug case predates the Seamaster and goes back to at least the mid 1950s with their use in the Universal Geneve Polerouter. These cases were manufactured by the Swiss casemaker Huguenin Frères and have since become one of the most iconic case designs in watchmaking.
One of the most fundamental features of any dive watch is the timing bezel. In fact, one could make an argument that the bezel is the definitive feature that makes a dive watch a dive watch. Timing bezels are used to measure how long someone has been underwater during a dive and typically only rotate in one direction in order to avoid any accidental miscalculations. (No one wants the bends!) The D7 features a classic unidirectional bezel with a beautiful ceramic insert. The layout of the numerals and markers are reminiscent of the Rolex Submariner, though under close inspection subtle differences in shape and character begin to reveal themselves; this bezel is not a carbon copy of the Sub's bezel. The fact that the bezel is ceramic should also not be understated – that Vaer is selling an automatic watch with a beautiful ceramic bezel insert for under $1,000 is simply astounding.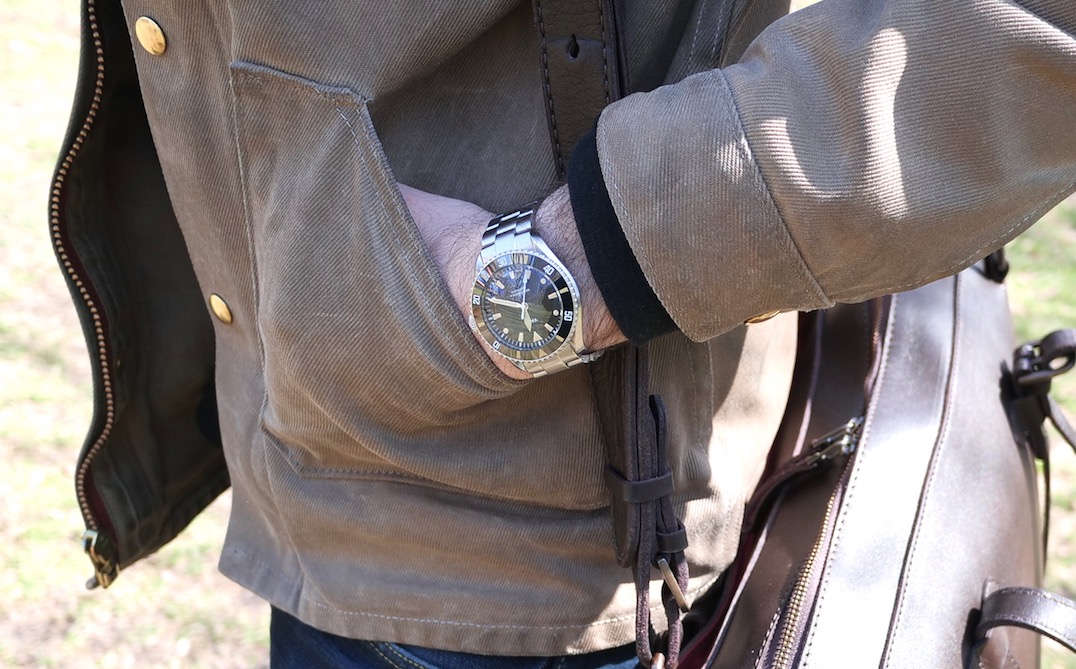 The dial is a clean matte black with luminous markers, vintage inspired sword hands and a painted white seconds hands. The dial is clean and legible, and the handset is nicely proportioned for the size of the dial and hash marks. The indices are one of the only major design elements on the watch that are not clearly influenced by other vintage designs. They are beautiful, alternating between a subtlety flared doorstop style shape and round markers at 2, 4, 8, and 10 o'clock. These round markers bring a strong symmetry to what might have otherwise been another boring time-only sport watch. Young watch designers take note: you don't need to be ostentatious to be original.
Vaer is very proud of their luminous plots and put a lot of time and effort into making the lume as voluminous as possible. The D7 Arctic is available with either white Super-LumiNova or tan Super-LumiNova. As with the Hamilton Khaki Field watch we previously reviewed, this tan color is made to look like aged radium or tritium and is often referred to as 'Fauxtina' (faux patina) in the watch world. Sometimes this aesthetic choice can be overbearing or goofy, but it's well done here and adds a handsome contrast to the matte dial and ceramic bezel.
Within the case ticks the ETA 2824 automatic movement. Now, Vaer does offer these watches with the Miyota 9039 automatic movement ( in the D5) as well. The Japanese Miyota variant costs about $300 less than that Swiss ETA variant. At the end of the day, these two movements are very similar. Both are time-only automatic movements, both have about the same accuracy of -5/+15 seconds a day, and are similarly robust. The Miyota has a slightly longer power reserve (by a couple of hours) but the ETA has nicer finishing and in this case even features heat-blued screws (watch nerds everywhere rejoice). The ETA is a bit more expensive, but the Miyota movements tend to have louder rotors and can be heard whirling around inside the case, which can get a little annoying. The D7s are assembled in Switzerland while the D5s are assembled in the USA.
Either way, both are great movements and worth their respective price points and are used in countless watches across the industry.
[Related: Why Hamilton Makes the World's Best Field Watch]
The Straps
In keeping with the concept of fun and versatility, Vaer offers a few different strap options for these watches, ranging from Horween leather straps (lined or unlined), Tropic-Style rubber or a stainless steel Oyster-style bracelets. All of the strap options come with quick release spring bars for easy swapping about without the need of a spring-bar tool. Now, Quick release spring bars can be a bit finicky and have been known to be less reliable than their traditional counterparts, however the spring bars used here all feel nice and sturdy.
Of the three options, the Horween leather strap is certainly the nicest, with a soft, supple feeling and overall nice quality and finishing. The rubber strap is fine, but the bracelet needs some work. The links have a bit of an edge to them and the end links themselves are downright sharp. All of that having been said, Vaer is well aware of these issues and has already begun making modifications and improvements for subsequent releases. For those of us who have the older style bracelets, not to worry – Vaer has a wonderful policy of offering 50% discounts to folks who want to upgrade to the newer strap or bracelets, which is nice.
[Related: The Best Leathers for Watch Straps]
Pros
Classic, comfortable, and nicely sized twisted lug case
Ceramic bezel insert often found at much higher price points
Incredible value for a Swiss made automatic movement
Hacking Seconds
200m Water Resistance
Vintage Inspired Design Elements
Easily changeable strap options
Cons
Rubber strap is a bit stiff
Bracelet is very cheap and has poorly finished, sharp edges
Small finishing issues could be a little better i.e. Sharp bezel edge and crown
Design elements could be considered a bit derivative
Wrapping Up
There are a lot of watches available today from micro-brands and major brands alike that rely on vintage watches for their design direction. Some of those watches are uninspired copies and some are not. The legitimacy of 'heritage' inspired designs is hotly debated amongst collectors and enthusiasts and many watch brands struggle finding a balance between paying homage to their own catalogs and resting on their laurels. New brands have perhaps an even more difficult task of defining and setting themselves apart from the other brands that have tens if not hundreds of years' worth of history to draw on.
In the face of this challenge, far too many young brands run straight to the old Ctrl-C/Ctrl-V School of Design. But that's not what Vaer has done here. While the D7 Arctic, and indeed most of the dive collection, is inspired by the Omega Seamaster 300s of the late 1960s, it is not a rip off – if anything it's a greatest hits, tweaked and updated by Vaer's own design choices and details (like that fantastic dial).
The question isn't whether or not Vaer's watches are worth the price – they very much are. But rather, there is an astounding value proposition when one considers the other watch brands out there that use the same materials and movements for significantly higher prices. Despite one or two finishing details that could be improved upon, the Vaer D7 is well built and feels sturdy. The movement is reliable and will be easy to get serviced due to the prevalence of the ETA 2824. The D7 keeps good time and looks great doing it.
While there are certainly heavy references at play here, Vaer has not lost their own identity to those vintage influences. That is to say, this is not an 'homage watch' despite the fact that it pays homage to other watches. These watches are not simple copies of vintage aesthetics, but rather a result of hefty research, passion, and enthusiasm for what made those older watches great in the first place. The D7 Arctic Swiss diver isn't a knock off of the vintage dive watch, it's a love song to the vintage dive watch.
The following two tabs change content below.
Troy Barmore is a watch, luxury, and heritage goods specialist and writer based in New York City. Growing up in the mountains of Colorado, Troy has had a passion for subtlety and detail since childhood. Whether it be denim, leather, eyewear or watches, he has made the study of quality goods a lifelong focus.
Latest posts by Troy Barmore (see all)