Everyone knows that a great boot starts with great leather.
But where does that leather come from? It starts with the expertise of the tannery, where raw hides are transformed into the highest quality leather through the alchemy of the tanning process. There are countless of tanneries out there — really, we've reviewed everything from Italian to Indonesian — but if you're looking for the best possible product, these are some names you can put your confidence in.
Now, what this list is not is a list of every good tannery on Earth. And it's also worth remembering there are tanneries that make great leather that are kept secret. For example, the famous acorn leather on my Trickers boots — the company refused to tell me which tannery makes it.
So this list isn't a compilation of the world's only good tanneries, rather it's a list of great tanneries you can trust.
1. Horween Leather Company
If you're an American who likes boots, it's very unlikely you haven't heard of them. Horween is among a small group of tanneries that process their leather all the way from a raw, cured state to a finished product. Founded in 1905, the Chicago-based, family-owned operation has long stood as one of the most respected leather manufacturers in the U.S., and still employ craftsmen to produce their leathers by hand.
Horween's signature is Chromexcel leather, which they call "the original pull-up leather." It's made from a nearly century-old formula using a bark retannage, and then it's hot-stuffed with a blend of natural oils and greases that includes food grade beef tallow and cosmetic grade beeswax. I own an enormous range of Chromexcel boots: Alden Indys, Wolverine 1000 Miles, Vibergs, Oak Streets, Allen Edmonds, Parkhurst, Helm… the list goes on.
Horween is also one of the few tanneries in the world that still produce genuine Shell Cordovan leather and unusually, the. company also produces an assortment of sporting goods, including basketballs and baseball gloves. Arnold Horween Sr., who once coached Harvard's football team, even devised a specialized football leather, and Wilson exclusively uses Horween leather in the construction of their Super Bowl footballs.
[Related: Watch our complete guide to Chromexcel, Horween's most beloved leather]
2. Charles F. Stead Leather
Tanneries used to be a dime a dozen in England, but few have stood the test of time. Family-owned and based in Leeds since the 1890s, Charles F. Stead — also known as "CF Stead" — has done just that. Today, they're perhaps the most celebrated maker of suede in the world, and they're also the go-to for kudu leather.
Through partnerships with many prominent retailers, Stead maintains a towering presence in the industry, and has manufactured signature lines for popular companies like Adidas and Doc Martens.
Famously, they collaborated on the Desert Boot with footwear luminaries C&J Clark some 65 years ago. Today, those iconic boots comes in more styles and colors than ever.
[Check out CF Stead's suede on the Taft Dragon boot]
3. Le Farc
Le Farc was founded in Mexico 25 years ago by fourth-generation tanner Luis Ernesto Collazo. Though they may lack the long, storied history of a Horween or Stead, they've quickly risen to the top of the industry as a maker of fine leather, supplying brands such as Thursday Boot Company, Wolverine, Timberland, and Saddleback.
Producing in excess of 5,000 hides per week, Le Farc has dominated a very competitive Mexican market while still maintaining a particular emphasis on environmental consciousness, recycling two thirds of their waste, guaranteeing leather free from restricted substances (like formaldehyde), and using solar energy to power their facility, a stance which has earned them a Leather Working Group gold medal.
[See some primo leather from Le Farc on the Thursday Captain Boot!]
4. SB Foot Tanning Co
Much like Horween, Minnesota's SB Foot has occupied the upper echelon of American tanneries for more than a century. It was founded by Silas B Foot and George Sterling in 1872, and today the tannery is most famously associated with the Red Wing Shoe Company, who bought it in the 1986 after being operated by the Foot family for more than a century. SB Foot became a fully owned subsidiary of Red Wing.
The fact that Red Wing owns their own tannery is a very cool aspect of the brand that means they have a lot of quality control over their finished product. The leather they make for them is mostly oil tanned, meaning it's chrome tanned and processed with extra oils to make it more hard wearing.
Beyond their partnership with Red Wing, SB Foot has partnered with the US military for generations, supplying leather for soldiers' boots since World War I, and they also manufacture full grain leather for high end upholstery and some sporting goods.
[See how SB Foot leather ages in my old pair of Red Wing Moc Toes!]
5. Badalassi
With Italy being virtually synonymous with leather, to be thought of as the country's finest tannery stands as a tremendous accomplishment. This is where the Badalassi Carlo tannery sits today. Located in Tuscany in the city of San Miniato. They have over 40 years of experience specializing in the production of vegetable-tanned leather.
The owner, Simone Remi, is also the president of The Genuine Italian Vegetable-Tanned Leather Consortium, which "regulates, preserves, and guarantees the production of vegetable-tanned leather made in Tuscany," so leather purists really love this tannery.
Remi is very proud of the traditional roots and sustainability of his leathers. Badalassi and other members of the Consortium agree to use only traditional natural ingredients, to ensure that no animal is killed for its skin (ie. they only use byproducts of the meat industry, ensuring more of the animal is used than just its skin), and that all leather is tanned in Tuscany, along the banks of Arno river, between Florence and Pisa.
The attention to traditional techniques pays off, as their veg-tanned leathers develop a beautiful patina over time. Their hyper-local, traditional approach to manufacturing means that their leather isn't as common as Horween or others on this list. That said, you can find their leather in Indonesian MTO brands like Sagara Bootmaker and extremely high end boots like White Kloud in Japan (above).
6. Guidi
Founded by Guido Guidi in 1896 and also located in Tuscany, where tanning dates back to the Middle Ages, the tannery expanded from leather production into artisanal shoemaking in 2004.
This family-owned company avoids mass production techniques in order to handcraft a more personal products but they still have a really impressive variety of leathers like horse leather and crocodile leather — in fact, they're the only company that tans crocodile leather with a mix of vegetable and chrome tanning, everyone else just uses chrome tanning.
Guidi is very old school in that they don't operate their own stores, rather they sell to 130 boutiques around the world, but they've done a great job of flourishing in the modern world with very old production methods.
Guidi isn't very well known but among people who know them they're adored for their quality and really loved for the fact that they make their own leather and their own shoes.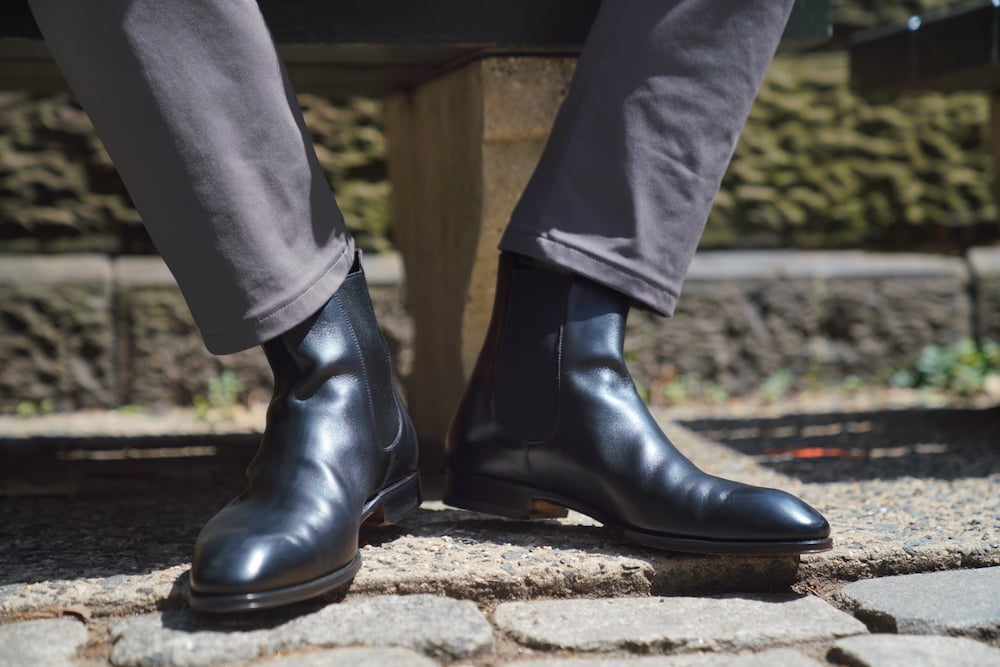 7. Tannerie d'Annonay
Famous for its luxury calfskin products, Tannerie d'Annonay is located in a nondescript factory in France's Rhone Valley.
In 1838, Etienne Meyzonnie purchased the business from a master tanner named M. Romain. Things got exciting in 1872 when Eugène Meyzonnier succeeded his father and developed a waxed calfskin, intended for footwear, which he sold exclusively in Great Britain. This waxed calfskin, commonly called Box Calf, is their claim to fame and is now a hugely widespread leather that's used on countless dress shoes, including my Carmina Chelseas (above).
The tannery changed hands and names several times in the 20th and 21st centuries and a film was even made about the struggle to keep the tannery open titled, "Les Tanneurs Ont la Peau Dure !" (Tanners Have Tough Skin!). The most recent incarnation of Tannerie d'Annonay was founded in 1984, before being sold to fashion powerhouse Hermes in 2013.
Regardless of ownership, Tannerie d'Annonay still supplies high-end Box Calf leather to some of the best footwear companies in the world and it's a real institution in the industry.
8. Shinki Hikaku
Located in Himeji, Japan, "Shinki" is a family run business that was founded in 1951. Besides being the only Asian tannery on this list I really wanted to spotlight it because they are solely devoted to horse leather. That might sound strange to casual fans of boots and jackets, but if you know a thing or two, you know horsehide is worth doing right.
Their vegetable tanning process involves drying and aging stages that take up to four months and make for a really unique grain and texture. Sometimes, like in the case of some jacket leathers and their cordovan, tanning takes an entire year. The hides are specially selected from Europe and while it's vegetable tanned horsehide, it has a nice balance of stiffness and malleability
The company has done really interesting collaborations with Viberg that produced this beautiful oiled horsebutt leather you can see above, as well as some of the most beloved Japanese leather jackets from Real McCoys, Freewheelers, and Himel Bros.
9. J&FJ Baker
This is Britain's only remaining oak bark tannery, and its site has been used for tanning leather since Roman times. The Baker family bought it in 1862, and it's currently run by Andrew Parr who is the fifth generation to carry it on.
So what's an oak bark tannery?
Oak bark tanning is a long process that protects the natural fibers of the hide, requiring 14 months to produce each piece of leather. It's then it's finished with their own blend of natural oils and greases, and the result is very hardwearing, strong, and distinctive leather that's also quite flexible because the fibers are so well protected. Oak leather is especially beloved for shoe soles because it makes for a more durable and water resistant outsole than regular leather soles, but it's also used on high end leather shoe uppers by companies like Crockett and Jones, as well as bags and belts. J&FJ Baker is a company that deserves to be preserved.
10. Hermann Oak
We're coming back to the United States for the last entry on our list. If you've ever bought a vegetable tanned leather belt from Red Wing, it's not from SB Foot — it's actually from Hermann Oak, a very esteemed tannery founded in 1881 in St Louis, Missouri. Hermann Oak is known for pioneering the vegetable tanning process in the US, supplying leather to the military in both World Wars, and now they supply leather for everything from bridle leathers on bags to raw hides for drum skins and Red Wing's belts.
The Bottom Line
At the end of the day, what your boot is made of matters as much as how it's made. And if you're looking for the best possible product, the highest quality boot you can find, you can't go wrong with one made with leather from any of these tanneries.
[Related: My list of The Best Boots]
Featured image via C.F. Stead
The following two tabs change content below.
Mel Compo
Mel Compo is a writer, editor, and general word-geek from Brooklyn, New York. When they're not writing about the finer side of men's footwear they can be found lurking around the streets, trains, and museums of NYC, ostensibly doing something urgent but actually just looking around for menswear style inspiration.
Latest posts by Mel Compo (see all)