This post may contain
affiliate links
that at no additional cost to you, I may earn a small commission from.
Leather goods are funny things – they can either be the absolute peak of luxury or be so cheap and generic that they feel virtually worthless. There are literally hundreds of companies that make all manner of generic laptop bags and briefcases that you'd see in the airport and forget just as quickly. On the other side of the spectrum are bags by the Pradas and Louis Vuittons of the world, sporting textured leathers of mysterious quality and costing well into four figures. So where is one to turn when a leather bag of genuine quality, elegant design, and reasonable price is the object of desire? The answer might be surprising.
Indonesia.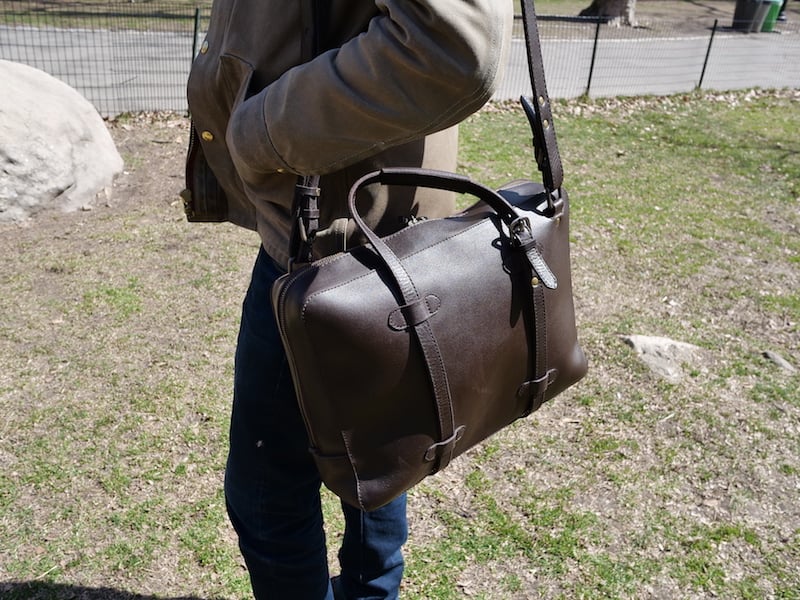 [Shop the C.O. 15 in this Espresso leather here, other colors and sizes here]
The C.O. 15 Bag
Started by photographer Yoki Baskara in 2013 by way of a Kickstarter, Cravar has rapidly become a favorite of ours at Stridewise. While the F.C. 15 that we reviewed here has much more of a rugged, vintage satchel-y vibe to it, the C.O. 15 cuts a more refined figure with its slim, structured shape and carry handles. This slightly more formal design makes the C.O. 15 a slightly more professional looking bag than some other options out there (I'm looking at you, Saddleback) but it works well enough as a smart casual bag as well.
The singular, standout feature of the C.O. 15, and indeed all of Cravar's bags, is the leather. That may seem at first blush to be pretty obvious – the key thing in the leather bag is the leather. But for far, far too many bags, the leather is at best a close 3rd in terms of consideration, taking a backseat to some convoluted design (more often than not a tactic to hide the use of small patches of leather scraps, see Kodiak), and self-indulgent branding. But with Cravar, the leather is a fundamental element of the company's identity.
[Read More: The 5 Best Leather Backpacks | Casual, Work, Best Value, Luxury, and More]
We went into more detail about the origins of Cravar's leather in our other F.C. 15 review, but the quick take away is that when the company was started, Yoki Baskara went the extra mile to design and develop his own leather at a tannery owned by a friend. They use all vegetable tanned leather which is pit tanned. Pit tanning is a very old-school way of making leather (and by old school, we mean Ancient Sumerians old). In a very real way, the vegetable tanned leather used for all of Cravar's bags is made exclusively for, and with the involvement of, Cravar. That is a depressingly rare feature in the leather goods world.
[Related: Vegetable vs Chrome vs Combination Tanning Leather]
Cravar C.O. 15 Features
Full Grain Vegetable Tanned Leather
Solid Brass Hardware Throughout
15.75 inches x 12 inches x 3.5 inches
4 lbs empty with the shoulder strap
Sunbrella interior Lining
From a quality standpoint, this briefcase is beautifully made top to bottom. The leather itself is a bit stiff, but being vegetable tanned it will break in and soften with time. Unlike most chrome tanned or heavily waxed and oiled leathers, this leather has no pullup. But that's not to say it doesn't have character — quite the contrary.
Upon closer inspection, the full grain leather reveals plenty of natural texture and grain from the hide. Closer still, the edges are unpainted but finished in beeswax, and show that the leather is fully tanned through. Vegetable tanned leather is typically stiffer at the beginning, and brings a nice structure to the bag which makes it feel quite premium. The stitching through is clean and consistent, with no loose threads or abnormal lines. The strappy handles are one continuous leather strap that encircles the entire bag. This load bearing strap is something of a signature design and has extra pieces of leather padding, which brings a nice comfortable place to grip and makes carrying the bag a pleasant experience.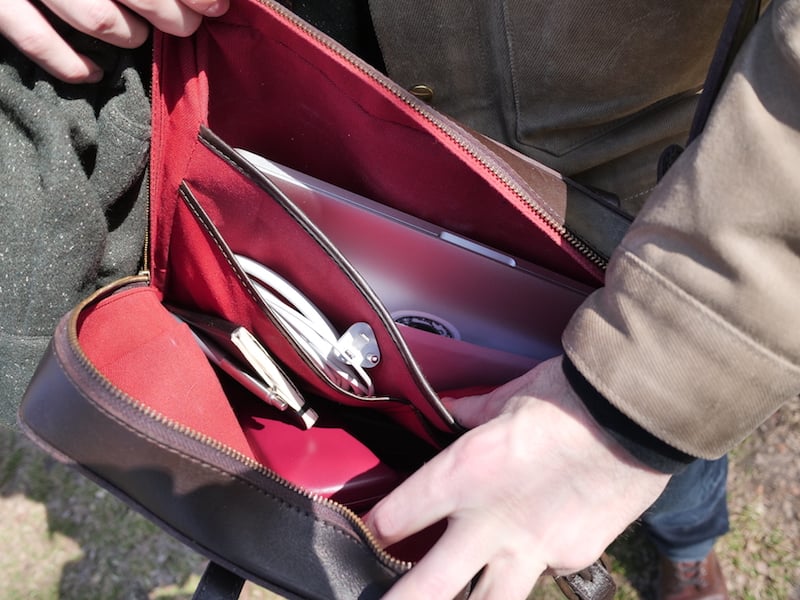 Inside the extra wide, zipper opening is the signature red Sunbrella lining, a center divider, two pockets, and a little leather slot for business cards, driver's license or the like. The divider creates a nice laptop compartment which comfortably fits a 15 inch Macbook Pro (a feature missing in the FC bag). The fabric lining might put off some who are used to pig skin or twill, but in this instance it fits the more professional or dressy styling of the bag – also, it keeps overall weight down and helps keep the briefcase from becoming a back breaker.
All in all, the interior of the bag is simple and uncluttered. However, the lack of a pocket or divider for a water bottle or thermos is a bit of a shame. On the back of the bag is a slim and deep pocket that could fit, plane tickets, a pair of gloves, or a few facemasks as current events necessitate. There is an additional wide strap that is intended to attach the briefcase to rolling luggage. It's a magnificent feature for frequent travelers. Interestingly, there's a tiny magnet intended to keep the strap flush with the back of the bag when it's not being used, which is an unusual touch that adds to the cleanness of the aesthetic.
[Related: The 8 Best Indonesian Boot Companies]
Cravar's C.O. 15 Price
The price of the C.O. 15 is $399, and is right in line with the rest of Cravar's leather bags. It should also be noted that shipping on all of Cravar's bags is free, so no need to worry about international postage. (Yoki has told us that his bags would be far cheaper if he didn't include postage with the price, but this saves you a rude surprise at checkout once shipping fees are added to the total.) While certainly not inexpensive, there is really no arguing the sheer value proposition here. If such a bag, made in a similar way, of similar materials, were made in the USA, you'd be looking at easily $500-$800. Slap a designer name on it and it could easily cost $2,000 or more… which would be dumb.
[Shop the C.O. 15 in this Espresso leather here, other colors and sizes here]
[Related: Is Filson's $1000 Briefcase Worth It?]
Pros
Price – at $399, this is a very reasonable price for such quality
Exclusively made vegetable tanned leather
Flawless stitching throughout
Extra wide opening for easy access
Comfortable shoulder pad on the strap
Cons
Strap attachment points don't articulate, can get twisted
Some bags (like the F.C.) boast an absence of breakable parts, like zippers — this bag does have a zipper, and occasionally it gets caught up on the inner lining. Additionally, zippers could affect the waterproofness of the bag.
No pocket for a thermos or travel mug
The Takeaway
There's something gratifying about carrying a supremely well made, understated briefcase – one that could easily be mistaken for a significantly more costly designer bag. Perhaps the satisfaction comes from knowing that Cravar makes a far better built bag than the bonded or Saffiano nonsense that one could purchase in a high-end department store, an ostentatious luxury name emblazoned across its panels. Or perhaps what's so satisfying is knowing that when your bag catches someone's eye, they will likely admire it from a far and remark something along the lines of, "Wow, what a beautiful bag! I wonder where it came from?".
For those in the know, it is the quiet allure of true quality that is more valuable than a brand name or label ever could be.