This post may contain
affiliate links
that at no additional cost to you, I may earn a small commission from.
When you run a YouTube channel about boots and jeans, you open yourself up to a lot of unsolicited opinions about how you dress. And while it's usually insecure macho men demanding that nobody wear boots unless they work in manual trades, there's one curious comment that crops up time and time again: stop cuffing your jeans.
There's no excuse to cuff your jeans — or is there?
Here are four reasons why it can make perfect sense to have jeans that might seem like they're too long for you.
1. Raw Denim Get Shorter With Time
Raw denim bunches behind the knees, drawing up the cuff and shortening the leg
Raw denim also tends to shrink when they're washed
When you're wearing quality raw denim jeans, jeans that tend to be thicker and stiffer than your average mall brand, it's fairly important that when you get your jeans hemmed you leave a little extra room at the cuff.
Why? Because as raw denim wears in, the area that bends and flexes the most — the knee — repeatedly scrunches with friction. This creates a pattern of folds behind the knee that gradually become the desirable fades known as "honeycombs." (Object to the word "desirable" because you don't want them and don't care about those fades? Too bad, they'll happen anyway.)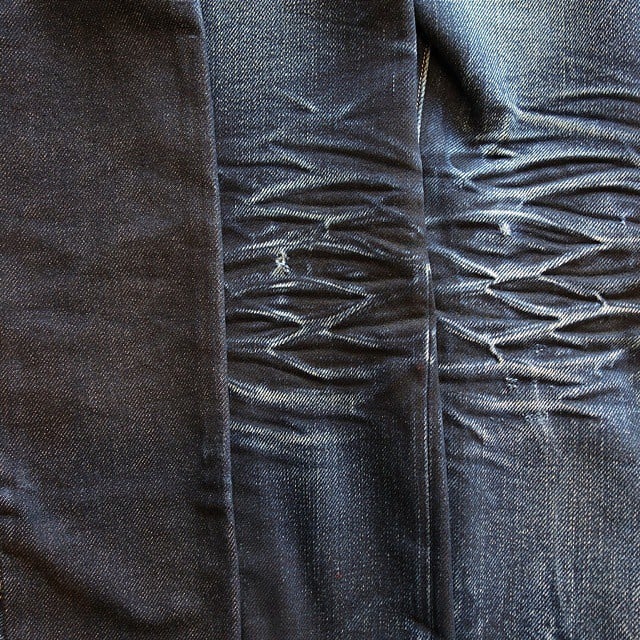 When you first put your jeans on, the back of the knee is smooth. As time goes on, the folds will get baked into the denim, bunching the fabric and pulling the cuff upward. And because it's hard to know exactly how much shorter your jeans will get, it's understandable that you won't perfectly guess the correct length to hem them from the get go and you'll always need to cuff a little.
If you were very cuffophobic you could hem your new jeans to end at your ankle and go through the hassle of getting them hemmed a second or third time as the bunching happens, but that's an expensive and unrealistic expectation. In fact…
[Related: How to Get the Best Denim Fades Ever]
2. Hemming Selvedge Denim Is a Hassle
Hemming selvedge requires special equipment not every tailor owns
If you're wearing selvedge jeans — which most guys who like longevity and fade-ability in their jeans wear — it's remarkably hard to get them hemmed. It's not an operation for which you can visit your neighborhood alterations place; you need someone who can give you a nice chain stitch, and that's probably only going to be the place that sold you your jeans in the first place.
Any good denim brand or outlet will hem your jeans for you with a quality, chain stitched hem when you buy them. (Unless you're getting them from a faceless big brand outlet like Denimio — use code "stridewise" for a 15% discount!) But for most guys, that means you've got one shot to hem your jeans. You can't easily get them re-hemmed once they've finished bunching, and if you find a place online you'll have to pay to ship them and hem them, and you'll need to know the exact inseam length you want them to meet, and wait a good week or three to get your favorite everyday jeans back.
Costly, time consuming, and inconvenient. It's understandable most guys can only hem them once.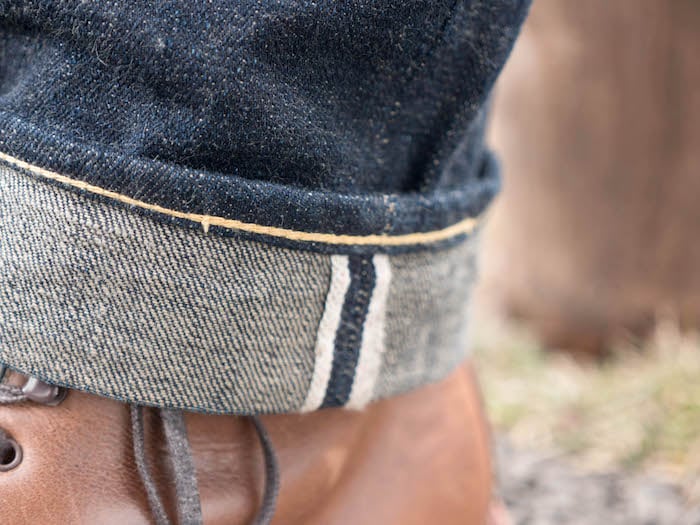 3. It Helps Keep Dye Off Your Shoes
The inside of your jeans has less indigo to rub off
Denim is made with a warp and a weft: one runs vertically and one horizontally. Usually the warp is blue and the weft is usually white or undyed, which is one reason why jeans get lighter as the indigo fades: you're seeing more of the weft.
Traditionally hemmed jeans fold the denim under, so there's a bit of the warp (the outside) on the inside of the leg. If you're cuffing, the lighter "inside" of the jeans is what's making contact with your footwear, which is going to transfer a lot less dye. If you're wearing denim with white canvas sneakers, it can make a very serious difference
Exposing your shoe to the warp of your raw denim makes them vulnerable to indigo transfer and cuffing makes sure that the weft is touching your beautiful white sneakers or lighter colored boots. (This tip was from Elias Richards in the comment section — thanks, Elias.)
4. The Ideal Inseam Changes Based on Your Footwear
Your jeans fall differently if you're wearing sneakers or boots
This one's short and sweet: if you're wearing low-top sneakers or shoes, you probably want your cuff to end right at the bottom of your ankle.
But when you're wearing a good pair of boots, the way your cuff falls on your foot is going to change. You've got extra leather on your instep and running up your ankle that will cause your cuff to break in a different spot, folding (or "stacking") instead of hanging.
when you're wearing a good pair of boots, the way your cuff falls on your foot is going to change.
In addition to that, it's also fine to cuff in a way that shows off your boots! A well placed cuff is the secret to making cool boots even cooler: it breaks up the leg line and makes a clear point where your jeans end and your footwear begins.
Plus, if you're subjecting your boots to some muck and grime — or you're encountering a puddle or two — cuffing them a little higher helps keep the jeans from getting dirty.
5. Cuffing Shows Off Your Selvedge ID
The selvedge ID shows you're wearing quality denim
This one is superficial, sure. The less practical, more fashionable entry on the list, but as we always say around here: there's nothing wrong with wearing clothes in a way that has more of an aesthetic appeal than a utilitarian one. (OK, we don't say that, but we like to think our content embodies it.)
Meet the selvedge ID:
This little strip of material here is the unambiguous signifier that your jeans are better than most other jeans.
What you're looking at here is the "self finished edge" (self edge, selv-edge) of a roll of denim, and it's what keeps the fabric from unraveling and fraying. (Think of how your t-shirt sleeves would roll upward if you shortened them by just snipping off the folded edge.)
Selvedge denim is usually woven on shuttle looms and it's higher quality, harder to produce, and more expensive than mall brands. Even though it makes denim some ten times slower than conventional methods, the slower pace of the shuttle loom puts less tension on the yarn and gives more texture and character to the denim.
It's highly debatable as to whether or not selvedge is more durable in and of itself, but given these jeans tend to be made thicker than non-selvedge, it's usually a signifier that they'll last longer and it's definitely a signifier that they'll have more interesting fades, owing to that slower pace of their creation.
Many denim companies put a lot of work into their selvedge ID. Good examples are the pink stitching common on Momotaro jeans and the glittery silver one on Samurai, signifying a samurai sword. While some non-selvedge brands have caught onto this chic and attached a fake selvedge ID to their legs, many aficionados still like to show off the fact that their jeans are selvedge because it shows their commitment to quality apparel made the old fashioned way.
[Learn more: The Best High End Jeans for Bigger Thighs]
Cuff 'Em If You Got 'Em
There you have it: cuff your jeans with pride! Whether it's because of the aesthetics or the fact that it's just so damn hard to find a chain stitcher, there are plenty of good reasons to keep on cuffing.