As I continue my noble quest to review every Red Wing heritage boot, I have finally arrived at the perhaps the most iconic American boot: the 8-inch tall 877 boot.
It also just so happens that the biggest boot ever made on planet Earth is a size 638 ½ replica of the 877, which you can find in the town of Red Wing, Minnesota and which I had the fortune of visiting when I met the team at the boot behemoth's headquarters.
The 877 is a striking piece of Americana. A fully American made boot with a mighty 8-inch shaft, it was originally billed as a hunting boot when it was released in 1952. That makes sense: the tall boot offers extra protection against muck and water when trudging through marshes, plus the height gives a tremendous degree of stability on uneven terrain. That stability made it useful on job sites as well, and as Red Wing Heritage's boots became more popular as casual footwear, rocking the 8-incher became a badge of pride: you don't just like boots, you're willing to commit.
This is a boot that makes itself known, and it's actually quite different to the brand's beloved 6-inch moc toe, the 875. This is a boot unto itself.
Let's talk about the leather, construction, fit, and price.
[SHOP THE RED WING 8" CLASSIC MOC TOE]
The Red Wing 877 At a Glance
Got somewhere to be? Here's the long and short of it:
Pros
Very stylish
American made
Rare, classic, and extra tough leather
Water-resistant with a gusseted tongue
Good value
Resoleable
Cons
Can't be dressed up
Takes a long time to lace (no speed hooks)
Limited colors available
Tall shaft reduces ankle flexibility
[SHOP THE RED WING 8" CLASSIC MOC TOE]
Red Wing 877 Construction
Resoleable, water resistant Goodyear welt
Rubber midsole
Cork filling
Vegetable tanned leather insole
No shank
This is a classic heritage construction that has barely changed in the 70+ years since its inception. The 877 is built with similar materials, process, and quality as Red Wing's 1952 original, which was billed as a hunting boot like I said in the intro: the extra long shaft and gusseted tongue help protect your lower leg and keep muck from seeping in when trudging through marshes, and it's my go-to boot when snow gets thick.
[Read More: The 7 Best Moc Toe Boots On The Market 2022 | Best Value, Toughest, Best for Work, and More]
Red Wing has been coming out with newer construction methods lately": their Classic Chelsea is made with a softer chrome tanned insole and shock absorbing poron to try and reduce the famous Red Wing break in period, but most of the brand's boots stick to the tried and true construction method of rubber outsole, rubber midsole, cork filling, and veg tan leather insole. All of these components, especially the veg tan leather and cork, mean that the boot will mold to the shape of your foot over time and wind up feeling like a custom fit.
Note that there's no shank in Red Wing's mocs. For those who don't know, a shank is a hard piece of material (usually steel) that sits under the arch and heel to help confer stability and durability to the boot's shape. Some people don't like that there's no shank in these boots, but most experts believe that if you've got a flat wedge sole like the 877, then a shank isn't all that important. Some brands still include shanks in their wedge soled boots, like my Grant Stone moc toes, but it's probably not a big deal, especially when the rest of the construction and materials are so firm and strong.
The last thing to emphasize with the construction is the 360-degree Goodyear welt. Universally considered the best way to construct footwear, the upper isn't attached to the sole like a sneaker is, rather both are attached to the welt, the name for a strip of vegetable tanned leather sandwiched between them. This makes the boot very water-resistant and easy to resole, so you can be confident your purchase will be around for years, if not decades, to come.
[Related: The 5 Best Red Wing Boots For Men (Chosen by Red Wing Employees!)]
Red Wing 877 vs 875
To quickly touch on a common question: this is not just the 6-inch moc toe with two extra inches of leather.
If you look at the 875 and 877 side by side, you will notice that the taller 877's vamp, right above the welt, is one piece of leather that wraps around, while the 875 has a dedicated heel counter. This single piece of leather means the 877 breaks in much more easily — good to know if you were nervous about breaking in all that extra leather. The 877 also has a pull tab so it's easier to pull this mighty boot on.
This is according to the manager of Red Wing's Manhattan store, who appeared in my best Red Wing boots video here and felt that the 877's construction was a little friendlier on wide feet.
But one similarity is the leather: both the 6-inch and 8-inch boots come in this classic Oro Legacy leather.
[Related: Red Wing Moc Toe Review After 3 Years: Do The Boots Hold Up?]
Oro Legacy Leather
Rich orange color
HHH Weight; thicker and heavier than other Red Wing leathers
Aniline dyed
Chrome tanned at Red Wing's own tannery
The legendary leather used by Red Wing is worthy of its own article, but we'll get as in depth as we can. I was fortunate enough to interview the company's Director of Design, Mike Larsen, while I was in Minnesota and he discussed this leather's uniqueness when he showed me their short lived Iron Ranger Traction Tred, which also made use of the Oro Legacy. He discusses it in the video below, which I've time stamped to start at the leather discussion.
We like to conserve this leather and use it in very special occasions. The reason being this is HHH weight, it's really heavy, and there's a limited supply of that. This is also an aniline leather, so we have to grade it, and this takes our Grade A, the best hide selection there is (…) This is a really hard leather to cut in the shoe factory because you have to make sure the color's matching between all the different components and all the scars aren't visible, so it's a very tough boot to make.
Oro Legacy is a special leather and it's not available on many boots. (For comparison's sake, Copper Rough & Tough is on at least half a dozen Red Wing models, Oro Legacy is on two.) It's a tribute to the "Oro Russet" leather that Red Wing used on the original version of these boots back in 1950, which was tanned using extracts from the bark of sequoia trees, giving it a reddish-orange color they called Oro Russet. It resembled the color of Irish Setter dogs and was named "Irish Setter" by the company in its 1950 catalog. (Irish Setter is now the name of one of Red Wing's workboot brands.)
The 8-inch moc is also usually available in Copper Rough and Tough as well, a golden, very oily nubuck leather, but the Oro Legacy is the signature leather for a Red Wing boot — and you should know it's a different beast to all their other stuff.
[More Red Wing Info: Are Red Wings Worth It? What You Should Know Before Pulling the Trigger]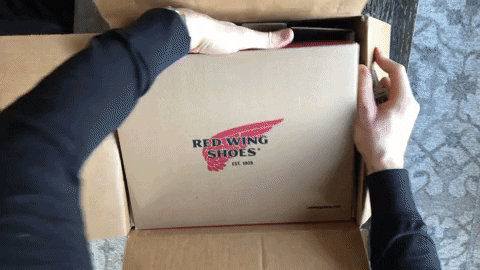 Red Wing 877 Fit & Sizing
Size down 0.5 from your true size
No. 23 last, extra room on forefoot
No wide widths
Fit-wise, the 877 is made on the same last as the classic moc toe: the number 23 last. (A last is the foot-shaped mold the boot is built around.) This isn't the same last as Red Wing's Iron Ranger, which is a little roomier all around. (Some people size down a whole size from their true size for Iron Rangers instead of the usual 0.5.) The No. 23 is more suited to a moc toe and has extra room in the instep and forefoot.
Red Wing's aesthetic is not sleek city boots, like Thursday Boot Company. Red Wing gives you ample room to allow for plenty of dynamic movement and thick socks.
Most people size down a half a size from their true size — the one they get on the Brannock device in a shoe store — and a whole size down from their sneaker size. Sneakers tend to run a bit big, boots tend to run a bit small. My true size is 11.5, my sneakers are usually a 12, my boots are pretty much always an 11, and I'm the same size in the 877 as I am in the Iron Ranger and Blacksmith.
If you're unsure, get your foot sized at your nearest shoe store to get an accurate read on your sizing and subtract half a size. Most guys who haven't done this think their usual sneaker size is their true size, but it's usually not the case.
[Related: The Ultimate Guide to How Boots Should Fit]
Red Wing 877 Comfort
Better break in than 875
Little ankle flexibility due to height
Are these boots comfortable? Let's talk about that.
If you start searching the internet, you may get the impression they are not, at least not out of the box. Boots are boots, they are not sneakers, and because the 877 adheres to the traditional boot construction that we had a hundred years ago, you aren't going to get a sneaker-like feeling out of the box.
The good news is that this big cushy outsole gives more shock absorption and immediate comfort than the Vibram mini-lug you get on most other Red Wing heritage boots. But if you're new to boots you should know that when they're new, these boots are fairly rigid underfoot because of the thick, vegetable-tanned leather insole, and you won't feel a ton of arch support at first. After months and years of wearing it, though, your foot sinks into the leather and cork and they become the most comfortable shoes you've ever worn. This is exactly what happened to my years-old charcoal moc toes, it's what'll happen with this boot as well.
Red Wing 877 Break In
The fact that the vamp is a single piece of leather and there's no heel counter, as previously mentioned, means the break in is easier than you'd expect. I got fewer blisters than I did breaking in my classic mocs.
For most people, I imagine that the dramatic shaft will be more of a comfort issue than the break in. It's not that it's uncomfortable, but it's a very stiff feeling in the lower leg that you may not be used to, especially before the leather softens with wear. The first few times you wear these you'll probably be walking a bit like Frankenstein's monster, without a ton of ankle flexion. That said, you feel more protected and stable and supported in these boots than with any 6-inch boot. It's a cool feeling, unlike any other shoe I've worn.
If you do experience discomfort or pain when wearing these boots in, let your feet rest a day or three between your first wears, when they'll be a bit tender. I didn't get blisters with the 877s but when I was getting them with my 6-inch moc toes, I found they abated after the first half dozen wears or so.
Red Wing 877 Price
After a price increase in late 2021, these boots cost $319.99.
That's still less than the Iron Ranger's $350, and you're getting a lot of boot for the price. You're unlikely to get better 8-inch boots at this price point, certainly not if you're prioritizing American-made. (The exception would be Thursday's Logger.)
Everything from the upper to the insole is made right in Minnesota and Red Wing, as perhaps the biggest heritage boot company in the states, has lower prices than competitors simply because of their size: they've managed an economy of scale where the customer is getting terrific construction at a reasonable price. If you've only bought sneakers before you may be shocked that we're calling $320 reasonable, but again: if you're looking for resoleable, American-made leather boots, you won't find a better deal.
[SHOP THE RED WING 8" CLASSIC MOC TOE]
Wrapping Up
If you're just getting into well-built American-made boots these might seem expensive, but they're actually great value and will last at least a decade or two. The rare leather is extremely tough and thick even for Red Wing and while the aesthetic might be too casual for some guys, this is a superb, iconic boot that deserves the hype. Sure, Red Wing could offer these in more colors, it takes a long time to lace up — especially since no one thought to put speed hooks on these! — and you won't have as much ankle flexibility as a shorter boot, but besides those nitpicks this is an excellent boot. It's comfortable, stylish as hell, and looks better with every wear.
Oro Legacy moc toes are the most enduring symbol of Red Wing as a brand, and whether you want something to complement your streetwear or you just want boots that will feel great on your feet all day while you're hunting in a swamp, these 877 boots do the job and then some.
The following two tabs change content below.
Nick English
By day: Manhattan-based journalist with reporting experience on four continents, published in Vice, Men's Health, Popular Science, and a bunch of other places.By night: ravenous consumer of anything and everything related to high end men's boots.Stridewise is where I nurture a maniacal obsession with footwear and share my findings. Say hey:
[email protected]
.
Latest posts by Nick English (see all)