This post may contain
affiliate links
that at no additional cost to you, I may earn a small commission from.
Flat feet is a surprisingly common issue, with some sources suggesting that 3 million people suffer each year, while others estimate that up to 30 percent of people have at least one flat foot. Flat feet or low arches can often lead to other problems, putting folks at a greater risk of experiencing foot pain, pronated feet, knee pain, and other conditions.
Now there are plenty of orthopedic inserts you can employ — Superfeet Insoles get a lot of credibility among the flat footed — but I'm sticking to my niche and addressing the best fashionable men's boots for flat feet.
I know that a lot of experts will tell you to forgo fashion when you need the right boots — and, you know, I'm not a doctor, listen to yours if you have real medical issues, this does not constitute medical advice, and so forth — but I've asked around the community and chatted to a couple of experts and my research, combined with my own experience of wearing a whole hell of a lot of boots, led me to this list. And I'm really confident in it. Without further ado, the best boot for flat feet…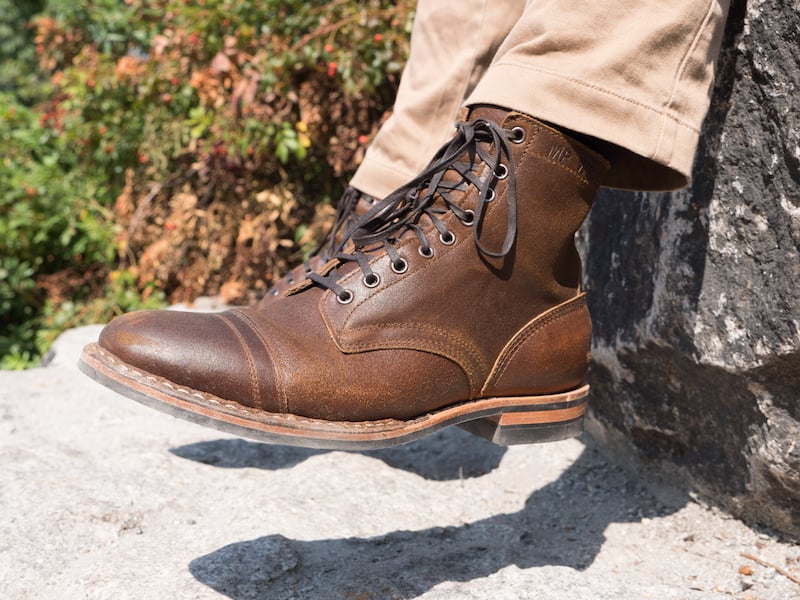 1. White's MP Boot
Once called the MP Service Boot and now called either the Sherman boot, which you see above, or the Stuart boot if you'd rather not have a toecap, this is one of my all time favorite boots and without a shadow of a doubt, it has the best arch support.
No boot has cradled my foot the way a White's boot does, and that's because of the company's patented "Arch-Ease" support system that actually mimics custom orthotics and duplicates the natural contour of the foot. There's even a ridge along the instep to provide support there. Unusually, the boot is made with a leather shank — that's a hard piece of material, usually steel or plastic, intended to provide arch support and stability to the shoe — but it's really stiff, 12 iron leather that just plain works. White's knocked it out of the park.
If you've heard all that, you might be worrying that these boots contour the foot too much to be able to fit your individual feet, but the beauty of it is that when you order them, White's asks for your foot measurements and a foot tracing and they can make a boot for your feet and nobody else's. So if you want more of an arch or even if you want them built so that there's room for your inserts, you can do that with White's.
[Read my complete review of the White's MP Boot]
[Buy the White's MP Boot here]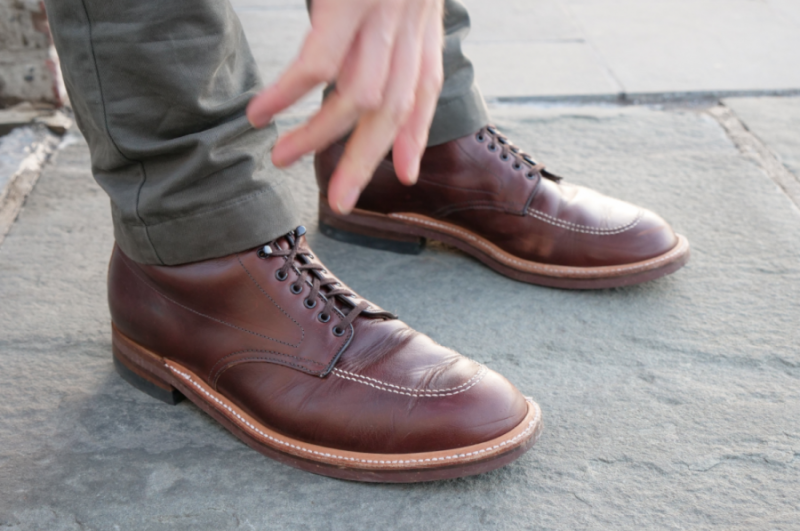 2. Alden Indy
If you read this article from JD Sassone, he swears that the Alden Indy is the shoe that saved his flat feet. Popularly known as the boot worn by Indiana Jones in his movies, the brand was founded in 1884 and Alden branched out into orthopedic and medical footwear in the mid-20th century. In my two-year-old review I noted that the arch support was phenomenal, which is a rare thing to say for a boot.
The Indy, or the Alden 403, is made with a Trubalance last which is part of their "Foot Balance System" shoe line. It's got added support from its long inside counters and it's made with what's called a Thomas heel, which extends further down the inside arch area of the shoe.
Perhaps because of their history in orthopedic and medical footwear, Alden has a huge variety of lasts, and even their flagship Indy is available in B, C, D, E, EE, and EEE widths. (That's all of them.) If you've got a high instep, there's a last designed for you. If you've got a wide foot in front and a narrow heel, there's a last for that. Do you prefer a sleek, narrow toe box? Alden has a last for that. It's a phenomenal company and they deserve their reputation as some of the best bootmakers in the business.
[Read my full review of the Alden Indy]
[Buy the Alden Indy here]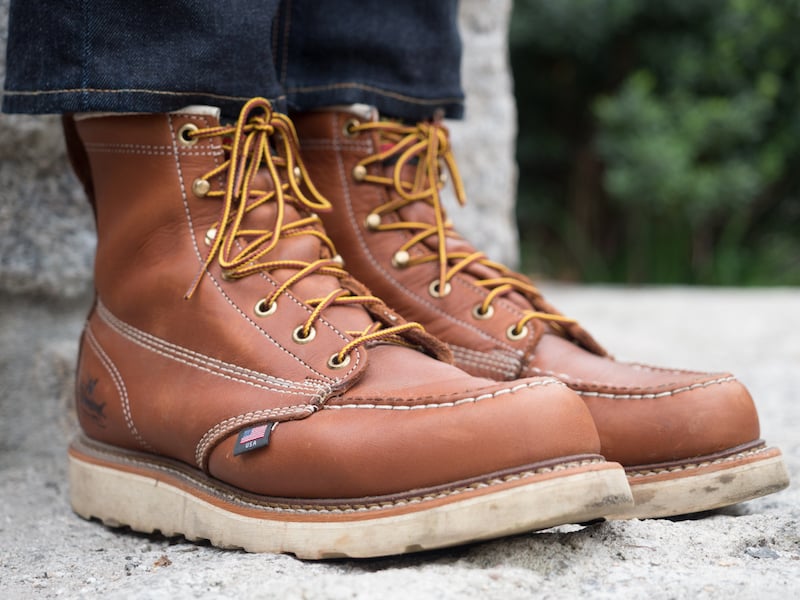 3. Thorogood Moc Toe
This is a real work boot that takes arch support seriously.
The Moc Toe boots from Thorogood look like pretty standard work boots, but there are a lot of built in features that can help out with flat feet.
The unique polyurethane rubber wedge sole, which they designed themselves (it's not Vibram), is flat on the bottom, but the footbed is also contoured. In addition, the shoes come with a removable, dual-density insert that has a lot of cushion to it — so it absorbs shock, while also making an artificial arch.
In addition to that, there's also a fiberglass shank in there for boosting arch support and stability, and perhaps the biggest bonus is that if you really need your own orthotic you can slip it in if you simply take out the insert the boots come with. You've got the room.
[Read my full review of the Thorogood Moc Toe]
[Buy the Thorogood Moc Toe here]
4. Wolf & Shepherd Chelsea Blitz
This is, for lack of a better word, a running boot.
This is a very interesting shoe that's strongly recommended by a lot of people who get sore feet, knees, and/or hips after a long day on their feet. The reason for that is that this boot is actually an extremely unusual combination of sneaker and boot. The outside is pretty nice Italian calfskin leather, but the sole has a unique combination of a shock absorbing EVA foam, lightweight Swiss insole, a carbon fiber shank for arch support, some proprietary memory foam for squishiness, and it's not only insanely flexible but it's very lightweight.
If no boots work for you and you just wish you could be wearing sneakers all day, this boot — or any other shoe from this innovative company — is right for you.
[Read my full Wolf & Shepherd review]
[Buy the Wolf & Shepherd Chelsea Blitz here]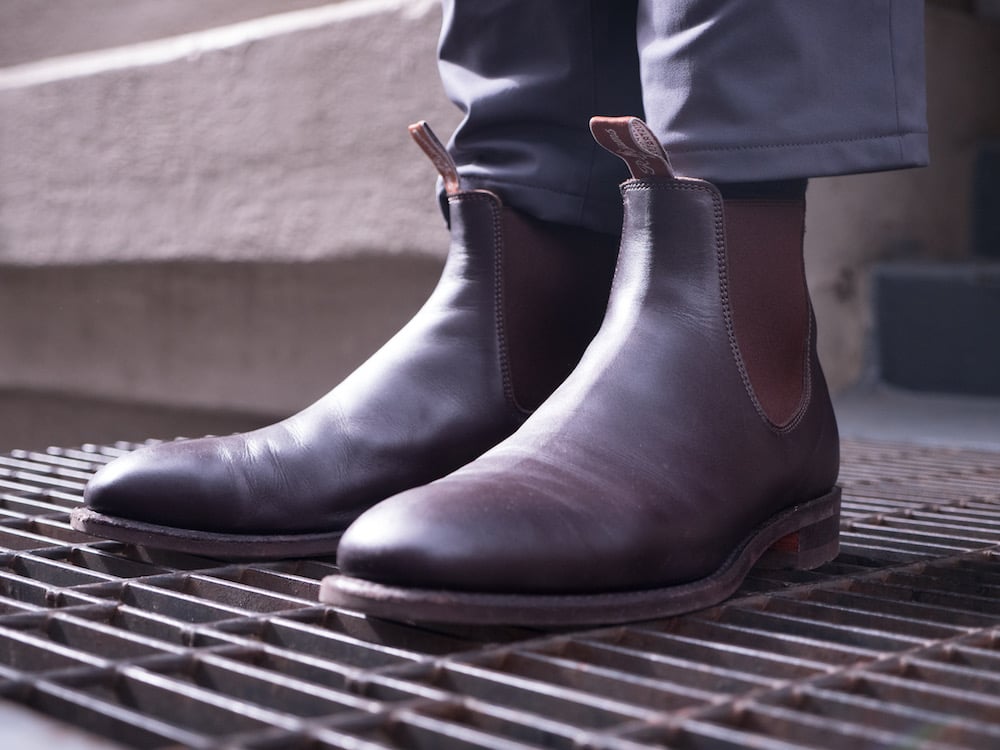 5. R.M. Williams Dynamic Flex Craftsman
R.M. Williams make the best Chelsea boots on Earth, hands down.
They're best known for their Comfort Craftsman, but those with tricky arches widely recommend their lesser known (but just as handsome) Dynamic Flex boot. It's made with the same fantastic, whole cut, yearling leather but it's made with what they call a dynamic flex sewn welt sole and a removable, supportive insole. The result is a lighter boot with better arch support, plus you can remove the insole and pop in your own if you so desire.
[Read my R.M. Williams Comfort Craftsman review]
[Buy the R.M. Williams Dynamic Flex Craftsman here]
Honorable Mention: The Viberg Service Boot
Considered by many to be the actual best boot of all time, I had to give an honorable mention to the Viberg Service Boot. It doesn't have the best arch support on Earth, but the reason many like this boot for flat feet is the fact that it is so damn heavy. Easily the heaviest of all the boots that I own. It's a solid, tank of a boot, and many find that the weighty construction helps to stabilize arches and ankles, which is the deciding factor for a lot of folks who experience foot pain.
The downside is that at about $700 per pair, you need to be very into boots if you're going to shell out for these beauties.
[Read my Viberg Service Boot review]
[Buy the Viberg Service Boot here]
[See my comparison of the Viberg Service Boot vs the Alden Indy]
Those are my picks for the best men's boots for flat feet: a dressy boot, a work boot, a service boot, a Chelsea boot, and a running boot for good measure. I'm pretty confident in this list, but me know your own favorite boots for flat feet in the comments below!