The GOAT.
The apex.
The pinnacle of white sneakerdom.
The greatest white sneaker of all time, that's what people say about the legendary and phenomenally expensive Achilles low sneaker from Common Projects and if you're reading this, your question is probably this: are they worth the eye watering price of $400+?
Well, friend, you've come to the right place. I did not get these shoes for free, this is not a paid post, I picked these up at the Nordstrom's in Columbus Circle here in New York City — and I felt the gut punch to my wallet just like you would.
I've been wearing these sneakers on and off for several months so you and I can properly explore the super clean, timeless, sleek, youthful-yet-very-grown-up Achilles low sneakers from the very mysterious footwear company called Common Projects.
Further Reading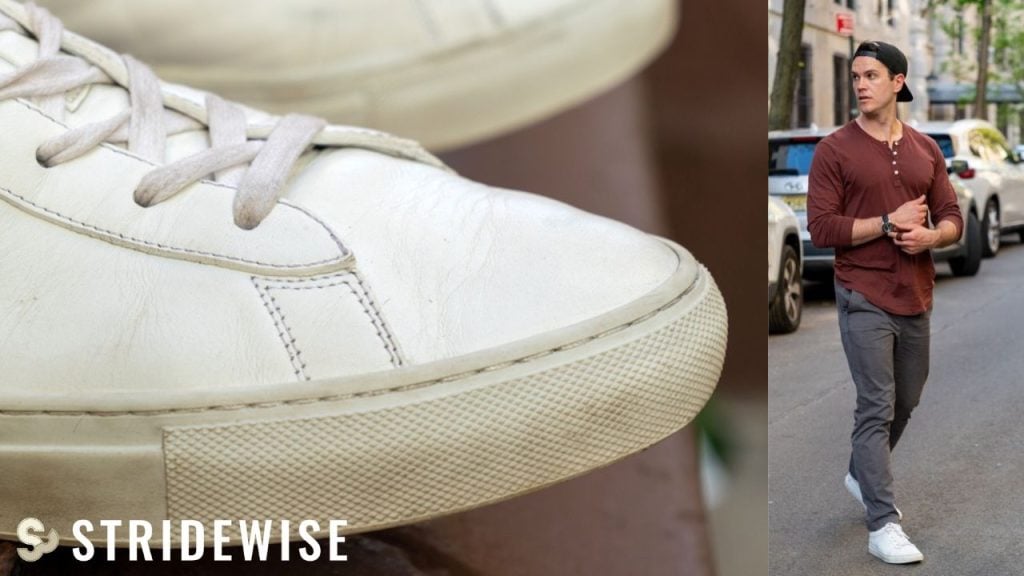 Contents
Common Projects Brand
Founded in 2004
Started by a New York art director and Italian creative consultant
No money spent on marketing
Cult-like following
Common Projects started in 2004 as a collaboration between Prathan "Peter" Poopat, an art director in New York City, and Flavio Girolami, an Italian creative consultant.
If you can believe it, even though it's the most talked about white sneaker on Earth and it's the cornerstone of every outfit on the malefashionadvice subreddit, the company has never spent a dollar on advertising.
On top of that, their website is complete dogsh*t (seemingly existing only to list their retailers), their Instagram is hideous and seldom updated, they really do absolutely nothing to market except let the product itself fuel word of mouth.
Now, I get that the lack of advertising is a form of advertising, but in any case, this approach and this beguilingly simple product has led to a what many have called a cult-like adoration among its followers. More than once I've been on the subway here in New York City and had someone approach me like a skittish addict to inquire… "Are those Common Projects?"
"Are you a member? Did you drink the Kool-Aid?"
Well, yeah, I kind of have.
While the sneaker market is flooded with riffs on and ripoffs of the streamlined minimalist white leather kicks, Common Projects might have done it best. Let's look at the aesthetic before talking diving into the materials themselves.
Common Projects Achilles Aesthetic
Super clean design; no branding
Gold foil numbers on heel
Sole stitched to upper
Streamlined and slim
This is the simple man's sneaker.
The Achilles has an incredibly clean design. It's completely free from branding; the company's name doesn't even appear on the tongue or the sole. The only bit of design is the iconic gold foil stamp on the outside heel, which is the style, size, and color of the shoe.
Sure, some feel the gold foil stamp is incongruent with the minimalist aesthetic, others love it because it "glamourizes something so simple and mundane that it's normally only found on the inside of your shoes on the tag." (That's what I saw a guy on Reddit say, anyway.)
Otherwise, it's a totally monochromatic shoe that manages to be as low key as it is luxurious. Meticulously designed with nice, smooth, white leather overlaid with leather eyelet panels running from the forefoot to the ankle collar, there's also a minimal ankle tab above a seam that splits the leather at the back of the shoe, running up the center of the heel.
White suede lines the inside of the heel for some added traction on rear of the foot, and the rest of the inside is lined with white smooth leather.
A big selling point that some people might miss is that the sole is actually stitched onto the upper. It's glued as well, but that stitching means that you won't get those dreaded holes at the toebreak that so many cheaper sneakers eventually develop, and it's one of many very subtle ways the sneakers tell you that they are not your average kicks.
The fit and the look is very streamlined and slim (too slim for most wide feet, unfortunately, but them's the breaks) but when it comes to white sneakers, there's a fine line between sleek and bulbous, wide, thick, and teenager-y. This is an unmistakably adult take on a youthful shoe.
High Snobiety had this great review where the author Aleks Eror said,
When I wear a pair of Achilles Low, I feel like a grown-ass man acting my goddamn age, yet youthful at the same time.
It's just smart and dignified, almost like a dress shoe. It's not literally a dress shoe, but I have actually been to weddings where people have worn these with a suit and… kind of pulled it off.
Yes, it's still a sneaker, but it has this breezy stylishness that makes them look just as attractive sitting under some frayed jeans as it does on a slim suit on casual Fridays, on khakis, with joggers, with sweatpants, with board shorts and a tank top, the list goes on. The only pants I wouldn't recommend them with are those on the baggy side with wide leg openings — they do need a slimmer cuff. But nonetheless: young, old, it's one of the few sneakers that looks good on anybody and with any outfit.
Common Projects Leather
Constructed in Italy's Marche region
Made from Napa leather
Known for being soft and sturdy, often used in couches
Has a slight sheen
Every Achilles is constructed in Italy's Marche region in a factory that's been churning out proper footwear for more than a century.
Let's talk materials: this is Napa leather, a leather noted for its soft feel. There are actually lot of couches out there made from Napa because it's so nice and soft, but it's sturdy as well. Common Projects, I believe, uses patent leather, so it's treated a little bit to make it a tiny bit shiny. People call it "matte with a little bit of a sheen," which might sound like a contradiction in terms but hey, but it's a very complex shoe.
Common Projects Achilles Sole
One-piece rubber Margom sole
Thick, good quality Italian rubber
Stitched and cemented to upper with "Stroebel stitching"
More durable than standard sneaker construction
The upper is attached to a one-piece rubber Margom sole, which can take a beating without crumbling and wearing away like most sneaker soles; it's really thick and great quality Italian rubber, with Gear Patrol calling Margom,
a revered Italian brand (that) creates many of the outsoles for top luxury footwear brands because they genuinely are the best of the best.
It's attached with what's called "sidewalk stitching" or "Stroebel construction," a mixture of cementing and stitching which is super rare. Most sneakers have the sole glued, on this is glued and stitched, with the stitching being the main method of attachment. That means maybe, possibly you could get these resoled when the time comes. Maybe.
More importantly, as I mentioned earlier, it means that with age you won't get holes around the toe break like every other sneaker you own.
[Related: The Ultimate Converse Chuck Taylor All Star review]
Common Projects Fit & Sizing
I found them true to size, many don't
No half sizes
No wide widths
Thick, soft leather footbed
Surprisingly heavy sole
There are four reasons the fit & sizing is a bit of a pain in the ass with Common Projects:
No half sizes.
No other widths. (And it's a pretty narrow fit.)
They only use European sizes.
There's a lot of misinformation online about how accurate the sizing is.
A lot of people on the internet will tell you to size down with these, but that didn't work out for me. I'm an 11.5 on a Brannock device which is about 45.5 in European sizing. I ordered these in 44 and they were too small, so I had to take them to the Nordstrom store in Columbus Circle to exchange them for either a 45 or a 46. The former was a bit too small, the latter a bit too big, so given my true size is 45.5 I would say these actually fit true to size.
After a very long deliberation I wound up going with the 45s: today they're a hair small, but they stretched a teeny tiny bit and they're still comfy as all hell.
The leather footbed is very thick and soft — it feels like you're walking on cushions, thanks Napa — and it does indeed mould to the shape of your feet over time. The rest of the leather also softens, so while I wouldn't say the sneakers need a break in period, the shoes do get more comfortable with wear. Check out my toes indented into the footbed:
The suede on the inside of the heel is a nice (and fancy!) way of keeping the heel from slipping and the sole really is thick and substantial and surprisingly heavy. Walking in these shoes, you can feel they have more heft to them than the average kicks and it's something of a reminder that they are not your average beat around sneakers.
How to Clean and Care for Common Projects Achilles
Clean regularly with damp rag
Occasionally brush with horsehair brush and use leather cleaner
Use white leather crema for scuffs, like Saphir or Kelly's
Magic eraser on the sole
Use shoe trees
Cleanliness is next to godliness, and it says a lot about a man if his sneakers are white and spotless. Boys like their sneakers beat up and dirty, but do not be that guy who spends $400 on shoes and lets them get ugly. Keep them as clean as you can; it'll extend their lifespan and make you look like a guy who gives a damn.
The good news is that this is smooth leather, so there aren't many places for dirt to get trapped and it's easy to wipe them down with just a damp rag now and then.
Sometimes they'll be a bit too dirty for that, so when it comes to cleaning them:
First of all you want to give it a brush down with a horsehair brush, which has fine hairs that get deeper into the pores than other brushes.
Use a leather cleaner. A lot of people use Jason Markk's Premium Shoe Cleaner — Jason Markk is strongly associated with the brand for some reason — but I use Cobbler's Choice Leather Spot Cleaner and it works great.
Apply and then wipe it down with a rag; for tougher clumps of dirt, you might want to use a toothbrush or a stiff haired brush.
When you inevitably get scuffs and cleaning won't do the trick, use some leather cream. Saphir's Crème is usually seen as the gold standard, but you can also use Kelly's Shoe Cream if you want to save a bit of money. Put a bunch of it on, let it dry, then buff away the excess with a cloth.
The sole is a lot harder to clean. If your shoe cleaner doesn't work, use something like Mr. Clean's Magic Eraser.
Lastly, for long term care, a lot of people like a spray of Jason Markk's Repel to repel stains. Unlike a lot of leather protectors, it's water based and shouldn't alter the feel of the material too much. That said, a lot of purists hate stain repellents like this, claiming it'll suffocate the leather. I don't use these products, but I don't have a strong stance either way.
[Related: My review of Cobbler's Choice Leather Conditioner]
One last note on care: this will sound pretty silly, but you should use shoe trees. For those not in the know, they're foot-shaped pieces of cedar that you insert into shoes to help them maintain their shape and suck up excess moisture. It's something every smart person uses with boots and it might sound silly with sneakers, but they're 400-dollar sneakers and you should protect your investment. These cheap ones will do the trick, but some prefer those with a rounded heel, like the famous ones from Allen Edmonds.
Use them, and let them rest a day between wears, and it really does help the shoes to hold up over time. Here's a two-year-old pair from Reddit user u/standardofstyle who took good care of them:
Treat them well and they'll last you at least five years, maybe more.
[Related: 3 reasons your shoe trees should be cedar]
Common Projects Achilles Price
There's no getting around the fact that these are expensive shoes, usually costing between $400 and $450.
[BUY THE COMMON PROJECTS ACHILLES HERE]
Look, I get it. They're expensive, and there are similar shoes from New Republic and Kent Wang that look pretty similar, but I've seen older pairs of those shoes and they simply aren't as durable. It's different leather and different craftmanship. Common Projects really will age the best and out of the many alternatives out there, while some come close to replicating the style, they are not going to hold up as well over time.
There are a lot of little things they do, like the fact that the sole is stitched down to prevent it from coming apart, the high quality leather is easier to take care of, the outsole is renowned for its quality, and so on.
Common Projects Alternative
If you're dead set on finding an alternative, the closest thing to this sneaker out there is Oliver Cabell's Low 1. They have the same sole, same stitched construction, same look, they're even made in the same region in Italy — and they're less than half the price.
They're not identical: the footbed isn't quite as soft but the upside with Oliver Cabell is that the last isn't as narrow: while the shoes look practically identical, the Low 1 has just a bit more room in the forefoot. Given the skinny fit is the biggest complaint, besides the price, that I hear about Common Projects, I think the Low 1 is definitely the best Common Projects alternative.
You can check them out here if you're interested, or take a look at my super thorough comparison of Common Projects and Oliver Cabell.
Common Projects Pros & Cons
Pros
Undeniably cool
Can be worn with any outfit
Stitched sole
Very durable
Easy to clean
Cons
They need some babying
Toe box quite shallow and narrow
Sizing is tricky
Can be stuffy in hot weather
Phenomenally expensive
Good God, these shoes are cool.
They're just the coolest shoes. The whole breezy but dressy, casual but formal, minimalist but unmistakably branded look, from top to bottom there just isn't anything quite like them. They go with every single outfit, it doesn't matter how casual or formal it is.
I love the fact that the upper is stitched to the sole so you won't get the dreaded toebreak holes.
They're very comfortable, I love the softness of the footbed coupled with the weight and durability of the sole.
Now, they're not sneakers exactly. That word has connotations of beat around shoes you don't have to care for, you know? Common Projects need shoe trees, for goodness' sake — they need more babying than the average sneaker out there, which is a turn off to some folks.
It's also too slim and sleek for some people, not only in its width, but the toebox is quite shallow and narrow, squeezing the toes of the bigger-footed among us. They should do half sizes and wider widths, and they don't.
And of course, they're really, really, really expensive. But I've already spilled a lot of ink on this aspect, and the fact is that there is just nothing else like these shoes. This is undeniable. If you have the money and you like the shoes and their story, there is no substitute. I get compliments on these every single time I wear them, and all I can conclude this review with is: I'm glad I spent the money.
The following two tabs change content below.
Nick English
By day: Manhattan-based journalist with reporting experience on four continents, published in Vice, Men's Health, Popular Science, and a bunch of other places.By night: ravenous consumer of anything and everything related to high end men's boots.Stridewise is where I nurture a maniacal obsession with footwear and share my findings. Say hey:
[email protected]
Latest posts by Nick English (see all)