This post may contain
affiliate links
that at no additional cost to you, I may earn a small commission from.
Today we`ve got another episode of our series on the best places to buy shoes and boots in New York City.
We have come to the historic, world famous Madison Avenue in midtown Manhattan to visit the store that sells what is broadly considered a man's first — and often last — dress shoe. We're referring to the Park Avenue from Allen Edmonds, and Ryan Stowe, the brand's Senior Director of Stores, answered a few of our burning questions.
Stridewise: For someone who hasn't heard of you before and who is coming to New York to buy some nice shoes, what's different about Allen Edmonds?
Ryan Stowe: What sets us apart is that American manufacturing, the domestic manufacturing. We still have a production facility in Wisconsin where all of our welted shoes are made. That gives us the ability to do some great sizes.
We make 110 sizes in a lot of our classics. We're probably the best entrée into fine footwear because it's a place where you can learn about the sizing, learn about the materials, learn about the construction, and really come away confident in what you've purchased.
We try to be really approachable about it too. We know there are more expensive brands than us, but they're also cheaper ones, and we're a good transition for most guys.
Balanced between Quality And Pricing
If I think about the Allen Edmonds brand, it's like the biggest good shoe company. There are more expensive ones and there are smaller ones, but it's the way you merge size and quality that seems pretty unmatched.
Ryan Stowe: I think we're in that sweet spot.
But we try to really focus on the value. You're getting a Goodyear Welted shoe, you're getting full grain leathers, you're getting a leather insole and outsole from really notable partners like Itshide and JR, and there's our shell cordovan.
And it's that discovery process where a lot of guys, most of them find out about us through someone in their life who they respect. It's normal for us to hear, "My boss told me to come here and get a pair of shoes." Or, "My dad wore Allen Edmonds forever, and I just got out of college, he said I got to get a pair of Park Avenues."
It's really word of mouth that shows how we've sustained and grown. Being around 100 years, there's a sense of pride there in that legacy that has really helped us continue on to what the next 100 is going to look like.
Most Popular Models
You mentioned the Park Avenue. Can you walk us through some of the most popular models that people always ask about?
Ryan Stowe: The Black Park Avenue specifically is by far our best seller. Its six eyelet, Oxford cap toe. I can always notice a pair of Park Avenues because we have a distinctly shorter cap. It's on our 65 last, which is a pretty long and narrow last, but we make it in 110 sizes. We have guys who everything from a 16 AAA all the way down to a six triple E.
16 AAA? That's a skeleton.
Ryan Stowe: We have those guys! You put them on the Brannock device, and, sure enough. It's a full grain, flat welt, 360-degree welted, a standard 9 iron leather outsole, and then it has our classic just leather over cork foot bed.
So, over time your foot's sinking into that cork and conforming to the shape of the bottom of your foot, and because we do a 360 degree welt, we don't use a steel shank in our shoes, which is also a nice differentiator . You get that stability by running that welt all the way around versus terminating it at the heel stack.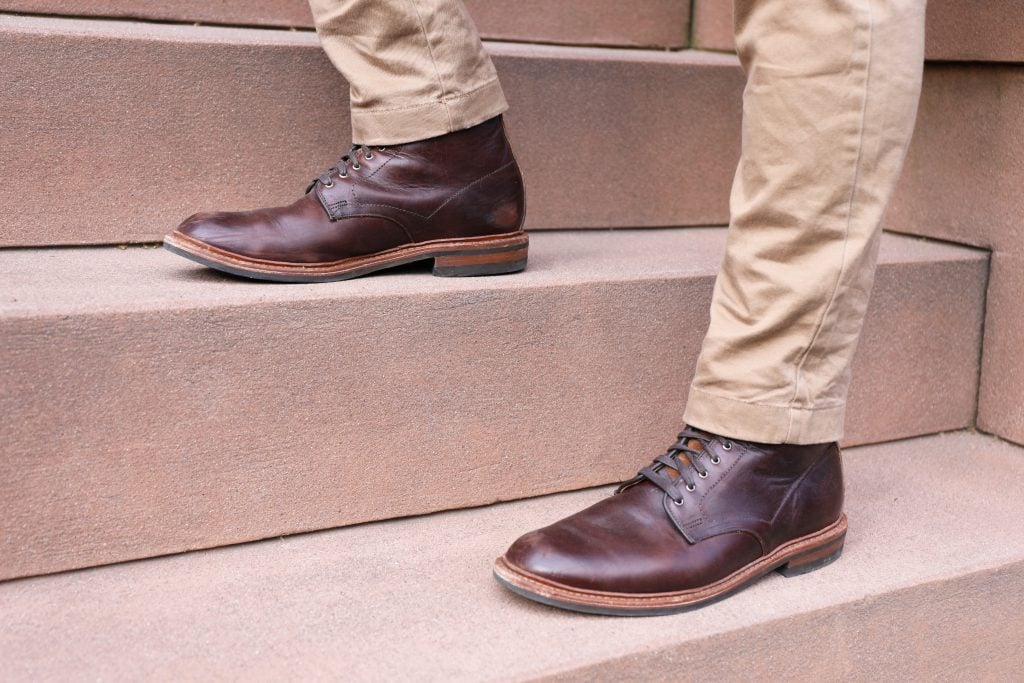 So that's the most popular shoe. What about your most popular boots?
Ryan Stowe: The Higgins Mill has been probably the perennial favorite. It's a plain toe, open lace boot. It's got a flatter toe box to it so it doesn't look like a work boot from the side like some of those heavier, true work-inspired boots, but you get a nice kind of natural, lighter colored welt and outsole. It seems to fit the bill for a guy that wants something that you can wear with jeans, but if you're gonna wear it with chinos and a polo to the office, it works well for that.
It's a really nice balance of rugged and dressy as well. It's still low profile, but also there's a storm welt to make it a little bit more water resistant, like a slightly more rugged sort of look gives it that little bit of functionality. But it's still really easy to dress up.
Design Your Own Shoe
Lastly you told me that you're coming up with a platform where people can design their own shoes.
Ryan Stowe: We're being made in America. It's an advantage that we have. We have our own facility. So just like all the sizes we talked about, we have the capability to customize those components.
We just put in a new area in our Rockefeller Center store on 49th Street that features some of the leathers that we work with, some of the outsoles that you can do, and a platform where you can design your own shoes in person.
One other great thing about American manufacturing is we also have the ability to then rebuild the shoes after you've worn them once.
After your sole is worn through and the uppers are looking tired, provided that you're taking care of them along the way with shoe trees and everything else. Basically, these shoes go back up to Wisconsin, we replace the cork, the sole, the heel stack. We relast the upper, which takes away some of those creases overtime. So it's not only most guys' first foray into finer footwear, but also into footwear that can actually be worked on.
We're able to save thousands of shoes from the landfill every year. I think right now we're recrafting over 65,000 a year.
Most of the shoes out in the marketplace now, you wear them once, they wear through, they're done — they end up in a landfill. We're able to save thousands of shoes from the landfill every year. I think right now we're recrafting over 65,000 a year. That's a sustainable aspect to buying finer footwear that's made here in the States.
That's one thing I really like about fine footwear: not only it's better looking and it tends to be more comfortable, but also that it is more sustainable and eco friendly. Despite also being very cool. Those two things seldom line up.
Check out Allen Edmonds at 55th Street and Madison Avenue in New York City: 551 Madison Ave.