This post may contain
affiliate links
that at no additional cost to you, I may earn a small commission from.
Huckberry is an online store dedicated to all things outdoor and tough — apparel and footwear that look cool and are made with durable materials like waxed canvas, leather, and wool. They sell the kind of classic products that are built to last and look great while they're at it, so there's a lot that I like about their offerings.
So when they asked me to unbox their bestselling items to show people how they fit and what they look like, I told them that I already own the 10-year hoodie and your waxed trucker jacket, what else ya got?
The answer was: plenty. Let's take a look at Huckberry's 6 best-selling items, including a pair of boots and my first pair of slippers.
656 reviews
A slipper you can wear outdoors
wool/synthetic blend upper, recycled rubber outsole
$108
First up is a slipper: the first slipper I've ever owned. They call it the "outdoor slipper boot" and it is, as the name suggests, a slipper you can wear outside.
It's got a wool/synthetic blend upper, and a reinforced toe box so you don't stub your toes in the dark. One cool thing is the outsole is made from recycled rubber, which I always like to see on products.
Most importantly, you can wear them without socks and take them outside when you've got to walk your dog or grab a coffee. They've become my go-to slip ons for late night dog walks.
[SHOP THE OUTDOOR SLIPPER BOOT HERE!]
73 reviews
Curved hem is good for guys with long torsos
Slubby texture adds character
$35
Next up, I got a t-shirt from Forty-Five: the Slub Curved Hem Tee. I wanted a curved hem because I have a long torso and I got it with the slubby texture to add some, well, texture to my outfit. Slub is technically faults in the weaving process that produce streak-like irregularities in the fabric, but slubby tees have become highly desirable in many corners of the fashion world – I did a video all about it in London here.
The idea with Forty-Five is to "achieve the perfection of well worn vintage t-shirts from the 60s and 70s." It's made in America and costs just 35 bucks, so this is pretty solid value.
[SHOP THE FORTY-FIVE T-SHIRT IN 7 COLORS HERE!]
2,191 reviews
Water, wind, and abrasion-resistant fabric
Ages beautifully
$268
Next up we have the Flint and Tinder Waxed Trucker Jacket. I actually did a whole video on this jacket a couple of years back (above), because this is the most popular waxed jacket on the market.
It's made from dense and abrasion-resistant canvas that has been waxed to make it water resistant and, well, to make it look cooler. Because waxed canvas looks cool as hell.
The style is a bit reminiscent of a type 1 denim jacket and I wear mine a lot, partly because it's so casual and partly because it's lined with flannel that makes it much more comfortable on the skin than an unlined jacket like, say, Rogue Territory's.
It's just cool. I said this in my Best Waxed Jackets article: I have lots of waxed jackets, but this is just the one that I find myself wearing the most. It's just as easy to throw on over your best jeans and button-down as it is with a hoodie and sweats when you're running out for coffee. It's also made in America and costs under 300 bucks, which is super rare for a waxed canvas jacket.
[SHOP THIS JACKET IN 8 COLORS HERE!]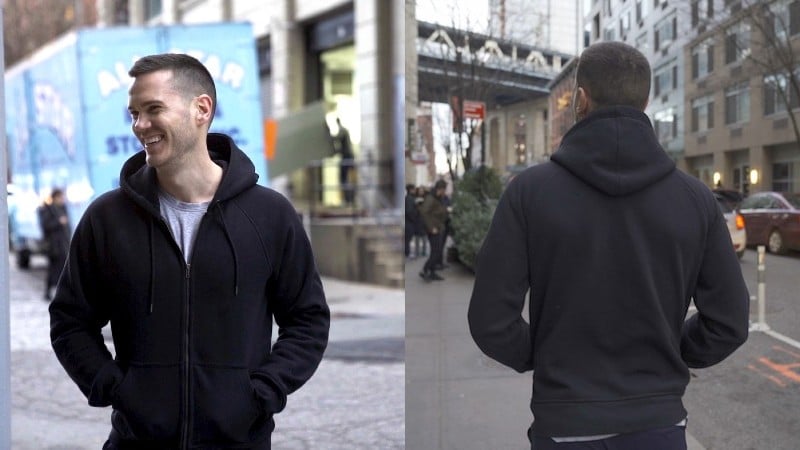 612 reviews
10-year warranty
Wide range of colors
$118
This is a very big deal: the 10-Year Hoodie from Flint and Tinder. This is often considered the best hoodie on Earth and gets compared with the likes of the high end hoodies from American Giant and Reigning Champ. Now, unlike those brands this is a cotton-poly blend, but it's so durable that it comes with a 10-year warranty — and the warranty covers literally anything. If you fall into a volcano and burn your hoodie and manage to survive and mail it back, they'll replace it. It's pretty hard to argue with it as an investment.
I get that polyester is a no-no to a lot of dudes, but what it means is that it's easier to wash and it holds its shape better than 100% cotton. It's also softer, so this tends to be my go-to when I'm lounging around and don't want that burly, rugged feeling of 100 percent cotton.
[SHOP THE 10-YEAR HOODIE HERE]
343 reviews
Merino wool/nylon blend
Doesn't stink as much as polyester or cotton
$72
The 72-hour tee is from another Huckberry-owned company named Proof, which I put on my list of hybrid shorts I did last year. This shirt's so popular it comes in twenty colors right now, and it's made with 87% merino wool and 13% nylon for some extra stretch.
Why would you wear a wool shirt?
Well, if you're a fan of unlined wool coats like me, you know that wool actually breathes really well and is good at temperature regulating; it's not as stuffy as you'd imagine, plus wool is odor-resistant and moisture-wicking and … odor resistant, that's why Proof's is called the 72-hour shirt: you can wear it for a lot longer than cotton before it starts to stink.
Wool t-shirts are often marketed as the ultimate traveler's companion. If you're far from a washing machine or you're flying for days on end, they can be pretty useful.
[SHOP THE 72-HOUR MERINO TEE HERE]
519 reviews
Sustainable materials like eco-friendly leather and rubber
Very soft and squishy sole
$215
Lastly, I've got to put a boot here it's the Bitflex boot from Astorflex. They've been on my radar for a while because they aim to be, or aim to be seen as a very sustainable boot brand. The hook is that it's made from eco-friendly leather and rubber, and the leather is aged for 30 days in a mixture of oak bark and mimosa, so these are fairly low impact ingredients.
It's got a crepe rubber sole too which is extremely soft and squishy. It wears a bit more quickly than harder rubber, but the softness is something to write home about if that's something you prioritize.
Made with an unusual form of stitchdown called ideal stitch, the shoe is resoleable if you can find a cobbler with the knowhow so at 215 bucks, the price is definitely right, here.