Handsome boots, made in the USA, for under four hundred bucks. That's the deal that Parkhurst's founder Andrew Svisco has on offer, and while some of the boots (like the ones made with pricy kudu leather) are a little over three hundred, the value and versatility of Parkhurst boots are jaw dropping.
Why is made in the USA so important to Svisco? He was inspired by his grandfather, who regularly lost jobs as a steelworker when companies moved production overseas. Wanting to help revive American manufacturing, he founded Parkhurst Boots near Buffalo after spending his twenties behind a desk working in finance. With no boot making experience whatsoever.
He's an interesting dude, so I thought I'd interview him! Take a look below.
[SHOP PARKHURST'S BOOTS HERE!]
Nick: I'm a little embarrassed I've never spoken to you face to face. We've been talking since 2018, that's when you launched?
Andrew: I launched actually in October of 2018, but yeah we ended up getting a pair off in 2019 or something like that.
"So, how did you get started in boot world?"
Andrew: It's kinda crazy. I started by looking for an American made boot that I like. I wanted something that was going to be Goodyear welted like I was seeing from Red Wing, Chippewa, and Wolverine, but I wanted it to be a little more cooler and sleeker looking. And maybe this was just my personal preference at the time, but I wanted it to be a little more dressy than anything I saw out there.
Those brands I mentioned are great, I own boots from every one of them. But you know, I just found a hard time finding that right mix between an American made work and dress boot. And, I wanted to buy American made, because I wanted to support the American economy.
I just found a hard time finding that right mix between an American made work and dress boot. And, I wanted to buy American made, because I wanted to support the American economy.
But it was the price tag that kind of turned me away. Everything started at four hundred, four hundred and fifty bucks, and just went up from there. And I have no doubt the quality is definitely there, and the craftsmanship is definitely there, but something still didn't seem right. So I was just like, "Screw it. What if I just made a boot? Can I just buy some leathers and just make this in my basement? Buy a last and a couple of nails and hammers, buy some welts off of eBay or something.
I started to realize that making this thing in my basement is not going to fly. I needed some help. So I started looking for shoe factories around, and I came across one in my neck of the woods that was only 30 minutes away from at the time: the old P.W. Minor factory in Batavia.
So I went to them, I took a day off from my day job, and I told them, "Look, I have a business plan, I have some product sketches." I pitched to the owner of the factory at the time and I said, this is what I want to do, can you guys help me make these on a bigger production? ; because, let's face it, I'm not going to be cranking out Goodyear welted boots in my basement.
And they took me under their wing, and they allowed me to get on the factory floor, interact with a lot of the workers. I got to experience first hand every single phase of the production process: from creating the patterns, which I created my self, to stamping eyelets, to lasting, to back molding, to sole stitching, to inseam stitching, and really I was so incredibly grateful for that opportunity.
So time went on, we did some development. I had to learn and figure out how to develop a shoe last, which was interesting, to say the least. I think we went through seven or eight last models before we finally settled on the one we have now. About a year went by, and I didn't really know what was going to happen. And all of a sudden, I have all of these samples that are done, which P.W. Minor helped me create at the time.
I made some contacts through the networks I have in the footwear industry, and ended up going to New York Men's Fashion Week, and just trying to talk to as many people as possible and tell them my story. After, I started to get some wholesale orders. I hadn't even launched the company yet. From there, a local J Crew reached out and asked me to do an event with them and I got a couple more wholesale orders. I guess the rest is history.
"I feel like a lot of guys have that fantasy of quitting their day job and making boots. What would you say was your biggest struggle going from finance to Goodyear welts?"
Manufacturing any product in the USA has become far more difficult than it was thirty years ago. The footwear industry has fallen victim to a lot of outsourced manufacturing and designing and stuff like that.
There weren't many last companies around, so I had to seek out some help to do so. And I worked with this great last company down in Arkansas and Boston, and I was able to work with a guy who was making lasts both by hand for the past 35 years. So I was really fortunate to fall into meeting him, because he really taught me a lot of things when it came to different measurements around different areas of the foot around the ball, the heel, the vamp, different angles at which the toe box should comfortably taper, angles at which the heel should comfortably taper.
[Related: Why lasts are the most important part of making a boot]
After that, after we designed a base model. We had to sample it at the factory. So we see it can take a couple of weeks to design a last model, it can take another week or two to actually have it made, and another week or so for shipping. So at the factory, of course, it would take 4 to 6 weeks to make a sample. You're already talking like one season worth of selling boots right there.
At the factory, it would take 4 to 6 weeks to make a sample. You're already talking like one season worth of selling boots right there.
So, it can take a while. I went through seven iterations of this. So the timing was the most challenging aspect but at the same time it's rewarding too, to see it pay off.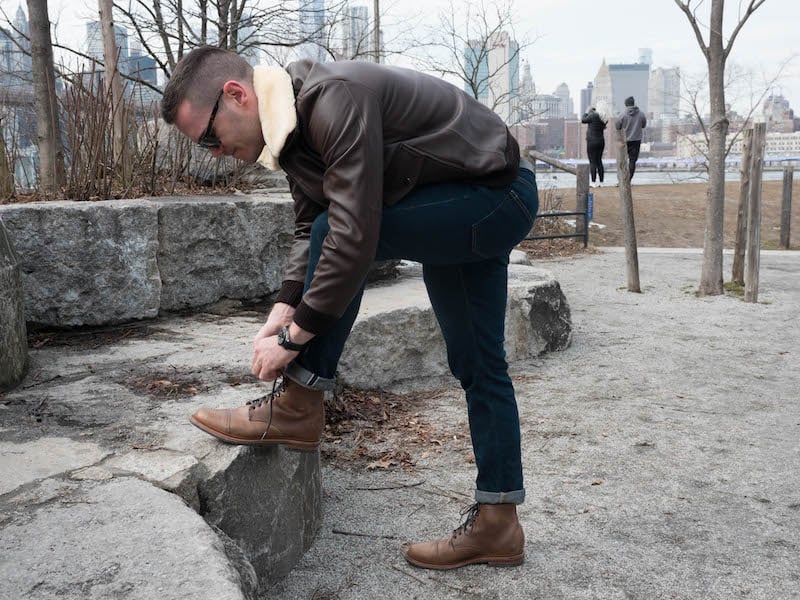 "Made in the USA, Goodyear welted, under 300 bucks — I know this is a really softball question, but how do you manage to keep your boots so inexpensive?"
I've been very fortunate to work with the suppliers in this industry that I work with, especially in the United States. It's been hard to locate different suppliers to produce different components for us, whether it's been our veg-tanned leather midsoles or veg-tanned welts that are made in Massachusetts. I carefully select every component of the boots.
And I just came to realize that by the time we put all these quality, name brand components together in one place, the end product ended up being amazing.
When I first launched in October of 2018, I was focused on retail, selling my boots to different stores. When you do that, there's a markup applied, and now we are looking at another four hundred, four hundred and fifty dollar boot. I wanted to make boots that are more accessible, and made in the USA, with premium components. I had my prices marked a little bit higher when I first started to see what retail would look like, and by the end of the year, I knew that it just wasn't going to fly. I knew I needed to do something a little bit different.
And I thought to myself,
Does the market really want to see another five hundred-dollar boot? Do we really need to sell it for this much? Let's just try around the three hundred price point. and see what happens.
Sure enough, throughout the year of 2019, it went very well, and so far this year has been even better. I can't really complain. Oftentimes, the materials and build kind of get sacrificed to meet that price point, and with me, if just something where like you know, I just want to give people an American made boot that looks cool at a decent price. So I had to switch gears a little bit, but that's been my goal ever since.
[Read our Spruce Kudu Allen boot review]
"I was curious as to why you your boots are made with a split reverse welt. It's kind of unusual for a first boot."
I went with the split reverse rather than the storm welt because the factory that I was working with was mainly using the split reverse. And I can kind of see why: with the split reverse the leather welt comes up a little bit higher on the upper, but with the storm welt, you have a pre-molded, solid piece of leather. And it's essentially wrapped around the upper using the inseam stitcher.
I noticed on the storm welt, it just didn't come up as high, and I didn't feel that was going to offer as much protection, but at the same time, the split reverse welt gave us more flexibility to do a wheeling design on it, too. Just to make it look a little more dressy, because that was always one of the goals I had for the company. I didn't want to make another work boot. I wanted to make something that had a work boot quality but styled up a bit more.
The split reverse welt has been great. It's been on all my models. It will probably always be on all my models moving forward. I don't really see changing it at any point in the future.
[SHOP PARKHURST'S BOOTS HERE!]
"Can you give me an example of something you've learned from older boot companies like Alden and Allen Edmonds?"
To be my own brand. To be the product that I'm creating that I'm designing. And, if I can just do the best at doing that. Use the best material, offer the best price, and have happy customers, at the end of the day that is the biggest sense of fulfillment for me that I could possibly ask for. any other way.
Alright, that's great. Let's chat again soon. I really appreciate it. Thanks for your time.
For sure, man.
The following two tabs change content below.
Nick English
By day: Manhattan-based journalist with reporting experience on four continents, published in Vice, Men's Health, Popular Science, and a bunch of other places.By night: ravenous consumer of anything and everything related to high end men's boots.Stridewise is where I nurture a maniacal obsession with footwear and share my findings. Say hey:
[email protected]
.
Latest posts by Nick English (see all)