This post may contain
affiliate links
that at no additional cost to you, I may earn a small commission from.
What, you never considered buying green boots before?
If you're a guy whose boot collection is just dark brown, light brown, and maybe russet when you're feeling really crazy, you might be turned off by the idea. But I adore these boots from Parkhurst, and not just because they're green — they're also made in the USA, they're really inexpensive, and they're made from antelope. That's why there are scars all over the leather, but more on that later.
The Spruce Kudu Allen is the name of the boot. Spruce if the color, Kudu's the leather, Allen is the style, and while some boot companies have experimented with green or green-ish leather in the past — the closest to this boot would be Mark Albert's discontinued "Forest Kudu" — Parkhurst, in my opinion, popularized the green kudu boot. I'd never seen anything like it when it came out, and it's since become one of their signature boots. Let's check it out.
[SHOP THE SPRUCE KUDU ALLEN BOOT HERE!]
Parkhurst Spruce Kudu Allen Boots Aesthetic
Dress/work boot hybrid
Dainite outsole
Partly unlined
Split reverse welt
The silhouette of the Allen is a combination of a sleek dress boot and a more utilitarian work boot, which comes together to make a versatile business-casual look that's perfect to wear out on the town or at the office. (At least, if you're down with a green boot in the workplace.)
Parkhurst really likes that dress/work boot hybrid look and it's ideal for guys who find most boots are either too dressy or too chunky. (See also: Parkhurst's Delaware boot, Thursday's Captain boot.)
Besides the leather, some more subtle features worth emphasizing are the Dainite outsole (very rare at this price point) the fact that it's partly unlined (which I'll discuss in the "fit" section) and the split reverse welt (which is dynamite for water resistance).
[Related: The 10 Best Dress Boots]
Also, it's green. And make no mistake: these are not green the way some people say their denim is green when it's actually more like a hint of green in the sunlight, or the way olive boots are are a little bit green. The Spruce Kudu is green. It's striking, and it's the central reason to buy it. (If you like everything but the color, the Allen comes in a brown kudu and several other leathers.)
But How Would I Style a Green Boot?
Well, if you check out the video above, I wear these with black shirts, blue shirts, white shirts, brown leather jackets, black leather jackets, blue jeans, black jeans…
Personally, I think the trick with green boots is to not have the rest of your outfit be very unusual. You want the boots to be the most eye catching thing you're wearing; any other unusual items or patterns and your outfit might seem too garish. I've worn these for a few weeks and only with solid colors, but I tend to avoid patterns anyway — you might have different ideas with how to style these.
Kudu Leather
Besides the color, the most notable aspect of this leather is that it's not from a cow but from kudu, a kind of antelope native to eastern and southern Africa. (Fun fact: kudu dung spitting is a sport practiced in south Africa, and it's just what it sounds like.)
The main thing that's aesthetically different with kudu is the scarring of the leather, which is picked up during the animal's life from predators or from the thorny trees they're known to graze near. It gives every hide a unique pattern and adds some texture and depth — a lot of guys say the scarring is the whole reason to get these boots. You want to see the life of the animal in its… dead, disembodied skin.
Kudu is also very light but very tough. Some people will argue it feels a tad flimsy compared to thick cowhide. I don't feel that way myself, and you can't argue with the fact that it's still very tough leather. The light weight, combined with the strength, combined with the scars, combined with the coolness of wearing antelope on your feet, are all very good reasons as to why it's worth getting some kudu. It's just cool leather.
This particular kudu comes from the extremely famous British tannery CF Stead and it's mostly vegetable tanned. They finish it with a couple of hours of chrome tanning to help lock in the waxes and color, but it's mainly veg tanned. And yes, it's real kudu — a lot of companies call it kudu when it's cow that just looks a little rough, but this is genuine, wild kudu.
[Related: The 5 Best Leather Conditioners You Can Buy]
Parkhurst Allen Boot Sole
Dainite outsole
Veg tanned leather midsole and insole
Texon foam under footbed
Fiberglass shank
Split reverse welt
This outsole is a Dainite sole from England, which is well known to be a good balance of form, function, and flexibility. It's not cheap, and it's very rarely seen on boots at the 300-ish dollar price point.
The construction goes like this: Dainite outsole, a stacked leather heel, a vegetable tanned leather midsole, some cork, a veg tan leather insole, and some Texon foam that's more or less used as a backer to attach to the insole rib.
That combo of leather midsole and insole is something that a lot of higher end boot guys really value. Most American-style boots are outsole, cork midsole, leather insole, but Parkhurst uses an extra layer of leather. Many guys will only purchase shoes with the leather-midsole-and-insole construction because it molds well to the shape of your foot over time and become more comfortable as it ages.
Related: Our review of another Parkhurst Allen boot in a natural vegetable tanned leather!
Finally, they use a split reverse welt, which is similar to a storm welt in that the welt curls up onto the upper, resulting in extra water resistance. The difference is that with a storm welt, the welt is one piece of leather while a split reverse welt is three or four pieces, making it a tiny bit more flexible. Most importantly, this kind of construction is water resistant and allows for unlimited resoles, so the shoes can last a very, very long time.
[Related: 8 Boot Soles You Should Know About]
Parkhurst Allen Boot Fit & Sizing
Go down half a size
Not the smoothest break in
Unlined counter reduces slippage
Some customers purchase extra arch support
If your sneaker size is 12 and your "true size" is 11.5, go down another half size to 11. That's what I did, and the sizing is consistent with most of my boots, such as Red Wing, Wolverine, Thursday, Viberg, and so on.
Out of the box… I wouldn't call it a brutal break in, but I did pick up a blister on my left heel the first time I wore these. The founder, Andrew Svisco (see my interview with him here) told me he has never heard people complain about blisters so I might be an anomaly, but I think it's more likely that most guys who buy boots know that a blister isn't actually a big deal worth complaining about.
Break ins happen, and more often than not, they mean that the boots will wind up comfortable in the long run as the leather molds to the shape of your foot. The suedey, unlined heel counter also does a great job of keeping your heel in place.
[Related: 12 Tricks for Breaking In Tough Boots]
There's also fiberglass shank that provides decent arch support, but if you need extra arch support — say, you have collapsed arches or age-related foot pain — you actually have the option of buying extra. For 45 bucks you can get orthotic foam that's wrapped in leather, or for firmer, less springy arch support you can get veg tanned stacked leather under your arch for 55 bucks.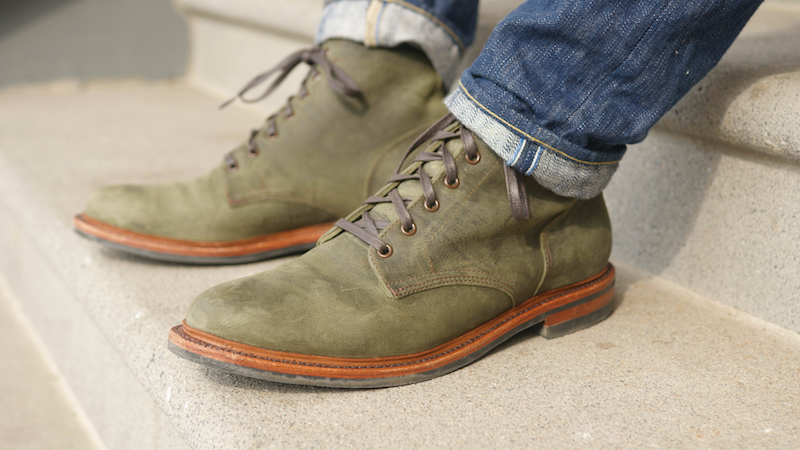 Parkhurst Allen Boot Price
A pair of these shoes will run you $328.
For resoleable boots made in the USA with a real Dainite sole and leather of this quality, that's solid value. You can also, sometimes, get a discount with STRIDE10 or STRIDE5. Or STRIDEWISE. Sometimes.
[SHOP THE KUDU ALLEN BOOT HERE!]
Parkhurst Spruce Kudu Allen Boot Pros & Cons
Pros
Distinctive
Kudu is very cool
Versatile silhouette
Very water resistant
Made in USA
Great value
Cons
Some don't like the arch support
Some prefer fully lined boots
No shoebox
Not everyone loves green
These are just such beautiful, unique boots, and they're astonishingly versatile and masculine given the fact that they're bright green. I saw someone say on Reddit,
they stick out without sticking out
and I'd agree. It offers variety to a wardrobe, but it's not a goofy looking shoe.
Color aside, kudu leather is definitely worth adding to your collection: it's light, tough, and the scars give depth and a story to the boots.
The Allen breathes well around the unlined counter, the split reverse welt is great for water resistance, it's got two layers of leather in the sole, it's made in the United States, and it's great value.
Some say the arch support could be better, but I'm perfectly happy with it and you can purchase extra arch support if need be. They're not fully leather lined, which might be why I had a tricky break in, but it does keep them breathable and help to keep your heel from slipping.
The last potential downside is that, well, they're green. Not everyone wants green boots! But like I mentioned earlier, you can get these exact boots in brown kudu or cowhide if the color is the only thing keeping you from pulling the trigger.
Personally, I couldn't be happier these versatile, eye catching, durable boots have made their way to my collection.