Some things — electronics, jewelry, cars, penthouse apartments, whatever — are expensive for obvious reasons. Rubber soles for shoes, the reasons aren't always so clear.
But there's one name that constantly pops up when shopping for high end boots: Dainite.
We've touched on these soles before with the 6 kinds of boot soles you should know about. Still, there's a question we hear a lot, and it needs to be addressed in greater detail.
Why the heck are Dainite soles so popular?
What is a Dainite sole?
Dainite is a subsidiary of the Harboro rubber company in the UK. Harboro makes three different patterns of soles under their brand name: the Medway, Ridgeway (which you can see on the Taft Dragon), and Studded. If you like boots, you'll know that their Studded sole is their most popular product.
Harboro has been in the sole making business since 1894 and has been producing the Dainite Studded sole since 1910. Some of the best shoemakers in the UK trust their craftsmanship, including Crockett & Jones, Tricker's, Church's, Barker, and Cheaney. While they pride themselves on local tradition and handmade quality, they use some high-tech processes for producing modern rubber soles.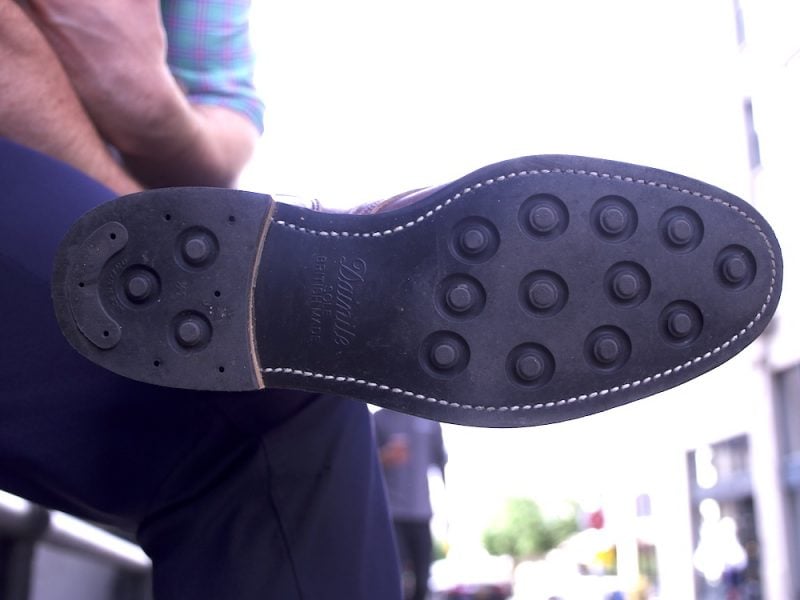 Why Are Dainite Soles Pricy?
Today it's tough to find a pair of US-made boots for under $300 with Dainite rubber. There's no one definitive answer for why they are on more expensive boots, but there are a few possibilities.
Aesthetically, they just go well with dressier shoes and boots because of their sleek low profile design.
The second reason is quality. They are made in England and tested with rigorous quality control measures that include laser measured tensile testing and thermal gravimetric analysis. Basically, the product's quality, strength, flexibility, and endurance in hot or cold temperatures (that's the thermal gravimetric analysis) are all assured with some seriously impressive technology.
What Are Studded Soles?
"The studded design keeps dirt and debris moving freely through the sole with each step because it is a circle with a pivot at both points of the diameter with each step," says Andrew Svisco, the creator and owner of Parkhurst Brand. The Dainite studded pattern is essentially self cleaning.
For muddy or wet environments where you are walking in and out of homes or offices, this is a real boon. They offer the low profile and classiness of leather while providing the grip associated with rubber without the mess of a more aggressive sole pattern.
Studded Soles vs Lug Soles?
If you're unfamiliar with sole lingo, "lug" is used to describe soles that tend to be thicker with deep indentations. It's not a specific pattern but encompasses many sole patterns which offer grip and stability. Rubber wasn't commonly used for shoes until the late 19th century — before that, leather soles were the norm.
Leather soles are thin, smooth and not at all ideal for doing things like climbing mountains. The famous, chunky Commando sole from Vibram, in fact, was designed by Vibram's founder Vitale Bramani after six of his friends died mountaineering. Improper footwear was considered a factor in the accident.
So lug soles are pretty awesome. But they do indeed pick up a lot of dirt and debris as you walk. If you've ever worn hiking boots in wet clay, you'll know the frustration of heavy, slippery clogged soles.
"A lug sole houses dirt and debris until cleaned so really, this traction is only achieved temporarily," says Svisco.
The same is true with wet snow. The traction is only temporary if worn on a certain terrain in specific conditions. In urban environments, studded soles offer the benefits of being self-cleaning and relatively grippy at the same time.
[Related: Our review of the Parkhurst Delaware boot (with a discount code!)]
Dainite vs Vibram
Dainite and Vibram are very different companies.
Dainite produces only three patterns, while Vibram makes dozens of patterns for just about every use imaginable. The Dainite factory is only 800 meters from its original location and has been making soles in the same town for over 120 years. Vibram produces their soles in China, testing new technologies with major athletic brands. Bootmakers typically use Dainite on hand crafted, high end boots, while Vibram is more common on mass produced boots or boots for serious outdoor use.
They both produce high-quality products but for different markets and products.
"As compared to other soles, I think Dainite serves its purpose in being a dress/casual everyday wear and tear sole," says Svisco. "It's not a lug, it is not a flat leather. There is grip and traction, maybe not as much as a work boot sole or lug sole, but then again that is not the purpose of Dainite soles. That is not what the company was going for."
You get grip and traction, and sure, maybe not as much as a lug sole. But the Dainite Studded sole is meant to provide comfort and grip in all conditions, while not attracting and storing dirt. It's the ideal all rounder.
Wrapping Up
Yes, overall they are a very reputable company and have been making quality rubber soles for over a century.
They're so beloved on fashionable, durable men's boots because they have the ideal balance of grip, flexibility, shock absorption, and versatility. It's the best marriage of form and function we've got.
Editor's note: This article is an op-ed. The views expressed herein and in the video are the author's and don't necessarily reflect the views of Stridewise, LLC. Claims, assertions, opinions, and quotes have been sourced exclusively by the author.
The following two tabs change content below.
Karl Wasson
Karl is an IT product manager living in South East Asia who gets a kick out of durability and dependability. He believes form and function are not mutually exclusive. When he's not working, he's searching for the best bespoke menswear in South East Asia and beyond.
Latest posts by Karl Wasson (see all)